Android 4.3.1 update rolling out to LTE Nexus 7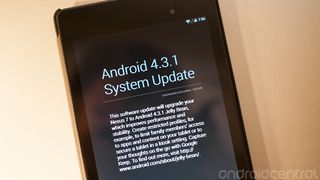 We've seen some minor updates to Android 4.3 in the couple of months since it first arrived, but today it seems Google's OS may have finally graduated to version 4.3.1. An over-the-air update now seems to be pushing out with the incremented OS version, with the LTE Nexus 7 being the first to get it.
The update weighs 16.6MB and brings the Nexus 7 LTE up to Android 4.3.1, build JLS36I — and although it's unclear specifically what's changed in the new build, previous point releases have mainly been minor, bug-fixing updates. We've popped in an AT&T SIM for good measure and are sad to report that tethering still is a no-go.
We'll keep our eyes peeled for the arrival of 4.3.1 on other Nexus phones and tablets. In the meantime be sure to hit the comments and let us know if you see the new version of Android on your device.
Source: XDA (opens in new tab); Thanks for the tip, Todd!
Alex was with Android Central for over a decade, producing written and video content for the site, and served as global Executive Editor from 2016 to 2022.
It's key lime pie! Posted via Android Central App

Funny, it says Jelly Bean right in the screen shot.....

Funny, you replied to an obvious troll..... ;-)

I was wondering if I should get the LTE version just in case I would be using it where I didn't have wifi. Couldn't imagine except as a large navigation device. But even that seems far fetched since it would only be legally mounted below windshield as in faux in dash. My HTC smartphone is currently an excellent navigation device among all other uses. Posted via Android Central App

i've seen some cool custom set ups where people have installed 7 in tablets in their dashboards as opposed to some overpriced and underpowered double DIN head unit. try youtubing "tablet head unit", pretty nice stuff.

Hopefully it fixes the black bar that appears just before you clear all of your recent apps. It's so annoying. Posted via Android Central App

I have it on my nexus 4 as well! Its so frustrating!! I use a lwp to avoid it... Sent from my White Nexus 4!!

nice tip about Android 4.3.1 Kerala Wedding

Matrimony site for android flavours? Don't spam here...
Just give some money for your ads rather than posting your site links on technical forums.

This. Posted via Android Central App

N7 2013 32gb nothing for me yet Posted via Android Central App

And what about galaxy s3 ... Posted via Android Central App

Dream on Posted from the AC app

End of the month depending upon your carrier Posted via your wifes, girlfriends phone

Don't worry man! You'll get this 4.3.1 bug fix 6 months after kit kat rolls out! Welcome to Samsung!

You don't even have 4.3 don't worry about 4.3.1 plus updates for the s3 has stopped Posted via Android Central App

So Old news .... This was latest yesterday night ... hmm

Like most X.X.1 updates this probably has no new features but rather adds bug fixes so OEMs can have a more finished AOSP product for their roms. Probably my Gnex's last stock OTA... Sorry, I'm getting a little emotional... :( Posted via Android Central App

Yeah, I love this Nexus 4, but I do miss my GNex with extended battery. Posted via Android Central App

My LTE Nexus 7 updated last night. Posted via Android Central App

Is it just for the LTE version of the Nexus 7 ? Posted via Android Central App

"with the LTE Nexus 7 being the first to get it" Learn to read.

Yeah I've read that! But we don't know if the update is just for the LTE or for all the devices yet do we? Posted via Android Central App

The LTE can't be the first of nothing ... it's the first of many. Anyway, using simple logic, every single version number iteration has always rolled out to all Nexus devices that can support it. Being that 4.3.1 is not a major update, it will likely get rolled out to all devices that currently support 4.3. Anything else you want me to think for you?

Not always...Could be a bug fix for the LTE radios that the wifi version will never need...Followed by a 4.4 update in a month, for ALL. What was that about thinking?

Yeah that's what I'm thinking, well someone is actually thinking for me because I can't think for myself! I think! Posted via Android Central App

If Google begins doing version numbers based on specific bug fixes for specific devices, don't go whining about version 4.4.1.2.6/21245.124 i a few years. Now name me a version that has been only for a specific device. Just one, do it.

Yes do you know when Kitkat will arrive? My brain can't cope with all this! Posted via Android Central App

Patience is a virtue! Lol! Posted via Android Central App

Still waiting! Posted via Android Central App

Still waiting! Posted via Android Central App

Maybe it's so that way Verizon will stop whining about putting the Nexus 7 on their network and now the Nexus 7 with this update magically will be okay by them?

I like HD Android 4.3 Wallpapers 1080
http://www.samsung-wallpapers.com

Still no Tether or Hotspot with ATT SIM Posted via Android Central App

yeah I've just downloaded it to my LTE version (Three UK). Just expecting it to be minor bug changes, can't see any major difference, but hey ho.

Damn, apparently I can only download this small update on Wifi only until October 5th... I've never seen that type of restriction before... Oh well I will download it tonight when I get home and see if I can find any "slight" changes.

Hopefully they fixed the Bluetooth keyboard bug. Posted via Android Central App

This made the touch screen issues much worse for me

Just got my N7 a few days ago, update came today. don't know enough to see minor diffs. Still a bit disappointed that I turn off keyboard input sounds and they persist in some apps, and simple things crash, like calculator. Hoping all this gets sorted. My GNex by comparison has been a dream, guess I was spoiled by it. ADS

I've noticed it's fixed the clipboard bug Posted via the Android Central App on my Nexus 4

Will this go to other Nexus devices too? Posted via my Google Nexus 7 running Android 4.3

You really keep us updated with new software updates.I look forward to this new version though as from the look of things it has no big difference from 4.3 version. Treasure Nile Pokies
Android Central Newsletter
Get the best of Android Central in in your inbox, every day!
Thank you for signing up to Android Central. You will receive a verification email shortly.
There was a problem. Please refresh the page and try again.