Android 4.3 update hitting HTC One Developer Edition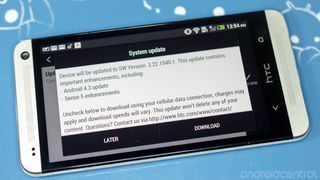 Following word that the update to Android 4.3 for the HTC One was hitting some phones in Taiwan, we have just grabbed the 564.04MB update on our unlocked Developer Edition. The update to software version 3.22.1540.1 brings all of the enhancements of Android 4.3, along with improvements to HTC's Sense 5 customization. This falls right in line with what president of HTC America Jason Mackenzie stated earlier this week, and if all goes to plan we'll see other models get the update soon as well.
We're also hearing reports of other unlocked international versions pulling down the updates. If you have an unlocked or Developer Edition of the HTC One, you may want to grab your phone and check for the update now — and let the rest of us know in the forums how the update goes.
Andrew was an Executive Editor, U.S. at Android Central between 2012 and 2020.
Nice! Seems like HTC is upping their game and bringing the update before most others.

LOL it isn't BS when it is actually happening. They're the first OEM to deliver this update. Posted via Android Central App

The camera issue still persists. For me it's even worse, even at ISO 100 I have the darn colors. Posted via Android Central App

What camera issue? Mine works beautifully.

Issue - Purple tint in low light photos. There is supposedly a bug that borks up the camera ISO settings if you try using HDR mode in low light. Whether that's the cause or not, I would avoid it.

You have to send you phone for repair. I got my camera changed for the exact same problem.. no cost within warranty ..

it's true. My still has the same problem. Even its now going green too

Me too, it is even worse! Haha I think they are playing us a joke, yeah that has to be it! :)

Noooooo!
This sucks. I was hoping HTC could fix it. If they don't by the time the Nexus 5 is released my One is going on Craigslist.

You either must not know how to use a camera or you broke your phone lol

Uh...hello...galaxy note 2? Posted via Android Central App

Actually this post is about the HTC ONE not the Galaxy Note 2. You should learn how to read.

I think that easy more of a "Earth to Samsung" comment. Editor in chief of Futureproff.com

Done updating... Thank you AT&T for getting exclusivity on the 64GB and forcing me to buy a Developer Edition for T-Mobile. Posted via Android Central App

this is one of the best marketting in the world ..Android .. boom...

Guys, my dev edition is rooted and has TWRP on it. It downloaded the OTA successfully. Then it prompted me to "Install Now" or Install Later. I chose Install now. When I do that the phone boots to TWRP menu. Please help. What am I mising?

Go back to stock for starters. Also I don't know if it will install at all with unlocked bootloader. Posted via Android Central App

You need to get stock recovery on your device.

Flash stock rom back. Then flash stock Recovery. Then update. Then flash TWRP back. Backup. Posted via Android Central App

@ne0ne, is there a stock recovery for 1.29.1540.17? I googled everywhere and went crazy.

Why are you downloading an ota if your rooted and unlocked in the first place, why mess with it when you can just flash a rom Posted via Android Central App

Hi Akshay, Same thing happened to me now, after downloading the newer version and click on install its end up at TWRP, were you able to fix and upgrade?

@Kumar, Use the .16 RUU from HTC One Dev site. Before you run the RUU, go to fastboot and run oem lock(Google it). After that, run the RUU, it will stock restore HTC one to .16. Check for updates and update to .17(minor update). Once phone reboots, again check for update and you will be prompted for 4.3 update. Download and install.
Good luck.

I am in the same situation. I tried installing stock recovery but it fails. It sucks that I'll have to format the phone, only because it is rooted.

Still nothing on my international version... But I'm optimistic. Posted via Android Central App

Come on Verizon!!! At least get it to us before next year... Posted via Android Central App

Lol Editor in chief of Futureproff.com

Woke up this morning & mine was there on my Developer Edition. Went to take a screenshot & that was the first change I noticed....a new animation for that. Ok, time to play around!!!!

Installing it on my US 32Gb Unlocked Version right now...

Wait. The DE has Sense on it. So confused. Posted via Android Central App

Yes, it's the Developer edition, not the Google Play Edition. Posted via Android Central App

Ah. Thank you. I need to read the reviews again! Posted via Android Central App

what the hell is developers edition. I have unbranded and unlocked htc one in UK. I have also clicked the build number twice and developers edition is on. I am missing something? what is developers edition? Please advice

In NJ with unlocked version and received my 4.3 OTA Posted via Android Central App

So, Anyone Else Want to Know WTF the "N" Icon on the status bar is all about?
Already Another thing I DO NOT LIKE Is that the "Speak" App Automatically Starts when in Car Mode.

It's the NFC icon. Ugly as heck IMO. It was a forced icon inthe AT&T version but now I see it is a mandatory view if you enabled NFC

I WANT AN UPDATE TO MY HTC EVO 4G LTE ON SPRINT AND I WANT IT NOW!!!! NOW BLAST IT NOW!!! RIGHT BOOKING NOW! booking.com, booking.yeah?

Love the speed of the update But where is the HTC One Max google play edition at? Posted via Android Central App

what is developers edition? Mine Unlocked and Unbrabded. I am in UK and no update so far. BS

Hi I'm new too HTC one
Got from phones for you on orange
How do I know if it's a developr edition Google play edition or w hat I don't know also when can I update too 4.3 great phone btw .
.
Android Central Newsletter
Get the best of Android Central in in your inbox, every day!
Thank you for signing up to Android Central. You will receive a verification email shortly.
There was a problem. Please refresh the page and try again.