Android 4.2.2 code - with full binaries - now pushing to Android Open Source Project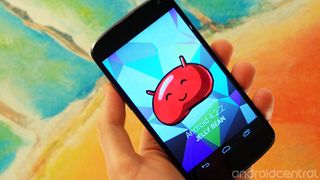 Google open-source guru Jean-Baptiste Queru has announced on the Android Building group that the Android 4.2.2 source code will shortly begin pushing to AOSP -- the Android Open-Source Project. The build number is the same as what's now being pushed to Nexus devices -- JDQ39 -- and the tag is android-4.2.2_r1.
In addition, proprietary bits for all supported devices have been published online, and Android 4.2.2 factory images are also available from Google's developer site. Significantly, JBQ points out the Nexus 4 and Nexus 7 (all variants) now have a full set of proprietary binaries available online, bringing full AOSP support to these devices.
Good news for those wanting to roll their own Android, as well as anyone looking forward to Android 4.2.2 ROMs for other devices. Download info for the Nexus binaries can be found at the link below.
More: Google Developers
Alex was with Android Central for over a decade, producing written and video content for the site, and served as global Executive Editor from 2016 to 2022.
Didn't this happen last month?

Very surprised no comments on this one yet. Can't wait till this gets to Beans on the Note 2.

Beans is a touchwiz rom...not sure what you are expecting here but this wont help with that...

I'm sure he'll be able to import some of the features. Have you used it?

I am running the OG Galaxy Note with an awesome ICS based BlackStar Rom. But i think i am ready for JB.

4.2.2's source code has been in AOSP since February 12th...

that's what i though....did i miss something. is this a newer build or something? mr1 = milestone release correct? so maybe just a little tweak to the code or something?

Yes, folks. 4.2.2 itself isn't new. But the binaries are. We've updated the headline for those of you who didn't actually read the story.

pardon my lack of knowledge, but will this also provide support for bluetooth 4.0 (BLE)?
It's been killing me that I can't use anything that is 4.0 and no app developers want to support it due to lack of native support.
I've been using Endomondo and I had to get the older Zephyr HxM because the BLE version is not usable with android.

CyanogenMod has been on 4.2.2 for a good two weeks now...

Yeah, you guys are missing the story. 4.2.2 source code was pushed weeks back, yes, but until today, no device was completely compatible (officially) with 4.2.2 in AOSP due to the unpublished binaries. People have been building with the new binaries by pulling them from the respective device's factory image. The release today basically completes Google's end of the bargain for open-sourcing an Android release.
As a side note, I don't know if Alex overlooked this, but the Toroplus also received new binaries for the 4.2.2 branch. It's sort of big news(in a way), since it shows a continued commitment to keeping Sprint's Galaxy Nexus updated in AOSP's master branch.
Maybe it's really only news for people with a Toroplus, I don't know..
Android Central Newsletter
Thank you for signing up to Android Central. You will receive a verification email shortly.
There was a problem. Please refresh the page and try again.