Android 2.3 Gingerbread rolling out to Verizon Droid Incredible 2 owners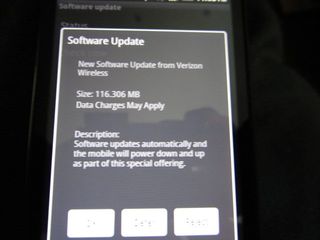 Now is the time to start checking for updates if you're sitting there with Droid Incredible 2 in your hands. The Android 2.3 Gingerbread update is now rolling out to some -- the update dubbed 2.18.605.4 weighs in at 116.306MB and of course brings plenty of performance enhancements with it.
Overall improvements to the performance of Mobile IM.
Resolved Hotmail sync & connect issues when setting up a one day sync.
Improvements to device connectivity when roaming on global GSM/UMTS networks.
New download manager app
New app and power management details
Improved word selection and copy functionality
Alarm notifications turned off while in emergency mode
Improved device stability
NY Times added to browser bookmarks
Wireless Charging UI added
New desktop dock app
Plus, you get support for that fancy wireless charging battery cover Verizon has made available. We're looking to grab you all a manual download link but in the meantime -- go ahead, check for updates. You may just be among the lucky who are having it arrive on their devices right now.
Discuss more in the Droid Incredible 2 Forums
It's always nice when a carrier throws in one more bookmark for us to delete...

WHERES MY THUNDERBOLT UPDATE HTC? SERIOUSLY?

Right here:
http://rootzwiki.com/showthread.php?392-ROM-ALPHA-CM7-for-Thunderbolt.-R...

Rooting is not the answer for everyone.

Neither is trolling a DI2 forum for a TB update

Touche, can I troll and ask for my DInc update?

how about the atrix???? soon PLEASE

Wrong carrier, wrong phone, but thanks for the troll

Would like it on my charge. But will wait another four weeks before other methods are needed.

Well it looks like I got it....but when I try to download it says Dowload fail....any thoughts? ?

I keep getting the same thing... :(

I really hope the DINC is not a forgotten phone now. :(

where is the update for inredible 1 owners????

NY Times bookmark finally! After reading about Thunderbolt update having it I was getting a bit jealous.

I currently hate Droid incredible 2 users
- HTC ThunderBolt User. >¦[

Why? Have you not heard of Das BAMF Sense 3.0???? I feel like the luckiest guy alive! I love it, and I get great (relative) battery life out of the beautiful ROM.

Meh, I can't tell the difference.

Now why would I do that?
Go troll elsewhere, Thunderbolt owner.

Sent from original Dinc 1 ..... :(

Enjoying my coffee and a little Gingerbread for breakfast.

Please do not dip your phone in your coffee.

Be sure and have a good signal and a full charge on the battery...it's a loooooong download.

Thunderbolt gets no love :(

This is ridiculous. If the Thunderbolt doesn't have a Gingerbread update by 7/15, I'm rooting it. Does anyone know if the Netflix app/Skype app works if you root w/ 2.3?

Haven't tried looking for netflix, but I've gotten Hulu to work from a browser (Dolphin Browser, not stock). Netflix works and was built into BAMF Sense 3.0 (which is phenomenal!).

Got gingerbread for the dinc2 around 1am central time... I did a manual update check and there it was....

Good luck ...... Gingerbread destroyed alot of Evo's...... Even with the two updates they sent out .....my evo has never been the same with froyo...... Do the research first or wait to down load it.....

Definitely.It seems these major OS updates never go smoothly.

Who will get Gingerbread first, DInc 1 or TB owners? :)

DInc owners won't get the update most likely. Hopefully I'll be eating my own words though!!

Got my Gingerbread update for my Dinc 2 last night a little after midnight eastern time, after the manual check. The phone is definitely snappier and smoother, with better font displays and other little nuance improvements. The GPS locks on almost instantly now, and they FINALLY added settings for WiFi, Bluetooth, and GPS to the status bar pull-down! So far I'm pleased, but wish it had been 2.3.4 for the video chat capability.

Quick question.. will this prevent me from rooting the phone?

History has shown it will break whatever method was previously used to root. I would wait if I was you and you care about your phone being rooted.

Its so bush league that the Droid INc 2 gets Gingerbread before the Thunderbolt.

The Dinc2 is worthy of the "Droid" name. The Tbolt is not. The Incredible 2 is gonna get more love than the Tbolt. Sorry. I returned my Tbolt after 10 days. Glad I did. The phone is a little snappier and smoother, but, not as much improvement as I would have expected for all of the Gingerbread hype.

I love how even software updates get the data charges may apply message.

I keep getting
Error:
Download Failed Have tried it with and without wifi. In several different locations with strong signal. Verizon tech support said to just keep trying or take it to a store to have it flashed. Tried #228>opt 2
Pulled battery
deferred update to a later time I am out of ideas.
Any help would be greatly appreciated!

Dear T-Bolt owners, Hang in there! you'll get your update soon enough, I'm sure there is a reason for the wait and it'll be worth it. HTC will pull through for you.. remember, you could have bought Samsung! ;)
Android Central Newsletter
Get the best of Android Central in in your inbox, every day!
Thank you for signing up to Android Central. You will receive a verification email shortly.
There was a problem. Please refresh the page and try again.