Amzer skin case for the Nexus 7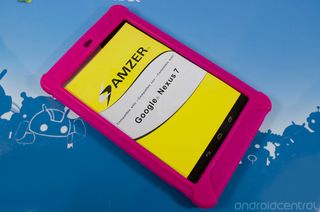 Continuing our search for the perfect case for the Nexus 7, we're taking a look at the Amzer skin case. Seven inches of glass and electronics sitting around naked is a nightmare for many folks, and this go around we're looking at pure protection. But protective cases don't have to lack in the looks department, so I grabbed one of these premium silicone cases in hot pink to give a thorough look. Read on to see how it fares.
The design of the Azmer skin case is basically the same as any other silicone protective case. It's very flexible, high-grade silicone, that wraps completely around the Nexus 7 leaving only the screen uncovered. The silicone is textured, and fairly thick. Yes, this adds a bit of bulk to the Nexus 7, but you will appreciate how shock-absorbing the skin seems to be because of it's resilience and thickness. It's not like the 7-inch tablet was tiny to begin with.
The corners of the skin are reinforced, as is the expanse across the back. The extra thickness here provides great protection for the corners, keeping them safe from the inevitable bumps and dings they will get. The textured and smooth, raised portions of the rear of the Azmer case allow a firm grip, and will keep the soft, faux-leather back of your Nexus 7 from getting scarred up through normal use.
The ports and controls are easily accessed through nicely done cut outs, and the power and volume switches work via a raised block of silicone that presses the button as you press on the case -- it's the standard way silicone skins are done, and works just as well at 7-inches as it does at 4-inches. The camera, microphones, and speaker aren't affected in any way, and your Nexus 7 is still easily charged with the stock charger while the case is on.
Of course, protection is only part of the equation. We don't want to lose any of the portability and style of the Nexus 7, and anything we're going to look at has to look good. The Azmer skin case comes in nine different colors, ranging from your basic black to the more exotic choices -- like bright green or hot pink. You're sure to find one that fits your style.
Overall, I think the Azmer skin case is a great choice. There's a color for just about anyone's tastes, and the thick, durable silicone will offer a high-level of protection whether your Nexus 7 is in a bag or bouncing around on your desk. You do have a bit of bulk to contend with, but it's a fair trade to keep the soft coating of the Nexus 7 from getting gouged by keys or other gadgets. I'm not a case guy for the most part, but I'll be keeping this one on my Nexus 7 to keep any more scars and dings from appearing on the device itself. Paired with a quality screen protector, you won't have much to worry about.
Pros
Extreme protection, especially at the corners
Textured grip keeps the Nexus 7 in your hands or in place on the desk
A color for everyone
Easy to put on and remove
Cons
It adds a bit of bulk to the Nexus 7
The screen is unprotected and will require a screen protector for maximum protection
It's not subtle -- even in black
The bottom line
For $19.95 the Azmer skin case is a great way to protect your Nexus 7 from everyday life. The added bulk can bit a bit of a pain if you carry your tablet in a pocket, but for most people the fraction of an inch gained in thickness is outweighed by the protection thick silicone offers. The cut-outs for controls allow your tablet to operate as intended, and the texture will keep your expensive device from ending up on the floor from slippery hands or from sliding off a table or desk. If you're looking for a case for your Nexus 7, this 20 dollar investment goes a long way.
Jerry is an amateur woodworker and struggling shade tree mechanic. There's nothing he can't take apart, but many things he can't reassemble. You'll find him writing and speaking his loud opinion on Android Central and occasionally on Twitter.
That thing is hideous. Ugly level unlocked. Congrats.

You may think its so ugly but fall with it in your hand. And, You will just see how happy you are to have this "ugly" thing protecting your nexus 7. I fell today bruised different parts of my body but my nexus 7 which was in my hand at the time was laying by me not a scratch on it. I am thankful I had a amzer protecting it.

I like my Nexus 7 naked!!

I thought it was ugly until... ...hell froze over.

Gee, Jerry ~ you're pretty in pink!
Bring back Homer... I feel this style cover perpetuates the whole tablet = big phone thing. Give me a flap.

Well at least it would cover the left side of the screen that is lifting off almost everyone's N7.

Can you say freakin ugly!!

Ugly? This is actually cute compared to them dirt brown leather cases.

Looks OK to me, I'm more interested in protecting the tablet in case I drop it than it being "pretty". The colors are not so flash, if I buy it I'll avoid the pink and go for black (although that looks greyish). It would be nice if the shop had details about the thickness of the silicone.

Hands down the best case for Nexus 7, have it for the last 4 days and seen how it has saved the nexus 7. I simply love it. Very good protection, paired with a Screen Protector and works very well. good Case for $20 bucks. I have in blue and going to buy in black now also. 5 Star product

Don't let the hideous pink color (why would you choose this color to feature in a review, anyway?) throw you off of this product. I've had it in black for a few days and it's well worth the $20. Makes the N7 easier to grip, especially in landscape and reduces the worries about banging up the corners/edges and back in daily use. Will still easily slip into a rooCASE Super Bubble Neoprene zip sleeve case with the Amzer applied. Recommended.

A Sleep leather cover off of ebay with headphones, splitter and stylus off of ebay is $12 from California.

I think its kinda cute.. I Want the bob gear case but im so tired of waiting for it .. Might buy the one above in PINK... Or red or pink or pink . Yea i think it will be Pink .. It does look to protect the device very well...
Android Central Newsletter
Get the best of Android Central in in your inbox, every day!
Thank you for signing up to Android Central. You will receive a verification email shortly.
There was a problem. Please refresh the page and try again.