Amazon is shoving even more ads onto your Kindle screen with a new update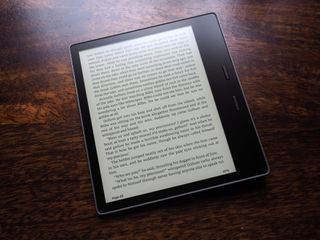 (Image credit: Android Central)
What you need to know
You will soon start seeing a lot more ads on your Kindle homescreen.
The new 5.13.4 update for Kindle devices extends the home screen to create more room for ads.
It also includes "performance improvements" and a few general enhancements.
If you own a Kindle that comes "With Special Offers," you are soon going to start seeing more ads and recommendations on your homescreen. As reported by the folks at GoodEReader, Amazon has started rolling out a new software update that enables it to push more ads than ever before.
Amazon is pushing the new software update to all Kindle devices released in the last five years. The update, which arrives as version 5.13.4, brings an extended home screen, which means you can now scroll down further than before to view more recommendations (and ads). Aside from forcing you to view more ads, the update doesn't actually add much else. As with any update, Amazon says it includes a bunch of bug fixes, performance improvements, and other general enhancements.
As noted by GoodEReader, the update also brings a naming convention change to Amazon FreeTime and FreeTime Unlimited. As announced by Amazon earlier this year, it is rebranding Amazon FreeTime to Amazon Kids and Amazon FreeTime Unlimited to Amazon Kids+. Along with the name changes, the services are also getting a new look with a refreshed home screen experience and Amazon Echo integration.
Amazon Kindle Paperwhite
Amazon's affordable Kindle Paperwhite comes with a 300ppi e-ink screen, IPX8 water resistance, and great battery life. It is also thinner and lighter than its predecessors, making it more comfortable for extended reading sessions.
Get the Android Central Newsletter
Instant access to breaking news, the hottest reviews, great deals and helpful tips.
Another reason why I own a Kobo and used to own a Nook. NO ADS and no cost to remove ads.

You know that "special offers" can be removed at no charge by contacting Amazon and asking nicely. Worked for me on two kindles. Google it for the details.

Man, you guys are hypocrites. Talking about how Amazon is shoving more ads in, but on your Android app you guys force full screen ads with sound down everyone's throats. Maybe you should clean up your own back yard before looking in someone else's.

This is precisely why I no longer use the Android app and instead only browse Android Central on a web browser with ad blockers enabled. I'm okay with ads in the style that the Windows Central app displays them, but the AC app is a hot mess.

I never even knew they had an app, not that I would install it anyway, The problem with Android Central and windows central for that matter is it is all about telling you about a thing that they can get money from if you buy it, and you can not even give your opinions on them.
I know they have to make money, and i have no problems with them pushing products, but it is getting to be the norm now.
I only pop on here quickly just to have a nose.

So glad I choose Kobo and not Kindle.

So what, really? It is just on the home screen, and you can get rid of them. Yes you pay to get rid of them, but that's up to you. Do you watch cable TV, and pay for it? Does it have ads? Not just when you turn it on, but interrupting your program? My TV (OTA) has ads, but I don't pay a cent for it.