Amazon Fire TV will be available for just $69 today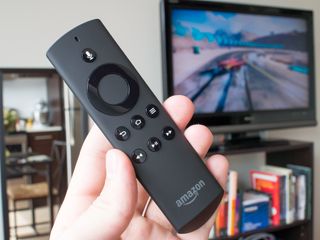 Amazon will be offering the Fire TV set-top box for just $69 — a 30 percent reduction from its usual price of $99 — as part of the retailer's Cyber Monday deals. The exact time the deal is set to go live isn't mentioned, with Amazon noting that it would commence "this afternoon."
Fire TV offers a huge selection of TV shows, movies, music, games and more. The set-top box allows you to access services like Netflix, Hulu, Showtime, WatchESPN, Pandora, and Vevo, and a deal with HBO is set to bring HBO Go to the Fire TV by the end of the year.
Who's looking to pick one up?
Source: Amazon
Harish Jonnalagadda is a Senior Editor overseeing Asia at Android Central. He leads the site's coverage of Chinese phone brands, contributing to reviews, features, and buying guides. He also writes about storage servers, audio products, and the semiconductor industry. Contact him on Twitter at @chunkynerd.
My Fire TV stick still has an ETA of January 9, ordered two months ago during the two day Prime/$20 pre-order sale, just saying... Chances are high they'll rack up a ton of orders quick and end up with a lot of backorders. Fortunately my TiVo can now stream AMZ Prime/Instant content so I stopped caring when the Fire stick gets here, tho I'll probably still use it for music and Miracast (assuming there isn't an Amazon Music app for the Nexus Player by then).

Wow...If only it had access to Google services...

After that Amazon Fire phone I'm sort of turned off at the thought of owning Amazon Fire TV. « Posted via my HTC One M8! »

Not sure what one has to do with the other, anyone could tell the Fire Phone was gonna flop even before release... Generally I do think Amazon should just stick to services, but the tablets still serve a purpose (specially with the Nexus line going upmarket and/or the Nexus 7 discontinued) and the Fire TV devices do too. Thy Fire TV stick for instance is easier to get working on networks outside your home, I'm sure the regular Fire TV has summer advantages too, tho I'd probably pick a Roku if I didn't have a Nexus Player (and a Fire TV Stick on order, only cause of the $20 promo).

"Not sure what one has to do with the other..." Only the obvious. They are both Amazon products.

Very different products tho, dunno why a flop in one class of products (that's far more complex) would turn anyone off to the other, blind brand hate is just as bad as blind brand loyalty.

He was probably refering to the lack of Google services, which is indeed a PITA in a phone but not really a big deal on a media player. The Fire TV has Netflix and Hulu apps, it supports Plex and you can sideload XBMC and many other things. And the hardware is FAST, like really FAST. It is not the perfect media player but it is not a bad one either.

What is the benefit of a firetv? what does it offer that other set top boxes do not? wondering why go for this over a google tv that has amazon instant video on it, like a costar

Google play aside, firetv hardware is a better all around device. Since you can sideload Kodi it's a winner on that front. If you can root your firetv it's even better since you will be able to load google play on it. For now I would not get one since I have been rocking two firetv stick I got for $18 each this past week to replaced my two chromecasts, It does everything the fire tv does with half the hardware and considerably cheaper too. If you just want a basic streaming device you can't go wrong with the fire stick. The fact that you can sideload Kodi is a big bonus on my book.

So you can sideload Kodi to the Fire Stick? Please link, thx. Posted via Android Central App

The Fire TV has fairly high end hardware for its price (Snapdragon 800, 2GiB RAM) so menus and such will be smoother than what you get on most smart tvs. Plus you can get the gamepad and play some decent looking games on it. Posted via Android Central App

Snapdragon 600 Posted via the Moto X Pure Edition

Got that Fire TV Stick for 20USD (only because of the price) and it's still sitting new in the box. But I really wanted the bigger one. Should I just send it back to Amazon? I like how they'll send a return label, so it's free shipping back to them.

Unless it says otherwise on the product they typically deduct the shipping from your return credit if there was nothing wrong with the item and you returned it because you changed your mind. So you may only get $15 back.

That's nice, but I already bought 3 Fire TV sticks. 1 for $20 from the preorder sale and two more for $25 from BestBuy. Put my Roku 3 up for sale too.

They were $25 during this weekend at Best Buy? /smh My Amazon pre-order for a Fire TV Stick STILL has a mid January ETA, it's starting to annoy me since I use Amazon Music a lot.

Yeah, I got two on 11/17 and took it with me on my thanksgiving trip. Worked great in hotel and on sister's tv. Used plex for movies off of my server and Amazon prime for the kids. Way faster than the roku stick. Posted via Android Central App

It doesn't show for $69.....it still shows $99 and you get $30 off if you apply for their credit card?????

The sale is "sometime" this afternoon. No specific time. Just keep refreshing. Posted via the Android Central App

Thank you very much for responding! Thats odd as I would think it would be all day. I will keep looking then.....Really appreciate you letting me know!

check now!
http://www.amazon.com/Fire-TV-streaming-media-player/dp/B00CX5P8FC/ref=s...

You are too Kind! I did refresh and caught it and ordered about 10 minutes ago, and was coming back to thank you! Thank you again so much for your generous help! That is a great price! Happy Holidays to you!

I got one for the 69.00 and according to the add there is about 10 more hours left before the sale ends, this was at 3 PM Arizona time. I have been wanting to try one as I have Prime. The tipping point was the ability to side load android apps. Look through the reviews and there are instructions on how to root the device. Also Amazon says you can return it in 30 days if not completely satisfied. I can't wait to try it.
Android Central Newsletter
Get the best of Android Central in in your inbox, every day!
Thank you for signing up to Android Central. You will receive a verification email shortly.
There was a problem. Please refresh the page and try again.