Amazon Fire TV and Fire Game Controller hands-on and first impressions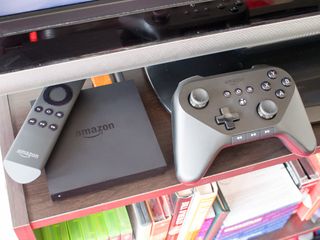 A compelling experience, and yet another great way for Amazon to have its content in front of as many people as possible.
For the past few weeks rumors have been building that Amazon was ready to make a big step into the living room with some sort of streaming media and gaming device. When the Fire TV was announced, it turned out to be far more than a simple "streaming stick" — this is better described as a latest-generation Kindle Fire, minus the screen and plus a remote and TV-friendly interface. It has a quad-core processor, a full-featured operating system and access to one of the largest media and app libraries in the world.
Thanks to Amazon Prime overnight shipping we have our hands on the Amazon Fire TV and the (optional) Fire Game Controller, and we're already putting it through its paces. Spoiler alert: our first impressions are pretty darn positive. Read along and see what you'll be getting with an Amazon Fire TV on day one — you may find it tough to keep your mouse away from the Amazon 1-Click order button.
Another example of minimalist and well-executed Amazon hardware
It's extremely apparent at this point that Amazon is capable of partnering with the right manufacturers to do some pretty great hardware. While its first round of Kindle Fires came up short, the latest crop are excellent examples of mobile hardware meant for the modern era. The Fire TV is no exception — this $99 box and accessories have "Amazon" written all over them (literally and figuratively), and that's no longer a bad thing.
With a footprint roughly half the size of a Nexus 7 sitting on a table and twice the thickness of the tablet, the Fire TV isn't exactly small. It is nicely designed to just get out of the way, though. There's no crazy shape, port layout or flashy branding — it's a square box with a soft touch top, a subtle Amazon logo and piano black sides that will nestle right in to any home entertainment setup. A tiny white light indicates that it's turned on, and nothing more. For ports, you get HDMI and optical audio out, and power, ethernet and USB in. (Quick reminder that no cables other than power are included with the Fire TV.)
The included remote control follows the same design language, and isn't nearly as awkward to hold or set on a table as you may guess at first glance. It's not unlike the Apple TV remote design, but with a bit better ergonomics and more buttons that make it far more user-friendly. There's a standard four-way circular button pad with a "select" button in the middle, along with Kindle Fire-standard back, home and menu buttons that will remind most who read Android Central that this box is indeed running Android. Below that are dedicated video and audio playback controls. Sadly there's no volume control — so you'll be handling your TV or surround sound remote for at least that function.
At the top of the remote is an innocuous voice control button and a hole for a microphone. Press and hold this button, speak any query you wish to have the Fire TV search for, and release the button when you're done. Just like in that odd Gary Busey commercial that came out yesterday, the Fire TV will recognize your voice and read out on screen what it heard. You can then confirm the selection and the Fire TV will perform a universal search for any and all content it can find within the Amazon network. Movies, TV, IMDb listings, music, apps, games and more are all visible with one search. The Fire TV has yet to misunderstand my voice searches so far, so we'll have to see how long it holds up that record.
The interface is fresh but recognizable to Kindle Fire users
Image 1 of 5
Image 2 of 5
Image 3 of 5
Image 4 of 5
Image 5 of 5
If you've used a Kindle Fire, you'll feel completely at home with the interface on the Fire TV. Now that's not to say that Amazon has just ported the interface from its tablets straight to the big screen, but rather that the interface elements, colors and navigation are all very similar. The greyscale interface is highlighted by pops of yellow and orange, with enough proper lighting to give the most notable elements depth and make things easy to navigate from a distance. Searches and menus are in a side-scrolling card view, and can easily be viewed and manipulated from 10 or more feet away.
The Fire TV will come out of the box signed into your Amazon account, if you so desire, and if you haven't signed up for Prime yet you'll be offered a 30-day free trial to boot. And you may want to consider it, as the Fire TV really doesn't turn into a box full of neat tricks until you start handing Amazon $99 per year for streaming movies, TV, music and of course free shipping.
With or without Prime, you'll be greeted by a bevy of Fire TV-optimized Android apps that are set up to use the full screen and work properly with your remote. Pandora, Hulu Plus, Netflix, YouTube, Plex, WatchESPN and the like are offered to you front-and-center, and while it's clear that Amazon can (and will) do more to grow the number of Fire TV developers, its out-of-the-box app catalog is quite full-featured.
Apps run well, and we've yet to encounter any weirdness that would make you think these are simple Android mobile apps ported to a larger screen. The interfaces, buttons and experiences seem like they were made natively for the TV. It will be interesting to see how quickly more niche apps make their way to the store for Fire TV. In the end the one thing you'll likely never have here are Google apps, and that may be one of the biggest shortcomings here.
Oh yes, it does games as well
We'll be taking a deeper dive into the gaming prospects of the Fire TV, but we can say right now that with the addition of a $39.99 Fire Game Controller this seems to be a pretty capable little casual gaming set. Amazon boasts that over 100 games in its Appstore are already compatible with the Fire TV, with thousands more on the way. The couple of games we've tried play perfectly with the controller, and seem to have been customized appropriately for the larger screen and controller experience — a tough feat that other Android consoles have struggled with.
The Fire Game Controller itself is pretty basic, with a standard Xbox-style button layout and design. It connects over Bluetooth and has the same set of buttons for media playback as the standard remote, which is nice, along with all of the proper buttons, triggers and bumpers you'd want for even hardcore console gaming. It's clear that the Fire Game Controller isn't as hefty or well-built as something you'd get from Microsoft or Sony, and the D-Pad leaves something to be desired, but for the kind of person who will buy this and the types of games you'll be playing, this is far above expectations.
This isn't the Xbox One or PS4 (or heck, even the original Wii), but the prospect of a $99 box and $39 controller (or a Bluetooth controller you have already) giving you access to specially-tuned Android games on your TV in HD is an enticing one. Even more so when you consider the average price of games on the platform, which Amazon claims is just $1.85 per title with the current crop of games. There aren't many similar cheap consoles to choose from, but right now the Fire TV looks to be a leader for casual Android games on your TV at a low price.
The set top box to beat?
It's going to take far longer than an afternoon to tell whether or not the Amazon Fire TV has a chance at a serious foothold in the ever-expanding set top box realm, but first impressions have us extremely excited for the future of this device. We all have a limited number of HDMI inputs on the back of our TVs, and the Fire TV seems to have a compelling argument for taking up one of them.
Andrew was an Executive Editor, U.S. at Android Central between 2012 and 2020.
Solid write up Andrew, may pick one up down the road

I would really like it to Andrew, have you tried sideloading apps or the Google Play Market. I'm heavily invested in play and wished google would offer an android stick/ box with a keyboard and game controller. Third party ones were pretty bad. Would love to make my TV perform just like an android tablet/ phone, since Archos TV connect never made it to the states.

I hope it's better than the OUYA - that has been the most disappointing purchase ever.

I can pretty easily say this is already better than OUYA for gaming.

I purchased OUYA only for XBMC. Not disappointed at all. Posted via Android Central App

Couldn't you just have bought any cheap Android stick off Ebay for XBMC?

So, where I live (Winnipeg, Canada), a bunch of family/friends have bought the Ouya and are getting all their other friends/family to buy them too. The reason? XMBC. They just run XMBC to pirate all of their unreleased movies or get tv channels they don't have to pay for, etc. And because of that, they all love their Ouyas (and I kinda keep looking at them like they're on crazy pills).

What exactly is XMBC and what can you do with it in terms of piracy and TV? I'm interested.

Why does it have to do with piracy? You don't need to resort to piracy to use XBMC.

I never said I was going to. I just want to know what the program does.

XBMC basically lets you watch what you want when you want, if you fire up the right repos and install the right add-ons... it's amazing. I've actually just totally replaced my cable with XBMC. Watch what I want when I want and don't have to pay for anything but internet. Can't beat it. As for the piracy thing... well, I'm watching new movies that I'd normally have to pay to watch right now, some that haven't even hit theaters around me yet, but mostly haven't hit DVD yet, for free... in HD... so you tell me... and guess what - with prices for theaters at a ridiculous rate these days, and cable being as expensive as it is if you want the chance to actually watch something interesting - I don't feel bad about it :-D

Um, that sounds amazing. And I thought Plex was revolutionary!

I've never used plex personally, but from what I've read thus far, XBMC is the way to go... of course YMMV... you should check out XBMC though... for what it's worth, I'm running it on a Windows laptop connected to my tv via hdmi and controlling it with a Logitech K400 wireless keyboard/trackpad combo. It's fantastic. I tried running it on my mid 2012 MacBook pro and it wasn't great... OpenElec or Linux is probably the best way to go (fast boot and all that) but my Windows 7 laptop has been fantastic for me so I'm sticking with that. To sum up this ridiculously long response lol, you have many options, some good some not so good... the same goes for add-ons. Do some research on XBMC, give it a go, and start saving some serious bills!

hmmm, I used XBMC for about two years and moved to Plex. The syncing across devices and support on so many different platforms is what did it for me. and being able to access my library anywhere is pretty nice as well. also I got my mother a Roku a couple years ago so she can stream all of my media as well from her home.

Yep, YMMV... everyone has different needs... let me ask though, since I know very little about plex... is it just for media you already own and have on your computer or whatever, or is it the same as xbmc where you can load in sources with add-ons and stream whatever you like? Also, does my Apple tv 3 need to be jailbroken in order to install plex, like xbmc, to sync with my pc? Posted via Android Central App

Plex is definitely just content you already have downloaded, legal or otherwise. It's very simple, neat, and organized and I honestly have no complaints about the service at all. But XBMC sounds like something I need to check out as soon as possible.

Yep, that's what I thought but wasn't sure. Thanks... and, you won't be disappointed with XBMC.. just do some research and set it up right. Load the sources correctly and install the best, most reliable video add-ons, and you'll be set Posted via Android Central App

Do you need to do anything special to run xbmc or is it just download and install.
Nexus 5 black 32gb

Just downloaded and install it. Posted via Android Central App on my Note 3

Madcats mojo too, I bought one and returned it cos it was so bad Posted from my 2013 nexus 7, yeah baby!

So my big question on this, and its something in the Amazon Video ecosystem that drives me crazy, when you are searching for movies/tv is there the option to only show what's free (part of Prime)?. I really hate searching for something only to find its only option is to rent/buy.

Can't say I see a way to filter by only "free" Prime content. Search results return all results, even if the only option is to buy, not even rent.

That's a shame, thanks for checking it out though.

Is there any reason to get one of these over a Roku if you don't care about games? I don't have a set top box of this kind at all but I am just curious.

This does quite a bit more than Roku in terms of having the opportunity for a wider number of apps. But right now, your choice is made based on the content offerings on each if you don't care about games as the Amazon offerings aren't exactly blowing Roku out of the water (no HBO Go, fwiw). And if you already have the Roku, I see less of a reason to go out and buy another box.

I have a Roku 3 which is plenty fast and can be purchased from time to time for over $30 less, has well over 1000 channels, You Tube, and the Android app has voice recognition that's worked pretty well with my system. I don't see big advantages in having a Prime membership since I rarely but stuff from Amazon and their 'free' movie selection is nearly identical to Netflix.. This is a cool device but I can't see replacing my Roku with it

Do you need an HBO subscription from your cable provider to get HBO Go or can you just get a subscription online and just pay them directly (like Netflix)?

Can you please confirm if web browsers can be installed such as Firefox and dolphin and whether bluetooth keyboards can be used? Also does it have the real YouTube app? Thanks!

We haven't looked into third-party loading of apps, but we presume it'll be the same as any other Kindle in terms of being able to side-load things... The question is why would you bother, really? The remote and Controller are Bluetooth so presumably you can add keyboards as well... but it's not a default option in the settings to find and pair with keyboards.

It'd be great for my entertainment centre if I could browse the web and YouTube when friends come over plus have the added benefit of using plex for my media.

There are YouTube and Plex apps already that you don't have to sideload.

If I were Google, I would NOT allow a YouTube connection from any Kindle device until there was an Amazon Instant Video app in the play store.

Sideloading emulators would be a good reason to bother, assuming they would work with the controller.

Why would you bother? HBOGO and Google Play Music for starters.

Dolphin wouldnt install for me but I do have Firefox installed (used JS Emulator to ADB it in). I have an IOGear mini KB which works good, also have a Logitech diNovo that I am recharging and will test. Also pushed some emulators but trying to figure out where in the FireTV to place the ROMS I have ...

Does the voice search work across apps? If I search for a movie, for example, will it show only Amazon results or also results from Netflix, Hulu, etc?

This is the question I've been wanting to find the answer to. I want to know if the search beats Rokus content search that searches across all apps and services for the show I search for. I can't seem to find an answer from any review/impressions article on the Fire TV

Based on what I can tell, voice search searches Amazon content only. Even when I'm signed into Netflix, if I voice search "House of Cards" I don't get a button to go into Netflix and load the show for free.

That's unfortunate, without a universal search I'm not really interested in the device personally. I don't need it for gaming as I have an XB1 and I was only considering getting it for ease of use with finding what I want to watch across platforms since my Roku 3 is starting to show its age a bit.

Thanks for the reply! Disappointed it doesn't have universal search, but after hunting all over for an answer to this, I appreciate the reply.

Wow I am seriously intrigued by this as a gaming option, I have been holding off on the new consoles because I haven't really felt any of the games that have come out. This might just hold me over until the next Halo or Uncharted hits.

You mentioned the USB in, but didn't explain what it is used for. Is it for external content? What can I play?

Doesn't seem like there's much you can do with it. Tried plugging in flash drives and phones (no wired mice or keyboards here), nothing happens and there are no settings to fiddle with. It does provide power and is just USB 2.0, but I can't see much else. None of the Fire TV documentation seems to say either.

Was hoping you could play media off a flash drive Posted via Android Central App on nexus 7 (2nd gen)

Speech input is a new wrinkle. Just how much processing is being done by the remote? Does that become yet another device that needs to be recharged (is it even rechargeable?) frequently.

The remote is Bluetooth and runs on 2 AA batteries. It just sends all of the voice data straight to the Fire TV, which parses it on a server and send back the response. The remote isn't going to die any faster than any other remote, I don't think.

What would you suggest I purchase... The Amazon Fire TV or the Sony Gs8 Google TV remote?
I do a lot of search typing with my revue.
I use Netflix, YouTube, and Google Music Heavily!
They are both about the same price.
I'm looking to upgrade from my unsupported Logitech Revue(Day 1 purchaser) Posted via Android Central App

If you use Google Music then the Amazon box isn't going to be a strong choice for you...

That I can play thru computer or phone to my surround sound... I'll edit that out of my original question. Posted via Android Central App

You didn't mention you use an Amazon product.. just get Chromecast then go from there

the google tv devices are terrible. laggy, half baked garbage. i've have the revue and the sony box. the roku is a better option. but i ordered an amazon fire tv today to try out and replace one of my roku 2 boxes (moving that to another tv) basically, anything is better than the google tv units.

Oddly enough there are a lot of 1 &2 star reviews on Amazon already for this. Is it really THAT impressive? Just wondering as I may want one for my birthday. :)

I think there are a lot of 1 and 2 star reviews from people who couldn't possibly have one yet, and if they have one they've used it for less than 10 hours :) .

Hmm now there is the question of the bootloader... Devs could do a lot with this tech with both stock based and completely custom roms. Does this have access to the complete play store? Posted via Android Central App

Nope, no Play Store. This is an Amazon product :) .

Is it safe to assume that the ability to use WatchESPN is still locked to your service provider (Verizon, Comcast, etc)? Meaning, is there any hope for us cord cutters?

WatchESPN is tied to needing to register with your cable provider, just like if you loaded it on your phone or tablet.

Thanks for confirming. I was hoping against all hope that maybe they had struck a deal with some providers.

Just have somebody who pays for the service from one of the supported providers hook you up, haha. ;) Posted via Android Central App

What's the purpose of this? My family uses Netflix, is this something to replace it? My smart TV has the Amazon app to stream on it already, besides games why would I need this? Am I mistaken that all it does is stream content for the most part? Posted via Android Central App

Seems pretty dang nice overall especially if you're in Amazons echo system. I had decided long ago to stick with googles because I was tired of running amazon and Google for apps, music and movies on my phone and tablet. Chromecast covers my streaming needs but I do like the gaming aspect along with Amazon prime a lot. Well done amazon. Posted via G2 + Nova

Will Netflix or Hulu work if I bought this and used in Australia?

If Netflix and hulu are supported where you live, it'd be no different using them on here than it would using them on any other device.

It may rotate counter-clockwise when you flush it down the dunny once your done with it.

How does this compare to a Chromecast? Posted via Android Central App

More talk about comparisons with Chromecast to come, but its pretty safe to say that the Fire TV and the Chromecast are completely different devices.

I agree - oddly similar but different. It is much closer to the Roku 3. Which I am on the verge of getting. That the Fire TV has better gaming means nothing to me. I was intrigued by the voice control - but if only for Amazon prime, it kinda looses value. I like Rokus headset plugged into the remote feature - and the volume control on the remote. I look forward to your comparisons!

Mine is about 5 minutes away from my place, and has been since about 8 this morning since I did not spring the extra $4 to get it today. Looking forward to trying it out tomorrow, but my biggest gripe already is that it does not come with wireless built in.

You must have misread something. It does have WiFi built in.

It actually has wireless built in. Fancy dual antenna MIMO stuff at that.

Sorry about that. Have not read much up on this anywhere else yet until I take ours for a spin and did not see Wi-Fi mentioned here in this write-up. Looking forward to trying this out tonight.

I'm am so tempted to buy it, but I'd much rather they create an Android app that supports chromecast. Hell, I'd be happy if the IOS Amazon streaming app supported Chromecast. Come on Amazon, I want to give you my money, just let me do it through the devices I already have! Posted via Android Central App

I'm definitely getting one of these. Well done Amazon. the big print giveth, the small print taketh

Does the YouTube app let you let watch movies purchased through the play store? Posted via my practically perfect LG G2

Looks enticing...I will give it a try...but two almost mandatory features I would have thought 100% obvious...a headphone jack on the remote like the Roku 3, and please, can't ANY of these devices put a learning volume/mute control on the remote?! And....I hope Android apps can be sideloaded right away. I wanna put an HBOGO app on there since Amazon, very shortsightedly, didn't include it (plus Google Play Music). I mean really, if I can't get HBOGO on the Fire TV, I am sending it back.

Andrew. I'm curious if you have figured out whether the Fire TV can be plugged into an Audio-Video Receiver with multiple HDMI inputs? I found that the Chromecast MUST be plugged directly into the TV HDMI. Is the Fire TV the same? Thanks!

Will have to check with someone else. I don't use an AV receiver. Posted via Android Central App

I guess that I assumed you would be able to do this because if I'm not mistaken it supports surround sound through HDMI. My question would be if this does work through an A/V receiver, will I be able to control it with my harmony one remote? Posted via Android Central App

That must not be true for all receivers as I have had my Chromecast plugged into the HDMI input of my Pioneer VSX-1122-K since release day. I do run the supplied 5V micro USB power supply to the nearby power strip.

Interesting! I have a Denon receiver and it definitely did not recognize the chromecast. I hope that doesn't mean the same for the Fire TV. Thanks!

Chromecast plugs into my Onkyo A/V Receiver with no problems. It also worked through an HDMI Switch box.

Yep as always nothing outside the US, typical. Until you go worldwide you won't ever be a challenge to the likes of apple TV, roku etc Posted via Android Central App on nexus 7 (2nd gen)

Pretty neat, glad to hear its good. I wonder if Google will give the TV space another try, id like to see what they do. (Ignoring google tv) via moto x.

Ignoring Google TV is allowed

Typical of Amazon to forget Volume Control..
Why put speakers on the unit if you can't adjust it's volume?!
Do they not realize that movies go rocket launching when there's music and then whisper when the actors have something important to say?

Can someone answers for sure, if Amazon Fire will play local content from a USB hard drive or preferably work with a NAS in the local network? Many of us have tons of locally stored content that we prefer from streaming, which of course, is also very nice to have. But, the question is, will it do local content (USB or NAS) ??

I second this question. I currently use a Western Digital TV Live (WDTV Live) box to stream local content from my NAS. It works, but it's flaky as hell. Every other day it loses sight of the NAS and requires a restart. After that it works fine. Anyway, if the Fire TV supported playback of local content over the LAN that would be a compelling reason to buy.

It says it has a Plex app. That is what I use and it works great! Downloads cover art for movies and TV shows too.

Piggybacking off the previous post: put a 1TB HDD inside that will play any format you throw at it, and a lot of people will happily pay $200.

I have a Chromecast and am planning on buying a Roku Streaming Stick to compliment that, when they are available for purchase in a few weeks time here in the UK. That seems like a sweet spot in terms of full content access if you're not really interested in gaming, and don't want to get trapped inside Amazon's ecosystem. (and given there is no indication when Amazon will actually sell this in the UK anyway).

I'm ordering one this weekend. Best set top media center I have seen yet for a hundred bucks out of the box. Posted via Android Central App

This is kind of what I was hoping google tv would be. I think it would be better once it's rooted and gets google services on it as well. Plus, being able to side load app on it. Would be great to run emulators to play the old nes, snes, genesis, ect. on it.

Nope. Fail. Posted via Android Central App

Xbox like interface! Tiles and all...
Android Central Newsletter
Get the best of Android Central in in your inbox, every day!
Thank you for signing up to Android Central. You will receive a verification email shortly.
There was a problem. Please refresh the page and try again.