Amazon Fire 7-inch: How much tablet does £50 get you?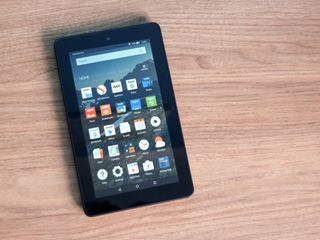 We're now several iterations in and, believe it or not, up to Version 5 of Amazon's own take on Android, Fire OS. With it we've got a new round of hardware that covers various sizes and price points.
What we have here is the 7-inch variety. It's the new entry-level offering with 8GB of internal storage and special offers, but it also costs an incredibly low £49.99 in the UK and $49.99 in the U.S. So it's potentially the most important one to look at.
Let's see what you actually get for not a lot of money.
Before we go much further, let's start off by looking at the hardware specs. What can you get for £50?
| Category | Specification |
| --- | --- |
| Operating System | Fire OS 5 "Bellini" |
| Display | 7-inch 1024 x 600 resolution (171 ppi) |
| Processor | Quad-core 1.3 GHz |
| Storage | 8GB with microSD card support up to 128GB |
| RAM | 1GB |
| Rear Camera | 2MP |
| Front Camera | VGA |
| Sound | Mono speaker, built in microphone |
| Connectivity | Single-band WiFi |
| Battery | Up to 7 hours |
| Dimensions | 115 x 191 x 10.6 mm |
| Weight | 313g |
| Colors | Black |
So, pretty basic. But we'd not expect much more, frankly. How does that actually translate into the thing you hold in your hand?
Well, it's a 7-inch slab of black plastic. In no way does it have any kind of premium feel, but this time that's fine. What it does feel is sturdy. Amazon claims it's 1.8 times more durable than an iPad Air, though we have no idea what exactly they've done to come up with that number. But it feels tough enough, like something you could happily hand to the kids and not have to worry about the condition it comes back in. Of course, the price also helps with that.
Unlike some of the other Fire tablets just launched, this one has a matte finish on the back, which I like. The others look like full scale fingerprint magnets. We've got a microSD slot behind a little door, a rather small looking speaker on the back and the camera where you'd expect to find it.
What you probably wouldn't expect to find is the volume buttons on the top of the tablet. Power, maybe, but then Amazon is probably assuming the volume will be most useful when you're watching video. Which you'll be doing with it on its side. And it's not as if you'll be one handing this thing, anyway.
Touching quickly on the display, and it's about what you'd expect from a 1024x600 panel at 7-inches. It's low-res, yes, but it's fairly bright and colors aren't too bad on it. It's fine for reading books on, probably still better quality than some of the lower cost e-readers, and since it's not HD you can save yourself a few dollars and pounds when you're buying videos and get the SD versions instead!
The bottom line on the hardware is that it's solid for £50. You could do worse and still spend more on a tablet.
Then we come to the software, where things have traditionally been much different to the Android we all know and use on a daily basis in these parts. The new Fire runs Fire OS 5 "Bellini." It's based on Lollipop this time around and elements of the visuals remain untampered. The regular back, home and task switching keys are present at the bottom, the notification shade is recognizable as being from Lollipop and so is the UI when you're using the task switcher.
The rest of it is all Amazon. It's not a complex interface to navigate and anyone who's dealt with Amazon products before will feel its familiarity. Essentially all of your content is in front of you. Apps, books, videos, swiping left and right through the tabs is about as much as it takes. There's also a Library button that will take you to, you guessed it, your library.
There's still zero Google presence, right down to Bing being set as the default search engine in the Silk browser. Naturally, Amazon wants you to use its services, and the Fire tablet is the conduit to that. It covers all the basic bases, though, with Weather, Calculator and Contacts apps, to name but a few. The software can get a little sluggish from time to time, with noticeable lag in the main interface and web browsing just snarling up for no apparent reason. But most of the time it's not actually too bad. Certainly not for something as cheap as this.
I actually appreciate the simplicity given the major purpose of the Fire. It's for consuming content, so why shouldn't said content just be in front of you all the time? With a couple of swipes and taps you can be watching something on Prime Instant Video. I like that.
What I don't like so much, but still totally understand, is that the Fire also doubles up as a persistent upsell for Amazon. It's to be expected, yes, but on a personal level I still don't really like it. I've nothing against Amazon, I use it regularly. I use Prime Video now more than Netflix. But there just had to be a tab that took you straight into the Amazon Store. And while it's going to be hella useful to some people, I'm not sure I want to see an Amazon store link for a small selection of microSD cards in the settings menu.
As I mentioned earlier the one we have in is the basic, special offers laden edition. The special offers so far haven't been particularly bad. Mostly for Fire tablet accessories, which is fair, and one for Duplo. Which I might be buying for my kid. But it's not so bad.
Then we come to the content. Perhaps the best reason to buy any Fire tablet is if you're invested in Amazon's content ecosystem. Whether you buy music, movies, TV or rely on Prime Video, the Fire tablet instantly becomes an obvious choice if you want something primarily for consuming media. And whether we like it or not, the Prime Video experience is still better on a Fire tablet than any other mobile device.
My favorite thing? You can save video for offline use that you'd have to stream on another popular service. My other favorite thing? That on the Fire tablet you can save it to a microSD card. And with only 8GB in this thing (and about 3.5GB free when you turn it on), you're going to need to do that.
As far as consuming content goes, it's not a bad experience. The screen isn't terrible at this size and resolution for watching videos on the go and the speaker while small and lacking in any decent quality is at least relatively loud. Don't expect to get a great deal of battery life, though, so if you're going on a long trip, don't forget a battery pack.
So, final thoughts. I'm impressed that this tablet costs just £50 and I'm impressed that it isn't all around a terrible thing at that price point either. As a conduit to your (mostly Amazon) content it's a decent option and definitely one you could hand to your kids. Amazon's software is still a mixed bag, but it's nice to see a refinement in the UI to leave in some of the familiar Androidy-ness.
Should you buy one? If you're invested in the Amazon ecosystem, sure, why not. It's cheap enough that if you only use it for reading, watching movies and so on, it's not a big loss. Hell, it's got to the point where you can buy a six-pack of tablets. No kidding, Amazon will be selling these in packs of six as well. Get one for yourself, the other half, one for each of the kids.
It's not going to change tablets for the better, it's not going to play games like a champ and if you need to do anything that requires Google it's more than useless. But I'm OK with what it is, what it does and what I'm going to use it for. I've an SD card loaded up with Prime Video downloads and a plane to catch.
The 7-inch Fire tablet will cost £49.99 in the UK and $49.99 in the U.S. and will be shipping from October 23 and October 26 in each respectively.
Have you listened to this week's Android Central Podcast?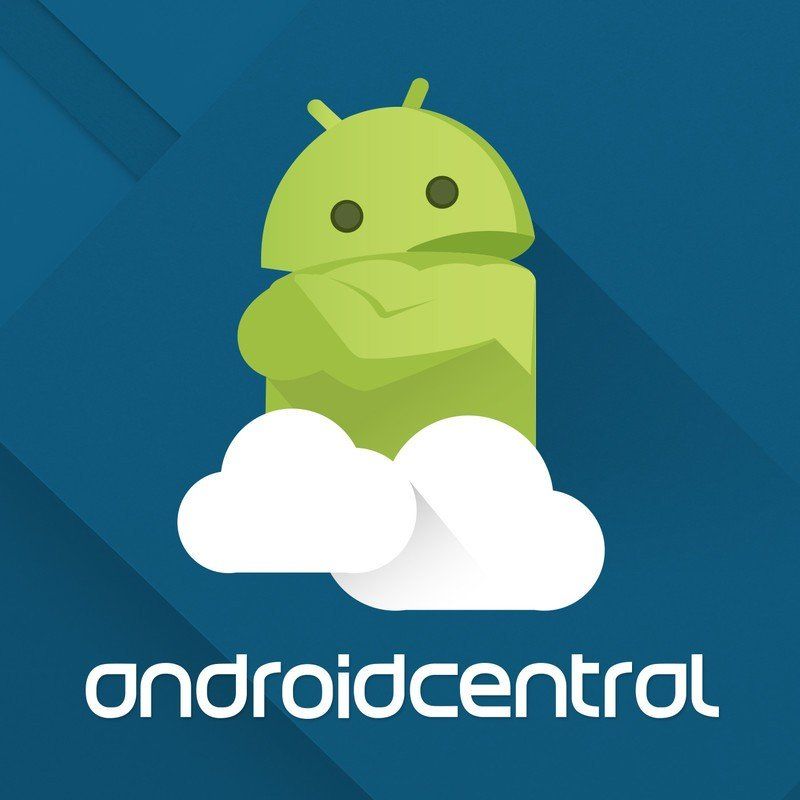 Every week, the Android Central Podcast brings you the latest tech news, analysis and hot takes, with familiar co-hosts and special guests.
Too bad it's sold out and won't be in stock for a few weeks...
This would make a great Christmas gift Posted via Android Central App on 1+1

yeah and christmas is in the next few weeks too.... oh wait...

Well he is used to the BS that one Minus puts out. He doesn't know how real time works +++ Insert witty signature, watch as others not get it, profit +++

My oneplus one is running just fine, thank you. But when I order something I would like to get it within a week.
Something oneplus still hasn't learned.... Posted via Android Central App on 1+1

The most pathetic people are the ones who define themselves by what they hate. In your case: Nexuses
T-Mobile
Cyanogenmod
OnePlusOne You can be sure if one of these topics comes up, you'll be trolling away.

He is just madly in love with them. That's always the case when people despise or hate something. There is little difference between hate and love at all. They go hand in hand. Posted via the Android Central App

Easy to get hold of in the UK, my local Argos had 14 in stock. Posted via Android Central App

For $50 bucks how can you go wrong? G3 D850

Laggy or not, I'm gonna buy a couple. I had the first and second fire tablet but UI was horrible. I see a big improvement here and that's why I'm gonna buy it. Plus the price justifies the buy :) Posted via the Android Central App on Moto X 2014/Moto G3/Moto G1/Lenovo Tab S8/ Lenovo Yoga 11 on $35 Cricket wireless plan.

Honestly, it's so much better than I expected for the price. I've no issues throwing this in my carry on to watch some movies on the plane. Cheap enough I don't worry so much about losing it either. Something you don't get with a $400 plus iPad! Posted via the Android Central App

I agree, perfect for my work commute, really surprised by it. Posted via Android Central App

Compared to the first Fire tablet(s), I hope they have reinforced the microUSB socket for the charging cable. That was way too easy to break with the motherboard after a few months on the early model.

"...and while it's going to be hella useful to some people..." Are we now using text slang in our tech articles? Posted via the Android Central App

Take it easy old man. Posted from my Nexus 6/Nexus 7 2013/Surface Pro 3

I agree with him. Young people don't even know how to write or understand cursive. I wonder if illiterate people get the full effect of alphabet soup

I hope you forgot the /s Posted from my Nexus 6/Nexus 7 2013/Surface Pro 3

No they don't. I started learning cursive in 3rd grade. Not anymore. Moto X 2013 (US Cellular)

It's funny how out of touch they are, isn't it? Posted from my Nexus 6/Nexus 7 2013/Surface Pro 3

Yup our generation is out of touch. It's pathetic really. Posted via the Android Central App

Who needs cursive? It's only old farts that care about that. It's not practical or remotely necessary.

Haha and that's exactly the point of OP. I remember in second grade that everything we wrote must be in cursive. It's funny you think it's useless, I'll be more worried of the uneducated brats running around in this me generation where they can't even write English correctly or know history. Posted via the Android Central App

Being able to write cursive has no impact on whether someone can write English correctly or know history.

It's true that Cursive serves little practical use these days. I too grew up learning how to write in cursive, but what have I used it for in the past 10 years? Signing documents, checks, and credit cards. All three of which are slowly being fazed out as well. Posted via the Android Central App

For $50 you will be exceptionally disappointed in a small matter of time. Old Galaxy S Pro 4 8.4" on ebay for ~$100. Install Cyanogen, Install Amazon underground and Amazon Music. Don't get locked down to FireOS, priceless. plus expandable memory.

1. The "Galaxy S Pro 4 8.4"" doesn't exist. 2. Neither the Galaxy Tab Pro 8.4" nor the Galaxy Tab S 8.4" (which I assume you were trying to refer to) is near $100. Posted via Nexus 5

And cm sucks +++ Insert witty signature, watch as others not get it, profit +++

I was thinking he wanted to say Galaxy Tab 4 8.0 but then I realized that 8 inch model could never be $100 in decent shape.

Christ, the vast majority of people don't want to screw around with installing a third party rom. Your suggestion is pointless for the vast majority of people who are going to buy this tablet. Posted via the Android Central App

The vast majority of people who are going to buy this tablet, are not reading this thread.

Never buy a galaxy tab! they are the biggest POS I have ever used...and I had 3 Posted via the Android Central App

Most likely the people who will buy this don't have a clue what the hell you're talking about. Moto X 2013 (US Cellular)

My mistake. I've had the tab for some time now. Sorry. http://rover.ebay.com/rover/1/711-53200-19255-0/1?ff3=4&pub=5575095911&t...

That one is over 2x the price, used, and with no warranty. Other than that a much better deal :)

I'm not a fan of the Amazon ecosystem. Their app store is a long-time slow-motion disaster.
I'm not a fan of Amazon as an industry juggernaut. I'd rather not feed the monopolistic beast.
I'm not a fan of skins and locked-up devices and closed ecosystems.
And yet...
At this price point? For the kids? Very tempted.

meh. I have plenty of other things to waste 50 on that would be way more useful than another tablet. Especially considering i try to avoid anything other than shopping on amazon like i try to avoid apple products. I dont want to be locked into an eco system. I rely heavily on the google system and not going to rebuy anything from amazon that i already bought elsewhere. Not to mention that my older nexus 7 seems like a much better tablet

You fear being locked in to apples eco system but then locked yourself into alphabets? Funny I've used nothing but iPhones since 2009 and nothing but android tabs for the last 3 years and I've NEVER felt trapped on either. Maybe fandroids aren't as tech savvy as they claim? THE ONLY THING WE HAVE TO FEAR...IS FEAR ITSELF! or maybe I'm just more awesome than I realized. Posted via the Android Central App

"I dont want to be locked into an eco system"
"I rely heavily on the google system" Wait, huh? So Google isn't an eco system that you could be locked in?? Wow...

I think he means that with Android he can install the Amazon app store (or other stores if desired), and run apps outside of any store if needed. With Amazon they attempt to lock you into their app store which, among many other things, means you can't download any of the Google applications. Just that is a deal killer for many.

But the smart people know that if you have a "regular" Android device you can use multiple App Stores.

That's not true at all.. If you have a Kindle.. you can install apps from other stores...

I can use Google on Android, iOs, Windows, Linux, mobile and desktop. I am not required to buy Google hardware, neither any of the Google services or apps I don't want. I can use Amazon Prime music and Google Music side by side. I have Google Play and Amazon Underground side by side on my non-Google phone. Where am I locked in?

Definitely worth it for $50... As soon as there's a CyanogenMod ROM available for it that is. Must have the gapps.

Imagine you're a kid begging for a tablet like his friends have. Parents say wait til Christmas.
His uncle tells parents he'll get him a tablet. Parents don't buy any. Kid opens this on Christmas day. Does he like or hate his uncle for the rest of the year, and pretend he 'accidentally' broke it the next day?

Any brat who needs an iPad in order to keep up with his friends hasn't been taught proper values.

How is it for reading comics? I'm thinking of picking one up primarily to read comics but I'm not sure about that screen resolution. Posted via the Android Central App

My dad has a 7" Tablet with an 800p display. It's quite pixely. This is a 600p. I would not buy a 600p tablet for anyone.

Meh, for 50 bucks, why not. I blow that amount going to a movie with the hubby. Posted via the Android Central App

I've read loads of reviews saying that the software performance is pretty sluggish on the 10 inch version as well, which I was casually considering. I'm going to have to say that the fault for that must lie with Fire OS as I have the Lenovo Tab 2 A10 which also has a Mediatek SoC running a very lightly skinned version of Lollipop and it performs just fine for everything except really graphically intense games. Also costs about $30 less than the current Fire HD 10 as well. Posted via the Android Central App

I bought 2 for my kids and they love them. Granted they only watch Netflix and play Minecraft. Posted via the Android Central App

I can't see myself buying one of these even for my kids. My kids have an iPad 2 and a nexus 7 (2013) This would be a major downgrade. Posted via Note 5/AC App...

I got the Kid's Edition last week for one of my kids. It tends to lock up and needs to be rebooted a bit more than I like.

While these aren't the solution for the audiophile obviously but for someone like me who just wants to occasionally listen to something from my phone, maybe a podcast or a radio show or occasional music, it would work well. I wouldn't buy an expensive system but I'd buy one of these. Also might be good choices for what to get your kid for Christmas.

Lenovo A8 - 50 was at £100 UK and should be again.
No contest for a cheap tablet.
FHD, 2gb ram, due Lollipop though I would keep it 4.4. http://m.johnlewis.com/mt/www.johnlewis.com/lenovo-a8-50-tablet-quad-cor... http://www.amazon.co.uk/gp/aw/d/B00SGW5QTY/ref=mp_s_a_1_2?qid=1444417435...

I just checked with Amazon regarding the video playback from the Micro SD card. This is the response I got Can any owners of the device confirm this? 08:43 PM BST Hari: I understand your concern that you'd like to download Amazon instant video to your Micro SD card.
Please be informed that video files you copy to an external drive or other media for the purpose of backup are not available for playback. I apologise for any inconvenience.
08:44 PM BST Simon Steele: so i cannot download to the sd card for playback?
08:44 PM BST Hari: Yes, you cannot download the Instant video to your SD card.
08:45 PM BST Simon Steele: ah okay thanks - that saves ordering
thank you

I'm sure you could still play your own personal videos from the MicroSD Card.

Can download and play videos from Prime to my card fine and also playing other files from my card via VLC. The files from Prime are protected but I could find them on the card. Posted via the Android Central App

This is not true. They have no idea what they are selling. Movies from Amazon download just fine to the SD Card. Beware, I have only tried the Movies I own, not rentals and/or Prime Movies. However, despite their advertised claim and CS telling me it can be done, you can't download Music to the MicroSD Card. Simply not possible. Also, Books, Audible AudioBooks, Email, and Slik Browser cache/downloads can only be stored on the internal storage. Hope this helps!

For a kid that wants a tablet, this is ideal. I was thinking perhaps a grandparent who only wants to email and use Facebook... But I'm not so sure about that. Posted via the Android Central App

This is nice for budget minded folks but I wanna see the top of the line model. Posted via the Android Central App

So how does the SD card work in Amazon tablets? Is it gimped like in traditional Android or can it be used for actual installed apps? I just want to make sure it isn't just for media.

I would like to know this as well.

So I picked one of these up today for using to watch prime videos and read on work commute. It looks great so far, also the videos I am downloading from Prime are going to my sd card, you just need to set up the card and set the app to download to card, works perfectly so far. For the money you can't go wrong I think, yes you can see pixels but for videos and a bit of kindle reading I am pleased so far. Posted via the Android Central App

Agreed. Picked up 2 of these and can't complain one bit for $50. Downloaded Monument Valley on Amazon Underground. Watched Prime Videos and Netflix. Checked out a book from the Kindle Lenders Library. I'm able to more with my Prime Sub than I was before. No, it isn't the best. It doesn't run stock Android like a prefer. I'm not even going to bother sideloading or putting my email on this thing. I'll use it to get away from work and just chill. And setting up a profile for my kids and making them read before watching vids/playing games is appealing.

If it weren't for the no Google play store thing I'd be all in but no thanks. I'd rather spend more and get something that does what I want.
Android Central Newsletter
Get the best of Android Central in in your inbox, every day!
Thank you for signing up to Android Central. You will receive a verification email shortly.
There was a problem. Please refresh the page and try again.