Amazon Fire 7 vs. Fire HD 8: Which should you buy?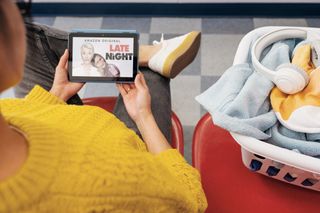 (Image credit: Amazon)
Amazon Fire HD 8 (2020)
(opens in new tab)
The Fire HD 8 is just a little bit more than the Fire 7 in almost every way. Its screen is slightly bigger and sharper, it has dual stereo speakers instead of a mono speaker, it has twice the RAM and nearly twice the battery life, and yes, it weighs a little bit more. All that being said, it is almost twice as expensive as the Fire 7.
Amazon Fire HD 8 (2020)
Higher HD resolution
Dual stereo speakers
Longer battery life than Fire 7
USB-C charging port
Heavier than Fire 7
More expensive than Fire 7
Doesn't have wireless charging feature of more premium HD 8 Plus
Amazon Fire 7 (2019)
(opens in new tab)
The Amazon Fire 7 tablet is undoubtedly one that will be an excellent gift for someone who's looking for a tablet that isn't too pricey but without it being terrible in the process. Its inclusion of hands-free Alexa will also win over a few individuals. Though, if you're planning to use the tablet for mobile gaming, then RAM and Amazon's app store may be enough to put you off.
Amazon Fire 7 (2019)
Powerful tablet for a small price
Hands-free Alexa is finally included
Light and thin
Durable
Lower resolution screen
Only mono speaker
Which one will suit you best?
The two Fire tablets are very much alike, but the Fire HD 8 has some significant upgrades for that extra $40 asking price. For starters, there's a higher resolution display, and though not a massive increase in PPI, it looks noticeably better than the 7-inch model. There's also more RAM, a second speaker, and a fairly significant boost in battery life over the smaller one.
For media lovers, the Fire HD 8 is also going to deliver better audio, with stereo speakers and Dolby Atmos support for an all-around better experience watching video content or listening to music. The HD 8, like the HD 10, also supports Show Mode, which, with the optional dock, turns your tablet into essentially an Echo Show you can then take outside with you. However, the HD 8 is not able to utilize the wireless charging dock (opens in new tab) that it's more premium HD 8 Plus (opens in new tab) model can.
Here's the thing, though. The Fire 7 is a better choice for a tablet to give to your young ones. At $50, it's verging on impulse buy territory, and the new model has a better screen and dual-band Wi-Fi support to boast over its predecessor. For someone looking for the cheapest tablet possible that isn't garbage, the Fire 7 is still the one we recommend, especially for young ones.
Fire HD 8 (2020)
Fire 7 (2019)
Display
8-inch
7-inch
CPU
asdfasdffs
Quad-core 1.3 GHz
Resolution
1280 x 800 (189 ppi)
1024 x 600 (171 ppi)
Storage
32 or 64 GB (expandable by up to 1 TB)
16 or 32 GB (expandable by up to 512 GB)
Battery
Up to 12 hours
Up to 7 hours
Platform
Fire OS
Fire OS
Connectivity
Dual-band Wi-Fi
Dual-band Wi-Fi
Audio
Dual speakers, built-in microphone
Mono speaker, built-in microphone
Colors
Black
Twilight Blue
Plum
White
Black
Twilight Blue
Plum
Sage
Alexa Enabled
Yes
Yes
Dimensions
adsfasfdasf
7.6" x 4.5" x 0.4" (192mm x 115mm x 9.6mm)
Weight
355g
286g
As you can see, both of these tablets are excellent low-cost options, and both have their pros and cons. Both are Alexa-enabled, for example, and both have Fire OS as their platform. Heck, both also come in child-friendly Kids Editions.
Yet, if you're looking for a decent, low-cost tablet to consume media, browse the web, check your email, and even play some games on, the Fire HD 8 is the one to get. The $40 difference is small enough that the improvements you get are well worth the extra investment.
High-def with improved sound
(opens in new tab)
Amazon Fire 8 HD (2020)
Long-lasting and spacious
The Fire HD 8 makes the right tradeoffs in screen, storage, and price to make it a great entertainment tablet. It has a 30% faster processor than the previous version, increased battery life, and updated color options.
Inexpensive alternative
(opens in new tab)
Amazon Fire 7 (2019)
Durable and for all
With hands-free Alexa, multiple fun colors, and access to tons of great content, the Fire 7 Tablet is a fun gadget to have around for all ages.
Jeramy is proud to help *Keep Austin Weird* and loves hiking in the hill country of central Texas with a breakfast taco in each hand. When he's not writing about smart home gadgets and wearables, he's defending his relationship with his smart voice assistants to his family. You can follow him on Twitter at @jeramyutgw.
Android Central Newsletter
Get the best of Android Central in in your inbox, every day!
Thank you for signing up to Android Central. You will receive a verification email shortly.
There was a problem. Please refresh the page and try again.