Alleged HTC One M9 photos show front and back of device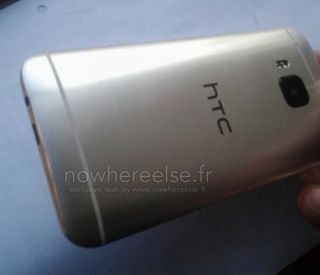 HTC's upcoming One M9 may feature a design similar to its predecessor, if leaked images posted by French publication NowhereElse are any indication. The photos, which claim to highlight the front and back of the device, reveal a similar BoomSound front speaker arrangement, reduced bezels, shiny gold color and a squarish camera module with dual LED flash at the back. What's more, the sides and base of the device appear slightly flatter than the M8.
It's unclear whether this device retains the M8's Duo Camera setup, as the top of the device is obscured in the rear panel shot. As for the specs, the latest rumors suggest that HTC will be offering a 20.7 MP camera at the back, an UltraPixel sensor at the front, full-HD screen, Snapdragon 810 CPU, 3 GB RAM along with the Sense 7 user interface.
HTC will unveil its next flagship on March 1 at Mobile World Congress in Barcelona. Also rumored is a wearable device, which according to Forbes will be a fitness band made in collaboration with Under Armour.
Thoughts on these latest images purporting to show HTC's next big thing? Shout out in the comments!
Source: NowhereElse
Android Central Newsletter
Get instant access to breaking news, the hottest reviews, great deals and helpful tips
Harish Jonnalagadda is a Senior Editor overseeing Asia at Android Central. He leads the site's coverage of Chinese phone brands, contributing to reviews, features, and buying guides. He also writes about storage servers, audio products, and the semiconductor industry. Contact him on Twitter at @chunkynerd.
So not much in the way of change from first glance. Not a big deal, it is a good design. Fix the camera and it could sell, that's what it will come down to. Posted by my soon to be retired Note 3

Source Confirms Recent HTC One M9 Leaked Images Were Of A Decoy Unit And Not The Final Product
http://androidheadlines.com/2015/01/source-confirms-recent-htc-one-m9-le... Posted via the Android Central App

Less bezels or not. Still a great screen to use. Posted via Android Central App

They do seem smaller, lightening the picture up shows that the screen goes very close to the edges, almost G3 like, but the top and bottom are of course bigger.

That's an insane phone! ...not in a good way though, more like the Einsteinian insanity, doing the same thing over and over again and expecting different results.

So what you you say about the iPhone and Galaxy series?? They haven't changed much over the years and they continue to sell it great numbers Posted via Android Central App

and there it is, the dumbest thing I've read all day.

Not sure which of the two comments above is the dumbest thing you've read all day but if it's the iphone and samsung thing, you are making the dumbest comment I've read all day.

I believe he meant the first comment. Everyone loves the speakers but wants them to not actually exist and still get the same sound.

Lol Posted via the Android Central App

I don't think Apple or Samsung want different results. Posted via the Android Central App

Samsung's sales numbers want different results.

Why would you drastically change such a beautiful device? Posted via AC app by way of my right thumb.

HTC makes brilliant smartphones. The One M7 and M8 redefined handset design and it is no coincidence that current Apple and near future Samsung designs are heavily influenced by them. http://www.forbes.com/sites/gordonkelly/2015/01/20/htc-one-m9-photos-spe...

El m8 fue mucho mejor, Que el anterior una maravilla de adentro asia afuera. Y el proximo m9 no es la esepcion mejor camaras mas rapido, mejor sonido, Dolby. Y de aspecto no se sabe todavia Pero sera mejor. El galaxy es el Que siempre a sacado lo mismo

En Ingles, por favor, senor. Yo no hablo Espanol.

Not symmetrical = failure
Is apple the only one who can make a symmetrical phone!
My oneplus isn't symmetrical but it isn't that far off. Posted via Android Central App on 1+1

It has symmetry on one axis Posted via Android Central App

you should talk to your therapist about your ocd.
i am afraid that if its that vital to you, you have a problem.

Apple's iPhone is just as symmetrical as this.

What symmetry are you talking about? How is Apple more symmetrical? First time I'm hearing this complaint...

The upper and lower front bezels on the iPhone have always been the same size. Hence, symmetrical bezels all around. I rarely hear it referenced as a "feature" or decision-making criteria, but I have noticed it before.

OMG! Really people? It's not symmetrical because there's a long speaker and a short one. It's ugly as hell.

Seriously, because one speaker is slightly shorter, it not symmetrical and ugly? You people are just amazing..../s Posted via the Android Central App

I hate that too. The M7 was more symmetrical. OCD or not, it's the little things in design that can make a big difference between good looking and awkward looking. Posted via Android Central App on The Nexus 5

But this isn't awkward looking. It looks just as strange as Apple's white iPhone 6/6 Plus with a huge bezel, more empty space at the bottom, black light sensor to the left of the earpiece, neither iPhone model have cameras in the center of their backs, and the iPhone 6 has that bezel sticking out of its back so it can't sit flat. Yep, that sure sounds symmetrical to me.

I'm sorry, so your argument is to compare with worst? I don't like the iPhone more that I like this phone. The details are important. Everyone has the same specs so I would argue that details are more important than they ever been before. The top speaker is not just "a bit" smaller, it's 2/3 the size of the bottom speaker, which is VERY noticeable. Add the useless black bar with the HTC logo and you have a phone that I won't buy. You can argue with me, I won't change my mind.

No, that was patstar 5's argument. They said that Apple's phones are symmetrical. I then responded to MarkSeven saying it was awkward while comparing it to one of the top selling smartphones on the planet (whether you like it or not, the iPhone sells). All of these arguments regarding symmetry are just ridiculous considering that there isn't a single smartphone that is going to be 100% symmetrical. If it did, there would be two cameras in the middle on the back, a home button above and below the display, an earpiece above and below the display, and all sorts of other nonsense that would just make it worse. You can have your opinion but looking at the M9 like it's some kind of an abomination simply because one speaker is smaller is just silly.

Some of these arguments are anything but stupid. Complaining about semetry? Lol. The. You should own a phone. No phone is symmetrical. No such things a almost semetrical either. Either is or is not. And the people talking negative about this device. Obviously haven't us an M series HTC. They are without a doubt best mine out there. Def underrated because they don't shove gimmicks down your thought like others. I'm sure this phone will do well. And the tech illiterates will continue to by samsung and such . no offense to techies will them. Just saying.

I've seen plenty on this comments section but today I think I've seen it all wow! Posted via AC app by way of my right thumb.

The speaker itself isn't smaller. It would be the grill or vents. At the top you have your front facing camera. At the bottom there isn't one. The reason the bottom grill is larger is to compensate for the width of the phone. It would look less attractive using the same smaller grill that's on top, on the bottom. The symmetry comes from the incorporation of the front facing camera. The length of the grill on the bottom matches up with the length of the grill, camera, & led on top.

Let's not forget those pesky front facing cameras or sensors. Very symmetrical. You can't win here. Posted via the Android Central App

Being alone on that island sucks I bet...

There's nothing basically wrong with the M8 design apart from the bottom bezel and the camera. If the M9 feels as nice to hold, has a better camera and loses at least some of that bottom bezel, I'm in. Why change something that works so well? Iteration is good. Refinement is good.

because they need to sell well!

Agree. I actually like the look of the M8. The bezel doesnt seem to bug me because the screen is pretty large anyway. Anyone that sees my phone first is like, what kind is that and two man that is a big screen. Now all they gotta do is slap that 20.7 megapixel camera on it, make it to where it takes some really great night shots and not over exposed day shots and we have a winner

By the look of the bottom and the micro USB port if say this device is a lot slimmer!!! :-) Posted via Android Central App

I think this is bogus. Just saying. Posted via the Android Central App

I am going with this being fake.

Looks like a M8. Posted via the Android Central App

Really hope this isn't the M9. Tapatalk'n On The SGNIV

I'm hoping that this picture is either fake or it is just missing details. I would get an M9 if HTC increased the screen size a bit. I would welcome 5.5" much like LG did with the G3.

Yeah I think this might be a fake. I pulled my M8 out of my pocket and compared side by side it looks exactly the same. I love the design of the phone. So if this is true and is exactly the same I really got no complaints. I had hopes for a front facing flash though! Posted with that M8 or Nexus 5!

If its ultrapixel, that might not be a big deal

I agree. Since I wouldn't "feel" compelled to upgrade from my M8 based on this info, I'm going to believe there has to be something more.

Still has that hideous forehead and chin...pass

If it wasn't for the dual speakers I can see the black bar being less obvious.. If you don't like it don't buy it then.. Simple as that. In the long run its all about software and specs, battery etc.

+1 HTC Desire S»HTC Desire HD»HTC One S»HTC M8 (Naked)

That's what I was thinking... Posted via Android Central App

The sides are much thinner, almost LG G3 thin (save the image and lighten it up, the screen is then visible). The phone also seems to have slightly smaller bezels top and bottom.

You can't see that... I would like to see the screen lit on... My M8 has big bezels but they don't show well when the screen is off...

Da black bar is still there...zomg! Why yoo put logo on front HTC? Now I won't buy because of black bar. I don't care if the phone overall is so good that it can raise the dead...I'll pass due to black bar. Posted via the Android Central App

As much as it seems like an overreaction, I feel exactly the same way. This is my next phone UNLESS the large logo touting bottom bezel remains. Posted via Android Central App

It would be nice if this was not the M9. I really enjoy the design of the M series of phones by HTC, but that black bat with the logo just eats up screen real estate. There is also no real point of the bat either. Drop the black bar and have the logo on the back only. Posted via the Android Central App

How do you KNOW that it is not needed? Every other phone has the bottom 1/4" or so. HTC have a massive speaker there so maybe they need extra space for internals. Everyone needs to get over the asymmetry thing as well. Posted via the Android Central App

The black bar (at least on the m8) was/is(?) for display drivers. Just like the moto 360 they have to go somewhere. Posted via the Android Central App

If it HAS to be there, fine, but you know what else can go there? Buttons. That way we don't have a triple chin thing going on.

The windows version will be dubbed M10 since windows does not associate with the number 9. Posted via AC app by way of my right thumb.

I agree Posted via Android Central App

that htc logo in the front >.>

I am the only one that love the htc logo in the front, its a elegant signature well done!

Your not the only one. I think some like some are OK with it so long as the boom sound is there. I think others just don't like it. I also think some bitch and complain about anything and everything because they enjoy it. Posted via AC app by way of my right thumb.

If these pictures are real then HTC just screwed up. Here's hoping someone comes up with a truly innovative design for a phone in 2015

What did you have in mind? What's truly innovative to you at this point? Posted via AC app by way of my right thumb.

I guess we seem to be in a specs race at the moment. I see plenty of room for innovation around situational awareness, for example the cameras on the fire phone and Moto X. I would also like to see HTC reduce the bezel as LG are doing. I would like to have fewer physical buttons as well. How about taking inspiration from the yota phone. Instead of having the whole back as a screen, maybe using a third of the back of the phone as a secondary screen for notifications. This would avoid the need for the cases with a viewing window that LG and Samsung appear to favour. I know this would involve innovating on the software end as well.

Ugh another phone... Who cares Posted via the Android Central App

I'd say they're here to bitch about nothing.

Bingo! Posted via the Android Central App

Kurt Cobain reference ftw.

After one day of use you basically forget the black bar is even there. I thought it would be a much bigger deal when I bought the phone. The image looks pretty similar to the m8, but the black bar does appear smaller and the camera on the back is definitely different. Posted via the Android Central App

Rip htc Posted via the Android Central App

I wonder how the device would look and what the public reception would be like if the entire front of the device was glass with the speakers drilled through. Make the black bar less noticeable and bring a fairly new design to the table...

I've wondered the same thing. I think that would look awesome. Posted via the Android Central App

I puked in my mouth a little.

Listerine. Posted via the Android Central App

>Probably one of the best phones of 2015
>Omg that black bezel! Totally makes the phone crap! Will not buy!

Pretty disappointed, if this is real. Posted via the Android Central App

Are they going to make a Windows version of this one as well?

Here is to hoping they launch a WP version at the same time or soon after original launch since it take no real effort to do so any more.

Hope so as well! HTC One M8 with WP looks great but it would be great to see a newer one from HTC

They went and listened to all the people that love that bezel and HTC logo on bottom of the screen always reminding them that they are not using Samsung or Motorola, but HTC...and kept it. Posted via the Android Central App

Stuck in a 2 year contract with verizon with my gs5 looks like I'm not missing much :(((( Posted via the Android Central App

Lol agreed (Note 3 owner on 2 year contract). Ascetic and hardware changes are becoming smaller and smaller while focus is being put on software (I can just use apps and custom ROM's to get the features if I wanted). Posted via the Android Central App

This is a good thing. It will ease my smartphone spending. My Note 4 is amazing but I just recently started using my old Note 2 as my work phone and I set it up exactly like my Note 4. Even though it's 2 generations behind the experience is not that different (especially since I'm running custom ROMs on both). Hopefully that'll translate to me not being so quick to jump on whatever comes out next. Posted via the Android Central App

The snapdragon s4 pro still holds up Posted via the Android Central App

FAIL! Seriously, they already released that phone. If there is an engineering reason to need the "black HTC bar", at least make it buttons to free up screen realestate! And instead of just giving in and entering the useless megapixel race, how about keeping with ultrapixels, but give us a usable amount 8-12...

They still haven't gotten rid of that ugly ass black bar. No buy unless there are capacitive buttons in that bar. Interesting how none of the manufacturers are changing the style of their phones anymore. Apple started that trend quite awhile ago. I am sure it saves them a lot of money not having to redesign anything, Too bad the savings aren't passed onto the customer.

Am I the only one that read "... rid of that ugly black ass... "??? :)

everyone keeps going on about "the black bar" but nobody seems to remember that it hides the digitizer electronics. i'll be getting this phone. is it too soon to ask for the new usb 3.1 port?

I have a Note 3 and I can wholeheartedly say that they don't even utilise the full speed of USB 3.0 so I doubt they'll add it, it adds too much cost (if memory serves the Note 4 has USB 2 for this reason) Posted via the Android Central App

The speed isn't the point, it's all about that type-c connector... http://www.tested.com/tech/488193-ces-2015-hands-usb-type-c-connector/

Did you check the cable??

I hope this pic is fake! That ugly black bar needs to disappear... Posted via My Beastly Galaxy Note 4...(T-Mobile)

Same! Posted via my HTC One M8

Hope to God they don't blow up the screen size. I was disappointed when they went up from the 4.7" display on the m7, any more and I won't buy another HTC device. Posted via the Android Central App

Yep. I don't want anything over 5" (MAYBE 5.2" if the overall footprint is still really small), and I'm not all that interested in 2K screens.

This reminds me of a video that I saw way back when the guy showed people an iPhone 4S and said it was a iPhone 5, people kept saying it's indeed better, faster and lighter. So this might be a picture of an M8 and maybe be Photoshopped (or maybe not at all) as pointed out earlier but only time will tell, I'm trying to be subjective ;) Posted via the Android Central App

Looks like it's a M7, M8. Wait, no change in design.

I really hate the asymmetrical speakers.. Posted via Android Central App on The Nexus 5

weak sauce...Love the speakers but the its going to be so so tall with that added black bar still in the mix. Still planning on picking up a G Flex 2

This looks like a Chinese knock off / butt ugly version of an M8. If this is what HTC is releasing, it'll be a failure compared to recent releases.

The HTC logo and bezel on the front will always ruin this phone for me. I want to like itit, i like the back and sides, and front facing speaker, but come on HTC get rid of the front logo.

Another slick-backed, heavily skinned phone with a bezel that used to be off-screen buttons but now serves no purpose other than to make the phone larger than it should be? Great.

If this is what the go with I will be so happy. I've said over and over that I love my M8 and the only downside is the camera. This fixes that and gives the internals a great update too while keeping the styling I love.

Agreed with this. The bitching over a front bezel is the silliest thing I've seen grown men do on a forum. The M8 experience has been my favorite android smartphone experience. Only Apple is smoother.

If this is true I am out. The m8 is already to slippery to hold and the HTC bar on the front is still there. No thanks. Posted via the Android Central App

Don't know why everyone hates on the black bar... every other phone out there has "wasted and ugly" space bezels at the top and bottom. It is what it is... I'm more interested in knowing the waterproof rating.

I disagree. At least with Samsung they put buttons in the space they have. The rest of acceptable bezels and spaces occupied by earpiece and front facing camera, appropriate sensors. If you look at how thin some phones have become, someone is lying when they say that display drivers and speaker hardware is underneath that black bar area on HTC phones. If it means that the phone just has to be a tad bit thicker (honestly, it's pretty damn thin already and a little bit more space inside wouldn't hurt) so that the phone can be shorter, then do it. I think having that there is just ridiculous and people know it by now.

They are not lying. Go look at a M7 or M8 teardown, the space behind the speaker grill is pretty much occupied by the boomsound speakers meaning the the space behind the ugly black bar is need for other internals. As for Samsung, they put an "ugly, pointless" button instead a logo. But again I personally don't care either way about the black bar... everyone will find something to complaint about.

I'll be getting this phone. I love how loud the m8 was especially through headphones. I finally didn't need an amp or USB DAC. The G3 that I had to upgrade to because of that sorry camera in the m8 just doesn't do audio very well which I spend a great deal of time listening to while either commuting or working. It also looks better than my G3 to me and I love that it uses metal instead of the flimsy feeling plastic.

Oh great..it looks like an HTC One. THIS IS BS!

That bezel with the logo is too much. Unless it has function, its a poor and off puting choice in my opinion. Posted via the Android Central App

I swear to god if one more person mentions the one plus one I'm going to scream. Take your cheap pos out of date phone that isn't even fully launched yet and shove it where the sun doesn't shine. Posted via the Android Central App

You just doubled the number of people who mentioned it in this post.

The future has truly arrived... said no one ever about this phone lol Posted via the Android Central App

I'm calling bullshit. If you go to the source the guy has already taken them down. I don't understand why. The reason he gives is that his "contact" asked him to at the behest of HIS supplier. That doesn't really make any sense, as you can't see any distinguishing marks on the device at all. There is no serial number information anywhere on the back or the front and the screen isn't on to give you any other information as far as date, time, carrier, etc. I don't think this is the new M9. Posted via the Android Central App

I don't see the 'Gold' color...I see Silver, just like my One M7. Probably my next phone, though I'm very intrigued by the Asus Zoom.

Ugh, I still see the black bar with the "HTC" on front. And please tell me that isn't a protruding camera lens on the back... Posted via the Android Central App

I know.. I feel you on that one. And the square shape is just a complete turn off.

That camera looks ugly as hell! I hope they don't use that... Come on guys at Htc. The goal is to make it look better not worse. Just use the m8 camera design. It was perfect. No need for change where change isn't needed.

if this is real.... I was hoping HTC would come out with the, pardon the pun, "one", but this will be another failure. They fixed the camera on this revision it seems, but it looks like it will be the m11 or m12 before they do what people want: less bezel
remove htc logo on front
make it symmetrical

I bought the G3 over the M8 because I love that they wedged a 5.5 inch display into that body. That being said, the rear speaker sucks! It's 2015!!!! I want decent front firing speakers that don't require a big size penalty. As Freddie Mercury said, "I want it all, and I want it now!". Posted via the Android Central App

when I hold it up to my face to talk, it doesn't mater what it looks like does it! Can I hear clearly, take pictures with it, check e-mail, surf the web, ect.

I've been waiting for a leaked image because I'm due an upgrade and I must say I'm not impressed. That black bar with the HTC Logo just makes it awkward to type as the keyboard is so high up on the screen. Either use the capacitive buttons like on the M7 and double the HTC logo as a fingerprint scanner or something. I'm not sold on this, i didn't upgrade to the M8 for the same reason. I'll wait for the Samsung or LG G4. Or even the Huawei Ascend Mate 7, as it will probably be what the rumoured HTC HIMA PLUS will be. The only thing that really stops me buying Huawei is the lack of custom ROMs.

Phone looks good imo. If camera is improved and phone is not as slippery to hold as the m8 I'm in. If you don't like it don't buy it I guess. Posted via the Android Central App

Having switched to an LG G2 after my Evo LTE, I'm not happy with LG. So many features missing compared to Sense that HTC owners take for granted. With the bigger camera, this might be what it takes to bring me back to HTC. Posted via Android Central App

I find it believable. The leak for how the M8 looked was already out weeks before HTC announced it. Of course it garnered criticism for the HTC logo on the lower bezel that was annoying for many including myself. It'll be great if you had the option of on screen or capacitive as on the one plus one. That'll be fantastic. Posted via the Android Central App

That "lower" bezel is called a chin btw. :)

Well. Not only is the design a little boring after 2 years (M7,M8) but it might be THICKER too??!!
http://pocketnow.com/2015/01/20/one-m9-hardware-details Posted via the Android Central App

If my M8 were flatter, with a better camera and less bezels, I probably wouldn't have given it to my gf and got an Xperia. Posted via the Android Central App

You don't like big bezels, yet you got a Sony?

Rubbish. Posted via the Android Central App

If this is the new M9 I think I'll end up with a another manufacturer. Hopefully it's like the concept shown a few weeks ago... Posted via the Android Central App

Does it have an SD card? Posted via the Android Central App

I get the whole don't fix what isn't broken thing and all, but sheesh this thing looks 1 shade from identical to the m8.

What kind of design change are people looking for? The current design is great! What should that change? The black bar would be the only thing I'd eliminate if it were particle. But since underneath that location there are electronic components the extra length or bar is necessary.

People want "innovation". So that they can then complain about it.

Irs ugly. They change it completely Posted via the Android Central App

How? And besides that no one has verified that this is real. Calm down.

I'm saying fake. It looks EXACTLY like the M8, except for the square camera. I would hope they'd change it a bit more than that for the new model.

Still same ugly design Posted via the Android Central App

Everyone loved the M8 and hated the camera. They fixed the camera and what "ain't broke" they didn't fix. Sounds perfectly reasonable to me. If by staying with a 1080p screen they increase battery life instead of the ridiculous extra pixels that you can't notice and suck juice, then that's a plus, too. Improved speaker sound... check. Perhaps there is a minimal leather wrap option similar to Apple's for those who complain the phone is too slick? This could be a winner for those of us who don't own the HTC flagship because of the pitiful camera and battery life.

Sticking with my M8.I would say the M8 was a more significant improvement over the M7 than this over the M8.
Design wise,I think the M8 is much better.

The design is pretty much identical. So I'm not sure how the M8 looks better. I'll wait till the official announcement. I at least want to see this in action.

M7 to M8 - bigger screen, marginal upgrade in speakers, marginal camera boost/3d effect, slightly updated chipset, better battery. M8 to M9 - 64 bit processor, improved camera, 3gb ram. Difficult to say what other improvements the M9 may bring (this is all speculation), but the camera may be significantly better, the battery life may be much better (and I'm really hoping that 'always on' sensors become the norm in Android in 2015 a la the Moto X), but I'd say that from what think we know now, the biggest single improvement between two models is likely to be that 810 in the M9. Posted via Android Central App

Looks just like the M8 ( which I love BTW)... Guess I'll wait till galaxy s6 or the M10

Children! Don't you realize that there are deprived 1+ users out there that will kill to have a phone half as good as this is? Half of them posted in here already. Will someone please think of them? Posted by my soon to be retired Note 3

I have a OnePlus, and I like it fine. I've had an S2, m7, Moto G, Nexus 4&5. I love Android phones. I'm interested in the m9 and will probably check it out, but it has to be a worthy upgrade over my current device. Other than maybe the camera, doesn't sound like a huge step up for me. Posted via the Android Central App

The s2 is an upgrade, is your yellow as well? Posted by my soon to be retired Note 3

All this whining over a photo that could be fake.

Hmm. Assuming this is real, i see HTC didn't fix one of the biggest gripes I had with the M8 - the damn off center charging port. I scratched the bottom of my m8 quite a few times (before returning it) trying to blindly plug it in. and I assume also that no wireless charging if they kept it all metal. Honestly, I don't see any reason why I would choose this over other phones. They can throw all the specs and numbers in it they want, but if it is irritating to use, then there is a good chance I am not going to be interested.

Well bud is time to pay a visit for new lens. &) lol Posted via the Android Central App

Can't wait to see sense 7!!! Sense is by far the best skin Imo, I'll be waiting patiently to see what HTC has on store. HTC release 2 beast please make it even harder for me to choose. That G flex 2 is all over my radar as well 2015 is gonna be a kick ass year for Android enthusiasts. Posted via AC app by way of my right thumb.

I don't like the look of square cameras. Posted via Android Central App

But all cameras are square LoL Posted via the Android Central App

I visited the source http://www.nowhereelse.fr/photos-proto-htc-one-m9-2015-104309/ The editor says his source made made him take down the pics. He also says the same source was accurate in the past. Maybe that means these pics are not accurate? I kinda hope so, I don't love the look of the M8 or this. It should have smaller corners and therefore narrower speaker areas, and not so slick on the edges IMO, more like the M7. Last year evleaks early pictures of the M8 were real (I was hoping they weren't then too). I hope that guy shows us something soon.

Dang, a lot of nitpicking and OCD disorders by the type of guys that I bet count strokes during sex... Posted via the Android Central App

8,753 What of it? Posted by my soon to be retired Note 3

HTC logo still there? Oh my. I know, inb4 "that's where the stuff is packed idiot!!"

Why do they insist on not centering the USB port on the bottom of the phone? Posted via Android Central App

Don't downvote this guy. He has a point. It always aggravates me since most car mounts have the power cutout in the center. You can't charge the HTC One with it docked unless you raise it high on the mount (looks silly) so the power plug fits.

I really hope they cut down on the weight. A 180 gram phone smacking against your package all day is far from enjoyable.

So an m8 with more ram, better CPU and better camera? Damn that HTC bar still exists

I feel they should just make the entire front of the device glass and drill the speaker holes in it. That way it would look and be more seamless Posted via Android Central App

Looks like a Samsung Galaxy S5 camera stuck on a M8 which a bit of photoshop.....I hope!

Have they shifted power button to right side ?

I love the power button being on top.. when its on the side it always turns on when phone is in leather case. I LOVE the tap tap feature

As someone who skipped the M8, I don't mind the similar design. If the rumors are true, I'm not sure how much I will like the 5.2-inch screen, thickness, and power button on the side, though. Posted via AC App on HTC One

Since the M8 is the world's most slippery phone, I hope the fix that problem.. I love my M8 except for the fact that it's so dang slippery

It's fake for me. Speaker grills just don't look right, too much wasted space especially up top. Can't see HTC doing this, it's ugly. Well I hope not, this is my next phone...... The camera looks like it's been photoshopped from the S5. Posted via the Android Central App
HTC one M7

No dual camera setup... Posted via Android Central App- Via HTC One

It's all a matter of personal taste. Having switched from an iphone to the HTC One M8 the M8 is one sexy phone...it looks great, sounds great and feels great in the hand...thanks HTC keep up the good work! Posted via HTC One M8

I have the HTC One M8 and I'm not really diggin that square camera... they should keep it round with the same design as the M8.

Source Confirms Recent HTC One M9 Leaked Images Were Of A Decoy Unit And Not The Final Product
http://androidheadlines.com/2015/01/source-confirms-recent-htc-one-m9-le... Posted via the Android Central App
Android Central Newsletter
Get instant access to breaking news, the hottest reviews, great deals and helpful tips
Thank you for signing up to Android Central. You will receive a verification email shortly.
There was a problem. Please refresh the page and try again.