Former HTC CEO Peter Chou retires from company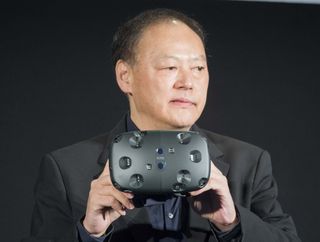 Peter Chou, who was HTC's CEO through its dramatic rise and fall in the smartphone world, has departed the company. An HTC spokesperson provided Android Central with the following statement:
So that's that. Chairwoman Cher Wang took over the top job at HTC after Chou's departure, after which he briefly headed up HTC's Future Development Lab in a more product-focused role. Late last year he took up a new leadership role at Digital Domain, the visual effects studio co-founded by director James Cameron.
Since then, despite HTC's expansion into VR and connected devices, and the arrival of the critically praised HTC 10, the phone maker's financial position has remained precarious.
Alex was with Android Central for over a decade, producing written and video content for the site, and served as global Executive Editor from 2016 to 2022.
I really hope HTC stays competitive for a long time Posted via the Android Central App

Hopefully they become competitive.

+10 AT&T Galaxy S7 Onyx Black with Unlimited Data

That's what happens when you try tosell compromised phones at top level prices,you will sell a few,but no where near enough.
As the figures for M10 will show soon,it did well in reviews,lots of folk said they liked it,but not many folk have actuay forked out their hard earned cash for one.
For the price of one M10,I could buy three UMI supers,so even if two fail,I would still come out better off,and have a phone that I prefer to HTC's pricey crippled non-seller...
If all three UMI'S work ok,I have three phones with almost identical spec to M10,for less money...

They could have sold the 10 for $200 off contract and even tossed in the Vive for free, and they'd still not sell that many. I'm sure that 95% of the time, the customers will walk out of the store with an Apple or Samsung product in hand. Pricing won't fix a brand recognition problem in the face of other dominant players. 2¢ Posted via the Android Central App

This. I'll never forget the time when my dad wanted to upgrade to a smartphone. I asked him what kind he wanted and the first words out of his mouth was, "I want a Samsung". Asked him why and he said that he didn't know.

Pretty sad too because HTC makes the phones that Apple copies, then Samsung copies from Apple.

Are you really comparing HTC to UMI? UMI's build quality is poor at best. Posted via the Android Central App

He doesn't look especially happy in that photo lmfao. Posted via the Android Central App

I think HTC is done for (I'm not bashing them either). There's nothing they can do to turn things around. They have no chance in the US market which is locked down by Apple and Samsung. Only a few other markets show any promise. Low pricing, outstanding marketing, and having a perfect device won't do much for them at this point. I don't see any options left for HTC, regardless if they are bought out or not. Posted via the Android Central App

I really hope not, cause I am not a big fan of there Galaxy line. Hated the lg g5 and extremely happy with my HTC 10. I get complements all the time on this phone. Posted via the Android Central App

+1 to that!
I hate samsung phones. Had 3 nexus phones over the past years and now i bought the 10. And im very happy about it.
Expensive, yes.. But i think its really good, and an awsome design.

Yes, Samsung and Apple are doing very well, just like Sony was the undisputed champion with the Walkman. I refuse to live in a world where the only burger choices we have is McDonald's and Burger King. I bought the HTC 10 because my Samsung Galaxy S6 sucked. I'm happier for it. I wouldn't start writing an obituary for a company which has been a trendsetter among Android OEMs.

Their only hope at this point is that Google gives them a lifeline and develop a Nexus phone, but I'm not holding my breath.

Except they're actually making two Nexus phones this year, so....... Posted via the Android Central App

How do you pronounce Cher Wang? Like Cher the singer or like Chair you sit on or Chir? Cause it's looking like HTC is going to do a Sonny Bono. Posted via the Android Central App

You ain't right lmao Posted via the Android Central App

Hurts to see what htc has turned to as a long time htc user. Htc 10 is an amazing phone Posted via the Android Central App

I share your sentiment. Every smartphone I've ever owned has been an HTC product. It kinda sucks knowing that there's nothing HTC can do to reverse their fortunes. Once HTC is gone, my other options would be a Nexus or iPhone. Posted via the Android Central App

Every time HTC introduces a new phone they take a step back. The M7 and M8 had great speakers and they drop them for the 10. I purchased it and returned it because of the speakers. I'm waiting for the Axon 7 to go on sale. It has all the top specs and great speakers. And it cost $200. less than the 10 and has a 2 year warranty. Posted via the Android Central App

The HTC 10 should have gone with an Amoled screen. Posted via the Android Central App

The last of the good guys...

Just tried to pick up an HTC 10 this weekend since i cracked my Nexus 6P screen. Only a single T-Mobile store (out of 6) I went to in the NYC area even received any stock and it was only 1 unit. Not a good sign if they're starting to be treated like Sony...

In the US, if it isn't an Apple or Samsung smartphone, then hardly anyone wants it. I've seen the same thing in Best Buy, Wal-Mart, and other carrier stores. I think it's useless for anyone else to bother trying to achieve great success in the US market. I wonder how much operating costs HTC would save (if any at all) if they abandoned the US market and focused elsewhere where they'd have somewhat of a better chance at gaining ground. Posted via the Android Central App
Android Central Newsletter
Get the best of Android Central in in your inbox, every day!
Thank you for signing up to Android Central. You will receive a verification email shortly.
There was a problem. Please refresh the page and try again.