Bottom line: Adobe takes its editing chops and tries applying them to an app that's primary focus is taking photos using the various AI-powered tools available. There are plenty of filters and effects to use to add flavor to any shot, along with editing features, but the limitations that sprout up along the way show there's still plenty of room for improvement.
Pros
+

User-friendly

+

Good editing tools

+

Filters made for Instagrammers

+

Works on various Android phones

+

AI shows some promise
Cons
-

Some gimmicky filters

-

Low-light and night shooting

-

Only uses phone's main lens

-

AI needs extra work
Why you can trust Android Central Our expert reviewers spend hours testing and comparing products and services so you can choose the best for you. Find out more about how we test.
Photoshop is a household name, even for people who have never used the software to edit photos. And while there have been apps to edit images on Android for some time, Adobe has taken a crack at actual photography with its latest Photoshop Camera app and thrown in a whole lot of wacky features to work with.
Much of what Adobe is using here is based on its artificial intelligence (AI) called Sensei that bridges together photography, creative effects and editing. While you might think this app requires a level of expertise, it's actually meant for anyone capable of shooting snapshots on their phones.
It's also a unique place where filters are called "lenses" and the app can apply effects or edits on its own. Or you can choose to do a lot of the work yourself. The versatility is interesting, but more serious mobile photographers might be turned off by all the noise going on here.
Adobe Photoshop Camera What I like
For starters, it's nice that Adobe offers this app for free. Most times, the company's products are hidden behind paywalls and subscription fees. In this case, however, the full gamut of the app's feature set is readily available.
Rather than make this app as intricate and detailed as its editing apps tend to be, the company made this about as simple as a standard camera app on any phone. The catch is that you can either shoot normally or apply one of the Lenses to add something artistic to the shot. The order also doesn't matter because you can apply it to a photo even after the fact, putting less of an emphasis on what you choose to shoot with at any given time.
For example, if you shoot with a filter already applied, but change your mind later or want to see a filter-free version, you can just do that by selecting your choice in the app. I appreciated the versatility, but can also see the value of reversing buyer's remorse for users who wished they had tried something else.
Personally, I'm not a fan of all the filtering that goes on, particularly with Instagram, and generally in social media. Calling these "Lenses" is a bit of a misnomer, but Adobe also acknowledges them as filters. There are about 30 Lenses to choose from, with 80 or so filters in total, since some of them have different effects.
What I liked was that the app didn't force me to shoot with them, though I will admit there is fun in experimenting with what's available. Some of the effects and treatments are appealing, and since the editing tools work with whatever you try out, there's a lot of room for trial and error. The app will also do its best to optimize settings using AI when composing a photo, but you may find you have to tweak exposure before you take the snap.
Once you get to the editing suite, the AI (it's the wand button) can do its best to improve the photo with one tap. Otherwise, you can use the sliders to adjust various elements, like shadow, highlight, clarity, vibrance, contrast, saturation and more. Or you can move the image over to Photoshop Express for more involved editing.
I found the reverse was also easy to do. For example, if I shot a photo in RAW, edited it in Lightroom and Photoshop, and saved a version on my phone, I could then load it into Photoshop Camera and apply any of the effects I wanted to. Adobe wisely includes shortcut buttons to Lightroom and Google Photos (or Gallery, if that's available) to facilitate the move.
I found the app performed better when an existing image already had work done. But there were some caveats I noticed along the way. First, the AI can't always distinguish all exposed areas when using a filter that applies an effect without destroying the foreground subject. I found this happened with structures I've previously shot, like the Eiffel Tower, Brandenburg Gate and Bay Bridge. It routinely misses space between columns or supports, forcing some additional edits in Photoshop to try and salvage the resulting image. That's easy enough for more experienced users, but I can see this being problematic for more casual users.
Adobe Photoshop Camera What needs work
Officially, Adobe says the app works with Android 9 and up, though more specifically mentions the following devices:
Pixel 3/3 XL, Pixel 4/4 XL
Samsung S9/S9+, Samsung S10/S10+/S10 5G, Samsung Note 9, Samsung Note 10/10+/10 5G, Samsung Galaxy S20 5G/S20+ 5G/S20 Ultra 5G
One Plus 6/6T and above
I tried the app on the Pixel 4 XL, Galaxy S20 Ultra and OnePlus 8 Pro, all of which performed similarly. However, doing a search in Google Play for the app on any unlisted Android device yielded no results. The app simply didn't appear. I also tried finding an APK file to use on the Huawei P40 Pro, but had no luck there, either.
Even on the supported phones, the app only taps into the main rear camera and front-facing camera. It ignores the other lenses, as well as any of the modes or software features that make certain phones a cut above others. For instance, the night modes on all those respective cameras don't apply, making it really hard to shoot in low-light or at night. I also couldn't save photos in RAW to edit them in Lightroom and salvage something.
Without the manual controls available in pro modes, like those Samsung and OnePlus offer, the only thing I could change was exposure. For reasons I can't fully ascertain, Adobe's software skews too light, regardless of the location or time of day, forcing me to lower it to try retaining extra detail. The problem there is that the app can't make night photos look better through pure editing. You have to try to mask imperfections using a filter.
And that's on top of the filters themselves, which are acquired tastes. I personally preferred the ones focusing on the sky or that were conducive to scenery. Scenery and Blue Skies are good ones, while Reverie and Celestial work best with open vistas and landscapes. Portrait and Studio Light aren't bad for people. Pop Art, Spectrum, Billie Eilish and Neon Pulse are made for wacky and unusual treatments.
Results will vary wildly. What would work with one image will be ridiculous on another. The variations are so vast that the app all but requires some time to learn the filters and practice before taking it out somewhere. The AI tries to optimize an image regardless of the filter you use, but even then, consistency isn't assured.
Competition
Shooting photos with built-in filters isn't a novel idea, as plenty of apps already do it. Instagram is probably the most popular for either capturing a scene with some kind of effect or filter, or slapping it on after the fact. Despite the obvious gimmickry going on there, it's no secret they are widely used. You could argue the same is true of Snapseed, though the choices in that app are little more understated, with a greater focus on traditional photography. That is also true of VSCO, which does require a subscription to access all the goodies it has to offer.
Beyond those, you could theoretically shoot photos with apps like Camly and Afterlight, both of which offer more when it comes to actually composing a shot, and deeper editing options if you want something to complement Photoshop Express. Canva has its own way of making photos and text blend together.
You may find a gem that works for you by simply searching Google Play for apps that can add filters or effects to your photos, no matter when you actually apply them. Adobe's Sensei AI still needs work to truly stand out and leave all competitors behind.
Adobe Photoshop Camera Should you use it?
Who it's for
If you like wacky filters to use for your photos
If you already use Photoshop Express or Lightroom
If you have a phone capable of using the app
If you are patient enough to see how it evolves
Who it isn't for
If you don't have a phone on the compatibility list
If you prefer to use all the lenses your phone has
If you don't particularly care for filters and effects
If you shoot a lot of photos at night or in low-light
I can't fault Adobe for trying its hand at mobile photography. The concept behind this app is distinct enough that it may have some cachet for users at first, or down the line. The editing features are decent, albeit limited, because of the hand-off to Photoshop Express. I can see social media influencers experimenting with this in any number of ways, but I'm not so sure experienced mobile photographers will be blown away by the tools currently available.
3.5 out of 5
It's free, so it doesn't cost you anything to try it out if you have a compatible phone. The good news is that it looks likely Adobe will expand on what's already available. Here's hoping that they can satisfy shooters looking for more than gimmicks.
Basic editing
A good tool with limited features
Adobe takes its editing chops and tries applying them to an app that's primary focus is taking photos using the various AI-powered tools available. There are plenty of filters and effects to use to add flavor to any shot, along with editing features, but the limitations that sprout up along the way show there's still plenty of room for improvement.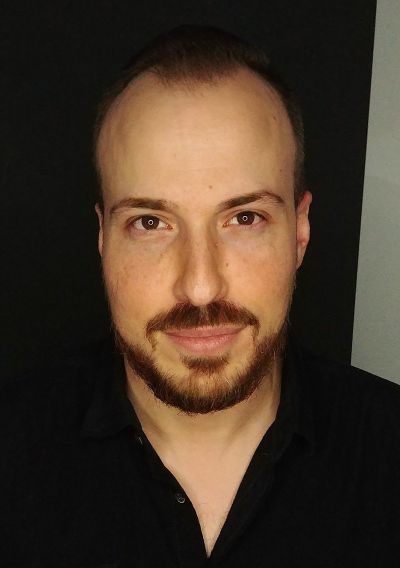 Contributor, Audio Reviewer
Ted Kritsonis loves taking photos when the opportunity arises, be it on a camera or smartphone. Beyond sports and world history, you can find him tinkering with gadgets or enjoying a cigar. Often times, that will be with a pair of headphones or earbuds playing tunes. When he's not testing something, he's working on the next episode of his podcast, Tednologic.