Acer's 13-inch Chromebook drops to $250 on Amazon today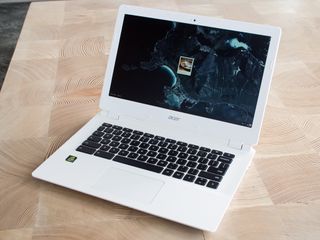 If you're looking to get a modern Chromebook on the cheap, Acer's Chromebook 13 is 17% off today on Amazon, so long as you're okay with the lower-end model. That discount knocks $51 off the price of the Acer Chromebook 13 with 2GB of RAM and 16GB flash storage, bringing it down to a palatable $249.
The Acer Chromebook 13 sports, as you might have gathered from its name, a 13.3-inch display, though in this case it's a very nice 1080p unit. What makes it different from most other Chromebooks, however, is the NVIDIA Tegra K1 processor at its heart, with four cores each running at 2.1GHz. It's also running a NVIDIA Kepler GPU with a beastly 192 CUDA cores.
Chromebooks are starting to catch on in popularity, with sales rising substantially in recent quarters as devices become reasonably powerful for their price points.
Sure, the Acer Chromebook 13 isn't a visual stunner, but discounted by $51, you might just call it a bargain. For somebody a first computer, it could be just what is needed. So who's game?
Derek Kessler is Special Projects Manager for Mobile Nations. He's been writing about tech since 2009, has far more phones than is considered humane, still carries a torch for Palm (the old one), and got a Tesla because it was the biggest gadget he could find. You can follow him on Twitter at @derekakessler.
Does this suggest any changes. A new model? Awesome AC.

Tegra K1 or SD 805 or Exynos, I'm not buying it. After my Samsung Exynos Chromebook, I will never buy any ARM based laptops anymore. Period.

Second that, it's nice that they don't have a fan, but having more than a few tabs open really kills it. Posted via the Android Central App

Ive had 20 tabs open on it and it works fine Posted via the Android Central App

Well, I'll suggest that you stay away from the newer Intel-Baytrail Chromebooks, because they are comparable to the newer ARM processor's performance. And in the case of the Samsung's Chromebook 2 13 inch model with Exynos and 4GB of RAM, it outperforms most Baytrail models in multi-tasking and in real world usage. You're going to have to buy an older model Chromebook with an Intel Haswell chip, a more expensive newer model with an intel i3 chip or the Chromebook pixel to get better performance.

I like my 11" model, but I'd much prefer to have 4GB of ram in Chromebooks. 2GB gets bogged down pretty quickly running Chrome.

I have been thinking about buying one of these because I need a new laptop, but I hate the new Windows operating system. I want the model with 4 GB of RAM and 32gb ssd. Maybe that model will go on sale soon too! Combine that with my prime shipping and that makes for a hell of a deal. Posted via Android Central App on the Moto X

In the same boat. We could use another laptop in the house. I'm not overly sold on a chromebook, but the thought of dealing with an underpowered laptop running windows 8.1 makes me shutter. I'm looking more at the $330 Toshiba with 4GB and 1080p IPS screen myself.

I got last years Toshiba Chromebook with a Haswell processor and 2 GB of RAM. The performance is very good, IMO. I usually have six or so tabs open. I've never noticed it bog down, but if you do, just close some tabs! It has a fan, but I never hear it--it's completely silent. It only has a 720p display, but it gets the job done. Battery life is decent--it's my traveling computer. I love the fast boot time and instant wake-up. I love the quick and unobtrusive updates to the OS. I would recommend a Chromebook to anyone looking for an affordable computer. There was NO learning curve--if you know how to use a browser, you know how to use a Chromebook. When it comes time to replace my Windows desktop, I may opt for a Chromebox. The only thing it can't do YET, is burn a CD or DVD. But I can't remember the last time I needed to burn a CD or DVD.

I don't want to consider updating the chromebook that I have every two years like I do my phone or tablet. I expect about twice that on average. So, while there are some better options out there, I am content keeping one around for another 2 years from now or so before upgrading.

They should make this with the 64bit tegra k1 too Posted via the Android Central App

If you are planning to buy acer laptop online, I highly recommend you come here - http://www.amazon.com/gp/search/ref=as_li_qf_sp_sr_il_tl?ie=UTF8&camp=17... - Amazon

Made an account just to let you guys know that this has been the case (250 for this model) for almost 2 weeks now. It's the same on Best Buy.

Ordered it Saturday on Amazon, arrived yesterday. Daughter loves it. Perfect for what she needs for school and really an amazing price.

If you could download apps from android play store like you do your tablet and phone then I'd get on one
Android Central Newsletter
Get the best of Android Central in in your inbox, every day!
Thank you for signing up to Android Central. You will receive a verification email shortly.
There was a problem. Please refresh the page and try again.