Acer Iconia Tab A500 system update v1.141.07 rolling out to some users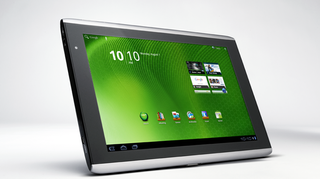 Although it's not the Android 3.1 update that is set to arrive in June, Acer Iconia Tab A500 owners are now reporting that a system update weighing in around 38MB is now starting to appear. As reported in the Android Central forums -- the update will bring your device up to system software version 1.141.07 and appears to be mostly bugfixes but a changelog is not yet available. Some of the fixes users have been reporting:
Daylight savings time fixes
Calendar appointment fixes
Fixes the screen wake/sleep issue
Browser bugfixes
Adobe Flash Player 10.2
Improved Wi-Fi signal
Improved GPS signal
Corporate Exchange email support
One thing to keep in mind is that of you are currently rooted -- you may not see this update available as of yet. Returning to stock should help with making the update arrive, and you can re-root again using Gingerbreak. Did your device get the update? If so, jump into the forums and let us know what changes you've spotted.
Discuss more in the Acer Iconia Tab Forums
Android Central Newsletter
Get instant access to breaking news, the hottest reviews, great deals and helpful tips
My update rolled in late last night. So far its been flawless.
Of the problems this was supposed to fix the only one I ever saw was the wake up problem, but this was not a big deal as it always went back to sleep within a minute. The compass was off a little prior to this update, but seems to be fixed now. This didn't affect navigation because that uses the gps, but applications that use the compass use to exhibit errors of ten to fifteen degrees. When not moving, your gps provides no direction info, and applications like maps or virtual reality displays and geocaching rely on the compass to know which direction you are pointing. With my nexus one, the Acer, and a magnetic compass aligned against the same straight edge, the Acer exhibited the most error, but the nexus was not correct either. Now the Acer matches the magnetic compass almost perfectly. I never had any wifi problems, but others did.

I got my update today, immediate wifi signal improvement WOW!!!! just made a great tablet even better!!!

i got the update fine this morning and was rooted. had to reroot after, but having root will not stop you from updating... deleting /renaming stock files will

Echoing what Ashram said, I had the OTA update prompt pop up literally minutes after I had rooted my device with Gingerbreak, so root does not appear to be a hinderance to getting the OTA. If you have removed any of the stock apps or changed the phone/telephony apks to get rid of the "cell battery" drain showing in settings, then the update will not apply. I'll be making backups of my stock APKs tonight and will post them for anyone who may have deleted them.

Got the update but when I tried to install it said the update was invalid. I then redownloaded and it worked fine. Afterwards, I had to reinstall the g-mail widget since it was removed from my home screen by the update.

I saw A500 and got excited, then realized it wasn't an Amiga. Model number fail.

All went smoothly. Re-rooted with Gingerbreak just fine. By the way, the Market glitches have gone away now, along with the other fixes. B-)

im still having wifi issues with low signals and now disconnecting on itw own.

This stinks! I purchased one this week for my wife, and it updated to new firmware immediately upon setup. I liked hers so much, I bought one for myself yesterday. However, mine won't update! I am stuck at 1.104.02, and when I select 'check for updates', it says my device is up to date! My wife's has Exchange ActiveSync option, and mine does not. I Acer contacted support, and they were of no help at all. They would only say that my device would automatically update when an update is available. Anyone know how to manually update to the latest firmware?

I got the A500 yesterday and still waiting for the update to happen. Hopefully update will come very soon. However, I want to ask about the gingerbreak 1.2. I downloaded a few copies but it keeps getting marked as virus. Is this ok ? Also, when I disable antivirus, I could not run Gingerbreak, it keeps crashing and I have to force close. Any suggestions ? Thanks a lot.

I've been getting a message about a new update available (this would be my third update since I bought the unit). However, once it downloads it says that the update is not valid. Anyone else seeing this? The update version is 4.010.11, size is 356.69Mb.
Android Central Newsletter
Get instant access to breaking news, the hottest reviews, great deals and helpful tips
Thank you for signing up to Android Central. You will receive a verification email shortly.
There was a problem. Please refresh the page and try again.