Acer Iconia Tab A500 ICS update now showing as available for some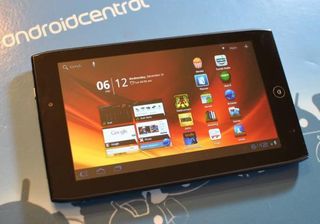 Acer not too long ago decided to let folks know their Android 4.0 ICS updates for the 7-inch A100 and the 10.1-inch A500 Tabs were well on their way. That said, Acer noted the A500 wouldn't see the update until April 27th in the US or Canada, yet some folks in the forums have already got their OTA update sent out to them.
If you have a Acer Iconia A500, go ahead and check for updates -- you may find it there waiting for you. If you're looking to find out what all the changes are, head on into the Android Central forums where some folks having been going through the update. While most stuff seems intact, notably missing is the Acer added ring which many appreciated on the device but was an Acer customization.
Discuss in the Android Central Forums
It is the same with the a100. But people who have received it on the a100 are also reporting they don't have the acer ring.

It's available for me but I gotta get on wifi first 300+mbs on my hotspot will probably cause AT&T to throttle me. Lol

No update here in Chicago yet.

Check your current version number. Most of the people in the USA still on a stock ROM are running Acer_A500_7.014.02_COM_GEN2. The updates that have been released so far seem to be for various GEN1 versions around the world. When Android 3.2.1 was released for Acer A500, the GEN1 versions were released first with the GEN2 version being release towards the end of the update cycle. Although I could be wrong, I suspect the GEN2 release of Android 4.0.3 will come towards the end of this release cycle as well. So we could have to wait a few more days. The release of specific versions is not based upon the city where you live, but upon your current build number. Your build number is related to the region (Europe, Asia, Australia, Canada, USA, etc.) in which you purchased your tablet, unless you flashed a ROM from another region. Is there anyone who running the GEN2 ROM (Acer_A500_7.014.02_COM_GEN2) that has yet received the update?

Just got an update on mine this morning...Frederick, MD. Checked the wife's and hers is available too, hopefully it ICS and not something dumb. It does mention that flash and other software is available so that's hopeful. And I now have ICS!

Nothing on my side but I will continue checking during the night.

Popped up for me when I came home from work yesterday, it was really buggy right after the update with the launcher force closing a bunch of times, I did some updating of various apps did a couple of restarts (thankfully the restart time has improved dramatically, it was over 5 minutes for me before the update) and now its running pretty snappy and some apps that were laggy at times before (comixology for example) are running perfectly. By the way I am in the Caribbean

No update for me as of yet.. i'm on GEN2 as well at the moment. We'll see what happens in the next few days. I don't know if I'll have it in the morning or if it will take the weekend to actually get the update. But I'm looking forward to what it brings.. Then again the challenges.. LOL I'll update again when I see it hit!

I'm on GEN1 and still no update !!!!!! :(

I got my 4.03 last night, on Apr26. Canada. But i dont have acer ring. Why? A500.

Mine came in todayǃ So far, I'm liking it. It seems a bit smoother and snappier in running. Also, the best thing is that it seems to have fixed the Force Closing error that the the stock Email app had when working with Exchange servers for which Acer admitted they had no fix. Now, I can sync my work calendar and contacts tooǃ

I'm in PA. I have a GEN2 A500 and didn't receive mine until I installed the updater APK from the Acer website. After I installed that and checked for the update I then received the ICS update. I was on stock GB no root. Everything seemed to have applied okay. The past few months I had constant pop-ups of "process.android.media" stopped responding with force closes. Well that problem has not gone away with this ICS update. I was able to get ROOT without a problem using the same method used for the GEN1's leaked rooms. If I let the tablet sit for a while and the screen goes off and it becomes unresponsive and will not turn back on from apparent permanent sleep. I either have to hold in the power button to turn it back on or reboot, I'm not sure of its state at that point because the screen doesn't light up. So I decided to do a factory restore using the power button + volume up + orientation lock switch on/off method and all I get is the Android guy in the middle of the screen laying down with his abdomen door opened and a red caution symbol above it then the tablet just reboots after a couple seconds. Apparently I can't factory restore. Anybody know how to flash this somehow? Next I thought maybe I can just go into the Backup and Restore menu and try to wipe it from there. Okay great that seemed to have wiped it. I still have "process.android.media" force closes and it still goes into a coma when it is left unattended and now I can't even get root. Acer? What have you done/botched with this update? If anyone has any ideas here d.m. me @t_lasota

** Update ** Got the update last night after I got home. Let it go through it's reboots and it's up and running. There are a few slight issues but nothing major like the older updates. Some apps force close but I just tell it to report the problem so they can hopefully fix the issue. But other then that seems pretty smooth and definitely faster on some of the things it does. Still getting used to some of the changes and the way it looks.. I'll run with it for a few days and see what happens. wfninpa - not sure what is causing your problem. It sounds like you are trying the normal steps for dealing with issues like that. You can also do a few searches like at XDA-Developers and see anyone has the same issue and what they might have done to correct it. Otherwise, I would say try the pin hole reset.. See if that fixes it. The pin hole is on the side.. If you haven't tried that already..
Android Central Newsletter
Thank you for signing up to Android Central. You will receive a verification email shortly.
There was a problem. Please refresh the page and try again.