Acer Iconia A500 Android 3.2 update slowly rolling out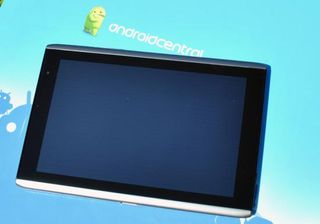 For those of you who picked up an Acer Iconia A500 you might want to go ahead and check for system updates. It appears as though the Android 3.2 update for the device has been very slowly rolling out to users for the past couple of days.
In order to get the update you need to return back to stock and unroot but keep in mind if you accept the official update, you won't be able to root it. That said, there are a few ROMS now built off of the Android 3.2 update so best to look around before you go diving in.
Source: Android Central Forums; via: XDA Thanks, smokediver61!
Android Central Newsletter
Get instant access to breaking news, the hottest reviews, great deals and helpful tips
Glad to know it's rolling out slowly and not just me, who does not have the update yet

Crap, this super sucks. Now I may have to go back to considering the Asus. Stupid Acer

Nothing here yet. I have been checking a few times per day. It will come I have patience :)

Got mine about three days ago...

Just FYI - you do not need to go back to stock (fully) or unroot before doing the Acer 3.2 update. Or at least I didn't :) I didn't un-freeze any of the bloatware I'd frozen with Titanium Backup before updating, nor did I replace the wpa_supplicant binary (updated to support ad-hoc networks) and was rooted when the update was installed. Unfortunately the 3.2 update also includes a new locked bootloader (the original bootloader was also locked btw) and none of the devs have yet worked out a root process (as of yesterday), so if you depend on root on your Iconia A500, do not install this update at this time; you will lose root and not be able to get it back yet. The only things I lost from root on my device were Titanium Backup and ad-hoc WiFi network support. I'll live w/o the backup for now and since my new Bionic uses infrastructure mode not ad-hoc I don't need to worry about that either.

Got mine early last week. No problems. A few apps (especially Google apps) immediately wanted to update. Appears to run a little snappier, but overall no issue / didn't break anything. I'm still a very happy Iconia customer. Now, just waiting for ICS..... ;)

Goodness, I just got my update this morning! Definitely notice it running more zippier. Now see a cute lil icon for SD card on the bottom corner. Wondering why it took my iconia sooo long to get update, when others already got it a few weeks earlier. Could it be that I'm in the U.S.? :(

much faster after the update. The android market doesn't appear to time out any more either. I'm embarrsed to say I'm glad I took this update. ;0)
Android Central Newsletter
Get instant access to breaking news, the hottest reviews, great deals and helpful tips
Thank you for signing up to Android Central. You will receive a verification email shortly.
There was a problem. Please refresh the page and try again.