Acer Iconia A500 3.2 update now landing September 10th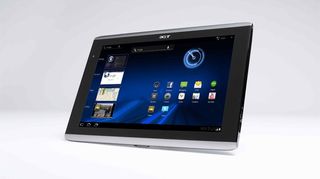 The 3.2 update for the Iconia A500 promised for 25th August never showed, but Acer haven't left us out in the cold instead going public on why the date slipped.
Posting on the Acer Malaysia Facebook page, the update now looks set to land on September 10th. Apparently they've been suffering some issues with the GPS settings, so thought better to put the update back than let it out in the wild with bugs.
Updates are always welcome, so hopefully Acer will manage to work out all the kinks before September 10th. They have promised to update earlier if there's any news, but for now lets just take what they're offering.
Source: liliputing
I love this tablet! After looking at the Zoom, Asus and Samsung Galaxy tablets, I came to the conculsion that while the other ones might be a bit better, for me they were not worth the additional $200 plus. I was lucky enough to get mine when Staples had the $100 coupon on any in-stock tablet.

I love my Iconia. But GPS hasn't worked on it at all for me.

Right there with you. Love the device, but the GPS is a big sticking point. ALSO, they need to fix the static IP issue. They killed off the ability to set a static IP in the .13 version. Hopefully this fixes it.

Love my A500 I don't really notice the GPS issues. 3.2 will be a nice update to an already useful economical tablet.

Don't understand why people buy this tablet when the Transformer is cheaper and better, also Asus has been the best with updates and the keyboard is pure ownage. My Transformer with the keyboard gives me 2-4 days of battery life.

transformer is the same price everywhere I check 400 for both of them at 16gigs. Other than the keyboard, they are almost identical. I get 2-4 days with my acer without the keyboard dock, and I don't really need to spend another 150 bucks on the keyboard dock. I think the transformer is awesome as well tho' by buddy has one. Plus the Full size standard USB port rocks, regualar usb keyboard/thumb drive/external hard drive can be used by it.

Never a hint of a gps issue.
I've even gone on 70 mile drive using google navigation with pre cached maps and it was spot on. Not bad for a unit with no cell radio. I love the full sized usb slot and the ability to actually write to the add in microSD card.

I love this tablet. I've been able to read and write to microsd card and a flash drive. I even managed to hook up a portable hub with a keyboard, mouse, and flash drive and everything worked flawlwssly. The only thing is I wish the battery lasted a little longer.

So Far I couldn't be happier with mine. I can plug my Nikon Camera into it while traveling. It works with my logitech Keyboard and mouse. I wish was able to manually adjust the HDMI settings and that it supported RAW camera formats but so far there's not much more I could ask for.

Maybe there is a market app for raw? I haven't checked, just askin? Is raw even generic, or is is manufacturer specific?

I love this tablet... I work at bestbuy and get to play with ALL of the tablets all the time... and there is a reason why I bought this one over all the rest.. For the Price and quality (not to mentions the constants updates and support) you cant beat this tablet... it handles everything just a well as the other tablets out there right now... I am very happy with the Iconia tablet... don't get me wrong, all the other tabs (except for the OVERPRICED xoom) are good, but I just had to get this one because like I statet - YOU CANT BEAT it for the price and it is built nicely.. I hope more people would purchase this tablet... you would be very happy with it. :)

Hmm.. This still comes from Acer Malaysia's Facebook page.. in their original post regarding the Aug 25th update, they said: "dear fans, as for news regarding Europe or US, do refer to your respective countries as we do not represent them here in Acer Malaysia"

Just bought mine and it's SWEET! Does everything I need and want, When it was all said and done it was the price for me...under $390 including shipping for a500/16Gb. They all rate VERY close to each other and they're ALL good products(except that other company 'i' something or another...haha!) it just depends on your budget and what you want to do.

September 10th has come and gone... :(

i see the system update pop-up for 7.004.03 update, but tried few times for 2 days still failed. at one time, the download even shoot up to 70% but then the system update dialog box missing after check back later. sigh! i'm keep trying it.... Goh from Malaysia

By the way, it's a 356MB download, should be 3.2 update.

successful updated to 3.2. and can run full screen for some apps now. Acer is not bad!

Is anyone in the U.S. getting this update? I have the tab in Wisconsin and I talked my Mom into one in Illinois, but both tabs just keep telling us "Your tablet is up to date" at 3.1. I've stopped the Updater, cleared the cache and application data and re ooted several time to no avail. Any ideas out there? I'd like the new screen size controls for the phone apps. BTW - this tablet is AWESOME even in 3.1!

Apparently, all you need to do is just make a post in the forum and voila! Yesterday morning, I went to the Status page and it informed me 3.2 was available. It took two tries, but it downloaded and installed successfully. The new resize feature is making some of the phone apps display better on the screen, and the bug fixes in 3.2 make the app loads and switching between apps appear to run faster. It's just sprinkles on top, but I appreciate that Acer continues to maintain the platform. Dollar for dollar, still the best tablet out there!
Android Central Newsletter
Get the best of Android Central in in your inbox, every day!
Thank you for signing up to Android Central. You will receive a verification email shortly.
There was a problem. Please refresh the page and try again.