Accessories for a successful Periscope broadcast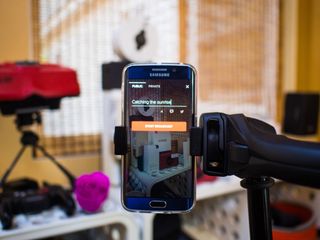 With the number of people broadcasting on Periscope, you need to go above and beyond to really get noticed. If you're looking for a way to really enhance your broadcasts, then you've got to consider some of the accessories out there to help you do exactly that.
We've scoured the internet for some of the best accessories and we've got them listed here for your viewing pleasure.
Read More: Show me these awesome accessories
iStabilizer Dolly
Seamless video of panning shots is almost impossible to do by hand. You trip, or your hand shakes, and the moment is lost. Well, you can avoid that with the iStabilizer Dolly. You can finally get those smooth tracking shots, and high quality video. There is no fancy remote control, since the Dolly is manual powered, which means you push it along. The Dolly does come with an iStabilizer mount which can be used with many tripods as well, so that's an added bonus. It takes devices up to 2.75 inches wide—larger devices require the XL mount addition.
Once you have your phone in the cradle it's a breeze to get awesome shots. Especially if you're going for long or wide shots that you want to share with your audience. It isn't perfect for all of your broadcasts, but it's definitely an accessory to keep an eye out for.
Android Photo Lenses
Cameras and video on phones have come a long way, but when it comes to broadcasting you want the ability to go above and beyond. Photojojo's additional lenses give you that ability. There are four different lenses: Telephoto, Wide Angle/Macro, Super Fisheye and Polarizer. Each lense attaches via a magnetic ring making it easy to attach and detach.
Each of these lenses by themselves can easily change the feel of a broadcast and they each have a specific purpose. Whether you want to share the enormity of what you're seeing with a Wide Angle, make sure that no quality is reduced with the Telephoto or making sure that everything is crystal clear with a polarizer, these are fantastic accessories to have. This is doubly true if you plan to broadcast outside or at a live event.
iStabilizer Smartmount Tripod Adapter
When it comes to getting fantastic video one thing that can quickly ruin it is a shaky hand. This tripod adapter lets you use your phone with the tripod you've already got at home. This is a fantastic addition, and helps to make sure your video is stable during broadcast. The mount fits up to a 3.5 inch phone, and keeps clear of both your front and back cameras.
The iStabilizer Smartmount Tripod Adapter is made to be used with most standard tripods, and even accommodates for a case if you are so inclined. You absolutely cannot discount the change that using a tripod, and a stabilizer can make to your video. This is definitely a must have accessory for the serious broadcaster.
iStabilizer Smartmount Tripod Adapter (19.95)
Smartmount Monopod
Even when you're tall getting a clear picture, much less clear video, above the crowd can be pesky. So, grab your Monopod to make sure that nothing gets in the way of your shot. If you're broadcasting by yourself, you can also use the Monopod to get decent video of yourself from a little bit further away.
The mount will work with devices up to 3.5 inches, and can actually be used with many tripods as a mount. The Monopod itself extends to over 3 feet, helping to ensure that you get your whole shot in every broadcast. Just don't go getting yours confiscated by taking it where you shouldn't.
iStabilizer Smartmount Monopod Selfie Stick($31.95)
Easy One Touch Qi Wireless Car Mount Charger
If you're a fan of broadcasting from your car, not while driving of course, a good car dock is the way to go. If your phone is QI enabled you'll be able to just snap it in and have it charge while it site there, no cables involved. The mount doesn't even block either camera, so you can flip back and forth as needed. It should go without saying that broadcasting while driving is dangerous and should probably be avoided, but we'll toss it in here again just to be sure.
The mount is easy to adjust, and your phone will pop right in and out of it without issue. It includes a cable to provide power, and a pad so that it can be mounted wherever you like it most. It will fit devices up to 3.3 inches wide.
Sign up for Black Friday email alerts!
Get the hottest deals available in your inbox plus news, reviews, opinion, analysis and more from the Android Central team.
Jen is a staff writer who spends her time researching the products you didn't know you needed. She's also a fantasy novelist and has a serious Civ VI addiction. You can follow her on Twitter.