AC readers recall their first cell phones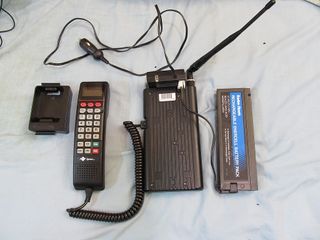 Can you believe what used to pass for a cell phone in the beginning? Or how much we used to spend just to make a phone call? And do you remember how excited we used to get over a carrier-provided app store on our phones, merely so that we could download color games?
Interestingly, roughly only 17 percent of you mentioned wielding a Nokia mobile device as your first. That's still a fair number, but it's far fewer than what we had initially imagined. In fact, about 25 percent of you actually started your mobile lives with a Motorola brick of sorts. (For those who are wondering, these numbers are based on a quick count of the comments at the original time of publishing, and some simple math.)
TheNexxuvas:
eahinrichsen:
ottchris:
Quite a few of you had also started your mobile lives in a decidedly not-so-mobile manner. The Motorola Bag Phone was a thing in the early Nineties, and they were particularly popular with truckers, boaters, and people in rural areas. The actual Bag Phone handset wasn't as high-tech as some of the other cell phones offered at the time, but they were considered reliable out in the field.
trekmario:
NokiaBeast:
zr2s10:
There was also a surprising number of you who started out with a decidedly plain Qualcomm cell phone. Phones like the QCP 2700 still seem to be making the rounds on eBay, and some Amazon listings even list it as a co-production with Kyocera.
colorado_al:
aaronwe:
Some of you even took the opportunity reminisce about the pains of living life without cell phones back in the day, including lamenting about how frantic it felt to call into a radio station in hopes of winning concert tickets. Those were the days!
cwcheese:
It appears that while a majority of you are certainly enjoying the era of the smartphone we're living through right now, you're also definitely thankful for your humble beginnings. Thanks to everyone who took a second to reminisce with us about your first cell phone.
Be an expert in 5 minutes
Get the latest news from Android Central, your trusted companion in the world of Android
Florence Ion was formerly an editor and columnist at Android Central. She writes about Android-powered devices of all types and explores their usefulness in her everyday life. You can follow her on Twitter or watch her Tuesday nights on All About Android.