What was your first phone? Taking a walk down cell phone memory lane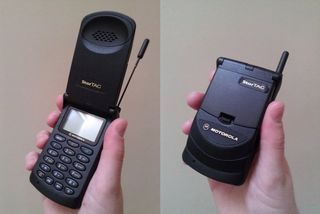 I've officially reached the point in my life that I can now look back nostalgically at my technology past. And since we've been talking about escapism, I thought it would be fun to start off the week with a trip down memory lane.
Lately, I've been thinking about my first cell phone, the Motorola StarTac. It was a dull, clunky flip phone with a retractable antenna. (I'm chuckling as I'm recalling it.) I tried desperately to cover it in stickers and make it look cool, but it was still relatively utilitarian-looking. I remember it was marketed more towards business folk and contractors rather than socially awkward teenagers like me. I needed something hip to fit in with the masses, like a Nokia 3310, but it wasn't offered by Verizon at the time. And anyway, the StarTac was a hand-me-down that was initially meant as a tracking device.
Per my parents, the StarTac was only to be used to call for a ride home. I wasn't allowed to text anyone or make phone calls without permission because the phone was on a severely limited plan. Any time I spent on the phone had to be carefully counted because each minute of talk cost a whopping 30 cents.
Eventually, I lobbied for a better deal. Rather than spend $3 for 10 minutes of talking, I argued, why not switch the plan so that I'm primarily texting instead? It's quieter for everyone at home, it's cheaper, and it was the cool new way to communicate with friends. My parents agreed to this, and it felt like the path had cleared for my ever-so-slightly burgeoning social life.
I spent a few months texting back and forth with one friend in particular. She was on a text-only device: the Motorola T900 2-Way Pager (opens in new tab), which came with a miniature QWERTY keyboard. She was not only more thorough in her replies, but she sent longer messages, too, which counted against my allowance. I would reply to her the next day, in person, because I didn't want to scare her away with the realities of my messaging limitations. Or rather, I didn't want it to get out that was all my parents would pay for.
By my 16th birthday, I was better equipped for socializing in high school. My parents used an upgrade on their account and allowed me to pick out the phone. It was the Motorola T720 and it was the cutest little thing. It could download apps, play games, and go on the internet, in addition to making phone calls and sending text messages — and it did all this on a color display! I didn't have to cover it in stickers to make it look decent, either. Instead, I bought translucent neon face plates for it from a kiosk at the mall, like the rest of my friends did with their Nokia 3310s.
An original advertisement from 2001 for the Motorola T720.
What was your first cell phone?
For fun, I put out this question on Twitter to see what the replies might be like. I've pasted a few below, though you can view the whole thread here. Unsurprisingly, I received many replies about a Nokia cell phone being the first mobile device.
https://twitter.com/izzyoji/status/850384012136898561
Alright, I've told you my story and a few others have told you theirs. Now it's your turn: What was your first mobile device? Tell us about it in the comments! We'll showcase some of your answers in a post later this week.
Android Central Newsletter
Get instant access to breaking news, the hottest reviews, great deals and helpful tips
Florence Ion was formerly an editor and columnist at Android Central. She writes about Android-powered devices of all types and explores their usefulness in her everyday life. You can follow her on Twitter or watch her Tuesday nights on All About Android.
Mine was the Trium Mars because it was small and slick (there was a time when people wanted a smaller screen and form factor). Nokia and Motorola were still kings and the carriers were laying ground work for "how to suck money". Back in the day I used to replace cellphones every 3-4 years. Now it's the other way around, 3-4+ cellphones every year. My first smartphone was the HTC Touch running WM6.5.

Mine too :)
First smartphone was the Nokia 6260 Posted via the Android Central App

HTC Touch was my first smartphone. I think mine was first running 6.1

Bosch 509! Was huge compared with the actual mobile phones.

Same! I followed it up with the wonderfully named, Phillips Savvy.

My first one was an Ericsson ga318 in 96 I think, followed by a T28s. I thought it was so cool with it's small size and flip front.

A Sony back in 98 or 99 that was a thick black candy bar phone with a scroll wheel on the side. Thing was a brick. My family had a bag phone back in the day.

Samsung SPH-A680 on Sprint. I got it in 7th grade and I still have it in a drawer. Thing had a camera and flash. Nothing special now, but back then, I was using it to the max. Also, when the exterior display was turned off, it doubled as a mirror 😁

Some type of LG Flip Phone - whatever was the Buy-One Get-One on Verizon circa 2006. First smart phone was a Blackberry Curve in 2010.

MOTOROLA MICROTAC DPC550 - It must have been around 1994.

Same here. I worked for Southwestern Bell Mobile Systems back then.......eventually becoming at&t.

I had the Motorola MicroTac 650e. It would be similar to yours but had a thinner and odd shaped flip down piece. It even had TWO buttons to store phone numbers for quick preset dialing. I remember that I had the extended battery on it (worked installing communications equipment in new and existing construction and was usually in areas that had horrible signal) and that battery alone was about the size of three regular Pixel phones. But I could usually go 2 days in bad signal areas and 4-5 in good areas. Those were the last of the phones that could double as weapon if need be. My boss had a version of the DynaTac (Zach Morris brick) that had a screw off rubber duck antenna. He drilled a hole in the roof of his work van and mounted an external antenna to it with a cable in the cab that he could screw onto his phone. IIRC my phone had a 1/2-1 Watt transmitter while his was around 3 Watts. We used to joke that patients would be arresting and seizing when he walked through the halls of hospitals. And for the record, he used to carry that brick of a phone in his back pocket. No worries about it bending, and no excuse for people today complaining that their 10mm thick phones won't fit in their pockets. This thing was around 1 1/2-2" thick and it worked. If he sat down with it in his back pocket, he was hurt more than the phone was. Memories....

Motorola V60 was the first phone I had. A classic to say the least. I was in high school when I got it for my birthday. Back before unlimited text. Having to use T9 text input in order to text fast. Those were the days.

Classic! It was my first as well. Great build quality and the push button to open the phone was really a great feature.

My first one was Nokia 5110. Almost everyone of my classmates (i was in 10th class) already had Nokias 5110, Ericssons T10 or Motorolas T2288. We even had 1 Sony CMD J5 (!!! received by one girl from Israel, such phone were impossible to find on Estonian market). Anyone, who has T10 or T2288 wanted to get 5110. Do you know why? - To play Snake! :)

my very first was a Nokia 3310 in 3rd grade. thats probably why it still holds a precious place in my heart lol

NEC Talk Time 800. Had like 15 mins of talk time and 4 hours of standby on the battery. When you dialed a number everyone knew it because the button tones where LOUD. It stayed in the glove box 90% of the time. I had 60 mins a month of talk time for $60. Long distance out of state was extra. Roaming calls were about $3 a min airtime, $3 a min long distance and of course the $3 a day access fee. Needless to say I only used about 40 mins a month and rarely used it for roaming. I had that until I started working for Cellular One in Milwaukee they issued me a Nokia 252. I also had a Motorola 3 watt bag phone that I would use out of town. My first digital was the Nokia 2600 then the 6120, by far my favorite. While working there I bought, traded and used a ton of phones. I would have a Nokia 8800 for evenings out, Motorola V phone for certain times and even would resurrect a old brick phone for laughs.

iPhone 3g. Back in the day, my parents wanted to buy me a flip phone but I never bit. I never wanted one. Then I dropped my iPod, with the solid state hard drive. Jumped on the iPhone. When I switched to Android, I never looked back.

1999 Qualcomm QCP-2760 on Sprint. It was awesome! SMS was 10 cents per message. It replaced my Motorola Gold pager. So nice to be able to call on the go!

Mine also. With the extended battery it would go a week between charges. But mine didn't have texting.

https://en.wikipedia.org/wiki/Qualcomm#/media/File:Qualcomm_QCP-2700_pho... circa 97-98 era.

Mine was the Motorola c332. That was all my parents would allow me to have, lol. I think that was back in 2002.

Nokia 3310 I still have the box.

1999 - now Ericsson GA 628, Nokia 3210, Nokia 8250, Nokia 3650, Nokia 6260, Motorola K1 KRZR, Blackberry Curve 8520 (with Nokia E71 as company phone), Blackberry Pearl, Samsung Galaxy Ace, LG Nexus 4, Sony Xperia Z3 Compact (with HTC One M7 as backup phone)

My first phone was a rotary dial hung on the kitchen wall.

Loved my rotary phone with the 50-foot coiled cord for the utmost convenience. Lol

I'd would always follow the cord trail when my parents sent me to go get my sister.

Ours was avocado. Hated it because town's prefix had 2 nines in it. Took forever to dial.

Remember how hard it was to dial the local radio station to try and win the contests for albums and concert tickets? I can still feel the pain on the side of my index finger from dragging the dial around to get set for the next number. That must be why the radio stations always had so many 7, 8, 9, and 0 digits in their call-in line. ;-)

My first phone was a Nokia 2160. Got it while I worked at Let's Talk Cellular and Wireless. Had a pullout antenna. Thing was a brick

My first cellphone was a Motorola Bag phone followed up by a Motorola Micro TAC DPC-550

I had a nokia 3310 in 1999 as my first phone. I was in 10th grade to really age myself lol

An Ericsson PF768, I was 16.

Blackberry Bold 9000... still one of my favorite devices.

Samsung SCH-3500 (Sprint). Great phone, TERRIBLE network back then, and probably still is today. Still have the phone tucked away in a drawer.

Same here! Got it in 1999. I think my service was Cingular.

How many remember free calls after 9pm. Then free calls after 7pm. Days was like DO NOT CALL ME DURING THE DAY UNLESS YOU BEEN SHOT.

LOL yes indeed. I had Nextel. Free Incoming Calls.

Free Unlimited Weekends, then came free nights and weekends. It was such a crazy rate plan time back then selling those in the early 90s.

Unless you're also a Verizon customer, because FREE IN-NETWORK CALLING.

When I started they didn't have any free minutes of any kind (1997). Then came nights, nights and weekends, free calls to other Verizon customers, and now minutes are unlimited on their voice/data plans. However, my father was on an old flip phone on Verizon with a voice only plan and they still did nights and weekends on those. We moved him onto our share plan and now he has unlimited.

My memory points to something like this:
http://m.gsmarena.com/ericsson_ga_628-105.php It was a blue Ericsson​ phone - that's for sure - and then I think I got the Nokia 3310 sometime later when it was all the rage at the time. I might have had something in between but I can't remember if I did.

Motorola Dynatac 8000x. I believe 1989. Cellular One.

I think it was a Nokia from the early 90's or the Motorola StarTAK. That was about 25 years ago, service was like today intermittent with dropped calls. That was a life time ago. At least now the screen are readable, even the Pixel on large screen size, mature eyes. The analog phones has a much longer range for connection especially in the country, then the digital phones of that time period.

Nextel i730. A Brick with super cool rainbow colored notification light for calls

That big brick Gekko was sporting on the beach in Wallstreet. Love that guy

Motorola 8000 1 watt handheld. Was before FCC regulated that only .6 of a watt was allowed near your head.

My first was an LG VX3200, oh how far we have come!

My first cell phone was a Motorola StarTAC on Verizon. That thing was awesome. Remember charging your phone every third day? My first smartphone was a Samsung BlackJack, which I bought the day that AT&T rolled out 3G service in Pittsburgh. That device got pretty lukewarm reviews, but I really liked it. Its keyboard was better than anything out there until RIM rolled out the Bold 9000. As for Android, it was the Nexus One that lured me away from my precious BB Bold 9700. Trackball for life!

That phone came out before bell Atlantic became Verizon which was 4 years later.

Mine was the Sprint Santo SCP 4900. It was a rock solid and bullet proof bar phone. It was a hand me down from my parents. My first purchase was the Sanyo SCP 5500 and my first "smartphone" was the Samsung i330. Boy have we come a long way....

I had the 4000. Loved that phone!

Prepaid Nokia 3320 from Walmart in 1999 in the 7th grade. Also, no one here was touching my Snake score and skills. This is not up for debate haha

I have had, at least from an American perspective, more odd phones. The first should be the Ericsson GA 318, maybe Flo should have gotten this one as it had swapable "backdrops" for the num-pad as well as a coloured ring for the antenna. I had a cheaper Siemens after that (perhaps the C35?) but soon after I bought my first "advanced" phone - the Siemens ME45. For the time it was very advanced and even had the ability to side-load games! (sort of...it looked and behaved as games at least). My first smart phone ran Windows Mobile and was a HTC Touch Cruise. But my fondest memories are of that Siemens ME45 - it was a great device =)

Nokia 8210. It was shockingly small for the time and I thought it was the coolest thing ever.

My first smartphone was HTC explorer and still working so great.

A $10 Kyocera feature phone on Virgin Mobile in 2010.

Siemens Color screen and it came with cool car wallpapers

Mine was an epic Ford bag phone! Also rocked a Handspring Visor Prism with an OmniSky cell phone attachment and my all-time favorite, my Handspring Treo flip phone with physical keyboard (which I still use on occasion. Lol).

Qualcomm 860! Insanely thin at the time. https://www.google.com/search?q=QCP-860&safe=active&client=opera&source=...

I feel like such a newcomer to mobile phones compared to some of you guys. My first cell was a Moto Razr. Midnight blue. I thought that phone was so beautiful. I still think that it was one of the prettiest phones ever made.

The original Motorola Flip Phone. The thing I remember best that "dead spots" far outweighed a cellular connection. Even with a high tech cradle, complete and external antenna I could drop a signal four times between Princeton NJ and Philly.

I know that very well. Was awful back then.

My first job was working in a mobile phone shop at 19 so of course I had to get a phone. This was 1995 I think and I got a Tecnophone TP4 (a rebadged and cheaper Nokia 101 as a I remember) on Cellnets Citytime tariff. It was so heavy it made my suit sit lopsided. After that I moved onto an Ericsson 237 which was much smaller but I had to carry two batteries to get through the day. This was back in the analogue days so I was constantly getting new handsets and doing ESN swaps! Wasn't long before all my friends were taking phones off me too, the Motorola Classic for £9.99 up front was the most popular. My first GSM phone was a Motorola 7200, first smartphone a Blackberry Pearl and first Android was an HTC Desire HD

Technophone.... memories that big rubber antenna!

A Motorola Power PAK bag phone in 1995. The (what they then called) handheld models weren't strong enough to pull in the wireless signal where I lived at the time would last less than an hour of talk time. We could only use one carrier as well: Alltel. They were the only cellular company in the area at the time.

My very first phone was a Mitsubishi MT-30, Did the trick and then my Uncle who worked for a Telephone company hooked me up with a Motorola StarTac, I was the star in my High School for having the first flip phone. Many many MANY phones came after that.

Mine was a Sanyo SCP-4500 on Sprint. A fantastic phone on a terrible carrier. Then I moved to Cingular and got an Ericsson T60d. Service was much better, but the phone seemed clunky and unrefined compared to the Sanyo. Then I landed a Nokia 3560, which had the distinction of being only one of two TDMA phones with a color screen and polyphonic ringtones.

Mine was an Audiovox Digital Cell, was when the shift to digital was happening in the late nineties. Battery lasted a few hours and it was very heavy. Bill was $120/mo+++. Cellular One was the carrier.

Fujitsu Commander FX (in 1990). My wife and I had car phones installed in our cars when our second child was born because we felt we needed to be able to be reachable when moving around. It was another 5 years before I got my first handheld, an early Audiovox candy-bar type "mobile" phone.

First phone ever was a PrimeCo Audiovox flip phone I had on prepaid! First smartphone was a Cingular 8125 Pocket PC.. Current phone is the lovely Google Pixel!

Mine was the Qualcomm QCP-2700 with Sprint.

My first phone was the Motorola Razr flip phone. My first smart phone was the OG Motorola Droid.

I had a Motorola bag phone . Man i never lost a call on that one even in the woods lol

Motorola MR30 on Orange. 1998

First phone was the Palm Pre! loved that phone so much. did alot of things that were ahead of its time. First android phone I had was the HTC Evo. back when 4.3 inch screens were considered huge! Haha

I don't recall the specific model number of my first mobile phone in 1998. Its gimmick was a sliding earphone that could be used to answer and end calls. Looked a lot like the Sony CM-DX1000. Google has not been my friend in finding it. 1998 US was CDMA. My first smartphone was a Motorola MPx200.

Nokia 5190 on Fido's Fidomatic Pay As You Go here in Canada was my first cell. It worked but was definitely bulky (even without the analog module which I never had). I much preferred my second phone though: a Sanyo SCP-4000 on ClearNET (oh how I miss them). That phone was very reliable for me and was a powerhouse at reception duties (surprising since it wasn't dual-band digital).

Mine was a Star Tac too. Made me feel like Capt Kirk.

And every weirdo Trekkie bought them, and would constantly come into our GTE stores and tell us they owned the Motorola Star Trek phone. Funny times.

The Sony Ericsson w595 walkman, the slider was so cool

My first phone was this bad boy on US Cellular: http://images.comparecellular.com/phones/256/1495/motorola-120e.JPG I was always jealous of my friend's slightly older, nearly-identical V120t (I think?), though. Sure, mine had a bright blue backlight while his was a dim, sickly green, and IIRC mine could store more contacts, but on his the 'Funk' ringtone was pretty clearly the bass line from Play That Funky Music, while on mine it was some generic-sounding garbage.

Alcatel One-Touch Easy in 1998 or so, can't say I loved it much...first "Android" phone was an HTC Diamond 2 which I had flashed from WM to Android and made me understand why WM was actually not a smartphone OS :D The phone I loved the most visually was surely the RAZR, a fantastic piece of hardware, but in all other ways the Treos 650 and 680 were my functional and emotional favorites.

In Italy at the very beginning they only had two basic Motorola models whose names I can't remember. I bought one and the calls were outrageously high. Once the market had more offers I moved to Siemens phones. The one I loved the most was the Siemens SX1. Not very practical at the beginning but really original in terms of design. Even compared to the present slabs.

I had a Mistubishi T200. The AT&T plan only included regional calls 100 minutes to NYC; everything else was considered long distance!

A cheap burner, tracfone. When I went to Louisiana for the Katrina effort. It connected better than anything anybody else had. I had to stay in touch with people in the northeast, and had no problem doing that.

Sony Ericson T68 2001 edition 😁

I think this was it: http://www.phonearena.com/phones/Hitachi-SH-P300_id434 The mind tends to gloss over painful memories.

I had the Motorola MicroTac Select 3000e as my first official cell. It was brand new, and I loved it like it lived, breathed, and talked! 😂

Mine was a SprintPCS Samsung sch-1900. It was one of 3 phones SprintPCS first offered when they launched in Houston, TX. I remember one was a Qualcomm and I can't remember the other one.

Motorola Micro Tac Elite II analog with a whopping 10 speed dial memory and a lithium ion slim line and regular size battery back when nicad was the norm. Phone was touted as a business unit, came with a dual slot desktop battery dock charger too. I was a GTE employee in '94 and it was the 3 offered to pick without having to pay for a phone... Yet alone was a $850 unit. After words when the 1st version StArTac with the built in voicemail recorder dropped they made everyone carry the $1000 model to showcase the phone to customers. Crazy days. Even had a bag phone that had the same number as my hand held. ESNs rotated as you powered one down and powered up the other. Was a carrier feature.

Mine was a good ole bag phone like this one (if not this one)...
https://en.wikipedia.org/wiki/File:Motorola2950.jpg :)
Doug

Mine was a Moto MicroTAC. It was a burner/cloned phone.😜 I remember being crazy excited when they released a slim battery for it. First legit phone was a Nokia 232

I believe mine was the Palm Treo 700wx.

Qualcomm QCP-860 WAP browser FTW!

My first phone back in 2000 was a Samsung on Sprint (either the SPH-N200 or the SCH-3500...can't remember the exact model). I remember calling people back at night when the minutes were free (even now, I still tend to call people more at night than I do during the day).

My first phone ever was a kyrocera 5135 flip phone that was on TracFone....It came out in '02 (I was 18) and that's when u had to buy cards to add mins lol.....man that was so long ago!!!

Mine was a Radio Shack "car phone", installed in the vehicle. Circa 1989 using a through glass antenna mounted to a side rear window.

Mine was the Motorola Q. Loved that thing. Played solitaire all day long too. Upgraded to the Samsung Omnia when touch screen started getting big and I needed an anti-iphone. Finally went to the EVO which was my last windows phone and I was convinced that big screens were awesome. Can't tell you how many of my Apple loyal friends dissed my big screen phones who are now rocking 5" devices

My first mobile phone was a Motorola Dynatac 'Brick' I bought in 1984/5

Nokia 2180, I think! Lol Late nineties. Hell of a phone for the day. It was on Bell Atlantic Mobile, now VZW!

I had a Motorola DPC-550 my last year of high school...way back in the days of analog phone networks.

Sony Zuma CM Z100 with the toothpick flip out mic. Loved that thing! Had to get it replaced a few times because the mic kept breaking off.

Motorola MicroTac (1989), a big, clunky so-so phone that was replaced with the most reliable phone I've ever owned. It was a very compact candy bar type made by Qualcomm in about 1990 or '91. Way ahead of its time. I've never seen another one like it. Even Qualcomm's corporate history website doesn't mention it. I was given it by a wholesale electronics salesman who hoped to land my account. (The phone lasted longer than the account.)

My first cell phone was a Qualcomm... Second was the Motorola Vader phone... now that I wish I still had.... great phone

I had a car cigarette lighter powered car bag phone. weighed about 10 pounds maybe? Not even sure the brand

My first one, at 17, was a BAG PHONE that had to be plugged into the cigarette lighter (that thing you kids plug your USB chargers into) to run, because it had no battery. No presets, no voicemail, etc. Just enough display digits for 1-555-555-5555, and they were green. You know, like original Game Boy screens, lol. Basically my mom used it to harass me if I wasn't where she thought I should be, lol. Once she called it after I was 100 yards out of the driveway, because I "peeled out" of the driveway and was going too fast. It was a 4wd, but in rear wheel drive S-15 with the pathetic 2.8 truck motor. The tires slipped a little on gravel, and I couldn't speed in that truck if it was downhill with the wind at my back! Did I mention it was 5 miles to school up hill both ways??

Visor with the cellphone attachment! I had the GPS attachment too so I could navigate with it too! I really think that's the first "smart phone" out there!

First cellphone was a star-tac though.

Mine was the good ol' LG Shine+. What a great little phone. After that, I got the Galaxy S3, then the Note 3, Note 4, and now I have the S7.

OKI, not sure if Nokia was even in the US at that point.

Nokia 6110
Thing was a beast.

My first phone was the Nokia 3395 (3310 derivative). I miss those custom WAP sites! Before that I had a pager (believe it or not my job still uses pagers for certain "sensitive" areas. After the Nokia I had a series of LG VX series and then the Palm Pre Plus, Palm 2, iPhone 4S, 5S and 6S. In between that I've owned every Nexus device (even the ill-fated Nexus Q). I just sold my 6P and 5X and bought a OP3T. The only remaining Nexus is my Nexus 7 2013 running LineageOS 14.1.

Motorola Lifestyle It still powers on too

check us out flo - http://forums.androidcentral.com/android-central-lounge/687811-ac-member...

Ahhh memory lane! Mitsubishi T200 was my first phone, circa 1999. I just remember the crap fitting "leather" case I had on it (with non-swivel belt clip). I bought it because AT&T offered free INCOMING (only) phone calls, so my girlfriend could call me without being long distance. Haha! Oh the days....

It was something like this, http://i.imgur.com/HSFBFFJ.jpg.

I had a Nokia 5125 on Tracfone. Wow, that's a long way from my Nexus 6p.

The Nokia 6110. I had that baby for more than two years from about late 2000 until early 2003. http://images.hardwarezone.com/upload/files/2010/04/9f8b4a13e1.jpg

Nokia N201. On GTE Wireless, before they were bought or became Verizon Wireless.

nokia 6600...good old memories

First cell phone: Motorola Bag phone circa 1991 First smartphone: Kyocera 6035 circa 2001 Favorite old school smartphone (i.e. pre-iPhone): Motorola MPx 300 circa 2004. The coolest phone ever made!

First phone: Motorola Startac
First (offline) smartphone: Palm Treo 680
First (online) smartphone: Blackberry Pearl

Nokia 2112... Good old days

My first cell phone was a Motorola "bag phone" circa 1991. I am using the same mobile number on my Nexus 6P. I actually still have the bag phone.

I didn't meet anybody that beats me playing snake in that phone :)

Motorola A130
Big oval river rock :))))

First touchscreen smartphone was HTC Inspire (2-13-2011). Could multi-task at a time when the iPhone could not. Otherwise, I might be an iPhone user today. Before that I had a Nokia candbar phone of some variant and then a Blackberry.

The original Motorola flip phone -- the MicroTac. My first one was analog, soon after my second one was the first generation digital TDMA (not CDMA) on Cellular One. Battery lasted all day because we had it OFF until we needed to make a call. You got paged on your Motorola beeper then you turned your cellular phone on. My first plan had 30 min per month. I used the 50 second beep timer to allow me to hang up by 59 seconds. Many abruptly ended calls!!

Correction: first one was a built-in NEC cellular phone. Cellular One installed it. Handset was mounted in my center armrest. Antenna mounted on rear glass window of car. That was a status symbol in 1990-91!

My very first cell phone was the Qualcomm QCP-2760. And if I dig deep enough in my garage I probably still have it.

My first cell phone wasn't even a "cell phone." It was back when they were called "car phones" because they were permanently wired in the car. Mine was a Motorola of some kind, with a handset that looked like a regular phone receiver and a keypad on the back. It put out a blazing 3 watts of analog power and had the antenna mounted on the rear windows of the car (thank God to my brain). This is compared to todays cell phones that put out 0.6 watts max and usually a lot less if you have a strong cell tower signal. For the newbees, one benefit of the old analog phones is that they were full duplex and there was no time lag in the conversation. This means that you could hear the other party while you were talking and there was no stepping on the other person's talking. Really more like the old POTS phones in your home. Actually, it was a little easier to talk on those old phones... but who talks on their phones anymore anyway.

Florence, I would easily taken your StarTAC over the MicroTAC I had as my first phone. :p My first smartphone 10 years after that was the Nokia e71x.

My first phone was an audiovox bar, followed by a Sony brick that the ear piece lifted up to answer the phone

My first phone ever was an olive-green pushbutton landline phone connected to a cassette-tape answering machine. I got that in 1995.
My first cellphone was a Nokia in 1999. My best guess is that it's model number was 5190.
After that I had a series of Nokias (3590, 6101 and 6085). I remember playing a British port of Monopoly on the 6085.
In 2009 I went to BlackBerry with a Pearl Flip 8220 and switched from BlackBerry to Windows Phone (but back to Nokia) in 2012 with a Lumia 710.
In 2015 I switched again, this time from Windows Phone to Android with a Moto G 2.
I still have the Lumia, Pearl Flip and 6085. My daughter uses the Lumia as a camera, Zune MP3 player and email device while I took the batteries out of the other two and they're in the toy bin.

Motorola DynaTAC 8000X. It was sometime in the mid 80's. I bought it from US Cellular. They had just opened an office in our town. I actually got to choose my own number! Needless to say, it's very easy to remember.

My first phone was in 91, don't remember the brand, but it was a bag style phone except it was a hard case. Never seen another one like it. It sit in the middle console of my truck and hardly ever came out. But I still have the same number today.

I don't remember my first phone but it was when Sprint initially turned on their network. I remember the StarTac was the coolest phone out at the time. If you were in the business world, a StarTac was a must.

my first was a motorola flip in fall of 1999(can't remember, but i think it was the microtac)

My first cellphone was a Motorola V191 I bought because my parents wouldn't buy me one. Before that, when I went out I'd borrow my dad's Nokia 3120 in case of emergency.

The first mobile phone I had was a Philips TCD128 although my eldest daughter was the first one in our family to have a mobile. She had the Nokia 5110 with the changeable fronts and came with the snake game.

A bag phone, meaning it has a cord and power supply connected. Beefy. I rocked that in my 85 Chevette, lol. I don't remember the brand though.

My 1st mobile phone was Sony Ericsson z1 plus 1998 that had a cool mic that opened up to answer the call

My first cell phone was a Nextel IDEN Motorola L3000.

When I graduated college in 1995, my dad gave me a Motorola MicroTAC, with the volume controls on the side, the Alpha, I think. It was on Cellular One, with a plan of $25/month and $.25/minute. Data? What's that? I'm typing this on a Moto Z Play, which is a phone, camera, and computer all in one. Fun times!

Nokia 100 was our first phone(s), me and my wife, back in 1994. It was a decent phone to get started in the nascent era of cellphones, so much smaller than the Motorola monster that came straight out of WWII. After that it was a pair of Motorola MicroTac flip phones, the burly one with the cover that flipped down to reveal a keypad and mic; never got a StarTac even though it was so cool to have a Capt Kirk moment. Now I'm in the Android camp.

Anyone remember the Samsung U640 with the rubberized grip? It's like the great great grandfather of the S7 Active.

First one? Motorola "brick", Think it was maybe a Dyan Tac 8000. Late '80s early '90s. Paid more for calls in a month than I paid for the phone and extra batteries. Still have it in a closet somewhere.

It was 1999 and it was an Ericsson T10 on Voicestream. Which eventually bacame T-Mobile.

My first cellphone was the T-mobile MDA, made by HTC. Man, I miss the slide out keyboards HTC had in their phones.

Think I win, mine was a Motorola car phone attached to a contraption that was the size of a motorcycle battery, charges were £1.50 per minute and £150 per month, no data (no internet), no text (like the internet, not invented yet)

Mine was a Philips Diga which took a SIM the size of a credit card. Got it free with a student bank account I signed up to during freshers' week at uni. Awful, awful phone.

My first phone was the LG 4NE1 on Sprint, which was a Christmas present in (I think ) 2001. I think I had 300 minutes, with limited texting and AOL messenger. I always wanted a Nokia phone, I don't think Sprint had any at the time. That said it was a great handset. Monochrome screen, half-flip design (bottom half flipped down to reveal keypad), cute non-telescoping antenna,. It did have fun little plastic sides you could swap out for different colors, and one with a neck lanyard. That phone was bullet proof, I dropped it on concrete, in water, sat on it, etc and it never failed.

My first phone that I used (work phone) was a NEC 9B AMPS back in 1990. First phone I owned was a Motorola StarTac AMPS version that I still have in a drawer at home. Can't bare to get rid of it.. Was really a nice phone.

Nokia 5200 I think it was called, played snake on that thing all day, lol. Then a startac, because Biggie had one, lol.

Mine was Nokia 2100 in 2004 when I was 9. At that time, I wanted to buy Nokia 1100 because of the torch but my father didn't allow me.
Nokia 2100》Sony Ericcson K500》Nokia 6600》Motorola L7》 Motorola L7i》 Sony Ericsson W810i》Nokia 5800》Nokia C5》 Huawei Ascend Y300》Galaxy S5. I'll most likely upgrade this year, probably to S8 plus. I'll wa8 at least 3 months to avoid price gouging in Pakistan. After that, prices will come to standard and that's when I'll make the purchase.

When I turned 16, my parents got me the Motorola Clutch i465 on SouthernLINC Wireless. I believe the main carrier this phone sold on was Boost Mobile. When I got my first phone SouthernLINC was literally the only carrier that worked without signal issues at my house here in Alabama at that time. I hated the phone itself because the buttons were too small to type on accurately even though it was full QWERTY. I wished at the time I would have gotten the i9 because it was basically the Nextel and LINC version of the RAZR.

Motorola i700 Plus. Yellow body, with black bumper around it. Chirp chirp

A Nokia candy bar phone (TracFone) N208 or something like that First smart phone was Blackberry 8830 World Edition in Red on Verizon

Motorola 2950. The fabled 'bag' phone. I was constantly afraid to use it for fear of using too many minutes or roaming.

Around 1997 or 98. Sony CMZ-100 on gte mobile net... Predecessor to verizon. That phone was a little tank. I miss the days of once a week battery charge.

Mine was a 'family phone' as my mom and dad called it, they absolutely hated the idea of giving their kid a phone to call his own. It was a yellow Motorola with one of those flashy round-beveled screens. It was on Nextel. I knew next to jack about phones but I loved it, my first OWN PHONE was the Nokia 1600. Loved it for its battery life and durability, messaging was atrocious. My first smartphone was a 3GS, first time I had to call Apple over not being able to access my iTunes, got told it was my fault for no reason so I dumped that hot garbage and got a Galaxy phone after.

Mine was Nokia 8250. Gorgeous butterfly blue screen phone...

Well my first phone was some Motorola candybar in 2003-2004 after I had graduated high school. My mom gave it to me so i could communicate with her. This phone was not my choice nor did i really want it. But this is where I started my obsession with mobile devices. Once i was able to pic my own phone I ended up with the Motorola E815 which for the time was cool and it got me into the hobby. I made attempt to de-brand the phone of all its Verizoness which involved swapping out external housings and what not. This was not done properly and the phone fell apart. I ended up replacing that phone with the Moto Q and that phone was pretty cool. Small, light and full QWERTY keyboard. It was also the matte black and had a killer look. Still being on Verizon and unable to upgrade to an iPhone without switching carriers i ended with the Blackberry Storm and did all my research on Crackberry and that led me to Android Central. After the Storm it was a HTC Incredible and from then on its been all Android. Samsung Galaxy Nexus, Moto X, Nexus 5, Nexus 6, and now a One Plus 3T. Sorry if this was much to long of a post. I do have an iPhone for work and I still don't think I am missing much.

I must be old, mine was a Panasonic car mounted phone with like a 5 pound power supply and a (new & modern for that time) through the windshield mounted antenna. And if you used the phone very often your bill for the month would cost as much as most unlimited data plans do today, and that was for voice calls only, when you could get a signal that is.

My first phone was a Nokia 5800 XpressMusic. It was a hell of a great phone. After that I had a Nokia Lumia 920 for 4 years, until it became near useless and the I bought the S7 edge.

I had the Motorola MicroTAC 9800X from a company called CellOne (I think). The pricing was insane for the usage. If I remember correctly it was around 100 or so a month for so few minutes it was laughable, but I also think the first minute was free, so every conversation was crammed into 1 min lol..Ahh the good old days

My first "phone" was a crank phone mounted on the wall. You cranked the handle a couple of times and the operator, in our small town, came on and asked who you wanted to speak with. She then connected you to wherever that person was at the time (since she listened to all of the calls, she knew where everyone was at any given point in time!). Now, fast forward a few decades, and my first "cell phone" was a Star Tac, and it was one of my all time favorites too! I loved it.

1992 Tandy CT-302. I still have it although for some reason the battery won't charge anymore.

My very first cell phone was some sort of TracPhone (Nokia something) back in 1999-2000. My first on-contract phone was the LG Chocolate 2 from Verizon back in 2006. I loved that phone.

Nokia 6190 was my first phone.. I was so proud to own that thing back in the day. BellSouth Mobility was the carrier I was using back then, 1998 I believe it was.. Up till that point, I was still carrying around a classic pager. lol

My first phone was a.... Motorola 2950 Special Edition Bag Phone, in Attaché Carry Case. Great phone but man was that bill high. That was around 1993-94! https://en.m.wikipedia.org/wiki/Motorola_Bag_Phone?wprov=sfla1

Two empty soup tins and a piece of string...But seriously, Nokia 2100.

The moment when I bet everyone is waiting for me to write the name of a Nokia phone...is the time I'll say that my first mobile phone wasn't a Nokia. Not even my second was a Nokia. I resisted mobile phones for a while, actually. I was still not sure if they weren't a fad like the pagers (yeah, 'member the pagers?) I just gave in in 1998. My first mobile phone was an Alcatel One Touch Easy.
Back when Alcatel still existed and was still a French company. Then I replaced it with an Ericsson T10S in 1999.
Back when Ericsson was still making their own phones in Sweden, without Sony. And THEN in 2000 I replaced it with the Nokia 3310. The rest is History. It's funny though. 20 years later, Ericsson is gone, Nokia is making its return and Alcatel has disappeared, remaining just the brand. Which is owned by Nokia.

I had a ' Q Phone ' - mfg bought it back a year later Kenny

Blackberry bold, still better than a lot of new phones.

Yup, my first one was a Nokia 3210 I 'stole' from my dad (who, weirdly, preferred the huge 'Zack Morris' Motorola block). Then we went half-and-half to upgrade me to a Star Tac (loved that flip phone!) and started my cell phone addiction when i bought my very own LG Slim. Super sexy and elegant, and you could play Snake! :P hahahaha

Motorola Piper.. It was one of the big huge gray bricks

Motorola Dyna tech 8000 way back in 1983

Bag phone I bought at Dillards go figure right

I got my first phone on my 13th birthday, it was a ZTE T26 or a Telstra Cruise, it went by two names. I am only 14 now and I got that phone in 2015. It was a tiny little button phone and I remember going around showing all my friends because I was so happy. Since then I have had many. Here they are:
Nokia Next Gen 3G Telstra
Samsung Galaxy Y
LG Optimus L3 II (E425F)
Boost INDY (ZTE B816)
Telstra Uno (ZTE T12)
Telstra Roamer (ZTE T24)
Nokia Lumia 800
Alcatel One Touch Pixi 4 (3.5")
Huawei Ascend Y550-L02
iPhone 3GS
Alcatel One Touch M'Pop
Another ZTE phone I forgot the name
Samsung Galaxy Note 4 (SM-N910G) I used to go through phones quickly and some of them I never used because I collect them. My current phone is the Samsung Galaxy Note 4

A tracfone. I'm pretty young.

Qualcomm circa 1999 for my first cell phone

1st phone: Kyocera 5135
1st Smartphone: BB Pearl 8130
1st Android Smartphone: HTC Droid Eris

Motorola MicroTAC. I found some pictures of this phone online, it is funny that I thought that was the coolest thing at the time.

The first cellphone I actually had was one of those Nokia jobs, similiar to the famous one everyone references. However it was all black, rugged as hell and had a huge battery packet that clipped on to the back (and easily clipped off if I dropped it). Got it for my father, but then my brother unbeknownst to me also set him up with a cellphone (monthly paid vs. mine which was pre-paid) so I took mine back and used it for a while. The cellphone I actually used day to day for quite a long time was the Moto C261. Had stopped using the Nokia and wasn't using anything for a while, but then started a new overnight job and my family demanded I get something lest I should have trouble while traveling at night. So I picked it up cheap and used it for several years as it was very rugged itself. I still have it tucked away in a box somewhere. Then I transitioned to my first smartphone, the ZTE Score M and a few devices later I'm using the Moto G5. Sometimes when I'm rummaging around in my closet looking for something I'll find the box with the Moto C261 and compare it against my Moto G5 just for kicks while marveling at how far we've come in just a few years...

1st phone was the Motorola MicroTac. Best phone I ever had was the Motorola Vader. It was literally the size of my numeric pager.

Nokia 8210. Bought it in 2000 from best buy on the cingular network.

1991,my first cell was this OKI which I got 2 days after realizing that I could NOT carry around that bag phone (ask your parents!) that I just purchased! https://photos.google.com/share/AF1QipOV6AmkUvF4HLfhZrPPCHutA3twBMx6rl38...

The first one I actually used as a phone was a nexus s, on my parents' plan, but I was paying. I had it for almost a year before the triple waterproof bag/boxing I had done for a trip failed, also killing my point and shoot camera, and a bucket of rechargeable AA batteries... Before that I had a couple of super utilitarian looking Motorola flip phones with retractable antennas, which I played with and eventually disassembled​ and probably still have those parts somewhere...

Motorola MicroTAC Elite, then the various StarTACs, a few Samsung flips, & a few Palm Treos, iPhones and Samsung Galaxys. Now I'm ​rocking an iPhone 7+, a Galaxy Note 7, and Galaxy S7 Edge till the new devices arrive every year.

A Bosch flip phone. I liked it because you can send an email without having to be connected to the net.

Motorola Graphite back in 1997

Mine was Siemens A35. What a phone, but it had two major flaws: it did not have vibration and cyrillic.

My first phone was the lg lotus on sprint. I'm a blind person and it was the cheapest talking phone my mom would buy. It had the worst text to speech ever. I originally gotten a samsung ace running windows mobile but when i told my mom the screenreader software for me to use the phone would cost $400, she made me return it after 3 days. I still have the lg lotus in a box somewhere.

Ha! First phone was a Bag Phone, followed by the miniature army field phone (my first Motorola) used by Gordon Gecko in Wall Street. The DynaTac. Then the MicroTac. Finally, the awesome StarTac when the price came down. (i recall seeing it for the first time at Tweeter Etc on Commonwealth Ave in Boston around '84/85. Came with a lanyard so you could wear it around your neck. About $800)

The first cellphone I *used* at work was a Motorola DynaTAC aka brick; hard to be inconspicuous using one of those! The first cellphone I owned was a Mitsubishi MT-7. Came with two batteries and a desktop charger that took both AFAIR. Its pull out aerial was a very thin rod which looked as if it could easily get bent but it survived 3+ years of use unscathed.

QUALCOMM AirTouch QCP-860

Siemens C25, but that was oooooh so long ago, like 1999

My dad gave me one of his old phones when I was really young, and I quickly lost it. I think it was the Nokia shown, and I got a newer version to replace it. Then, I used a lot of Motorola flip phones (the StarTac, several Nextels, and the Razr).

Motorola 4800x transportable... Ahhh, analogue...

My first phone was a Samsung Admire way back in 2012. I had an aversion to cell phones for many years.

My first phone was a Sanyo from sprint back in 2003. I was a late adopter. First smartphone was epic 4g (Galaxy s1) in 2010.

My first cell phone was the Audiovox PCX 1000XL on PrimeCo in 1997. Google the make and model and peep the wood grain around the screen. You couldn't tell me I wasn't ballin'...especially when I programmed "Bear Down Chicago Bears" as a customized MIDI ringtone!

I traded this gem in for the newer version 1100 without the flip cover, to my regret. Far inferior.

Nokia 3210. The first Nokia with an internal antenna iirc

OK, this is dating me somewhat, but... a ~1987 Northern Telecom UM9015 "bag" phone. I actually came across it in a cupboard just yesterday.

Mine was the Qualcomm qcp 2700, bought from a co-worker back in the 90's. It had a nice leather like covering you could remove.

Early 90's Novatel Bag Phone. Got it as soon as (future big red) Bell Atlantic Mobile built out the network in Chester County, PA. Analog only phone and service. I remember finding some kind of firmware bug, and simply calling Novatel and asking to speak to one of the design engineers. they actually put me through. We discussed the design of the product in detail (Im an engineer too) and he mentioned that there were 7 processors in the product. He had to support the firmware for them all. He wound up giving me some secret codes to unlock some of the hidden functionality.

It was a hand-me-down Sony Ericsson K530i. Fairly sophisticated for its time. Even had a music player.

My first phone was 2 cans and a string

Mine was the Mobira Cityman 900

My first phone was made by my first car maker too -------- Mitsubishi G310 back when Tmobile was still VoiceStream - year was 2000

Bag Phone.
https://en.wikipedia.org/wiki/Motorola_Bag_Phone

PrimeCo. I bought a Qualcomm QCP-2700 at the end 1997 so prospective employers could contact me while I was finishing out the last couple months of my enlistment in the Navy. It was awesome. The Navy and the phone.

My first phone is Samsung S8+. Before that I was using smoke signals to communicate. What a big upgrade!

Motorola DynaTAC 8000m . I got it in 1993 or so.
My phone plan had 60 whopping minutes of air time per month during "peak" times and 1000 off peak minutes talk time.
I never went over my 60 minutes... I had heard the horror stories of people going crazy. I paid about $70 a month for that, and going over would be over a dollar a minute.
I only had the phone because I had a computer support consulting business I was running with a partner... (that turned into me getting a real job in Tech vs. trying to go on my own)
I've owned a TON of phones since then...

Easy, Motorola brick, then Nokia took over and the rest they say, is history.........

My first phone were a chip Korean flip phone, don't remember it's name. My second one were a Sony Ericsson Z200 flip phone again i loved it. My first Smart phone were the iPhone 3g.

Mine was a candybar phone on AT&T, probably a Nokia, circa 1996. My first smartphone was a Palm Pre on Verizon. I've always wondered how much bigger iOS marketshare would be today if the iPhone hadn't been exclusive to AT&T for so many years. We've been on Verizon for more than 15 years. My wife got the iPhone just as soon as it became available on Verizon, but I never went in that direction. My first Android smartphone after the Palm Pre's demise was the HTC Thunderbolt.

First phone was the Samsung x427 on Cingular. This was followed by: Samsung x497
Samsung BlackJack II
Samsung Jack
Samsung Captivate
Galaxy SII
Galaxy S4
OnePlus One
Galaxy S7 Edge

My first phone was before the "cell" phone. WE had to call to a repeater system, say our number and tell the operator the number we wanted to call. It was mounted in our truck, and had 3 buttons. You had to key the mic to talk.

SPH-A670 But even way before that, I lived in a little town that was one of the very last in the USA to switch to dial phones. Even in 1967 it was still a voice operator-operated system. My home number was 3 digits.

StarTac analog was my first, followed by the digital!

Motorola bag phone... Thanks for the memory lane.

Motorola DynaTac...probably an 8000x. AKA the "Brick". Circa 1991. It was a package deal from McCaw Communications (bought later by AT&T). $100/mo for phone plus pager with 20 or 30 minutes of talk time. I don't recall what the overage charges were, but they were high. The intent was you leave your phone off and people could page you. If you considered the call important enough, you powered up the phone and called them back.

I had a Sanyo that was on Sprint. I don't know what the model was but it had rubber around the outside and a pull out antenna (goodness remember those?). It was the funnest phone ever to open and close.

My first phone was a Motorola bag phone too...It rode on the transmission hump of my truck. Man it was huge. My favorite early phone, however, was my Motorola V70. That was the coolest design ever and I still have it in storage. It's fun to pull it out and hold it every once in a while.

First phone was the Motorola Brick...the Dynatac. My boss bought them for the service department so he could get in contact with us at any time.
"My" first phone was the original motorola flip phone. I stayed with motorola through the analog star tac, the digital star tac, V200, and so on, then went the PDA phone route until the smartphone.
My first smartphone, when the normal screen size was 3 to 3.5" was the Dell Streak 5. The looks I got from people when they saw the size of the screen. My screen size of choice is BIGGER is BETTER.
Last two phones have had 6" screens, and 4,000mAH batteries...LOVE IT! Oh, I've still got my digital star tac...powers up, but obviously doesn't connect to anything these days.

Mine was Nokia 1100.. "Made of unobtanium " :p

My first cell phone was a work-issued StarTac ~1997. Great phone for what it was. A bit later my first personal phone was an LG VX4400 flip phone. and then my first Android phone was a red HTC Incredible. That was replaced by a Razr Maxx HD, and recently a Galaxy S7 Edge.

My first phone is what's pictured on my laptop screen, tho on AT&T (1996). The one in my hand is my second (1997).
http://i.imgur.com/yq6zdO6.jpg

My first phone was a Qualcomm QCP-2700. I used it on a service called "PrimeCo". I think they later turned into Verizon Wireless.

The very first android phone; Google G1 phone. It was a hand-me-down from my dad.

I had a Qualcomm candybar phone prepaid then I had a Moto v60 I think silver flip clamshell

Samsung Galaxy S III. Running 4.0.4 Ice Cream Sandwich!

Ericsson T10S - actually we a Brick before that but can't recall the brand. It had a long-ish antenna, and was beige - weighed a ton and definitely would not fit in any pocket! We thought the Ericsson was cool because the 'flip' covered the dial-pad.

Mine was a huge brick thing on Cellnet in 1994. It weighed a ton and calls were expensive. My first proper mobile phone after that was a Motorola flip phone. Not sure of model but got it in 1996 on TMobile UK.

I remember buying a Sony that was the size of a large postage stamp. Tiny phones were all the range at one point. Had no screen either

Smartphone myTouch 3G
Feature Sanyo in 1998

Motorola Teletac Cellular Flip Phone
for photo https://pl.pinterest.com/pin/283093526552257551/

I'm first with the Sony CM-RX100 with a fold-down microphone and jog wheel, ~1996. Loved that thing, so cute (but thick), still have it.

Same phone.... Excellent battery life, sound and functionality. still miss the jog wheel.

Mine was a Nortel Nevada an excellent handset for the time on T Mobile in the UK.

Nokia 2110 brick back in '98

Ok ok Going back to 2002 my twin brother and I were 12, and doing all kinds of sports and band etc. So our parents bought us cell phones. Kyocera flip phones nothing fancy sliver with blue back light can't remember the name of it, I played hours of brick attack tho. The next after that was a Kyocera Rave. A bit more style but super basic, call people to pick us up was about it. After that though Autovux (1st color phone I had) couple Nokias for the rest of high school (texting was just getting going and the Moto Razer was hot as hell). Went into college with a LG rumor, then a LG rhythm, then a very brief stint with a early HTC smartphone(sloppy seconds) , LG smart phones, couple of those (first proper smartphones I had), then that got me to a galaxy s2, then my Moto X and now my Nexus. 😂

My first mobile phone was an NEC 9A, one step on from the "bricks", although this did have a "rubber duck" aerial just the same! It was a nice phone and a very clear signal on the original Cellnet mobile network. Unfortunately it got stolen and I replaced it with the first Motorola "flip phone." I remember the charges: peak time and within the M25 motorway ring around London was 33 pence a minute, 25 pence a minute off peak or outside of the M25 ring!! Fortunately I was earning plenty in those days and could afford the eighty to one hundred pounds bill each month, which was a large bill twenty years ago!!!

Nokia 1100. Later I moved to a Samsung flip phone. Both models are not available now. Sad. Waiting for their relaunch.

My first phone was a Sprint Samsung SPH-N400 Flip phone.. http://hdimages-raw.s3.amazonaws.com/samsungsph-n400-1355923058-2.jpg

My first proper phone was a Nokia 6288, though I briefly had a 3310 as a kid. It was a great phone at the time and I used to love the slide mechanism.

I can not remember my first cell phones but my second was a Radio Shack Tandy bag phone

LG Chocolate. I had zero intentions of getting a cell phone until idiots in Philly were shooting at each other as I drove through looking for a studio and I had no way to call anyone. First smart phone was a Blackberry Curve 8300

My first phone was an Audiovox CDM-4000 on the now-defunct MCI. I got it free with a 1 year contract and I kept it for the entire year.

Mine was 2 cans and a string

Motorola Timeport on Sprint back in 1998. $29.99 plan a month for 400 anytime and 1000 nights and weekends. Nights starting at 7pm.

First phone was the Qualcomm QCP-2700. I think it was $50/month for 500 minutes. Battery life was pretty awful, and if carried in a front pocket, it looked a bit... conspicuous. Service in Milwaukee was rubbish, and I'd have thrown it in Lake Michigan if I didn't think it would kill so many fish on the way down.
I also had one of those Motorola 2-way pagers in AIT... it was before they started allowing mobile phones. Perfect device to have on the down-low: Easily hidden on my person, quiet to use, cheap plan, and it worked for a month on a AA battery so I didn't have to worry about charging it. I really wish those were still a thing, it would be perfect for my daughter who mostly texts anyways and never remembers to charge her darn phone.

Technophone PC105. This was actually the first pocket phone. It actually (barely) fit in an inside pocket on a suit. The Motorola brick that most people think of as first truly portable couldn't fit in any pocket. This Technophone could. I had to order it from the U.K. and just trust that it would work on our networks. It did work and was a solid reliable phone. https://goo.gl/ltr1gI some images.
Replaced it I think with the MicroTac from Motorola when they finally really offered a portable phone. I used to get comments on the MicroTac that people figured it was a pager blinking on my belt mount. Quite stylish.

Radio Shack CT-200, circa 1988. Mounted in the trunk, had a handset in the passenger area. Could remove from trunk, connect to a huge battery, and have a "portable" phone that weighed about 10 pounds.

My was Motorola Flare. Battery worked only 12 hours. :)

I refused to buy a cell phone for a while until I finally bit the bullet and bought the Nokia 211. I've had a cell phone ever since then, and that was quite a long time ago (though not as long as some of the others on here, who were toting around the early car/portable bricks). I picture those of you driving around in your cars talking on the car phone like Dan Tanna (Google it if some of you are too young to remember the show Vega$, which I watched as a young child).

My first dumb phone was either a Nokia candybar, or a Motorola StarTAC ⚡

My wife and I bought a depth finder for my father-in-law's fishing boat, and it came with a free cell phone. It was the size of a small backpack, and weighed about five pounds, all battery. It had a whopping 20 min/mo plan with Cellular One (remember them?) and we used it for almost a year, until we had a problem with it, went in to Cellular One, and they told me I didn't know what I was talking about (they replaced the phone and it had the same problem, so I deduced that it wasn't the phone, but the carrier). I did (and still do) troubleshooting for a living, so we immediately cancelled our contract, and went across the street to a Bell Atlantic (remember them?) store, where we both got Star-Tacs. Our cell numbers are still in sequence, and we've had those numbers for over 30 years. Bell Atlantic became Verizon, and now my wife and I both have Droid Turbo 2s. But we've always used Motorola/Lenovo phones, and have had no major problems with them.

My first phone was 2 cans and a string

My first phone was the Droid Incredible, which I got in 2010. I really wanted an iPhone, but Apple lost me with the decision to go exclusive with AT&T. I had unlimited data with Verizon at the time. No way was I giving that up just to get a new phone. The rest, as they say, is history. I had to learn about Android, and became fascinated with it. Never looked back. Android has gotten and better over the years and I think it's terrific. Now my daily driver is the HTC 10.

At mowned you can create a nice little overview on your phone history.
This is mine, 12 phones, starting 1997 with a Siemens.
http://mowned.com/sig/ichwardort.smart.jpg

I had a Qualcomm QCP-2700. It was among the first phones on Sprint's brand new network. Fortunately it was the "dual band" model that could roam onto AMPS networks because their CDMA was really a new and not widespread thing at that point. I remember that I couldn't even roam into Los Angeles because they didn't have any agreements there. That was the last Sprint subscription I have ever or will ever use. https://upload.wikimedia.org/wikipedia/commons/4/48/Qualcomm_QCP-2700_ph... Eventually I replaced it with a Nokia from CellularONE (predecessor to Pacific Bell PCS then Cingular then AT&T) before getting a GTE MobileNet (predecessor to Verizon Wireless) Motorola StarTac

Had em all...
Started with the original Motorola "brick" Dynatac, through to the first huge moto flip, the analog and digital star-tac phones
(I still have my digital star tac phone) all the way to the PDA phones and smartphones.

Nokia 5190 on Voicestream.

A grey Motorola MicroTAC 9800x

The first classical flip phone, the Motorola Micro Tac.

First phone was a Panasonic Bag phone, cost like 30 cents a minute to talk, when and if you had service, that was in 1989. First smart phone was a Blackberry, first android was a Sprint HTC Hero.
Android Central Newsletter
Get instant access to breaking news, the hottest reviews, great deals and helpful tips
Thank you for signing up to Android Central. You will receive a verification email shortly.
There was a problem. Please refresh the page and try again.