What was your first phone? Taking a walk down cell phone memory lane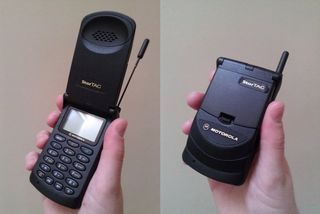 I've officially reached the point in my life that I can now look back nostalgically at my technology past. And since we've been talking about escapism, I thought it would be fun to start off the week with a trip down memory lane.
Lately, I've been thinking about my first cell phone, the Motorola StarTac. It was a dull, clunky flip phone with a retractable antenna. (I'm chuckling as I'm recalling it.) I tried desperately to cover it in stickers and make it look cool, but it was still relatively utilitarian-looking. I remember it was marketed more towards business folk and contractors rather than socially awkward teenagers like me. I needed something hip to fit in with the masses, like a Nokia 3310, but it wasn't offered by Verizon at the time. And anyway, the StarTac was a hand-me-down that was initially meant as a tracking device.
Per my parents, the StarTac was only to be used to call for a ride home. I wasn't allowed to text anyone or make phone calls without permission because the phone was on a severely limited plan. Any time I spent on the phone had to be carefully counted because each minute of talk cost a whopping 30 cents.
Eventually, I lobbied for a better deal. Rather than spend $3 for 10 minutes of talking, I argued, why not switch the plan so that I'm primarily texting instead? It's quieter for everyone at home, it's cheaper, and it was the cool new way to communicate with friends. My parents agreed to this, and it felt like the path had cleared for my ever-so-slightly burgeoning social life.
I spent a few months texting back and forth with one friend in particular. She was on a text-only device: the Motorola T900 2-Way Pager (opens in new tab), which came with a miniature QWERTY keyboard. She was not only more thorough in her replies, but she sent longer messages, too, which counted against my allowance. I would reply to her the next day, in person, because I didn't want to scare her away with the realities of my messaging limitations. Or rather, I didn't want it to get out that was all my parents would pay for.
By my 16th birthday, I was better equipped for socializing in high school. My parents used an upgrade on their account and allowed me to pick out the phone. It was the Motorola T720 and it was the cutest little thing. It could download apps, play games, and go on the internet, in addition to making phone calls and sending text messages — and it did all this on a color display! I didn't have to cover it in stickers to make it look decent, either. Instead, I bought translucent neon face plates for it from a kiosk at the mall, like the rest of my friends did with their Nokia 3310s.
An original advertisement from 2001 for the Motorola T720.
What was your first cell phone?
For fun, I put out this question on Twitter to see what the replies might be like. I've pasted a few below, though you can view the whole thread here. Unsurprisingly, I received many replies about a Nokia cell phone being the first mobile device.
https://twitter.com/izzyoji/status/850384012136898561
Alright, I've told you my story and a few others have told you theirs. Now it's your turn: What was your first mobile device? Tell us about it in the comments! We'll showcase some of your answers in a post later this week.
Florence Ion was formerly an editor and columnist at Android Central. She writes about Android-powered devices of all types and explores their usefulness in her everyday life. You can follow her on Twitter or watch her Tuesday nights on All About Android.
Mine was the Trium Mars because it was small and slick (there was a time when people wanted a smaller screen and form factor). Nokia and Motorola were still kings and the carriers were laying ground work for "how to suck money". Back in the day I used to replace cellphones every 3-4 years. Now it's the other way around, 3-4+ cellphones every year. My first smartphone was the HTC Touch running WM6.5.

Mine too :)
First smartphone was the Nokia 6260 Posted via the Android Central App

HTC Touch was my first smartphone. I think mine was first running 6.1

Bosch 509! Was huge compared with the actual mobile phones.

Same! I followed it up with the wonderfully named, Phillips Savvy.

My first one was an Ericsson ga318 in 96 I think, followed by a T28s. I thought it was so cool with it's small size and flip front.

A Sony back in 98 or 99 that was a thick black candy bar phone with a scroll wheel on the side. Thing was a brick. My family had a bag phone back in the day.

Samsung SPH-A680 on Sprint. I got it in 7th grade and I still have it in a drawer. Thing had a camera and flash. Nothing special now, but back then, I was using it to the max. Also, when the exterior display was turned off, it doubled as a mirror 😁

Some type of LG Flip Phone - whatever was the Buy-One Get-One on Verizon circa 2006. First smart phone was a Blackberry Curve in 2010.

MOTOROLA MICROTAC DPC550 - It must have been around 1994.

Same here. I worked for Southwestern Bell Mobile Systems back then.......eventually becoming at&t.

I had the Motorola MicroTac 650e. It would be similar to yours but had a thinner and odd shaped flip down piece. It even had TWO buttons to store phone numbers for quick preset dialing. I remember that I had the extended battery on it (worked installing communications equipment in new and existing construction and was usually in areas that had horrible signal) and that battery alone was about the size of three regular Pixel phones. But I could usually go 2 days in bad signal areas and 4-5 in good areas. Those were the last of the phones that could double as weapon if need be. My boss had a version of the DynaTac (Zach Morris brick) that had a screw off rubber duck antenna. He drilled a hole in the roof of his work van and mounted an external antenna to it with a cable in the cab that he could screw onto his phone. IIRC my phone had a 1/2-1 Watt transmitter while his was around 3 Watts. We used to joke that patients would be arresting and seizing when he walked through the halls of hospitals. And for the record, he used to carry that brick of a phone in his back pocket. No worries about it bending, and no excuse for people today complaining that their 10mm thick phones won't fit in their pockets. This thing was around 1 1/2-2" thick and it worked. If he sat down with it in his back pocket, he was hurt more than the phone was. Memories....

Motorola V60 was the first phone I had. A classic to say the least. I was in high school when I got it for my birthday. Back before unlimited text. Having to use T9 text input in order to text fast. Those were the days.

Classic! It was my first as well. Great build quality and the push button to open the phone was really a great feature.

My first one was Nokia 5110. Almost everyone of my classmates (i was in 10th class) already had Nokias 5110, Ericssons T10 or Motorolas T2288. We even had 1 Sony CMD J5 (!!! received by one girl from Israel, such phone were impossible to find on Estonian market). Anyone, who has T10 or T2288 wanted to get 5110. Do you know why? - To play Snake! :)

my very first was a Nokia 3310 in 3rd grade. thats probably why it still holds a precious place in my heart lol

NEC Talk Time 800. Had like 15 mins of talk time and 4 hours of standby on the battery. When you dialed a number everyone knew it because the button tones where LOUD. It stayed in the glove box 90% of the time. I had 60 mins a month of talk time for $60. Long distance out of state was extra. Roaming calls were about $3 a min airtime, $3 a min long distance and of course the $3 a day access fee. Needless to say I only used about 40 mins a month and rarely used it for roaming. I had that until I started working for Cellular One in Milwaukee they issued me a Nokia 252. I also had a Motorola 3 watt bag phone that I would use out of town. My first digital was the Nokia 2600 then the 6120, by far my favorite. While working there I bought, traded and used a ton of phones. I would have a Nokia 8800 for evenings out, Motorola V phone for certain times and even would resurrect a old brick phone for laughs.

iPhone 3g. Back in the day, my parents wanted to buy me a flip phone but I never bit. I never wanted one. Then I dropped my iPod, with the solid state hard drive. Jumped on the iPhone. When I switched to Android, I never looked back.

1999 Qualcomm QCP-2760 on Sprint. It was awesome! SMS was 10 cents per message. It replaced my Motorola Gold pager. So nice to be able to call on the go!

Mine also. With the extended battery it would go a week between charges. But mine didn't have texting.

https://en.wikipedia.org/wiki/Qualcomm#/media/File:Qualcomm_QCP-2700_pho... circa 97-98 era.

Mine was the Motorola c332. That was all my parents would allow me to have, lol. I think that was back in 2002.

Nokia 3310 I still have the box.

1999 - now Ericsson GA 628, Nokia 3210, Nokia 8250, Nokia 3650, Nokia 6260, Motorola K1 KRZR, Blackberry Curve 8520 (with Nokia E71 as company phone), Blackberry Pearl, Samsung Galaxy Ace, LG Nexus 4, Sony Xperia Z3 Compact (with HTC One M7 as backup phone)

My first phone was a rotary dial hung on the kitchen wall.

Loved my rotary phone with the 50-foot coiled cord for the utmost convenience. Lol

I'd would always follow the cord trail when my parents sent me to go get my sister.

Ours was avocado. Hated it because town's prefix had 2 nines in it. Took forever to dial.

Remember how hard it was to dial the local radio station to try and win the contests for albums and concert tickets? I can still feel the pain on the side of my index finger from dragging the dial around to get set for the next number. That must be why the radio stations always had so many 7, 8, 9, and 0 digits in their call-in line. ;-)

My first phone was a Nokia 2160. Got it while I worked at Let's Talk Cellular and Wireless. Had a pullout antenna. Thing was a brick

My first cellphone was a Motorola Bag phone followed up by a Motorola Micro TAC DPC-550

I had a nokia 3310 in 1999 as my first phone. I was in 10th grade to really age myself lol

An Ericsson PF768, I was 16.

Blackberry Bold 9000... still one of my favorite devices.

Samsung SCH-3500 (Sprint). Great phone, TERRIBLE network back then, and probably still is today. Still have the phone tucked away in a drawer.

Same here! Got it in 1999. I think my service was Cingular.

How many remember free calls after 9pm. Then free calls after 7pm. Days was like DO NOT CALL ME DURING THE DAY UNLESS YOU BEEN SHOT.

LOL yes indeed. I had Nextel. Free Incoming Calls.

Free Unlimited Weekends, then came free nights and weekends. It was such a crazy rate plan time back then selling those in the early 90s.

Unless you're also a Verizon customer, because FREE IN-NETWORK CALLING.

When I started they didn't have any free minutes of any kind (1997). Then came nights, nights and weekends, free calls to other Verizon customers, and now minutes are unlimited on their voice/data plans. However, my father was on an old flip phone on Verizon with a voice only plan and they still did nights and weekends on those. We moved him onto our share plan and now he has unlimited.

My memory points to something like this:
http://m.gsmarena.com/ericsson_ga_628-105.php It was a blue Ericsson​ phone - that's for sure - and then I think I got the Nokia 3310 sometime later when it was all the rage at the time. I might have had something in between but I can't remember if I did.

Motorola Dynatac 8000x. I believe 1989. Cellular One.

I think it was a Nokia from the early 90's or the Motorola StarTAK. That was about 25 years ago, service was like today intermittent with dropped calls. That was a life time ago. At least now the screen are readable, even the Pixel on large screen size, mature eyes. The analog phones has a much longer range for connection especially in the country, then the digital phones of that time period.

Nextel i730. A Brick with super cool rainbow colored notification light for calls

That big brick Gekko was sporting on the beach in Wallstreet. Love that guy

Motorola 8000 1 watt handheld. Was before FCC regulated that only .6 of a watt was allowed near your head.

My first was an LG VX3200, oh how far we have come!

My first cell phone was a Motorola StarTAC on Verizon. That thing was awesome. Remember charging your phone every third day? My first smartphone was a Samsung BlackJack, which I bought the day that AT&T rolled out 3G service in Pittsburgh. That device got pretty lukewarm reviews, but I really liked it. Its keyboard was better than anything out there until RIM rolled out the Bold 9000. As for Android, it was the Nexus One that lured me away from my precious BB Bold 9700. Trackball for life!

That phone came out before bell Atlantic became Verizon which was 4 years later.

Mine was the Sprint Santo SCP 4900. It was a rock solid and bullet proof bar phone. It was a hand me down from my parents. My first purchase was the Sanyo SCP 5500 and my first "smartphone" was the Samsung i330. Boy have we come a long way....

I had the 4000. Loved that phone!

Prepaid Nokia 3320 from Walmart in 1999 in the 7th grade. Also, no one here was touching my Snake score and skills. This is not up for debate haha

I have had, at least from an American perspective, more odd phones. The first should be the Ericsson GA 318, maybe Flo should have gotten this one as it had swapable "backdrops" for the num-pad as well as a coloured ring for the antenna. I had a cheaper Siemens after that (perhaps the C35?) but soon after I bought my first "advanced" phone - the Siemens ME45. For the time it was very advanced and even had the ability to side-load games! (sort of...it looked and behaved as games at least). My first smart phone ran Windows Mobile and was a HTC Touch Cruise. But my fondest memories are of that Siemens ME45 - it was a great device =)

Nokia 8210. It was shockingly small for the time and I thought it was the coolest thing ever.

My first smartphone was HTC explorer and still working so great.

A $10 Kyocera feature phone on Virgin Mobile in 2010.

Siemens Color screen and it came with cool car wallpapers

Mine was an epic Ford bag phone! Also rocked a Handspring Visor Prism with an OmniSky cell phone attachment and my all-time favorite, my Handspring Treo flip phone with physical keyboard (which I still use on occasion. Lol).

Qualcomm 860! Insanely thin at the time. https://www.google.com/search?q=QCP-860&safe=active&client=opera&source=...

I feel like such a newcomer to mobile phones compared to some of you guys. My first cell was a Moto Razr. Midnight blue. I thought that phone was so beautiful. I still think that it was one of the prettiest phones ever made.

The original Motorola Flip Phone. The thing I remember best that "dead spots" far outweighed a cellular connection. Even with a high tech cradle, complete and external antenna I could drop a signal four times between Princeton NJ and Philly.

I know that very well. Was awful back then.

My first job was working in a mobile phone shop at 19 so of course I had to get a phone. This was 1995 I think and I got a Tecnophone TP4 (a rebadged and cheaper Nokia 101 as a I remember) on Cellnets Citytime tariff. It was so heavy it made my suit sit lopsided. After that I moved onto an Ericsson 237 which was much smaller but I had to carry two batteries to get through the day. This was back in the analogue days so I was constantly getting new handsets and doing ESN swaps! Wasn't long before all my friends were taking phones off me too, the Motorola Classic for £9.99 up front was the most popular. My first GSM phone was a Motorola 7200, first smartphone a Blackberry Pearl and first Android was an HTC Desire HD

Technophone.... memories that big rubber antenna!

A Motorola Power PAK bag phone in 1995. The (what they then called) handheld models weren't strong enough to pull in the wireless signal where I lived at the time would last less than an hour of talk time. We could only use one carrier as well: Alltel. They were the only cellular company in the area at the time.

My very first phone was a Mitsubishi MT-30, Did the trick and then my Uncle who worked for a Telephone company hooked me up with a Motorola StarTac, I was the star in my High School for having the first flip phone. Many many MANY phones came after that.

Mine was a Sanyo SCP-4500 on Sprint. A fantastic phone on a terrible carrier. Then I moved to Cingular and got an Ericsson T60d. Service was much better, but the phone seemed clunky and unrefined compared to the Sanyo. Then I landed a Nokia 3560, which had the distinction of being only one of two TDMA phones with a color screen and polyphonic ringtones.

Mine was an Audiovox Digital Cell, was when the shift to digital was happening in the late nineties. Battery lasted a few hours and it was very heavy. Bill was $120/mo+++. Cellular One was the carrier.

Fujitsu Commander FX (in 1990). My wife and I had car phones installed in our cars when our second child was born because we felt we needed to be able to be reachable when moving around. It was another 5 years before I got my first handheld, an early Audiovox candy-bar type "mobile" phone.

First phone ever was a PrimeCo Audiovox flip phone I had on prepaid! First smartphone was a Cingular 8125 Pocket PC.. Current phone is the lovely Google Pixel!

Mine was the Qualcomm QCP-2700 with Sprint.

My first phone was the Motorola Razr flip phone. My first smart phone was the OG Motorola Droid.

I had a Motorola bag phone . Man i never lost a call on that one even in the woods lol

Motorola MR30 on Orange. 1998

First phone was the Palm Pre! loved that phone so much. did alot of things that were ahead of its time. First android phone I had was the HTC Evo. back when 4.3 inch screens were considered huge! Haha

I don't recall the specific model number of my first mobile phone in 1998. Its gimmick was a sliding earphone that could be used to answer and end calls. Looked a lot like the Sony CM-DX1000. Google has not been my friend in finding it. 1998 US was CDMA. My first smartphone was a Motorola MPx200.

Nokia 5190 on Fido's Fidomatic Pay As You Go here in Canada was my first cell. It worked but was definitely bulky (even without the analog module which I never had). I much preferred my second phone though: a Sanyo SCP-4000 on ClearNET (oh how I miss them). That phone was very reliable for me and was a powerhouse at reception duties (surprising since it wasn't dual-band digital).

Mine was a Star Tac too. Made me feel like Capt Kirk.

And every weirdo Trekkie bought them, and would constantly come into our GTE stores and tell us they owned the Motorola Star Trek phone. Funny times.

The Sony Ericsson w595 walkman, the slider was so cool

My first phone was this bad boy on US Cellular: http://images.comparecellular.com/phones/256/1495/motorola-120e.JPG I was always jealous of my friend's slightly older, nearly-identical V120t (I think?), though. Sure, mine had a bright blue backlight while his was a dim, sickly green, and IIRC mine could store more contacts, but on his the 'Funk' ringtone was pretty clearly the bass line from Play That Funky Music, while on mine it was some generic-sounding garbage.

Alcatel One-Touch Easy in 1998 or so, can't say I loved it much...first "Android" phone was an HTC Diamond 2 which I had flashed from WM to Android and made me understand why WM was actually not a smartphone OS :D The phone I loved the most visually was surely the RAZR, a fantastic piece of hardware, but in all other ways the Treos 650 and 680 were my functional and emotional favorites.

In Italy at the very beginning they only had two basic Motorola models whose names I can't remember. I bought one and the calls were outrageously high. Once the market had more offers I moved to Siemens phones. The one I loved the most was the Siemens SX1. Not very practical at the beginning but really original in terms of design. Even compared to the present slabs.

I had a Mistubishi T200. The AT&T plan only included regional calls 100 minutes to NYC; everything else was considered long distance!

A cheap burner, tracfone. When I went to Louisiana for the Katrina effort. It connected better than anything anybody else had. I had to stay in touch with people in the northeast, and had no problem doing that.

Sony Ericson T68 2001 edition 😁

I think this was it: http://www.phonearena.com/phones/Hitachi-SH-P300_id434 The mind tends to gloss over painful memories.

I had the Motorola MicroTac Select 3000e as my first official cell. It was brand new, and I loved it like it lived, breathed, and talked! 😂

Mine was a SprintPCS Samsung sch-1900. It was one of 3 phones SprintPCS first offered when they launched in Houston, TX. I remember one was a Qualcomm and I can't remember the other one.

Motorola Micro Tac Elite II analog with a whopping 10 speed dial memory and a lithium ion slim line and regular size battery back when nicad was the norm. Phone was touted as a business unit, came with a dual slot desktop battery dock charger too. I was a GTE employee in '94 and it was the 3 offered to pick without having to pay for a phone... Yet alone was a $850 unit. After words when the 1st version StArTac with the built in voicemail recorder dropped they made everyone carry the $1000 model to showcase the phone to customers. Crazy days. Even had a bag phone that had the same number as my hand held. ESNs rotated as you powered one down and powered up the other. Was a carrier feature.

Mine was a good ole bag phone like this one (if not this one)...
https://en.wikipedia.org/wiki/File:Motorola2950.jpg :)
Doug

Mine was a Moto MicroTAC. It was a burner/cloned phone.😜 I remember being crazy excited when they released a slim battery for it. First legit phone was a Nokia 232

I believe mine was the Palm Treo 700wx.

Qualcomm QCP-860 WAP browser FTW!

My first phone back in 2000 was a Samsung on Sprint (either the SPH-N200 or the SCH-3500...can't remember the exact model). I remember calling people back at night when the minutes were free (even now, I still tend to call people more at night than I do during the day).

My first phone ever was a kyrocera 5135 flip phone that was on TracFone....It came out in '02 (I was 18) and that's when u had to buy cards to add mins lol.....man that was so long ago!!!

Mine was a Radio Shack "car phone", installed in the vehicle. Circa 1989 using a through glass antenna mounted to a side rear window.

Mine was the Motorola Q. Loved that thing. Played solitaire all day long too. Upgraded to the Samsung Omnia when touch screen started getting big and I needed an anti-iphone. Finally went to the EVO which was my last windows phone and I was convinced that big screens were awesome. Can't tell you how many of my Apple loyal friends dissed my big screen phones who are now rocking 5" devices

My first mobile phone was a Motorola Dynatac 'Brick' I bought in 1984/5

Nokia 2180, I think! Lol Late nineties. Hell of a phone for the day. It was on Bell Atlantic Mobile, now VZW!

I had a Motorola DPC-550 my last year of high school...way back in the days of analog phone networks.

Sony Zuma CM Z100 with the toothpick flip out mic. Loved that thing! Had to get it replaced a few times because the mic kept breaking off.

Motorola MicroTac (1989), a big, clunky so-so phone that was replaced with the most reliable phone I've ever owned. It was a very compact candy bar type made by Qualcomm in about 1990 or '91. Way ahead of its time. I've never seen another one like it. Even Qualcomm's corporate history website doesn't mention it. I was given it by a wholesale electronics salesman who hoped to land my account. (The phone lasted longer than the account.)

My first cell phone was a Qualcomm... Second was the Motorola Vader phone... now that I wish I still had.... great phone

I had a car cigarette lighter powered car bag phone. weighed about 10 pounds maybe? Not even sure the brand

My first one, at 17, was a BAG PHONE that had to be plugged into the cigarette lighter (that thing you kids plug your USB chargers into) to run, because it had no battery. No presets, no voicemail, etc. Just enough display digits for 1-555-555-5555, and they were green. You know, like original Game Boy screens, lol. Basically my mom used it to harass me if I wasn't where she thought I should be, lol. Once she called it after I was 100 yards out of the driveway, because I "peeled out" of the driveway and was going too fast. It was a 4wd, but in rear wheel drive S-15 with the pathetic 2.8 truck motor. The tires slipped a little on gravel, and I couldn't speed in that truck if it was downhill with the wind at my back! Did I mention it was 5 miles to school up hill both ways??

Visor with the cellphone attachment! I had the GPS attachment too so I could navigate with it too! I really think that's the first "smart phone" out there!

First cellphone was a star-tac though.

Mine was the good ol' LG Shine+. What a great little phone. After that, I got the Galaxy S3, then the Note 3, Note 4, and now I have the S7.

OKI, not sure if Nokia was even in the US at that point.

Nokia 6110
Thing was a beast.

My first phone was the Nokia 3395 (3310 derivative). I miss those custom WAP sites! Before that I had a pager (believe it or not my job still uses pagers for certain "sensitive" areas. After the Nokia I had a series of LG VX series and then the Palm Pre Plus, Palm 2, iPhone 4S, 5S and 6S. In between that I've owned every Nexus device (even the ill-fated Nexus Q). I just sold my 6P and 5X and bought a OP3T. The only remaining Nexus is my Nexus 7 2013 running LineageOS 14.1.

Motorola Lifestyle It still powers on too

check us out flo - http://forums.androidcentral.com/android-central-lounge/687811-ac-member...

Ahhh memory lane! Mitsubishi T200 was my first phone, circa 1999. I just remember the crap fitting "leather" case I had on it (with non-swivel belt clip). I bought it because AT&T offered free INCOMING (only) phone calls, so my girlfriend could call me without being long distance. Haha! Oh the days....

It was something like this, http://i.imgur.com/HSFBFFJ.jpg.

I had a Nokia 5125 on Tracfone. Wow, that's a long way from my Nexus 6p.

The Nokia 6110. I had that baby for more than two years from about late 2000 until early 2003. http://images.hardwarezone.com/upload/files/2010/04/9f8b4a13e1.jpg

Nokia N201. On GTE Wireless, before they were bought or became Verizon Wireless.

nokia 6600...good old memories

First cell phone: Motorola Bag phone circa 1991 First smartphone: Kyocera 6035 circa 2001 Favorite old school smartphone (i.e. pre-iPhone): Motorola MPx 300 circa 2004. The coolest phone ever made!

First phone: Motorola Startac
First (offline) smartphone: Palm Treo 680
First (online) smartphone: Blackberry Pearl

Nokia 2112... Good old days

My first cell phone was a Motorola "bag phone" circa 1991. I am using the same mobile number on my Nexus 6P. I actually still have the bag phone.

I didn't meet anybody that beats me playing snake in that phone :)

Motorola A130
Big oval river rock :))))

First touchscreen smartphone was HTC Inspire (2-13-2011). Could multi-task at a time when the iPhone could not. Otherwise, I might be an iPhone user today. Before that I had a Nokia candbar phone of some variant and then a Blackberry.

The original Motorola flip phone -- the MicroTac. My first one was analog, soon after my second one was the first generation digital TDMA (not CDMA) on Cellular One. Battery lasted all day because we had it OFF until we needed to make a call. You got paged on your Motorola beeper then you turned your cellular phone on. My first plan had 30 min per month. I used the 50 second beep timer to allow me to hang up by 59 seconds. Many abruptly ended calls!!

Correction: first one was a built-in NEC cellular phone. Cellular One installed it. Handset was mounted in my center armrest. Antenna mounted on rear glass window of car. That was a status symbol in 1990-91!

My very first cell phone was the Qualcomm QCP-2760. And if I dig deep enough in my garage I probably still have it.

My first cell phone wasn't even a "cell phone." It was back when they were called "car phones" because they were permanently wired in the car. Mine was a Motorola of some kind, with a handset that looked like a regular phone receiver and a keypad on the back. It put out a blazing 3 watts of analog power and had the antenna mounted on the rear windows of the car (thank God to my brain). This is compared to todays cell phones that put out 0.6 watts max and usually a lot less if you have a strong cell tower signal. For the newbees, one benefit of the old analog phones is that they were full duplex and there was no time lag in the conversation. This means that you could hear the other party while you were talking and there was no stepping on the other person's talking. Really more like the old POTS phones in your home. Actually, it was a little easier to talk on those old phones... but who talks on their phones anymore anyway.

Florence, I would easily taken your StarTAC over the MicroTAC I had as my first phone. :p My first smartphone 10 years after that was the Nokia e71x.