AC Podcast 474: The future of Pixel phones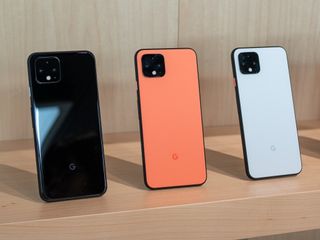 (Image credit: Android Central)
With two key leaders behind the Pixel phones gone from Google, what does the future hold for the product line? Will it continue as the industry-leading smartphone camera, and/or serve as a developer reference device? Will the price go down How likely is it that Google is even interested in making a push for the phone at retail to compete with market share leaders? Daniel, Andrew, and Jerry read the tea leaves and discuss this turning point for the Pixel.
Listen now
Links:
Android Central Newsletter
Get instant access to breaking news, the hottest reviews, great deals and helpful tips
The Pixel IMO is dead soon, it cannot compete unless they go low end and target prepaid. The 3a and 3aXL was a step in the right direction but still it cut corners. Now with TCL entering with better screens and a competiting price point I see Google leaving the phone game within a few years. The hype simply isn't worth what you get. Google can't compete on hardware with samsung and Android will never compete with Apple with app quality. Android survives from hardware and cheaper options. Apples gonna slowly give you a cheap iphone and slowly increase the screen size. Put it like this, the 11 IMO has a terrible screen but sells well that shows Apple folks really don't care about quality of the screen they just wanna see it when they need it. Pixel just can't compete, honestly if Samsung didn't screw up the A series and get more hype around it like it would the S series pixel would be finished this year. Google is running around trying to give software improvements and that's fine but Apple is coming out with call screening soon also. So what is pixel gonna do? I don't see were they'll compete at, the lower end the Motorola isn't bad, now TCL, and samsung is here and they need a cheaper A series.. what can Google do? I honestly don't know. It may be a wrap really soon for them. If HTC could come up with something around 350 and leave their dac that they had in the M7-M8 that would spell trouble too. LG phones aren't bad just poor software but the hardware isn't bad the V60 is pretty good for the price. I never trusted the pixel hype too many corners cut.

Maybe, but I really hope not. As Jerry said if they can find the "right formula" to reduce the price and still make money probably reducing their profit margins a little they would sell alot more phones. I would have bought the 4XL for it's price if it still had the back fingerprint sensor and an ultra wide camera. Without those two I felt the price was to high and not worth it. I get it they added these new features of their face unlock and Solis. Solis is useless except the only benefit it provides makes their face unlock a bit or alot faster. Now if it was a bit cheaper than upgrading to it from my 2XL might have made it more appealing. Google doesn't need to spec out their phones which they already dont with so much RAM, highest quality screen, 108 MP sensor and etc bec at the end they can still optimize their software with the hardware better than any other OEM. Or least they should be able to. Just put out a good spec phone for a reasonable price that will make the phone that more attractive. Ppl buy Pixels for their amazing camera (best on Android), stock OS, latest OS platform and security updates despite not having the latest design look. Google just needs to not price them so high to get their phones in more hands of users which will advertise to friends, family and colleagues. That's what Samsung did way back in the day to develop their brand reputation and how OnePlus did originally with flagship specs at a much lower price.

Well oneplus started off cheap, got the backing from the internet guys and then flipped the script and charged more but they still have great support and good backing from hardcore fans. I don't know where pixel can compete in, Jerry is right with the camera being the face of the pixel but that's it. The 4xl flopped due to poor screen and the face ID was medicore at best and still not supported by alot od applicatoons. I mean, we can be wishing all we want but where can they go next? The low end market is getting pretty competitive and the higher end market they can't compete in. Consumers are biased. Let's be real samsung one UI is okay but they made good software improvements and go battery life and a great screen. People will line up just to look at the great screen and pay big money for that alone. Google needs to learn how to play the game. The pixel screens are usually dim, and not good to look at, you gotta turn the brightness all the way up to even see it in the daytime. Also the battery isn't good but I really think stock android is dead in the water at this time, they need to put some more features behind that, the fanboys are starting to give up on it and the "stock" phrase doesn't hold the weight it did before. They need to put some more money into the visuals and figure out how their going to get faceid on par with apples. They also have no reason not to give a wide area lense with the 4, they should have added that. No excuses.. Motorola built themselves back up in the lower end market and dropped a higher end phone, most of us won't touch that but at least they have a plan based on how that sells, the razr flopped but they tried something new, we have to give Moto credit for that. The pixel is too bland and boring and basic for the price.

Agreed
If Pixel 4xl had the back finger print sensor and the wine selfie camera, I would own one right now.
Still have the 3 xl and hoping the 5xl has the wide screen selfie at least

The 4XL's massive think bezel should have included the wide selfie camera. Hopefully the Pixel 5 addresses these issues.

If people don't buy the 4a then yeah, it will die out. But if it's launched at what we believe it to be, any smart consumer will jump all over it. Time will tell.

Re: Your discussion about Dieter's take on Amazon vs Google hardware success. I posted following on Dieter's article on Verge. Posting the same here as well hoping you might find this useful. p.s. ******Never let Jerry Hildenbrand retire from this Podcast. I really admire objectivity and thoughtfulness that Jerry brings to the table instead of blindly hopping on bandwagon that general tech reviewers community might be following at any given time. ********** "In Marketing 101, they will teach you about 4Ps (Product, Price, Placement (a.k.a Distribution), Promotion). As a reviewer, you mostly focus on Product, then Price and then Promotion. However, you grossly underestimate or ignore the power of Placement – the Distribution Channel. Most Amazon's hardware offerings have done well (Kindle, Echo, Fire TV, Fire Tablets) because they control the biggest Distribution channel in the world to push their own products by putting them in front and center of 100s millions of consumers or by not allowing competing products on their platform. The only hardware product that failed was Fire Phone. Why? Because in US, phones are sold through carriers. Amazon is not the primary distribution channel for phones. Sure, the products have to be above a certain threshold in order to leverage Distribution. This comment is not so much about justifying Google not able to sell as many Pixels as they would hope. Apple and Samsung have been very successful at that over last decade. Main objective of this comment is to highlight you are attributing Amazon's success mostly to Product and Price but completely neglecting the Distribution channel factor."
Android Central Newsletter
Get instant access to breaking news, the hottest reviews, great deals and helpful tips
Thank you for signing up to Android Central. You will receive a verification email shortly.
There was a problem. Please refresh the page and try again.