A $699 Pixel 5 could be the bargain of the year — if Google doesn't mess things up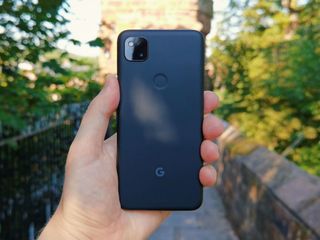 (Image credit: Alex Dobie / Android Central)
The Pixel 5 is launching on September 30, and we know a lot about Google's 2020 flagship. The phone will feature a 6-inch 90Hz FHD+ OLED display, dual rear cameras with a wide-angle lens, 8GB of RAM and 128GB of storage, stereo speakers, wireless charging, and a 4000 mAh battery.
But what's particularly interesting is that the Pixel 5 will be powered by the Snapdragon 765G — the same chipset as the OnePlus Nord and Motorola Edge — and not the flagship Snapdragon 865 like other 2020 flagships. We've seen that the Snapdragon 765G delivers incredible performance and has 5G connectivity, so it makes sense for Google to save some cash by opting to go with Qualcomm's mid-tier chipset instead of springing for the costlier Snapdragon 865.
By offering the Snapdragon 765G, Google is looking to undercut its rivals by a significant margin. The latest leaks point to a sub-$700 pricing for the Pixel 5, with Google likely to offer the phone for $699 in the U.S.
Google didn't achieve any meaningful sales volumes with its flagship Pixel series, but that may change with the Pixel 5. If the phone does debut for $699, it is bound to sell in decent numbers. The Snapdragon 765G holds up just as well as the Snapdragon 865 in most day-to-day tasks, and Google has demonstrated with the Pixel 3a series that it can optimize the software well.
When you consider that the Pixel 5 will offer upgraded cameras from the Pixel 4 series — including a wide-angle lens for the first time — it is looking like the bargain of the year. Google hasn't really omitted any features here; you're getting wireless charging with reverse wireless charging, 8GB of RAM (also a first), a large 4,000mAh battery, and stereo sound. These specs look exciting on any phone, and the fact that Google is taking hardware seriously is a good sign.
There's only one problem here: Google's abysmal track record with flagship Pixels. Google somehow managed to run into issues with every Pixel launch following the introduction of the series back in 2016. The Pixel 2 had huge bezels, while the Pixel 2 XL was plagued by display issues. The Pixel 3 series fixed the issue with the screens, but introduced new problems: the battery life on the regular Pixel 3 was average at best, and the notch on the Pixel 3 XL was hideous. And with both phones limited to 4GB of RAM, multitasking was just not possible.
Then there was the Pixel 4 series. While Google added a 90Hz refresh rate and secure face unlock, both phones had woeful battery life, with the regular Pixel 4's 2800 mAh battery barely making it through until mid-day. Every phone has its faults, but for whatever reason, Google has had a particularly poor showing with its Pixel lineup.
So for its 2020 flagship, Google needs to make sure that there are no hardware defects. It is encouraging to see that the Pixel 5 will offer 8GB of RAM and a 4000 mAh battery, because that means you won't run into issues with multitasking, and the battery should actually last a day.
We've already seen Google going back to basics with its 2020 mid-range option, the Pixel 4a. The phone has modest hardware with a plain design, with Google instead focusing on its biggest strength: camera prowess. The Pixel 4a takes the same caliber of photos as the Pixel 4 series, making it a standout option in the mid-range category.
It looks like Google is planning on doing the same with the Pixel 5. There are no glaring omissions from a hardware point of view, and we'll undoubtedly see a few camera-focused improvements that should make the Pixel 5 stand out from the likes of the Galaxy Note 20 Ultra. Combine all of that with a $699 price tag and we could be looking at a new addition to the best Android phones — provided Google doesn't run into any hardware issues once again.
Android Central Newsletter
Get instant access to breaking news, the hottest reviews, great deals and helpful tips
Harish Jonnalagadda is a Senior Editor overseeing Asia at Android Central. He leads the site's coverage of Chinese phone brands, contributing to reviews, features, and buying guides. He also writes about storage servers, audio products, and the semiconductor industry. Contact him on Twitter at @chunkynerd.
How bout $599 as that's been the latest leaked price?

I think the Pixel 5 needs to be $599 in order to make an impact. $700 is no bargain - I'm sure most feel this way.

I agree 100%
If it's $599, they are pricing to sell now. If it's $699 they are pricing to discount later.

700 isn't a bargain. Maybe at 600

700.00, way too much? 599.00 would be much better. Still a mid-range SOC!

If it costs 699 it's not a bargain. Not even debatable when that is the price of two pixel 4as.

549.99. lower specs lower price! Why would they come in that high when the phone looks similar to the 4a that's $350 cheaper?

"When you consider that the Pixel 5 will offer upgraded cameras from the Pixel 4 series" That's not true. The main camera sensor is the same one Google have been using since the Pixel 2. It's an old sensor. Any update to the Pixel 5's camera would be software, and could easily be ported to the Pixel 4. The wide angle sensor is the exact same sensor as the Pixel 4's telephoto sensor, all that's changed are the lenses to go for the wide angle. Even then, it's only 107 FOV, not 120 like Apple and Samsung do. Traded a gimped telephoto lens for what sounds like a gimped ultra wide one.

It will probably be $699 initially to mitigate the financial loss. Remember, Google loses money on their phone sales. It's the only company where you literally get more than you pay for. A higher initial sales point will also help cushion the other major problem Google has every launch: supply. After the initial heyday of sales drops off Google will heavily discount the phone as they always do. I think Google's strategy is pretty sound.

I don't believe for a second that they're selling for a "loss". Their costing model likely contains a lot of overhead that is not directly related to phone production and sales. They are getting substantial cash profit from each sale. The rest of the comment makes good points. The takeaway is don't be an early adopter. They will be discounting heavily within weeks of initial release.

I'll retract my assertion Google is selling it at a loss. I based it on Google's historical track record of selling previous devices at or below cost but there's no evidence they're doing that with the Pixel 5. I highly doubt they're making a huge profit though as you suggest, unless you have some evidence I missed?

Lol Google isn't loosing $$ on their phones. Maybe the low end A line they sell at cost, but if you think it costs 700+ for the specs Google is putting out, I have a bridge to sell you.

You're also getting a giant dead pixel in the screen. $700 for poor design?

All this info is wonderful, BUT HOW BIG IS IT? If it's the same size as the Pixel 3, it will be great. But the world doesn't need any more big phones!

Maybe worth it at half price.

So to differentiate between the 4a:
Higher refresh rate
Wireless Charging
Reverse Wireless Charging
Wide Angle Lens
2gb more ram.
I'd say that is about $200.00/$250.00 more price tag then the 4a.

You are kidding right? Because right now there are good Qualcomm Snapdragon 765G phones available for less than $500 like the Motorola Edge. But even if we limit this to premium brands, tell me why on earth I shouldn't get a Samsung A71 5G? $600
8 GB RAM
6.7' screen
128 GB base storage
SD card
headphone jack
under display fingerprint scanner
4500 mAh battery
wireless and fast charging
3 YEARS OF UPDATES And this is with Samsung usually charging $100 more than the competition on similar models ... because they are Samsung. For instance ... the DUAL SCREEN V60 ThinQ 5G WITH THE SNAPDRAGON 865 COSTS $699. The LG Velvet - again with the same chip - costs less than $600. But the Pixel 5 has that great camera though! For the event next week sure, I will be interested in a $99 mesh wi-fi router. And the Sabrina dongle to FINALLY replace my Nexus Player (still on Android 8 ... but hey my Mi Box is still on Android 9 so I will replace that one too). But Google can save their phones. (And their Chromebooks ... Samsung does them better premium, Lenovo does innovation better, Asus gives you the same hardware for $200 less, HP is better at giving you enterprise/professional features.) Their last good deal was the Nexus 6. And even that one didn't have a fingerprint scanner or a 64 bit CPU.

Isn't the Pixel 4a at $350 a great deal? Or the 3a and 3a XL before it? Especially w Google cameras and software features. I've owned both the Nexus 6 and the 3a XL and prefer the latter which also cost me less. It is nice Samsung finally stepped up its upgrade policy to 3 yrs to match what Google has been doing for yrs. But I've not been impressed by Samsung build quality or its battery issues. Anyway, Google seems to have settled on a solid business model so future looks bright.

Pixel 4A is fine. A name brand phone for $350 is nothing to sneeze at. My issue with the Pixel 4A is that Google delayed its launch for 3 critical months for no good reason, costing them like a million sales. And you are right, the Pixel 3a XL was a great deal. However you can't talk about the quality control issues with Samsung phones without mentioning the same with the Pixel devices. The 3A for example had the shutdown/reboot issue - the Pixel 2 had similar problems - and the Pixel 4 has had the swelling batteries issue. Every generation of Pixel has had real issues of varying severity, and that doesn't include Google purposefully starving the devices of RAM and battery because they wanted to prove that they were so great at software optimizations. I get that there is an obligation of Pixel fans to take shots at Samsung, but I mentioned Motorola and 2 devices from LG - one of which is a dual screen Snapdragon 865 phone - also. No disrespect to the Pixel 5 and hope it succeeds, but charging $700 or even $600 for a device with an outdated midrange chip is not a deal. Fortunately Qualcomm is done with their 2 years of ripping people off and is going to integrate the 5G modem into the Snapdragon 875. Pixel fans would be wise to either get the 4A 5G or wait a year.

Sorry but at that price, wouldn't the real bargain be the 4a 5G for $200 less? Afterall, it supposedly shares key specs, such as a 5G SOC, 128GB storage & cameras while still having plenty of RAM and a larger screen. For myself, I'll prob go w the 4a 5G over the Pixel 5, despite the wireless charging and somewhat better build of the 5.

Lol "bargain" for a mid range phone that costs $700?

Samsung just released the S20 FE for $699 with a SD865, 8gb and 128gb. Pixel is gonna have to be $150 less than that.

$700 and bargain can't go in the same sentence. anyway, that title will go to the p4a's 5G which will have the same processor and will actually be priced as a midrange phone. if that one sells for $500 or less on black friday it might be a good deal.

The Samsung S20 FE, 699.00 for the 865 processer? The Pixel5, 765 processer, 699.00. Kind of a simple choice? The Pixel won't be able to compete at that 699.00 pricetag?

I'm relieved to see that most people here think the price should be lower. $700 for this kind of hardware seems a little too much even here in the States when there's just as good phones, if not better.

There's no two ways about Google done screwed up again. I'm a big fan of the software (have a Android One Device myself). Not so much of their overpriced hardware. As much as I hate overbloated software Sammy's UI 3 is very decent. I can see why people like to use their phones. Combine that with good hardware and it's no wonder they are doing well. Google either can't or won't do this. They were on the right track with the Nexus program. Good hardware with Google near stock software. All at very reasonable price. Then they got stupid and wanted to play with the big boys and lost their mind. I'm willing to cut them some slack with what's been going on this year. That said the blunders they continue to do will not do them of their customers any favors.
Android Central Newsletter
Get instant access to breaking news, the hottest reviews, great deals and helpful tips
Thank you for signing up to Android Central. You will receive a verification email shortly.
There was a problem. Please refresh the page and try again.