Top 6 things we want to see in Android Q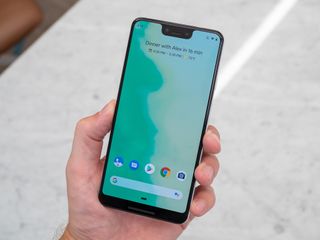 Believe it or not, but it's now been over six months since Android 9 Pie was officially released. You know what's even crazier? Its first developer preview dropped more than ten months ago. All that's to say that its successor — Android 10 Q — will be here before you know it.
We've really enjoyed our time with Android Pie and recognize it was one of Android's most important updates in a while, but as with all things, there's still room for improvement.
Join me, won't you, as we go through our top most-wanted features/changes with Android Q.
Fix the gesture navigation
If there's one thing we'll remember Android Pie for, it'll be its introduction of gesture-based navigation for the platform. Google got things off to a decent start and improved the gestures a lot compared to their implementation in Pie's developer previews, but they're far from perfect.
Gestures on Android Pie are kind of confusing. You tap the home button to return to the home screen, do a swipe up to access the multitasking page, and do two swipes up for the app drawer. A quick pull on the home button toggles you back and forth between your most recent apps, but doing a long horizontal swipe on it allows you to cycle through all of your open applications.
And then there's the back button that sort of pops up here and there like that family member of yours who's always talking about the good-old days and never wants to accept that the world is changing.
Navigation is a bit of a mess with Android Pie, but it doesn't have to be.
Samsung, Motorola, and even OnePlus have all created their own vision of gestures for Android, and truth be told, they're all much better than the stock solution that Google offers. Whether Google straight-up copies one of the other methods we've seen or uses them as inspiration to evolve what we currently have, something has to change.
For the record, this is something that pretty much everyone here at AC, myself included, wants to see.
Better support for one-handed use
A lot of Android OEMs offer one-handed modes with their custom software for Android, but on its own, stock Android Pie doesn't have anything of the sort.
Phones have been getting bigger and bigger for the past few years, and with bezels continuing to shrink and displays getting narrower, it's becoming increasingly more difficult to reach buttons, toggles, etc. at the top of our screens. With a well-crafted one-handed mode that's ready to use out of the box on any Android phone, life would be a lot easier.
On a similar note, Hayato said he'd like to see Android Q take some inspiration from Samsung's One UI interface that brings UI elements within closer reach by reserving the upper part of your screen as a viewing area of sorts. We certainly don't actually see this happening with Android Q (if ever at all), but it would be pretty exciting to see something like this happen down the road.
A built-in screen recorder
One of Android Pie's smaller additions was a native screenshot editor. It works incredibly well and makes working with screenshots on Android ten times better, but there's something that's still missing all these years later — a native screen recorder.
There are plenty of third-party apps on the Play Store that allow you to record your screen and then share the clip wherever you'd like, but there's no reason something like this shouldn't be baked right into the OS.
This is something Apple added with iOS 11, and to be frank, it's kind of embarrassing that they beat Google to the punch with this one. From showing your relatives how to uninstall Facebook to creating a tutorial on how to edit a picture in Photoshop Express, a screen recorder for Android would be incredibly useful.
System-wide dark mode
One of the things we see asked for each and every year with new Android releases is a system-wide dark mode. Android Oreo on the Pixel 2 series introduced a dark theme for the Pixel Launcher, throughout 2018, we saw a bunch of Google apps slowly adopt dark themes of their own.
This is all good progress, but we still don't have something that enables a dark mode system-wide throughout the entire OS.
There are rumors that Android Q will finally change that, but that's something we hear with pretty much every Android release. We certainly hope and pray that Google listens to our long-standing prayers, but there's really no telling when we'll get this.
For a deeper dive into Android Q's dark theme speculation, be sure to check our Ara's excellent deep-dive on the topic.
Fade to black: Why Android's dark theme rumors don't matter anymore and matter more than ever
Even more tie-ins with Chrome OS
In 2018, Google launched a program called "Better Together" for Android and Chrome OS that allows the two platforms to play nicer together than ever before. Better Together is a new setting within Chrome OS that shows all of the ways using an Android phone with it can make your experience better, such as managing your texts from Android Messages' web client, instant tethering with your phone, and keeping it within close proximity of your Chromebook to unlock it without having to enter your password.
This stuff is all great, and now that Google has a system in place for managing these features, it could use Android Q to really go all-in with them.
I want to be able to copy text on my Android phone and then paste it on a Chromebook. When I download an app to my phone, it should automatically download on the Chromebook next time I use it. Notifications across my Android phone and Chromebook could be synced together.
Android and Chrome OS are both phenomenal platforms on their own, and as Google makes them talk better with one another, all that does is give people more of a reason to fully buy into their ecosystems.
A reimagining of the entire UI
This is a bit of a wild card and something we probably won't see, but I think it'd be fun to see Google really shake up Android's entire interface.
Aside from visual tweaks here and there, the core functions of the OS really haven't changed all that much over the years. All of your apps live in the app drawer, you can add these in a custom order on your home screen, and if you'd like, you can add widgets, too. All of this works, and works quite well, but it's getting very familiar these days.
What would a reminaged UI for Android look like? I honestly don't know, and at this point in the operating system's life, I'm not sure if something like that's even possible. Even so, the tech geek inside of me can't help but long for something radically new. A new way of accessing apps, customizing my phone, and a new way of doing just about everything.
That might be something I need to wait for Fuchsia for, but that's not going to stop me from dreaming.
What do you want to see?
With all of that out of the way, it's now time for you to chime in. What do you want to see in Android Q? Sound off down in the comments below!
Joe Maring was a Senior Editor for Android Central between 2017 and 2021. You can reach him on Twitter at @JoeMaring1.
I still get frustrated sometimes by the gesture navigation as well. That's my #1 for them to fix.

I'd like to see Pie on my Sprint LGv30+. And somehow, someway have Google truly do something drastic to ensure any flagship spec'd device (hell some mid tear as well) gets not only almost instant access to security updates, but full OS updates too. It's something at this point I truly dislike about the android world. I'm not an apple fan nor plan to ever be a customer for their phones, but ****.. Kudos to them for updating as well as they do. (I understand it comparing apples to oranges, but at some point this has to be better addressed)
Im not a engineer or claim to know the solutions. But I would have figured out how to separate android OS and security away from anything lg, Samsung etc as well as Sprint, Verizon etc. Like here is how this will work. We will update Android and keep it secure. If you choose to add layer upon layer of "stuff" to your devices (lgs samsung UI, duplicate apps etc & carrier software and crap) then fine, but your user will be able to upgrade around you and if you want a good experience for them, then just focus on tweaking your software and making it compatible. Well give you the tools, schedules and anything you need, but you will keep it separate from the base OS and security software. There has to be a way these things can be done independently but still play perfectly nice with one another. Lol. Hope some of this made sense.

Agree with you. Seamless updates should be top priority. Tired of hearing about project treble which didn't change anything.

Huh, it seems project treble isn't all good for everybody. For me it made a change. With a 150$ low-mid range phone, I am able to run android pie on January 2019 patch(even though it's through a not so official way, treble made it possible). I hope Google will partner up with manufacturers to push security updates monthly for more phones officially, as it is possible.

You sure project treble didn't do anything?

Google did this a while back. Security updates are seperate from GUI updates.

- I want them to stop restricting the number of notification icons
- I don't want a notch
- I want the clock to return to the right
- I don't want to be forced to use the navigation gestures
- I want bigger batteries (hardware, so not really Android Q)
- I want my notification LED back (hardware, so not really Android Q)
- I really want removable storage on Pixel (hardware, so not really Android Q)

Not wanting a notch is also hardware related.

I want colored icon notifications back!

I would like the clock to move back to the right on phones without a notch.

I must really be lame, cause I can't think of much I want. Will probably buy the Pixel 4XL after launch because I know the price will drop for black Friday, but I am pretty pleased with P on my 2xl. It works for me.

I'm pretty sure whatever new features get introduced in Android Q, I already have on my Samsung phone.

"Android Pie is great" followed by a scathing indictment of the entire gesture system, "Navigation is a bit of a mess with Android Pie, but it doesn't have to be." That's a bit contradictory, don't you think? It isn't great if the main navigation completely sucks. Just sayin'. Here's an easy fix: adopt what OnePlus 6T is doing. Give me a choice between buttons and gestures or something in between. Y'know, customization? The thing Android used to be good at?

You mean this?...
Settings > Gestures
Specifically, Swipe up on Home button Turn off to get all the nav buttons back

It won't matter for me as my Pixel won't see Q. Too bad Google didn't bother including the headphone jack on the Pixel 2 or Pixel 3.

I'd like to see people stop moaning about their pet peeves.
BUT realistically, I'd like Google to fix their ridiculous Bluetooth rules. If I have a headset in, NO SOUNDS SHOULD COME FROM THE SPEAKER. It may also be nice for the Goog to allow me to SWIPE stories I don't care about from their news feed away - LIKE BEFORE. I should also be able to name my phones assistant something other than HEY GOOGLE. Get creative, fella's. Lastly, on KEEP - I should be able to add something via an assistant to keep to a specific list. INTEGRATE.

Not being able to swipe stories away is highly annoying.

I thought I was alone on this.

Wow I'm so glad others feel this

Swiping was great. I miss that

Move the clock back to the right. Give the user the option to use gestures or "Old School". More important than any of the other features I would like to see, total and complete OS wide dark theme with an option to turn it on or off with the time of day (sunrise/sunset). I would also like to see a software change in the notch design elements... refuse to support notches/holepunches in future releases. When it comes down to hardware though, I'd like to see a phone where the battery is about the size of an OG Pixel, only a little thicker, then build the phsical phone around that.

Weirdly, on my Pixel 2, the gestures described in the article are different. I just swipe up for the app drawer, the described pull at the home button does nothing and so forth. Also, I read over and over again the "back" (soft)button would be gone - and it isn't. The dark mode - system wide - is there, but it doesn't work for me. Contacts, e.g., are only going "dark" when my battery drops below 15%. And no, I haven't modified anything for that. It just happened to be like this after the update. (Anyone else seeing the same?)

It started with the pixel 3. If you go into settings you change set yours up like a pixel 3. Search for Swipe up on Home Button in Settings.

You're actually an idiot... Swipe right on the home button when you have multiple apps open and it'll switch between the two. Everyone can swipe directly up to access app drawer it's just a matter of a long swipe up or a short one. It's sad how you don't know how to use your phone at this stage. Educate yourself kiddo

Gestures are the #1 thing that I think they should fix. I would love to see a fluid, physics-like gesture system like iOS has. Better RAM management. I'm on a Pixel 2 XL and constantly have to reload apps that I leave running in the background. Apps shouldn't have to reload after 2 minutes of not using it. Also, I'd like a button in settings to apply Dark Mode to every app at once, rather than having to go into every app individually and enabling it. Dark notifications would be nice, too.

What other apps are you starting up before coming back to the one restarting? That an app restarts when you come back is dependent on RAM usage, not the amount of time elapsed.

I want the late notifications issue fixed... None of the tutorials i've seen online fixed the problem (changing heartbeat interval, adb, clearing cache, reinstalling app upgrades, removing apps from battery optimization, resetting phone (2 times).... Nothing... Nada)
More info on Android Central's forum post ID 904647 (notifications-delayed-stopped) – i can't post the link due to restrictions in comments

Agreed. A much better gesture Nav system is needed. I like the oneplus version but that improved woufl be perfect.

Gestures are ok by me but the are a few things i'd like all of which Samsung gave me as standard on my old s6.
1. The ability to take scrolling screenshots. This is so useful and samsung does it great. The scrolling screenshot apps in the play store are useless.
2. Take pictures instantly by saying "cheese" or "capture". Doing it via google assistant is so darned clunky.
3. Please google fix camera app to let me have a full clear screen with no shading at the sides so i can see what the heck I'm taking and be able to compose a 16 x 9 picture properly.

What I want in Q is system wide text scaling so that no matter what site I visit or what app I'm using the text size is the same

I have mixed feelings about the gesture navigation. At least for right now I can switch back and forth between gesture and the old way . I'm using the Essential phone

You can't be serious? The gestures in Pie are so easy to use, it's about as simple as it gets.

I agree. Took a few days to become intuitive. It's hilarious when I pick up nougat tablet and try navigate using P gestures.Lol

They want to fix gestures... Copy WebOS and done.

I don't even have Pie on my S9, how could they even talk about this? Maybe these dingbats should worry about actually pushing the new Pie OS out to our phones before even mentioning a newer OS that we won't even see for another couple of years most likely, Unbelievable!

Complain to your phone's manufacturer, and if carrier-branded, your carrier. They are the parties most to blame for the insane delays in receiving updates. The update delay nonsense is why I wrote off all carrier-branded phones, and then every OEM not using stock Android. The list of OEMs consistently delivering updates within even three months after release is astonishingly short.

Agree on the better gestures, System-wide Dark OS (give it the ability to react to time of day if user wishes). My own choices would be better RAM/Power management, better VPN integration capability, disable by default Wifi Protected Setup, and the ability for the OS to detect and display what hardware features have been enabled by the OEM (USB-C alt modes, OTG, MHL, supported bluetooth modes, et_al.) instead of leaving the user to guess or research and creating setup/troubleshooting wizards for stuff like MHL, OTG and the alt modes.

How about better privacy control and Global restrictions on snooping and tracking? 🔏 Maybe explic opt in, instead of hard to find or unavailable opt out?

I agree. But it is Google after all. But I can still hope!

In a lot of ways Google is not the worst offender. With ccpa and similar legislation, there may be some hope for not being forced to live in a fishbowl.

Better battery life.
Built-in quality voice recorder.

I miss the "scheduled power on/off" feature which was present in Android nougat 7.0 in Mi A1, it disappeared after the android oreo 8.0 and pie 9.0 updates. It was really helpful feature, which was used to turn the phone on or off automatically at preset times.

I still revert to BB10 gestures from time to time. Those became so natural that they are still ingrained. It was nice because it permeated the whole UI.

Internet speed meter on status bar is a thing which most of us are waiting for (third party ones suck).
This is one of the few things you noted above in which custom roms from oems have advantage of over stock android.

Built in recorder, dark mode system wide and an Android answer to iMessage. I don't mean RCS which depends on carrier support.

I want a built-in support for Miracast back.
Although I agree with all the points already mentioned, this is by far the thing I'd like most.

I really don't see what is so special about pie. Horizontal carousel for recents isn't as intuitive as the vertical approach for me, you have to spin to see what else is open. Gestures that don't fit to where your fingers lay, and aren't adjustable for them, blows, and a pill too? My setup, I don't need one handed mode, I can place gestures wherever I like, to reach anywhere on the screen. Nova prime hides the apps that I rarely use, and in the app drawer, and I use swipeable folders with apps and shortcuts that I use on the desktop. I can do this, and more just with Oreo, so pie isn't something that's needed, just for the sake of change. Q may be different, but it may be more ui changes, with apex the only os' functional new feature. Fuschia may be the real "future" for google, Ihope they don't muck it up, like they're doing to android.

• left edge: back
• right edge: app switcher
• top edge: notifications
• swipe down on notifications: quick settings
• bottom edge: home screen
• swipe up on home screen: app drawer No dumb pill needed.

I am really looking forward to a built-in equaliser for music. Third party apps just don't cut it. And also a grammar correction mode for Google keyboard. I do have another small request, I miss the display of big contact photo while on the calling screen. In prep the contact photo is as large as a coin.

I am really looking forward to a built-in equaliser for music. Third party apps just don't cut it. And also a grammar correction mode for Google keyboard. There is a third party app to access the notification window right from the navigation bar. I believe everybody will love to see it as a native feature. I do have another small request, I miss the display of big contact photo while on the calling screen. In prep the contact photo is as large as a coin.

Top thing I'd like to see in Android Q is more &£@#ing devices actually getting it and getting it quicker. There are brand new handsets being released still on Oreo. The fragmentation of Android shows no signs of improving any time soon.

Who cares? Nobody in the real world cares about Android OS sub menu's... The kids care that Fortnight looks good, older adults might play the odd game, but they like a big screen to see what their neighbours ate on Facebook or maybe check sports scores or read some news. This is what Pie did:
Bad Gesture Navigation (battery killer)
New app overview screen
Quick settings redesign
Dark/light themes
Digital Wellbeing (Data mine you)
Adaptive Brightness
Adaptive Battery
App actions and slices
Better notifications
Better do not disturb Did that list really get you excited? Samsung users have recognized at least three of the features above because they had them at least a year before Pie.... A vocal minority of the cell phone world obsess about Android OS. Most people run a few apps.... But it's mostly social media, some news, texting, music, a game or two regularly if there is a long commute, calls. Most of Android OS details are ignored or lost on people. Lol.. And maybe my Note 8 will get Pie before June.... Yawn.... Whatever. Progress is a good thing... But I don't call Pie progress as much as I call it Window Dressing.

I want to see more hot looking broads.

I like the gesture nav system, but I agree the back button doesn't seem to fit with the design.
Don't care about dark theme - wouldn't use it anyway.
I like the notification dots but would like them to update without opening an app (e.g. reading an email on another device)
May seem like overkill but folders in the app drawer would help with finding stuff.
I don't care where the clock is so long as it doesn't switch sides every Android version.

I would like to have MIUI 10 gestures , per app DPI changer, color temperature adjustment and an option when you turn off the screen , after x minutes everything goes entirely freezing, (i mean no notifications, no wake locks , no alarms, no nothing) for better battery. Just a simple switch.

« This is something Apple added with iOS 11, and to be frank, it's kind of embarrassing that they beat Google to the punch with this one » This id not the first time they do it and vice-versa :) « A reimagining of the entire UI » Why? Change for the sake of change is useless...
Android Central Newsletter
Get the best of Android Central in in your inbox, every day!
Thank you for signing up to Android Central. You will receive a verification email shortly.
There was a problem. Please refresh the page and try again.