Moving from Windows Phone to Android? Here's what you need to know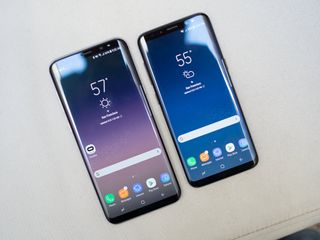 (Image credit: Android Central)
One of Android's most redeeming features is how open it is. You're forced to have some Google involvement. But the truth is, you can make the switch and still be all about Microsoft if you want to. After all, why should you give up the services you love just because you change phone platforms?
The sad truth is Windows 10 Mobile just isn't competing right now, and its future is unclear. Of course, we'd much prefer the opposite situation, but cold hard facts are impossible to ignore.
If you're looking elsewhere and Android is where you're headed, we have some tips to make the transition as painless as possible.
1. Sign up for a Google account first
The only absolute Google necessity you need on an Android phone is a Google Account. Without one, you can't sign in to the phone or download apps. So if you don't already have a Google Account, get one. It's easier to do on your PC than on a phone, so it's a good idea to do it in advance.
You're not required to have a credit card on file to download apps or content from the Google Play Store, so you can literally just sign up for an account and use it to log into your phone. You don't even have to use the Gmail app or any other forward-facing Google services. If you want to buy apps without using a credit card, you'll need to pick up Google Play vouchers from a retailer and redeem the codes.
2. Microsoft it all up
If you're going to be keeping all your Microsoft services and accounts intact (why wouldn't you?), you'll be happy to know Android is your friend. Whether you just want to use Outlook, Office or Skype, or go nuts and install Microsoft's own Android launcher and lockscreen, there's a ton of Microsoft apps in the Play Store.
And they're mostly pretty darn good.You won't have to cancel Groove. You can still get the Xbox app. And your Outlook mail and calendars are safe. Better yet, Microsoft has a single app to help you find and download all of its other apps.
3. Move your contacts to Google
While you may want to limit your Google involvement, if you're moving to an Android phone it's a good idea to sync your contacts to your Google Account. That way, it's all easier to manage, and if you ever need to go back to Windows (or over to an iPhone), it'll be simple to work with them.
The easiest way to do this is to go into Outlook on the web and export your entire contacts database as a CSV file. Here's how:
Log in to Outlook.com.
Navigate to People.
Click the manage dropdown.
Select export contacts.
Click export.
All your Outlook contacts will be saved in a single file that you can import to your Google Account. This is another good reason to setup your Google Account before you get your new phone, because you'll be able to just sign in and your contacts will be there.
Importing them into your Google Account is pretty straightforward.
Go to contacts.google.com.
Sign in with your Google Account.
Click more.
Click import and choose the CSV file you saved above.
Any new contacts you add to your Android phone can be synced with all of your existing contacts in one place on your Google Account. So even if you're not using Gmail, it's worth doing.
4. Use Cortana
Cortana can't do quite as much on Android as on Windows, but it's still pretty useful for more than just replacing the Google Assistant.
On Android, you can use Cortana to sync notifications to your PC, which is handy to have on any platform. But because you're signed in with your Microsoft Account anyway, everything you already set up from Windows will be there, too.
We also happen to think that Cortana has a better personality than Google Assistant — and a better name!
Download: Cortana (free) (opens in new tab)
5. Install the Windows Central Android app!
Just because you've moved to Android doesn't mean you can't keep in touch with what's happening in the world of Windows. Windows Central is committed to providing all the Microsoft content you want, and there's an app in the Google Play Store so you can keep tabs from your new phone.
You'll also want to keep checking out the Android Central (opens in new tab), too. Then you'll always have the best of both worlds.
Download: Windows Central app for Android (free (opens in new tab)
Your tips
These are some basic tips to help get started on an easy, Microsoft-filled life on Android. If you recently made the switch, help out your fellow readers by sharing your own tips and tricks in the comments below.
Just switched myself although I'm doing a Michael fisher somewhat using both droid and windows, ending up getting the one 1⃣ ➕ 3T in the end in midnight black 🖤 it's fantastic 🤘

Recommended even by WC's own Zac Bowden as the best choice for folks making the switch!

Tip no. 03; this means you will now need to use Google contacts to manage all future and old contacts? It's not synced back with Outlook / People. So if I use Outlook Desktop or People over the web, it won't have the new contacts from the phone? For my wife's Nexus, I simply added her outlook account to exchange and did not sync mail or calendar and left that up-to the outlook app. Seems to work and I have the latest contacts on both google and MS services.

Sure but if you're moving to Android and just staying with Android, then having the phone just do it all through Google is easier for the majority. Google Contacts is easy enough to work with.

But what if you don't want to stay long-term? I'm hoping, for example, to move until MS potentially gets their junk together and tries a Surface Phone. Migrating in and back out isn't exactly fun.

You don't need to fully migrate to google service. Just sync your microsoft account via microsoft exchange (in account setting). It works just fine with me. I can sync all my contacts, emails & calendar without trouble (I'm using LG G6, btw). You still need to sign up for google service though for downloading apps from the google play store.

I don't think that's correct. When I add contacts on my S8 it lets me choose where to save it. I choose the exchange account for my @outlook.com address

And I can also confirm it syncs just fine. You can keep your contacts on your microsoft account and sync both ways just fine. No need for Google.

The problem is that it isn't consistent and depends on the manufacturer/OEM and how they might modify Android. For Samsung they don't have this problem apparently, but I have the Google Pixel and I had to buy the nine mail app to get two way sync for contacts. Nine is a fantastic email/contact app though. Edit: for some reason it wouldn't let me add my outlook.com account as an exchange account but it worked with the nine app.

Just use the Outlook app and check the box to sync contacts with the phone.

Nine is awesome. It seems to perfectly override all of these phones and their quirky system add-ons.

Right, I don't get the point of Tip no. 03. Once I installed Outlook, there was a checkbox in outlook to sync the contacts with the phone. Once I checked the box, all the contacts showed up on the phone and are are still in my Outlook desktop and Outlook.com where I want them. Putting them in google would be duplicating them and cause confusion.

I just moved over to Android from Windows. MS apps are great and having Outlook really made the move easy. I'm with Verizon and there were no longer any phones that were worth the money that ran Windows. So I picked up an LG G6 and could not be happier. One thing that the article could have mentioned is that if you miss the metro UI there are plenty of metro launchers in the Google Play Store. You will just have to find one you like.

Missing the live tiles and unified theme is something you'll never get over. But the overall experienced and access to the wide range of apps will keep you from going back.

This. I miss my windows phone and live tiles. But to have any app I want has been nice since I switched to Android about 9 months ago. I still keep my 640 up to date but never use it.

My only disappointment moving to android is groove. I have that problem where streaming music on mobile data stops at 30 seconds and hangs the app. MS are looking into it apparently but I don't have much faith as users have reported this problem for over a year

Well, now you can finally stop using Groove. Better move to Google Play Music along with YouTube Red

A quick note, Outlook.com contacts are not always the same as your phone contacts. Microsoft has had syncing issues since WP 8.1. Also, if you're going to a Samsung phone, the smart switch app or whatever it's called does not work on Windows Phone.

Mine are all fine and working :)

I find it funny that people actually bought windows phones.

That's a super helpful comment.

They were decent back in 2014-15.

Don't move your contacts to Google. Once you've created your mandatory Google account, go to settings > accounts > Google and disable all forms of syncing with the exception of app data as it may prove useful. Next download Outlook for Android, login and your contacts will sync just fine.

I had to move my contacts to Google because Outlook.com continues to have sync issues. (I keep two sets) I have reported this many times but with some of my contacts the job titles and company names disappear. With Google I have no issues. With that said I still prefer Outlook but continue to have sync issues.

I was once told by an AC writer that enthusiasts like me who comment don't matter to AC because we only represent 1% of their traffic. Yes Russell, I will never forget. How many percent do Windows Mobile users represent? They can't be more than 3% because that's their share of the entire mobile market. Isn't there a better use of AC's time, like maybe telling us about the best SD cards to use in the latest phones, how to use a phone dialer or maybe even a bang-up Pokemon Go article?

3% of the mobile market is certainly bigger than 1% of AC's traffic. Just saying.

Uh, no, I'm not thinking of switching to Windows mobile from Android.

The article is actually the opposite of what you think it is.

Just in case anyone was wondering ;)

I wish Cortana was not US only for Android. Such a frustrating aspect of Microsoft is they insist on barely supporting the rest of the world.

All 5 people that this article applies to must be thankful.

My tip: accept the fact that no Android "swipe" keyboard will work as well as on WP, and that you're trading quality for quantity in the app department.

Gboard works as good as the Word Flow keyboard on WP.

I just made the move from Windows Phone to android. These are my comments to the 5 tips.
1, It's not really a tip. It's a requirement more or less
2. Great, I can get a lot of MS apps on android.
3. If I should move all my contacts to Google, then why should I continue using MS apps and the MS ecosystem??? Don't move your contacts if you wan't to stay in the MS ecosystem
4. Cortana is NOT available in most of the world, so this is a crappy tip
5. Wow really??? You couldn't think of any other tip?
I really think this article is kind of crap.
My five tips.
1. Before you insert your sim. Update the phone
2.Take your time and install all the MS apps you would like to use.
3. Spend a lot of time setting sync up for email and contacts (this was not easy)
4. Install all the apps that you could not get on the Windows platform. and spend some time enjoying the apps
5.Play around with launchers to find the right one for you

Any tips on moving your SMS texts across?

Yes. I don't remember exactly how I did it. But open the preloaded Transfer your data app on your WP, it was somewhere there in the options to export your data to SD card. You'll have to move that file to your Android and install VMG converter from the Play Store to extract data from it.

I have a WP and a Samsung given to me for work. Still holding out hope for a new WP. By far best mobile is on the market, but guess I may have to start planning my next move. Thanks for the info. Hope to see more news like this to help me decide who will get my business next. BTW, Of the thousands of android apps not available for my WP, found one I was happy to have.
Android Central Newsletter
Get the best of Android Central in in your inbox, every day!
Thank you for signing up to Android Central. You will receive a verification email shortly.
There was a problem. Please refresh the page and try again.