5 things I learned traveling with the Honor 8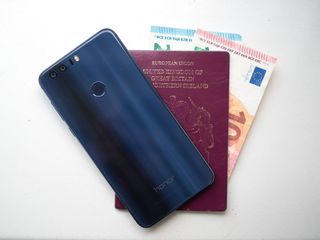 If you're a frequent traveler, you'll know that nothing taxes a phone like dragging it halfway across a continent, through airport security bins, onto planes and back again. So whenever I take a phone with me on a trip — as I did with the Galaxy S7 edge earlier this year — it's fun to reflect on the lessons learned.
This time around my phone of choice was the Huawei-built Honor 8, and the venue was IFA 2016 in Berlin, Germany. Read on to find out how it fared.
1. Dual SIM is pretty neat
The European-spec Honor 8 is a dual-SIM device, using Huawei's hybrid slot to take either one SIM and an SD card, or two SIMs (but not both at once). So when I took the phone to Berlin for IFA, I kept my regular UK SIM for calls and texts, and used a prepaid German SIM for data. The setup process was easy, and I didn't notice any significant extra battery drain from using two networks at once.
It's a handy way to sidestep the usual traveling smartphone nerd dilemma: use a local SIM and miss all your calls and texts, or pay over the odds by roaming on your home operator. The only compromise is that you can't use an SD card at the same time.
2. Use a case
The Honor 8's incredibly, ludicrously reflective glass back looks great, but one unfortunate side effect is extra fragility compared to metal phones. After just a couple of weeks of using the Honor 8 without a case, I've picked up countless hairline scratches on the back of the thing — even having handled it with care. The front and sides of my unit have so far escaped unscathed.
The other thing to watch out for is the "hockey puck" effect when it's lying on a flat surface. We've seen it before — way back in the days of the Nexus 4, which was eventually modified with rubber nubs to stop it sliding about the place.
The solution to both issues is to use a case — in some markets Honor includes a transparent plastic case in the box; otherwise Amazon is your best bet. (There's also a good thread on the AC forums with some other options.)
3. Epic battery life, and plenty of power-saving tricks
A little surprising for a phone with a standard-sized 3,000mAh battery — the Honor 8 sips power, sometimes racking up as much as 5 or 6 hours of screen-on time per charge. That's an impressive achievement made more notable by the phone's ample supply of battery-saving software tricks.
ROG power saving mode, which I enabled on a couple of longer days, downscales everything on the display to 720p resolution to save power. And you can also change power profiles to affect how the CPU speed ramps up — "Smart" for everyday use, which I stuck to, or "Performance" for gaming.
All these features combined to give me some of the best battery life I've seen from an Android phone this year.
4. Huawei's Quick Charge is weird
The Honor 8 supports 9V/2A quick charging, but it's not your regular rebadged Qualcomm QuickCharge, as you might be used to from most other Android phone makers. For faster charging speeds you'll need to use a Huawei Quick Charger like the one bundled in the box. And note that it's still merely fast-er. The phone doesn't juice up as quickly as devices using the latest Qualcomm standard, but it's a nice bump over bog-standard 5V charging.
For what it's worth, I've also noticed that Huawei's Quick Charger can quick charge QuickCharge 2.0 phones just fine, even though the reverse isn't true. (Other Qualcomm QuickCharge plugs won't charge the Honor 8 at faster speeds.) Weird.
5. I can actually use an EMUI phone
Huawei's EMUI software layer has gotten a lot, lot better over the past twelve months. Some issues remain, like the annoying need to whitelist apps to allow them to run when the screen's off, and its heavily customized notification shade that looks so much — well, like an iPhone's — to the point where certain apps still have compatibility issues. (Ironically, one of those is none other than Apple Music.)
But using the Honor 8 has been a revelation. Enough of the jarring stuff we used to complain about has gone that I can now use a Huawei phone without hating it. That's faint praise, but considering how broken things used to be, a significant milestone.
EMUI 5, powered by Android 7.0 Nougat is on the way. A leaked build is doing the rounds for the Huawei P9, and early impressions are promising. Notifications look the way they should. So does the recent apps menu. It feels more like an Android phone.
Until then, I can just about put up with EMUI 4.1's lingering weirdness.
Get the Android Central Newsletter
Instant access to breaking news, the hottest reviews, great deals and helpful tips.
Alex was with Android Central for over a decade, producing written and video content for the site, and served as global Executive Editor from 2016 to 2022.