5 things I learned traveling with the Honor 8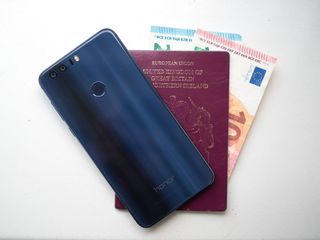 If you're a frequent traveler, you'll know that nothing taxes a phone like dragging it halfway across a continent, through airport security bins, onto planes and back again. So whenever I take a phone with me on a trip — as I did with the Galaxy S7 edge earlier this year — it's fun to reflect on the lessons learned.
This time around my phone of choice was the Huawei-built Honor 8, and the venue was IFA 2016 in Berlin, Germany. Read on to find out how it fared.
1. Dual SIM is pretty neat
The European-spec Honor 8 is a dual-SIM device, using Huawei's hybrid slot to take either one SIM and an SD card, or two SIMs (but not both at once). So when I took the phone to Berlin for IFA, I kept my regular UK SIM for calls and texts, and used a prepaid German SIM for data. The setup process was easy, and I didn't notice any significant extra battery drain from using two networks at once.
It's a handy way to sidestep the usual traveling smartphone nerd dilemma: use a local SIM and miss all your calls and texts, or pay over the odds by roaming on your home operator. The only compromise is that you can't use an SD card at the same time.
2. Use a case
The Honor 8's incredibly, ludicrously reflective glass back looks great, but one unfortunate side effect is extra fragility compared to metal phones. After just a couple of weeks of using the Honor 8 without a case, I've picked up countless hairline scratches on the back of the thing — even having handled it with care. The front and sides of my unit have so far escaped unscathed.
The other thing to watch out for is the "hockey puck" effect when it's lying on a flat surface. We've seen it before — way back in the days of the Nexus 4, which was eventually modified with rubber nubs to stop it sliding about the place.
The solution to both issues is to use a case — in some markets Honor includes a transparent plastic case in the box; otherwise Amazon (opens in new tab) is your best bet. (There's also a good thread on the AC forums with some other options.)
3. Epic battery life, and plenty of power-saving tricks
A little surprising for a phone with a standard-sized 3,000mAh battery — the Honor 8 sips power, sometimes racking up as much as 5 or 6 hours of screen-on time per charge. That's an impressive achievement made more notable by the phone's ample supply of battery-saving software tricks.
ROG power saving mode, which I enabled on a couple of longer days, downscales everything on the display to 720p resolution to save power. And you can also change power profiles to affect how the CPU speed ramps up — "Smart" for everyday use, which I stuck to, or "Performance" for gaming.
All these features combined to give me some of the best battery life I've seen from an Android phone this year.
4. Huawei's Quick Charge is weird
The Honor 8 supports 9V/2A quick charging, but it's not your regular rebadged Qualcomm QuickCharge, as you might be used to from most other Android phone makers. For faster charging speeds you'll need to use a Huawei Quick Charger like the one bundled in the box. And note that it's still merely fast-er. The phone doesn't juice up as quickly as devices using the latest Qualcomm standard, but it's a nice bump over bog-standard 5V charging.
For what it's worth, I've also noticed that Huawei's Quick Charger can quick charge QuickCharge 2.0 phones just fine, even though the reverse isn't true. (Other Qualcomm QuickCharge plugs won't charge the Honor 8 at faster speeds.) Weird.
5. I can actually use an EMUI phone
Huawei's EMUI software layer has gotten a lot, lot better over the past twelve months. Some issues remain, like the annoying need to whitelist apps to allow them to run when the screen's off, and its heavily customized notification shade that looks so much — well, like an iPhone's — to the point where certain apps still have compatibility issues. (Ironically, one of those is none other than Apple Music.)
But using the Honor 8 has been a revelation. Enough of the jarring stuff we used to complain about has gone that I can now use a Huawei phone without hating it. That's faint praise, but considering how broken things used to be, a significant milestone.
EMUI 5, powered by Android 7.0 Nougat is on the way. A leaked build is doing the rounds for the Huawei P9, and early impressions are promising. Notifications look the way they should. So does the recent apps menu. It feels more like an Android phone.
Until then, I can just about put up with EMUI 4.1's lingering weirdness.
Alex was with Android Central for over a decade, producing written and video content for the site, and served as global Executive Editor from 2016 to 2022.
"should have been 8 things" - SpookDroid

Great read, Alex.
I agree with what I have experienced. I love the battery life of this phone, it's great. Like you, I have some of those scratches on the back on my Honor 8 so I ordered another case while waiting on my backordered Honor case. I have no experience with the previous EMUI, but this one can be dealt with.

This seems like a great alternative to the S7 for a much better price!

Uggh standardize on Qualcomm quick charge plz

..but but but it violates USB-C!

I don't give a damn make it work.

What bothers me is that it's not as good as other implementations... But yeah, it should be standard just so that there is one.

Which is why phones should use USB-C's standard rapid charging (or whatever they call it) and not Qualcomm. The whole charging situation is a mess at the moment. Creating a new Qualcomm standard will just make that worse. If you haven't seen the XKCD comic on competing standards, use your search engine of choice.

Android seems to be a mess this Q3 and Q4 with the V20 not shipping till next month and exploding note 7s, not to mention whatever is going to happen to the former nexus line.

I can't help wonder how much much of a role Qualcomm quick charge over USB-C plays in the Note 7 problems. Their first phone with USB-C and this happens... I can't be the only one to have thought this. The V20 shipping date is a case of too much hype. You live by the sword, you die by the sword. If they'd been honest about dates up front, nobody would have cared. As for Nexus/Pixels... Meh, they're always different from one year to the next, Nexus has never been a fixed thing. They'll be what they they'll be.

I get what you are saying about the V20 but people weren't hyping up getting it a month from now. Anyone who wants one has to wait and they just might be looking at Samsung by that time, although V10 users are quite loyal. Also you can be damn sure Samsung won't disclose what the issue is caused by.

That's exactly my point, people weren't hyping up getting the phone a month from now, because they didn't know when it would be available. But LG said it would be the first phone to ship with Nougat and everyone assumed that meant "OMG I CAN BUY ONE TOMORROW" and are now disappointed their assumption was wrong.

OK sure I get what your saying now.

How can they do that when there is no Qualcomm chipset in this device? It's all Huewai silicone.

It is neat, a have a P9 and it is also the best baterry in day use that I had.
also EMUI have options of theme creations that is very nice, im not using Nova or action launcher this time, even I have their paid versions also, fingerprint sensor is INCREDIBLE fast, and have nice scroll features

I came from a S7 I had since opening day. this Honor 8 (blue) is certainly a nice/nicer phone. the battery life is crazy good compared to my s7. and I have gotten to where I really like the UI. they did a great job with this phone. I only wish it was a 4.9" screen or so just because i like smaller phones. i do use a case and haven't noticed scratches. very pleased with the fingerprint sensor implementation. and I like the UI is much cleaner than Samsung's phones. and I am a huge samsung fan having all there phones and tablets. I appreciate there power saving features that pop up when I have a rogue background app soaking up my battery. this is so far the best battery life i have gotten out of a phone. I do wish they have more themes to choose from. I have a paid subscriber to Nova Launcher but prefer this launcher. Just wish I could alter the icons a bit. the earphone talking is louder, the speaker phone is louder than samsung and I prefer the USB C now that I have used it. Very pleased. selling my Gold S7.

You and me feel the same about the size. lol I wish that it was a little shorter, but even so, it is great.

Great article! I'm absolutely loving my Sapphire Blue Honor 8.

Great to see some reasonably priced competition in the market. Good looking smartphone that works. They will sell them by the truckload.

I have been going back and forth between purchasing this phone or the Axon 7. Decision, Decisions. Only thing steering me away from the Axon 7 complaints about low reception.

Reception sucks... On my way to BestBuy to exchange for the Honor 8. One thing I will miss is the app organizer on the Axon. Without an app drawer, the app organizer is a must to quickly organize apps. Apple should have had this year's ago.

The difference between the connectivity on the Axon 7 and the Honor 8 is night and day, I can assure you of that very well. It's even better than my iPhone, which is shocking. i hope that you'll like the Honor 8.

Thank you dnomadic and libra89 for confirming you personal experience to what I have been reading on the ZTE community forum. It think that has sealed my decision.

I use Nova, but also noticed that the Honor 8 comes with the Google Launcher installed. If you pick that one, it also has an ap drawer. Very happy with it, so much so that I got my wife one also to replace her M8!

It's kind of ironic that is the issue with the Axon 7, considering that the connectivity of the Honor 8 is excellent. That aside, I think it's important to weigh what tops the list for importance for you in a phone. Make a list of pros and cons of each, and also feel free to explore said forums of both phones and ask questions if necessary. I wish you luck in that decision.

Can I ask how the volume output and quality of music is from the headphone jack?

I think it's average. In my experience, it can get loud. I haven't had trouble hearing or making out sounds with it, but I am not an audiophile by any means. I'm not sure of your phone history, but if you have ever had the Nexus 5x, it (the Honor) sounds much better.

I was able to get a new white Honor 8 from Swappa last night for $310 which included both of the clear cases (poly / TPU) advertised on the Honor 8 website. The seller even sent it overnight which I did not ask for. Great phone and reception is fantastic.

Sweet deal!
Glad to hear you are liking it. Since you have those cases, you will be all good.

Yeah...I thought it was a great price. I just need to find a screen protector. I've heard the glass ones are problematic for the curved screens. I may try to find plain clear film style on Amazon for now.

Yeah, the clear film/plastic might be the way. Ordered one from Supershieldz, hasn't come yet to report anything.

Me too. Also considering idol 4s. sucks that axon 7 has wack reception. Would be an awesome phone otherwise. Thing I don't like about honor 8 tho is its only 5.2 in. Wish it was 5.5+. Also don't like that it doesn't have an app drawer. I wonder if zte could fix the phone reception issues by December. That was when I was planning on buying it.

One of the ZTE reps pretty much came out and said a substantial update is due out any day now, which may contain a fix for the signal issues plaguing the Axon 7 (he did say a big update was coming out, didn't hint as to what the change log was). If it contains signal fixes I'll be buying it immediately.

They also need to fix the app grid. They need to allow Axon users to customize the grid 4x5 or 4x6 (whatever it is) just doesn't look right. Apps are too large (kinda like a cheap Iphone look). THE CAMERA... Fix that please.

The axon 7 is a beast of a phone but it has the absolute worst reception I've ever encountered.w hen comparing the eight to the axon 7 is not fair but I love the honor 8 and reception, it has amazing reception. the overall experience.. it's better than the axon 7

Had the same problem recently. I would say the Axon has the better build, and better hardware. Having said that, I eventually went with Honor 8, couldn't risk suffering from bad reception. I have struggled with bad reception on my Asus Padfone Infinite for years, and it ruined the user experience for me.

The praise, however faint, for EMUI is good to see. I've been tempted by a few Huwaei devices for a while but have always been put off by the software. If they can get that right, I'm basically sold.

The software needs proper setup before you can use the phone. Took me a while to figure things out. Apps you want running at all times need to be put in the whitelist category or else you'll find yourself missing notifications from the likes of whatsapp or ebay for example. I thought it was ridiculous at first but have come to accept it as normal. Been using Huawei since P8. Came from the S6. I much prefer this UI than Samsung's (garbage to me) . It's much cleaner and nicer looking. Don't really understand the hate. Seem more like over reaction imo.

As a Sony user, their software has a similar whitelist approach, the only difference is a toggle to turn the whole thing off, which is off by default. So I'd be ok with managing that. But yeah, a toggle would make all the difference. And I also like the general look of the UI. Yeah bits of it look iPhoney, but of all the problems I have with iOS, the way it's looks is not generally one of them. I like gaussian blur.

9th thing... Chef Dave wants this phone

I really like this phone. I wish it were CDMA compatible, but that's not their fault for not including an antiquated garbage standard that isn't used in the rest of the world.

The "nubs" were added so you could hear the speakers.

Lol "European union and united kingdom of Britain" , going to have to update your passport, Alex?

Perhaps... Eventually... Maybe... By 2020... Maybe. About all they have decided so far is that they want passports to be blue again. That's as far as their plan goes at this point.

Lol I kid i don't understand how updating your passport works.

Neither do most of our politicians, or people who voted for Brexit. So you're in the majority there.
Android Central Newsletter
Thank you for signing up to Android Central. You will receive a verification email shortly.
There was a problem. Please refresh the page and try again.