48 hours with a Toast real wood skin for the Nexus 6P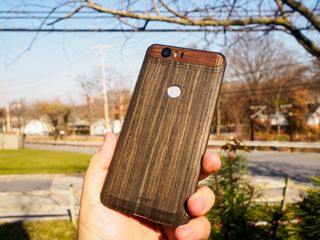 There's nothing wrong with putting your phone in a case, unless you can't stand the way those cases alter the look and feel of your phone. If you decide to keep your phone "nude" you'll find its chances of unblemished survival aren't particularly high, especially with so many manufacturers leaning towards metal bodies. Toast is one of several options out there for folks who want something — anything — between the outer shell of the phone and the rest of the world, and they do so with a thin layer of actual wood.
We've been playing with a Toast wrap for the Nexus 6P for the last two days, and here's what we've learned so far.
On a high level, Toast wraps aren't all that different from what you'd find from any other phone wrap manufacturer. The big difference is the materials used, in this case a thin layer of pliable wood with adhesive one one side. Currently that wood comes in Walnut, Ash, Bamboo, and Ebony. You pick a primary color and an accent color, and if you're interested there are several etching options available for the blank space on the back. Our wrap is Ebony with Walnut accents, and as you can see if you're a fan of wood casing on a phone it's damn pretty.
Image 1 of 5
Applying the Toast wrap to the Nexus 6P is no picnic, especially if you've never really messed around with applying wraps to a phone before. When you pull the paper from the back of the wrap and expose the adhesive, the thin wooden layer is remarkably fragile. It's broken into segments that are attached by very little, so lining everything up right the first time, especially on the curved top and bottom of this phone, is critical. Like any other adhesive wrap, once you apply the wrap it sticks in place. The big difference here is there's very little in the way of air bubbles to get in the way with this setup, but if you know someone who is really good at applying these you'll probably want to toss them a few bucks to lend you a hand.
Once applied, the Toast wrap feels incredible. It adds very little to the outer shell of the Nexus 6P, but the added grip you gain from the actual wood being used addresses one of the few complaints had about this phone. This isn't some lame plastic coating, either. The phone smells like a piece of wood, more so than any of the phones sold with actual wooden backs. The wrap Toast sent us came with a front panel to complete the experience — usually $10 extra — but since we already like the front of the Nexus 6P quite a bit there didn't feel like a compelling reason to attach it.
The little notches all around the outside of the wrap feel great as you run your finger across them, but it doesn't take long to figure out there's a downside to this texture. Stray hairs, random debris from your pocket, and just about anything else you find around you as you set your phone down will find its way in and around these notches. The excess adhesive around some of the holes cut out, especially those around the camera, are perhaps the worst offenders and require constant attention for the first 24 hours. A day later things aren't quite so bad, but picking the random crud off your pretty phone gets old fast.
You can be sure this wrap won't protect your phone quite as much as a case, but if you're not a fan of slapping a TPU or rigid plastic shell on your very nice phone, this is noticeably better than nothing and goes a long way towards making your phone stand out in a crowd. For $35, this is a solid wrap for your phone after 48 hours. The big question is whether this wrap will stand the test of time, and the only way we're going to know that is by continuing to use it.
Get the Android Central Newsletter
Instant access to breaking news, the hottest reviews, great deals and helpful tips.