365 Body Workout brings fitness to your Android TV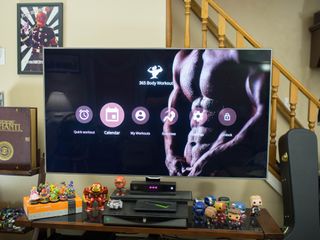 Fitness apps are all over the Google Play Store, for both your phone and your smartwatch. Now you can add Android TV to that list, with 365 Body Workout. Bringing fitness to your living room becomes a breeze with this app, where you can track your workouts, integrate with Google Fit, and personalize your workouts.
If you haven't seen this one yet, you can check it out right here with us.
When you open 365 Body Workout on your TV you'll see all of your options arrayed at the bottom of the screen; Quick Workout, Calendar, My Workouts, Exercises, Settings and Unlock.. Each one covers pretty much precisely what it says, and we'll go over each one so you know what you're getting into. The menu and navigation is all very clean which makes it easy to get what you need to without any issues.
Quick Workouts gives you a choice between a 2, 5, or 12 minute workout. After you choose a duration, then you'll see a preview of your workout. This preview includes slides for each workout with the name, number of sets, and number of reps for each exercise. After you start, the screen will give you a counter, along with a simulation of what the exercise being performed correctly looks like.
Calendar gives you a running calendar for each month. It's primarily there to help organize your workouts by letting you know where your rest days are located. It's designed very well, one month rolling seamlessly into the next.
My Workouts is where you can build and customize your workout experience. Each workout requires a minimum of 2 exercises, but you can keep adding on past that as well. In the menu of exercises, you'll see there are dozens of them, but most have been locked. We'll get to unlocking them in just a minute here. You can save, reset, and name your workouts here as well.
Exercises brings up the same menu of exercises that you saw when adding specific exercises in My Workouts. Here you can take a closer look at each exercise, as well as seeing it performed with proper form. Considering how easy it is to hurt yourself when working out using bad form, this is a really handy way to double check before rolling into a full workout.
Settings only gives you access to three things — Trainer, Music and Google Fit. In Trainer you can adjust the settings for the audio trainer that pops up during your workouts. This ends up being options like the gender of the trainer. You can turn the included music on or off during workouts, as well as integrating 365 Body Workout with Google Fit.
The final option from your main menu is Unlock. As we mentioned earlier, many of the exercises in the app are locked. There is only one way to unlock them, and that's via an in-app purchase of the $2 Premium edition. Considering how many exercises you unlock, it's definitely a purchase worth considering.
365 Body Workout is a great app for anyone who prefers working out at home, to sweating in the gym. With it's personalization touches, integration with google fit, and catalog of exercises it works extremely well. With the added benefit of being able to clearly see how each exercise is performed on your tv, you can even avoid some unnecessary injuries. Just don't accidentally tumble into your television.
Get the Android Central Newsletter
Instant access to breaking news, the hottest reviews, great deals and helpful tips.
Jen is a staff writer who spends her time researching the products you didn't know you needed. She's also a fantasy novelist and has a serious Civ VI addiction. You can follow her on Twitter.