32GB Nexus 7 coming to the UK for £199.99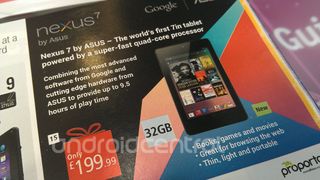 It's been rumored for the past few weeks, and now we have confirmation that a 32GB version of Google and ASUS' Nexus 7 tablet will arrive in time for the holidays. UK retailer Argos just released its Christmas gift guide, and we tracked down the listing for the 32GB Nexus 7, which is marked for sale at £199.99. The £199 price point is significant, as this is the current standard retail price for the 16GB Nexus 7 in the UK, adding fuel to speculation that the 32GB will replace the 16GB model entirely. (In the UK, the 8GB Nexus 7 is only sold through the Google Play device store.)
The extra storage space should address one of the major concerns with the Nexus 7, as on the basic 8GB model just over 6GB is actually available for users' own media. At just £40 more than the 8GB Nexus, this new 32GB variant should make for a tempting upgrade. No release date information is provided in the Argos gift guide, but we've got to believe it'll be hitting store shelves sooner rather than later.
Alex was with Android Central for over a decade, producing written and video content for the site, and served as global Executive Editor from 2016 to 2022.
Where's the 64gb nexus 7 rumored last week?

ohhhh this is gonna piss off alota people who coughed up for the 16gb...

meh i got the £15 google play voucher so its not all bad

I'm going to need you to down your instigation levels just a bit. Without the initial sales 3 months ago we wouldn't have a 32GB version at all.

are you forgetting the $25?? the 32 Gb wont get the promotion.
at least the $25 purchase will carry on even after the device is replaced not so much for the person who bought 32 Gb. its even i would say.

I have an N7, got to love the lack of storage. Its just Google's attempt to force you to use their cloud services.

google is not attempting to force you to use cloud storage. they were just trying to reduce cost.

Meh, I have the 16gb. I'll pass on this one and wait for the rumored Nexus 10 inch tablet.

Better. Now make a 64GB version for $50 more. Drop in 3G/4G/LTE for another $50 more.

Purchased the Staples extended warranty when I picked up my Nexus & 16 gig. Anyone know what the process is if something 'bad' was to happen to my device? Do they give you the funds back to purchase something new or just exchange or send in for repair?

you go to jail for fraud and driving up prices for the rest of us.

WOW uh ok. I don't think the Google Special Forces are going to kick down my door and drag me to prison. Also I paid for the extended warranty I wasn't going to but it was the salesperson that convinced me saying if something better comes out then you could apply the funds or credit towards that. I look at it more like an insurance policy.
Am I wrong?

Same device for same device
I Just want to know when these will be available, I have a trip on Nov 5th I want to use it on.

For many tablet users a light weight 7 inch tablet fits very well, but a hard limit of 16Gb is a problem. This solves that, it also indicates that even better Android tablets are probably on the way.

I bought a 16gb Nexus 7 1 month ago today and I'm very upset about this. I'm going to make sure I can return it for a 32gb.
Android Central Newsletter
Get the best of Android Central in in your inbox, every day!
Thank you for signing up to Android Central. You will receive a verification email shortly.
There was a problem. Please refresh the page and try again.