3 Great Third Party Wireless Charging Docks for Samsung Gear S3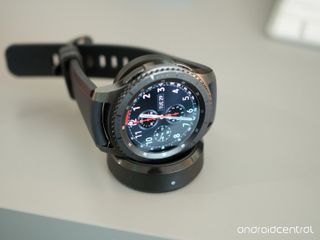 (Image credit: Android Central)
While the Samsung Gear S3 isn't the newest smartwatch in town, it's still an excellent wearable that many people swear by. If you happen to be one of those people, you may have already bought a couple of snazzy bands to switch up your style now and again. Another important accessory you should consider is an extra charging dock to keep your watch fully charged. We've rounded up a few great third-party options for you.
Simple and affordable
BeneStellar Samsung Gear S3 Charger
This highly-rated charger from BeneStellar is also surprisingly affordable. It offers the same cradle design as the official Samsung charger. You'll have peace of mind with PTC protection, which is designed to protect your device from over-current as well as over-charging when connected to a power source. This charger also features an LED indicator, so you'll know when your watch is charging. Your purchase comes with a three-foot Micro-USB cable.
Charging with a twist
LoveBlue Samsung Gear S3 Charger Stand Dock
Looking for something for your desk at work that adds a bit more utility than a standalone smartwatch cradle? This charging stand from LoveBlue is a great pick. Rather than copying the exact design of Samsung's original Gear S3 charger, this one adds a conductive dock for charging your watch along with a three-port USB hub. With this hub, you can charge your phone, tablet, Bluetooth speaker, and watch at the same time. It lacks overheat protection, so you'll want to use this device in an air-conditioned environment.
Time to double up
Emilydeals Samsung Gear S3 Charger (2-pack)
Need multiple charging docks but don't want to spend a ton of money to get them? Check out this two-pack of charging docks from Emilydeals. These chargers promise to charge your Gear S3 to a full 100%, and you won't have to worry about overheating, either. It comes with power protection, so your watch won't be a victim of overcharging. The compact, lightweight design mimics the original Samsung Gear S3 charger. This makes it very convenient for travelers who are on the go and need something that won't take up a lot of space.
Keep your Gear S3 charged
There's nothing more annoying than a smartwatch that dies with no way to charge it back up. If you're looking for a simple and affordable solution, you'll love the BeneStellar Samsung Gear S3 Charger. It's quite similar to the original Samsung Gear S3 charger, but it comes at a fraction of the cost. You'll even have PTC protection so that your watch is safe from over-current and over-charging.
While original chargers are nice to have, they're not nice to your wallet. All of these third-party chargers are solid options. Whether you're looking for something similar to the original, a dock that has additional charging ports, or a 2-pack, so you're always ready to charge, these third-party options will treat you right.
Get the Android Central Newsletter
Instant access to breaking news, the hottest reviews, great deals and helpful tips.
Courtney Lynch is a freelance writer at Android Central. She's obsessed with all things health, fitness, and music. At any given time, she can be found checking out the latest and greatest gadgets while simultaneously petting her dog and sipping iced coffee.