Over 15% of all Android phones now run Nougat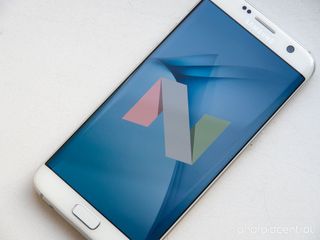 The monthly Android Distribution list is an important tool for developers to decide what software versions to target for their apps. They're also cool for us tech nerds that just like to argue what fragmentation actually means. The distribution numbers for September are out, and there are not many surprises.
Right off the bat, Android 8.0 has not been available on enough devices to even register in this month's statistics. Whether discussing update speed or how many Pixel devices have been sold, make of that what you will. Android 6.0 Marshmallow continues to hold the largest percentage, at 32.2%, slightly down from 32.3% last month. Next largest is Android 5.0 and 5.1 Lollipop with 28.8%, followed by Android 7.0 and 7.1 Nougat with 15.8%.
Gingerbread still clings to life with 0.6% of the market share, despite losing Google Play Services support earlier this year. Ice Cream Sandwich also refuses to die with the same 0.6% of the market.
This month follow the same trend as previous years: the just-announced version doesn't register at all, while the previous version gains more and more steam, and the two-year-old version sits at the top. The newer versions don't typically gain much market share until spring of the following year, when the Galaxy S devices begin getting updated and lower end phones begin shipping with the latest version. While it'd be great for updates to roll out to all Android users faster, that's the nature of the beast. It will be interesting to look back in a year or two and see what (if any) effects Project Treble has on the roll out speeds of new Android versions.
Which version of Android are you using? Let us know down below!
Android Central Newsletter
Get instant access to breaking news, the hottest reviews, great deals and helpful tips
That's sad, very sad as usual.

7.0 Nougat on my Moto G5 Plus. It appears as if they will just skip 7.1 on here and go straight to Oreo in December or so.

Doesn't even matter anymore.

Just got my Nexus 5X updated to Oreo last night. I'm not impressed with the UI, particularly with the white and light gray shades that pervade the system apps and the general interface more than ever. This is horrible for using your phone at night. Furthermore, some of the app icons appear squared now (I guess this is the new default?), while others do not - and, interestingly, this is inconsistent even between Google apps themselves. For example, Google Calendar has a square icon now, but Gmail does not. Funny how they tried with circle icons in Nougat and have now moved on to square icons. It'd be nice if they finally made up their minds and decide on something and stick with it. All in all, and this is my personal opinion, this update brings nothing of value while making the UI even less consistent than it already was.

My good and Moto X warrior is still in version 5.1 of the system! Does anyone know a way to update? Thank you! Denilson Marcos
contato@denilsonmarcos.com.br
https://denilsonmarcos.com.br/

My phone is running 9.0 Pumpkin.

So is your wife's vibrator.

Crikey! 1 Year after release and Nougat can only muster a total of 15.8% ? That's embarrassing!

What this tells me is that over 76%, a large majority, of people keep and use their devices for at least 3 years. I can understand that completely, considering how phones are becoming more and more expensive.

Not necessarily, I got the Lenovo P2 this year running M, thing it would soon get the upgrade to N. It has not received a single update so far, even a security update - very disappointing.

My Xperia Z3's forever stuck with Marshmallow... But I ain't complaining! 😎

You should. It's the only way we will get OEMs to give us updates.

Any chance of Android 7 coming to Galaxy Note 4?

That is some wishful thinking, but I would say no. That would make the Note 4 really, really lag. It's time to upgrade thato phone!

OP 3T is still rocking 7.1.1. Cautiously optimistic that Santa will bring me Oreo for Christmas... well, maybe New Year's.

So, it's basically tied with KItKat, how quaint.

Who has the phones running 2.3 and 4.0 still. I wouldn't have imagined those things would still be kicking. It is only 1.2% but still.

7.0 Nougat on the LG G6. Lg is supposed to release Oreo update by end of the year.
Android Central Newsletter
Get instant access to breaking news, the hottest reviews, great deals and helpful tips
Thank you for signing up to Android Central. You will receive a verification email shortly.
There was a problem. Please refresh the page and try again.