1080p and 480p streaming options added to latest YouTube app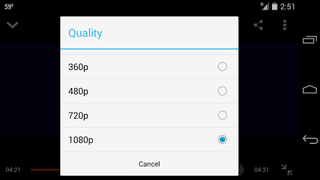 Last week we told you that a change in the latest YouTube app allowed better control over the resolution when streaming, and now two new (and requested) options have been added — 1080p and 480p streaming.
You'll need to have the latest YouTube app, and be watching a video uploaded in the supported resolutions, but changing things is simple. Start your video, tap the three-dot overflow menu in the upper right. On screen, you'll see a gear icon — tap it and choose your resolution.
These are server side options so you'll not need a new app, but they haven't rolled out to everyone just yet. Keep looking and let us know when you see more choices!
Source: +Joshua Worth
Get the Android Central Newsletter
Instant access to breaking news, the hottest reviews, great deals and helpful tips.
Senior Editor — Google Ecosystem
Jerry is an amateur woodworker and struggling shade tree mechanic. There's nothing he can't take apart, but many things he can't reassemble. You'll find him writing and speaking his loud opinion on Android Central and occasionally on Twitter.
Soon it'll add 4k too! #G3 Posted via my Z10 using Android Central App

Are there any 4k phones out yet?
Posted via Android Central App

No Posted from my Nexus 7 2013 or Samsung galaxy S5

Qualcomm's 805 development tablet is 4K at least.

4k screens no, but the Note 3 and every flagship for this year can record in 4k. Posted via Android Central App

I honestly didn't expect them to add this. Posted via Android Central App

For some reason. It still caps me at 720p on videos. It said on the update that 4.2 and above will have higher resolutions. So....what's up with that? Posted via Android Central App

I'm not seeing the option yet either Posted via Android Central App

Me neither. Posted via Android Central App

Me neither Posted via Android Central App

"These are server side options so you'll not need a new app, but they haven't rolled out to everyone just yet."

Yeah. We're still waiting. NexusLogic - Working on his HTC One Max in the Nexus Lab

It took me until yesterday before it let me get the update with 720p. I have a Nexus 5 and even non Google Play Edition phones were starting to get 4.4.3 update and I was such on 4.4.2 until I pushed it myself over adb. Maybe I'm at the bottom of the staggered rollout pool.

From the article: "These are server side options so you'll not need a new app, but they haven't rolled out to everyone just yet. Keep looking and let us know when you see more choices!"

I saw the option yesterday but it's not on every video. This video had the option. http://youtu.be/TGtWWb9emYI

Where do I go to change resolution?

Did you read the article? Jesus...... Posted via Android Central App

From the article : You'll need to have the latest YouTube app, and be watching a video uploaded in the supported resolutions, but changing things is simple. Start your video, tap the three-dot overflow menu in the upper right. On screen, you'll see a gear icon — tap it and choose your resolution. Posted via Android Central App

He didn't read the article. Think he's going to read this?....... Posted via Android Central App

Just curious, do you know where I go to change the resolution :-p Posted via Android Central App

Hey guys... Not sure if I am in the right place. How do you change the resolution on the new YouTube app? ಠ益ಠ

I asked the same thing but no one wants to answer. You would think that there would be an article on it. You know, a how to guide. If only there were a place on the Internet to research questions like this Posted via Android Central App

Tap the three dots at the top right of the video, hit the gear icon, and voila! Resolution options.

Sorry Vox, we were just messing with him. Well at least I was, not sure about Joe there... :-P

I keep hitting input on my TV and nothing happens. What channel is the youtubes on? ಠ益ಠ

Well it depends, you have to set the rabbit ears on UHF and have them in 9:37 and 12:16 position. Should be on one of the upper channels, like 9 Posted via Android Central App

Ah, gotcha. I didn't read the whole thread (my bad), I just saw people asking so I thought I'd help! ;P

No worries, thanks for not doing the jury thing and actually being helpful Posted via Android Central App

Dude you are so jury! Posted via Android Central App

Nice... Yeah autocorrect screwed me on jerk Posted via Android Central App

+1 to both of you. One of the best comment threads ever... Two people teasing each other, and it didn't degenerate into name calling. Again +1 Posted via Android Central App

I see we have a smart guy here!

Thanks. I misread the article.

All I can say is "Wow" - SMH. People, please READ the article and not just the headline. It's a staged roll out. Everyone will not have the option at the moment. Just be patient. Posted via Android Central App

Someone wrote an article about this? Who? Where can I find it?

What is this YouTube you speak of? Posted via Android Central App

OHHHH...that is how it is spelled? I went to utube and it was not good...lots of spam

This may be the funniest comments section I've read here. Rabbit ears... loool

Man... I finally got the last update for 720p, its gonna be forever until I get this update... Posted via the Android Central App on my Nexus 5

Finally... Eagerly awaiting the update...

Wonder if 144p and 2k will be added soon...

When 8k becomes a thing you can probably expect it then. Posted via Android Central App

That actually is in a tv. I think Sharp was the brand maker. I seen a video about it at CES. Posted via Android Central App

144p is an option Posted via Android Central App

Yay I finally got it :) Posted via Android Central App

I still haven't gotten the update that enables 1080p. Posted via Android Central App

Updated YouTube app and on my S2 I get resolutions144, 240 & 360. I was hoping I'd get more like in the past. However I'm sure the best resolution was 360 before the update. Posted via Android Central App

After reading this, I tried it out. It really works good for me since I am on Boost with iffy coverage at home and I got throttled 2 weeks into the month. Now, I can watch YouTube again. I usually don't need a 720p picture anyway. No buffering to speak of at the lower resolutions now. I wish Netflix would allow this.

I assume this doesn't work if you're casting. Would be great to specify what resolution you want to cast...

I got the updated YouTube app on my HTC One M8. Luckily enough I'm still on unlimited data so I can watch as much YouTube videos I want it Amazing 1080p. As for the question about people showing off 4k or even 2k videos on YouTube... Yes MKBHD records in 4k.
I will include a link below about his view of the 2k LG G3.
LG G3 QHD Display Review!: http://youtu.be/yAyR_YHEZ_c Posted via Android Central App

No update yet! Posted via Android Central App

Nexus 7 2013 and no 1080p here. Quite sad because this is Google's own flagship tablet.

720p is still the highest res i see (Nexus 5).

Still waiting for the 1080p option for my nexus 5 Posted via Android Central App on my N5 with Android L

Haven't seen any content on YouTube that needs more than 720p, Netflix or amazon video are the types of places I think higher resolution matters
I don't have a 1080p option on my nexus 5 yet and honestly in don't care.
Posted via Android Central App

Hi guys,
if anyne could help me with a problem.
When i open youtube i can only stream in 720p, but i have an xperia z1(1080p screen)
I don't understand.
Thanx!! :p