ZTE welcomes Axon 7 community members to Nougat preview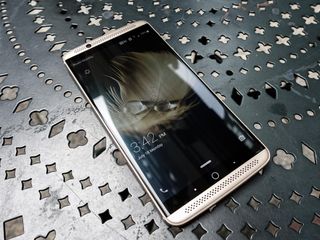 ZTE is preparing Nougat for release on the Axon 7 and is looking for some enterprising Axon 7 users from the Z-Community to preview and evaluate the build before it pushes out to everyone. If you're itching to get split-screen on your 5.5" beauty, your chance has finally come!
Users looking to sign up for the preview must be members of ZTE's Z-Community forums in order to provide feedback. You can sign up for the Axon 7 Nougat Preview here by providing your Z-community username, email and IMEI.
Keep in mind that previews like these are not always stable, so if your Axon 7 is your primary phone, you might want to wait for the stable release, but Nougat's many features like split-screen and improved Doze functionality are tempting. One can only hope that the software gimmicks we noted in our experience with the Axon 7 have been toned down in 7.0, but we'll see how ZTE's take on Nougat fares.
Get the Android Central Newsletter
Instant access to breaking news, the hottest reviews, great deals and helpful tips.
Ara Wagoner was a staff writer at Android Central. She themes phones and pokes YouTube Music with a stick. When she's not writing about cases, Chromebooks, or customization, she's wandering around Walt Disney World. If you see her without headphones, RUN. You can follow her on Twitter at @arawagco.
Ah so we could have a stable release by January?

ZTE Germany once said to expect the actual update to land somewhere around that time period.

I just hope I get picked to preview I love my Axon 7. I must say the Native messages Application could use a bit of an overhaul lol

Ditch it. It's all about Textra. I don't see myself using anything else as a primary messaging app in the near future. It's highly refined, elegant, ultra customizable, and very snappy

Don't know if this is an ad for Textra or not, but I do agree with you. It is by far the best texting app out there.

Yes. I'm a developer for them........NOT!

Go with Textra if you don't need or want security. If you're the type to want secure comms get Signal.

Wasn't aware of that. I have some knowledge to gain when it comes to the specifics of mobile Sec. That is great to know though. Seen u on here alot lately. so whats your Amdroid hardware OEM/ Software preference? Can't remember what u said in the past. That's one of the things on here I most. Reading and talking to the people that take their OEM and ROM preferences seriously lol

Hah thanks! Yeah I meant that as literally and not passive aggressive, since not all people are so into security that they use one app over another. Signal uses the open whisper crypto which is highly regarded in the info sec crowd. To the point where they recently won a court case against the state court in Virginia I think that was demanding that Signal give up logs of communication their users did. How? Because there was simply nothing to hand over to the government. Signal was designed in such a way that the only information the maker has on you when you use their software is when you signed up and the time stamp of the last you used their software. It's incredible. It's very secure, as long as you AND your friend, are BOTH using Signal. If you are using it and they are not it falls back to regular SMS. Now all that said I love my OP3 and it's take on Android. OP basically take Android and add the things I feel should have always been there, removing the need for me to even want root access and a custom ROM. I also appreciate what Huawei have been to and am eagerly awaiting more info on the mate 9.

Oh no I didn't think you were being condescending or anything. But ya that's good knowledge to have. I have 1 good friend that's as much of an Android nerd as I am. Maybe we should start messaging with signal together. Lol Ya I thought I remembered you saying you got a OP3. I'm still in shock that they could produce what they have in the 3 and 3T and still sell it for $400-460. It is quite literally the fastest Android phone ever built. No joke. I did a side by side with the pixel XL and seen all of the comparisons on YouTube the last couple weeks. That they gave it 6 gigs of RAM alone is just incredible. That's 2 more than basically all other high-ends costing twice the price. I only wish they'd have gone with 5.7 inches on the display. But oh well. Being able to swoop up the most powerful Android phone ever built for $439 is a dream come true

I completely agree. Signal is nice, especially since it has dark mode and you can change the color of the chat bubbles on a per conversation basis, on top of its security.

I signed up - but I'm still within my free return period, so they may not let me do it. Then again, if their Nougat build solves the relatively few problems with this phone, I'm keeping it anyway. And maybe for the beta they let you unlock the bootloader and keep your warranty - in which case, I'm in!!!

Getting this phone tomorrow so perfect timing

Purchased this phone as a temporary while my N5x was warrantied. Very surprised on how good this phone was. Felt great in the hand, was very zippy, and came with a case! All for $250. I would try another ZTE again.

Where did u get it for at that price?

I got it at Best Buy, I believe they were having a sale on it. I needed something cheap. Maybe it was the mini.

Did u get the mini or regular axon 7

Could have been the mini.

You definitely got the mini

The question is will it get any other update beyond nougat( security or OS) ?

They have dun 3 or 4 updates since it has been released. Granted these are security updates. Also iirc Marshmallow made it out for the first Axon in February of last year. I'm pretty sure ZTE has been better than slot of carriers with updates at least.

I just ordered the new Axon 7 Limited Ed. last night. Can't wait to get it. I don't think it would be wise for me to participate in the Nougat beta as I'm going o be spend some time getting to know this phone and it's the only phone I have.

U mean the 6gb ram version and force touch...let me know how the phone is and is it worth the extra $$$ coz me planninh 128gb 4gb ram ver

If you have a chance to get a variant with 6 gigs RAM I'd jump on it. Of course it won't be relevant to the average user, but generally the more RAM the better, especially running Android. Also, 3 years from now high end phones will be featuring 6 Gigs of RAM. Most likely only midrange and below will be carrying 4 gigs or less Plus, you can say you have a phone with 6 gigs of DDR4 RAM!! Lol. That's industry leading power. I'd be lying if I said that wasn't one of the main reasons I bought the 3T a couple weeks ago

"Improved Doze performance?" The standby time on this thing is already spectacular, but I won't complain if they can milk it even further!