ZTE launches Grand Memo with 5.7-inch display, Snapdragon 800 processor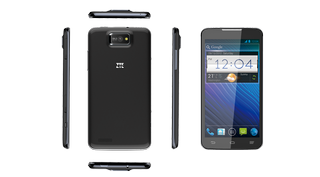 ZTE is taking the wraps off of its latest large-screen phone, the Grand Memo, at MWC 2013 in Barcelona. What we're looking at here is a 5.7-inch display at just 720x1280 resolution -- but curiously so as the previously announced ZTE Grand S has a 5-inch 1080P display. Underneath that display the Grand Memo has a quad-core Snapdragon 800 processor (unspecified clock speed), 2GB of RAM, 16GB of internal storage and a quite enormous 3200mAh battery. There's a 13MP camera around back, much like the Grand S. The design is subtle and sleek, with a smooth plastic shell and protruding camera pod around back. On the front there are capacitive back, home and menu keys. It is also just 8.5mm thick, which is quite impressive considering the specs.
The Grand Memo is running Android 4.1, along with some of ZTE's own software customizations. There doesn't appear to be any special digitizer or stylus hardware available though, contrary to what the name would lead you to expect. Unfortunately, ZTE isn't yet giving any information on pricing or availability at this time.
Source: ZTE (BusinessWire)
Andrew was an Executive Editor, U.S. at Android Central between 2012 and 2020.
what's the difference between the snap 800 and snap 600?

Big difference, 2.3 ghz vs. 1.9. Better graphics support 4k, vs. 1080p and usb 3.0

Native voice activated wake feature too.

70% faster than the S4 pro. it must be the first phone with the 800

Hmm, if ZTE can bring a smartphone to
market with the Snapdragon 800 processor, very possibly the Galaxy S4
will have the Snapdragon 800 processor also! I want that QuickCharge 2.0 technology!

That QuickCharge 1.0 and 2.0 is crap its just a marketing ploy by Qualcomm, my phones that supposedly have QuickCharge doesnt charge any faster

Most likely the S4 will have an Exynos processor (you know, because it's made by Samsung).

This thing, if it really has the S800, isn't gonna release before Summer. Simple as that. The S4 is gonna have either the S600 or the Exynos. You can wake up now.

No Thanks, ZTE and huawei is linked to the People's Army of China, and has major security risk by owning their products. Congress requested information from them both and both companies declined in providing the security information to congress. Sounds as if their products are full of spyware hidden and pre installed. Articles everywhere make it sound as though they will be banned from the U.S.

You fool. What you are talking about is simply propaganda spewed out from the American Government. You show me ONE product from any of these Chinese companies that have been proven to have spyware and/or malware running on the device. Stop watching Fox/CNN and wake up

you do realize your ishit and your android phones are manufactured in that country to right?

Just because it hasn't been "proven" doesn't mean it isn't possible. I would put nothing past the Chinese at this point. Do I believe they're currently doing it? No. Do I believe they COULD do it? Absolutely.

Need to update this. They lied it has a 600 and only 1 gig of memory.
http://www.androidpolice.com/2013/02/26/zte-says-the-grand-memo-has-a-sn...

People's army of China? You mean people's Republic of China? I own a zte device. Will you not bit Samsung because they're Korean. That just sounds dumb as hell
Android Central Newsletter
Thank you for signing up to Android Central. You will receive a verification email shortly.
There was a problem. Please refresh the page and try again.