ZTE Boost Max review: A big phone with a smaller monthly bill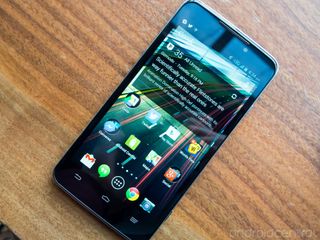 One of the most expensive phones on Boost has a huge screen and solid build quality, but comes up short in the wrong places.
Being a Sprint MVNO, options for bringing devices to Boost Mobile is inherently limited. You're basically stuck with approved older Sprint devices that can be unlocked and moved over, and Boost's own lineup of phones. Knowing its target market of budget-minded prepaid buyers, Boost does its best to strike deals with manufacturers to get a wide range of devices on the shelves and keep the off-contract price low.
Coming in with a 5.7-inch display and an off-contract price of $299, the Boost Max is the prepaid carrier's first (physically) huge phone that's set to put a dent in your pocket, but not your wallet. At this price without a contract you won't get barn-burning internals or the best camera prowess available, but if you're hungry for a larger screen and are set on keeping the monthly payments low, you now have an appealing choice.
Hardware, display and build quality
The specs
Before we get too far, let's talk about what's under the hood. Considering the price, we have to keep our expectations in check about what components can be put into a $299 off-contract device that's going to also turn a profit:
5.7-inch IPS display at 720 x 1280 resolution (scratch-resistant Gorilla Glass)
1.2GHz dual-core Snapdragon 400 processor
1GB RAM / 8GB storage (SDcard expandable)
802.11n Wifi / EVDO (3G) / LTE (4G) / Bluetooth 4.0 (LE)
8MP rear camera (1080p video) / 1MP front (720p video)
3200mAh battery (optional Qi charging with accessory)
Look and feel
ZTE does a great job of making above-average devices and keeping the cost down while it does it. That ability is exemplified in the Boost Max — a device that looks and feels like it could be sold from a major carrier for $99 with a contract or $449 without, but in reality is substantially less expensive. The Boost Max has a solid construction making use of various plastics and textures in the right places, has relatively modern internal specs and offers that aforementioned huge screen.
Image 1 of 11
Image 2 of 11
Image 3 of 11
Image 4 of 11
Image 5 of 11
Image 6 of 11
Image 7 of 11
Image 8 of 11
Image 9 of 11
Image 10 of 11
Image 11 of 11
While we wouldn't exactly call it an "inspired" design, the Boost Max is a handsome device — the majority of the back plate is a solid piece of plastic treated (very convincingly) to look and feel like metal that wraps around the entire edge, accented with soft-touch plastic at the top and bottom. You get a large speaker on the bottom of the back, and an 8MP camera with a removable plastic bit that hides the SIM card slot up on the top. A shiny plastic volume rocker and SDcard slot can be found on the left edge, with another pair of shiny buttons on the right — one power, one camera button.
For navigation, ZTE has chosen to stick with its standard setup of capacitive buttons underneath the screen — yes, including a menu button.
Display quality
One of the high points in the Boost Max's overall build is the display. Although it's rather humongous and just 720 x 1280 resolution, leading to a density of 257 ppi, we think it serves its purpose extremely well. Viewing angles and color reproduction are both solid, and at normal viewing distance — which is further on this phone than others — you really can't notice individual pixels in the display. It isn't on the same level as other high-end IPS displays out there (it comes up short of the Nexus 5 noticeably), but nobody will find a flaw with it — especially at this price.
Camera
ZTE lined up the Boost Max with an 8MP camera and its standard camera software, and as you'd expect the pictures it takes are just average. Shutter speed is passable in regular shooting modes but is extra sluggish when put in HDR. Provided you have a steady hand and are clever with the settings you can get solid snapshots, but we found the focus to be just slightly off in many situations. The hardware camera key doesn't help things at all considering it's only a single-stage button — you'll get more camera shake using it than just tapping the on-screen shutter key. Nobody will be blow away by the photographic prowess of this phone, but for the here-and-there photographer there won't be any complaints.
Battery life
One of the big bonuses of having such a large screen is also having more room on the inside of the device for battery. The Boost Max packs a 3200mAh unit inside, offering more than enough juice to get you through the day and then some. Because Sprint's network is in, shall we say a "transitional period," we found the network to be one of the bigger drains on the battery as the phone boosts the radio power to try and hold onto an LTE signal or transfer data over the slow 3G connection. Even with that going on, we couldn't drain the battery quickly — and that's a real plus for a big device like the Boost Max.
Software and user experience
We just have to come right out and say it off the top — the Boost Max is only running Android 4.1.2. That's pretty rough for a device that hit store shelves at the end of January 2014, and even more so when you look at how little customization ZTE has really done to the device. You're getting a very stock-like software experience in the launcher, app drawer and settings. The only indications of a customized software suite are a few new toggles and icons in the menus, some notification shade toggles and a newly styled lockscreen.
The biggest software feature added is "Smart Viewer," a system-wide way to handle putting two apps on the screen at the same time, much like we've seen from Samsung going back in its Note line. The process for pulling multiple windows up is pretty easy — just long press on the back button, bringing up a menu, and drag the apps you want to the top and bottom of the screen. The windows can be resized, and independently perform pretty well although it's clear that the phone's resources are being pushed to their limit when moving between two apps at the same time.
When you're running just a single app on the screen, the Boost Max offers appropriate performance for the price, if a bit on the lower side of what's acceptable. Even though it only has to push 720 x 1280 resolution, opening apps and scrolling through complicated websites takes a little extra time and stutters just enough to be noticeable. Performance seems hit-or-miss depending on the weight of the web page you're viewing or the amount of content in the app — and that inconsistency may be the most off-putting aspect of the Boost Max's performance.
Android 4.1.2 is a pretty well-known system by know, as are the internal components here, and it makes poor performance even less excusable. Some devices in this price range are capable of offering higher end software experiences, and there's no reason the Boost Max can't be right there with them. As it stands with the software out of the box, it comes up short.
Update: After publishing this review, we received confirmation from Boost that it plans to have the Boost Max updated to Android 4.4 KitKat at some point in 2014. That's rather non-committal as far as a timeframe goes, but knowing that a major update is in the plans is a good thing.
Value proposition
While the Boost Max at $299 may come in at a middle price tier in the grand scheme of things, it is actually one of the more expensive phones available from Boost. As far as Android devices go, you can pay $349 for a Galaxy S3 but every other device will be cheaper from the prepaid carrier. Considering the questionable performance across the board, it's hard to say whether or not the Boost Max commands such a high price for any reason other than its huge screen.
Boost is currently selling the Moto G for just $129, and although you won't get LTE — here in Seattle that doesn't really mean anything considering the bad coverage and speeds — you'll be getting better performance and all-around software than the Boost Max for less than half the price. And if you just have to have a larger screen, devices like the Nexus 5 and Moto X are just a hair more expensive than the Boost Max and offer drastically better value for the money — they can even be used on prepaid carriers that are just as cheap as Boost and offer the same or better network speeds.
For the person who is a current Boost Mobile customer and wants to walk into the store, get a phone with a large screen and walk out the door with a functioning device and plan in 20 minutes, the ZTE Boost Max will do just fine. But for those who are a bit more discerning about their smartphone purchase, you can do better in this price range.
Andrew was an Executive Editor, U.S. at Android Central between 2012 and 2020.
Good Price for 5.7 inches AND Pre-Paid.

Or you could go with Republic Wireless and get the Moto X for $299, not as big a screen, but a better phone IMO.

IMO IMO isn't really necessary. Lol Posted via Android Central App

IMO your imo is not needed imho

Price wise its fair. Boosts quality of service sharply decreases the resale value of its phones with the added fact that you can't use these phones elsewhere. Boost sucks posted with a galaxy note 3. Long live the king of phones

The HTC Desire 8 will clean up in this arena.

U can certainly do better in that price range. But not bigger as well in prepaid CDMA. Because on boost u can't get the note 2 to work. So if u want big then that's it for boost. Posted via Android Central App Sony Xperia Z2.

Not my cup of tea. I bought a moto g from boost mobile on this past Sunday and looked at the max. ZTE phones tend to have almost no development support and forget about software updates. I owned A ZTE fury before and you would think ZTE would learn from past mistakes. I also own a Samsung galaxy s3 on boost and the network isn't that bad. I DO THINK it's funny my $145 quad core moto g has faster 3g service than a $400 galaxy s3. even though I only paid $100 for my s3 Posted via Android Central App

Nobody wants this device.... Mike

I see you speak for everyone

Well, it's...big. Posted via AC App on HTC One

I would rather get the Note 2 than this.. Similar specs and way better software... Even if its Touchwiz lol.. Posted via Android Central App

Yea considering the specs and added s-pen functionality with a custom rom....note 2 sounds like a good deal to me. Posted via Android Central App

Wonder where these review units go after getting reviewed?
Android Central Newsletter
Get the best of Android Central in in your inbox, every day!
Thank you for signing up to Android Central. You will receive a verification email shortly.
There was a problem. Please refresh the page and try again.