Zivix's jamstik+ smart guitar now has Android support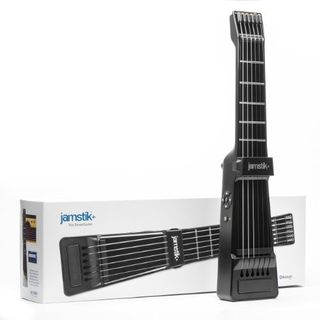 Zivix has announced that the jamstik+ MIDI smart guitar now works with Androids running version 6.0.1. Jamstik has been available for iOS devices for a while now, with the improved plus model first introduced in April 2015. Changes to Android that come with the latest version of Marshmallow now make it possible to support the Bluetooth MIDI device, and after a quiet initial launch in April 2016 (with excellent user reviews (opens in new tab)), they're ready to ramp things up as well as bring more tools and third-party partners on board with one of the first Bluetooth MIDI devices of its kind for both Android and iOS users alike.
The jamstik+ isn't a standard guitar. Without a connection to a MIDI-enabled device it doesn't make any noises, and the small size makes it a great portable music maker as well as an excellent learning device. Using IR light-sensing to recognize finger placement on real strings and real frets, the jamstik+ app allows beginners to quickly recognize mistakes and poor technique before they become a bad habit. When combined with the included teaching curriculum it's an excellent way for beginners to practice and learn, while still being fun for everyone to use. The portable size means it's easy to stick in a bag or backpack (along with a set of headphones for those quiet times) and take it anywhere. And the jamstik+ is more than a guitar. It's a full MIDI controller that you can use to produce hundreds of different sounds and styles as long as you know where to place those digits.
The system requirements are straightforward. You'll need to be running Android 6.0.1 or higher, have full Bluetooth 4.0 LE support and have a device that supports Android low latency Pro audio spec. Plenty of devices from all the big names in Android meet these requirements, and you can see the full list here (.pdf file). The jamstik+ has an MSRP of $299 and is available at jamstik.com as well as retailers like Amazon and Best Buy. The full press release follows.
See at Amazon (opens in new tab)
Zivix Launches Android Support For The jamstik+ SmartGuitar
Additional operating system makes the jamstik+ more versatile than ever
(MINNEAPOLIS – May 26, 2016) – Zivix, the technology company with a mission to make music accessible to everyone, today launched Android support for the jamstik+. For the first time ever, users will be able to learn and play guitar on select Android mobile and Android TV devices. By supporting the Marshmallow (6.0.1) OS, the SmartGuitar is now compatible with the two most popular operating systems in the world, opening up new possibilities for current and future musicians with apps on both the Google Play and Apple App Stores.
"We've always wanted to bring the jamstik+ to Android, and the latest version allows our smart guitar to be one of the first Bluetooth MIDI devices compatible with the platform," said Ed Cannon, chief executive officer, Zivix. "We are proud to help pioneer music technology on the Android platform and will continue to develop new experiences around our products. With its availability on both major platforms, the jamstik+ makes learning guitar and writing music more accessible than ever."
The jamstik+ SmartGuitar is the only product that uses infrared light-sensing technology that "sees" finger placement and provides real-time feedback, accelerating learning and curtailing mistakes before they become habits. It's ultra-portable, lightweight and wirelessly connects via Bluetooth making it ideal to practice or create music anywhere. Featuring the ability to plug in headphones for quiet environments or connecting to external speakers, the jamstik+ can fit in any environment the player may find themselves in.
As part of the expanded operating system support, Zivix will be incorporating additional lessons, more arcade challenges and third party partner apps like the Musopia Four Chords Guitar Karaoke app for an engaging and immersive experience through the remainder of 2016.
jamstik+ Educational "Just Play" Initiative
To combat a nearly 90% fall off rate for new guitar players, Zivix continues to expand its educational initiatives by focusing on more visibility within MI dealers, K-12 and supporting a variety of EDU trade shows. Showcasing ease of use, accessibility and the ability to make learning fun, it's clear that providing real results helps new players over the initial hurdles. With the updated suite of apps from Zivix as well as a partnership with Four Chords in which users can access 1,000's of popular songs, players have more options than ever to play like their favorite musicians.
Made In the USA
Zivix supports American manufacturing, and manufactures the jamstik+ in the United States.
The jamstik+ is currently shipping with an MSRP of $299.99 at jamstik.com and can be found at Amazon, Apple retail locations and Apple.com, also available at Brookstone, Best http://Buy.com, The Grommet and through Hal Leonard retail partners.
About Zivix
Based in Minneapolis, Zivix is a music and technology company focused on making the experience of learning guitar and playing music more accessible for everyone. From the award winning jamstik technology, best in class Bluetooth Wireless MIDI solution, to releasing new mass market musical products in 2016, Zivix continues to create products for those who want to become musicians, just have fun with music and for professional musicians. For more information about the jamstik+ experience and puc+ Bluetooth MIDI solutions, visit jamstik.com and mipuc.com.
Senior Editor — Google Ecosystem
Jerry is an amateur woodworker and struggling shade tree mechanic. There's nothing he can't take apart, but many things he can't reassemble. You'll find him writing and speaking his loud opinion on Android Central and occasionally on Twitter.
Holy **** why is that thing $300?

It's worth it...trust me Posted via the Android Central App

I was thinking the same thing. You can get some decent guitars for right around that price... and used you can get a hell of one for that price... wow!

6 finger positions (open counts) and software to control the octave. Probably could play anything with it and have your software translate it into a full 22 or 24 fret sound after it's recorded. While that'd be tough for a long run in a lead or something, it would probably be just fine for chords and rythym stuff. I'm not sure exactly how the software interface works, but they're sending me one so I'll find out.

Cool. Would like to see a follow-up!

Sick! Hoping you are going to do a full review then? Sounds cool but $300 seems steep for what you are getting.

Looks interesting and fun to play around with but for 300 nah ill pass Posted via the Android Central App

I'd love to know how good it would be for learning to play for someone who has no idea how to play and knows nothing about frets and chords and B strings and E strings and whatnot. Be sure to let us know, Jerry.

My wife loves to sit and listen to me play. I'm not a great player, but i can string a few notes and chords together. She's really interested in using this to see if she can learn anything.

This thing is pretty awesome. It's taught me chords and the frets and after a few more months I'll be confident enough to use a passed down acoustic guitar

Agreed. Heck, I'll even go up to $100 - but $300? Ouch. Like someone said, I can buy a pretty kick-ass full-sized acoustic for that price.
Android Central Newsletter
Get the best of Android Central in in your inbox, every day!
Thank you for signing up to Android Central. You will receive a verification email shortly.
There was a problem. Please refresh the page and try again.