YouTube Music now lets you swipe to change tracks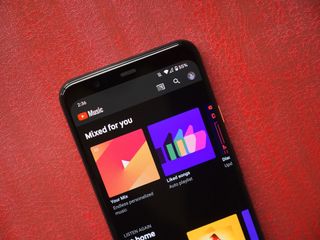 (Image credit: Joe Maring / Android Central)
Update, July 14 (01:30 PM ET): Swipe to change tracks is now widely available.
What you need to know
Some YouTube Music users are reporting the presence of a new swipe to switch track feature in the app.
Other music apps like Google Play Music supported the gesture in the past.
While not all users had it at first, Google appears to be rolling it out widely.
YouTube Music is trying out a new swipe to change tracks gesture. Recently spotted by people over at the eponymous YouTube Music subreddit, the feature works exactly as you'd imagine. You swipe your finger on the album art, and the next track comes into view.
Though Pixel 4 users have a variant of this where motion-sense was used switch tracks, this is a bit more conventional. Like all YouTube Music features, it seems to be a server-side activated feature, so no apk version will automatically trigger it for you. Google has yet to announce it as well, so it may still be a long wait.
Google has updated YouTube Music with a bunch of nice to have features as it completes the transition from Google Play Music. There's a nice new music player, a lyrics feature, support for a new Explore tab, and a quick tool to move all your songs from Google Play Music over. Most or all of these features should be available to most people at the moment, so expect this to join within the next couple of months.
Update, July 14 (01:30 pm ET) — Swipe to change tracks has arrived for more users.
Swipe to change tracks appears to have gone broadly available with users on the YouTube Music subreddit (and my own phone) reporting a surge in availability.
Get the Android Central Newsletter
Instant access to breaking news, the hottest reviews, great deals and helpful tips.
Let me know when I can cast the music I own in my transfered library to my Google Home without having to pay for a subscription.

That won't happen ever considering they want people to spend money

But I can do it right now using Play Music.

Or use it on Android Auto.

I got an email from Google last week about porting my music to YTM and it addresses this very thing. Guess it's here to stay and I need to start looking for an alternate streaming service.

I keep trying it, YouTube music blows ass, it says a lot that I feel it's worse that gpm by a wide margin. It might even be worse than Spotify.

Same here. Never understood why google feels the need to change things when they aren't broken. I gave Apple Music a shot and it works good.

When are they going to add "In My Library" under the Artist tab?

Optioned never showed up for me to transfer purchased music from Google Play to YouTube Music. Gave up on it, already.

Check under your settings for YouTube Music. But be aware that if your YouTube Account is a brand account then you won't be able to transfer your music to it. I just found out last night that my account got turned into a brand account.

I want Google to either let me convert my YouTube Brand account my Google account without losing my Youtube Premium subscription or let me transfer my music to current YouTube account(brand),

I have my GPM library in YTM but my Thumbs Up auto-playlist (featuring over 14000 songs) is now limited to 5000 songs in YTM. When will Google at least open up the Your Likes auto-playlist to more than 5000 songs. Spotify was limited to 3333 songs, then 10000 songs, and now the Liked Songs playlist is unlimited. Google still hasn't squashed the bug of having liked songs no longer liked. YTM handles downloads poorly and has compatibility issues with the Google Assistant. It's odd that Spotify works better with the Assistant and integrates with both Waze and Google Maps. YTM is still a beta being pushed forward as a solid replacement for a superior service.