YouTube app apparently updated for devices on Android 3.2 and up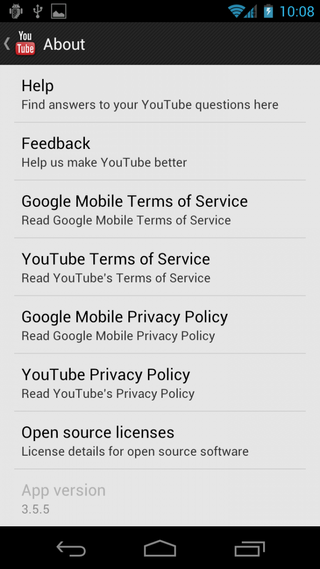 We've gotten reports from a number of you about the official YouTube app being updated, though no notification was given in the Market. We've seen the same thing here. If you go to the "My Apps" section of the Android Market, you won't see that an update's available. Go to the app listing directly, and there it is. And according to that listing, devices on Android 3.2 and up have an update waiting, and you can now sign in with your Google account. (Really? You couldn't do this before?) Other bugfixes are listed as well.
A little confusing, to be sure. But we'll take an update over no update any day of the week.
So did the version for Android 2.3.4 and earlier....however it will not show you the update. You will need to uninstall updates first and then update to the Feb 14th release. Earlier Android devices: v.2.3.4
+1 button
'Watch later' queue
Uploading while editing video info

Is this maybe just the update for Google TV?

Well apparently I must must have already done the update somehow or whatever because my app is already on 2.3.4.

Yay.. when i rotate my tablet now the video does not restart like it did before . Im using a asus transformer running #honeycomb
Android Central Newsletter
Get the best of Android Central in in your inbox, every day!
Thank you for signing up to Android Central. You will receive a verification email shortly.
There was a problem. Please refresh the page and try again.