Your Strava rides will no longer be shared with Relive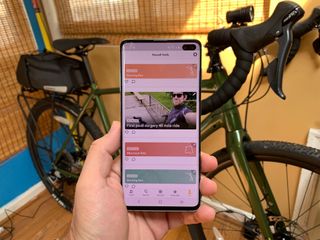 (Image credit: Android Central)
What you need to know
Effective immediately, rides recorded in Strava will not report data to Relive.
Strava says this decision was made because Relive was abusing its API.
Relive says it followed Strava's takedown request and got blacklisted anyway.
There are a ton of third-party apps out there that can take your ride of run in Strava and visualize it in a cool new way, but one of the best out there is an app called Relive. This service takes your GPS data, photos taken during the trip, and intensity information from Strava to form a unique video showcasing your efforts. It's a great way to show off a long ride, to better visualize a new goal you've reached, or just to show off a fun workout with friends.
Unfortunately, there's been some kind of falling out between the two companies, and now your Strava events will not automatically make their way to Relive.
It's not super clear where the problem is on this particular issue. Strava sent a brief email out to its users with the following explanation:
But the folks at Relive have a very different story to tell, as outlined in their considerably more detailed blog post on the subject:
Hopefully this dispute can be resolved soon, but in the mean time you have a few other options. Relive includes its own workout tracker you can use right from the app, and there are auto-export systems already baked in to Polar, Garmin, and Suunto gadgets. You can also manually import from Strava if you really want to, but it's kind of tedious. The best possible solution here would be for Strava to work with Relive to make users of both happy, but it's unclear how long it would take for that resolution to take place.
Best GPS
(opens in new tab)
The GPS in the Forerunner 245 is better than the rest
The Forerunner 245 is ideal for dedicated athletes who want more from their fitness tracker. You can also take advantage of the free adaptive training plans from Garmin Coach (opens in new tab). The GPS is super accurate and the battery lasts a long time.
Android Central Newsletter
Get instant access to breaking news, the hottest reviews, great deals and helpful tips
Garmin still has our backs

This shouldn't come as a surprise. Strava made it clear that they want to be a social platform. Relive added social features. I haven't read the TOS of their API, but I have to imagine it includes some clause about being non-competitive. (I'm not taking sides - if anything I think Strava tends to be a bully. But I can't really support the Relive sob story, either.)

I'm new user in Strava and that application is a total Social Network App, so i cant believe that stuff. Also, the USA Navy and Military already said that Strava and other apps, are a security risk for the areas tracked inside this instalation, soooo the security matter is a lie too. Sure they don't want share because they have already a plugin in premium mode or ask for a huge commission back. It's a shame, i liked use this combo.
Android Central Newsletter
Get instant access to breaking news, the hottest reviews, great deals and helpful tips
Thank you for signing up to Android Central. You will receive a verification email shortly.
There was a problem. Please refresh the page and try again.