Your Google+ account is being deleted on April 2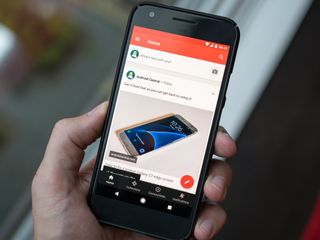 (Image credit: Android Central)
On October 8, 2018, Google announced that it was finally planning to shut down Google+ for consumers. The original date for the shutdown was supposed to take place at some point in August 2019, but following a data breach in December, that time fram was moved up to April.
Now, we've got confirmation from Google that Google+'s final day will be April 2.
Hopefully you've already been planning for Google+'s closure by now if you've still been using the social network, but if not, April 2 is the day that Google's going to start wiping the site clean of consumer content.
Per a blog post on Google Cloud:
As Google's stated before, Google+ is still staying around for enterprise use. This means that if you have a Google+ account through G Suite, you'll still be able to keep on using it like normal.
Lastly, APIs for the site will be shutting down on March 7. Leading up to then, Google does warn that "intermittent API failures" will occur.
Joe Maring was a Senior Editor for Android Central between 2017 and 2021. You can reach him on Twitter at @JoeMaring1.
I've begun using MeWe.com. The experience is similar but the interface is significantly different. However, it isn't a difficult change.
Many G+ users may want to download their files from G+ and begin uploading to MeWe. I know of many who are doing this.
There are other sites that could also work for those who want to maintain an experience similar to G+. I'd like to hear from others about what they're doing.

Other than Maps and YouTube there's no point getting invested in any Google apps because you never know when they'll be pulled next.

True but we already saw what happened with Inbox.

Which was really an extension of Gmail. Plus it looks as though some if those features are coming to Gmail.

One piece of bloatware I never use. Hope you can now delete it to free up some space rather than just disable it.

I was able to delete it completely from my Pixel a day or two ago.

How can I make sure my Google sign-ins will still work? I read that each site has to change its sign-in link from Google+ to Google.

It deserves to die. Porn, child porn, bots, zero account security.....

I wonder how long it would've taken me to notice if you hadn't told me...

Exactly. I too wonder how many people would have noticed if it weren't for the email google is sending out to people.

Yay! So I wonder how they are going to re-brand Google+ login to certain sites and services?

This is dumb now what I do? I hate Facebook and Hangouts

G+ is no loss anyway and it won't be missed.
Android Central Newsletter
Get the best of Android Central in in your inbox, every day!
Thank you for signing up to Android Central. You will receive a verification email shortly.
There was a problem. Please refresh the page and try again.