NCAA Tournament Android apps - Basketball apps at their best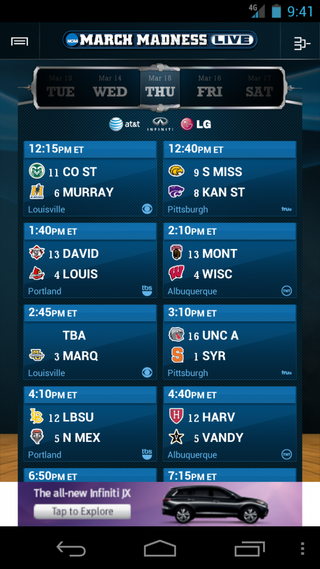 The greatest sports playoff system -- college basketball's NCAA Tournament -- is upon us. The games have always been played at odd times, particulalrly those in the first couple of rounds. And since so many of us will be stuck at work, it's a must to have great mobile apps to keep you up-to-date on how your bracket is stacking up or how your favorite team is performing.
We've put together a collection of some of the best Android apps to help you out during March Madness. There are a lot out there, especially scoreboard apps, but these are the few that we feel rise above the rest. Enjoy! By the way, if you don't notice from the screenshots, I'm a Syracuse fan, so go Orange! Feel free to sing out in the comments which team you're rooting for.
NCAA March Madness Live (free, $3.99 premium version)
The official app is available on Android for the first time. It is available for free, but also offers a premium version via an in-app purchase. The free version gets you scores, bracket updates, game alerts and live radio. If you wish to upgrade to the premium version for $3.99, you can have access to every game on-demand right on your Android devi
ce.
Once you have paid the $3.99, you can also log-in to your account on any computer and watch the games there should you choose to. The live streaming is currently available for devices running Android 2.2 to Android 2.3.7, but the developers are rapidly trying to increase support. If you're looking for the best all around NCAA March Madness app experience, this one is hard to beat. [Google Play link (opens in new tab)]
ESPN Bracket Bound (free)
Bracket Bound is ESPN's official app for the tournament and in the short time that I've used it, it reminds me a lot of Bowl Bound, which, is a good thing. I've always thought that Bowl Bound was one of the best apps that ESPN has put out, and Bracket Bound looks to follow in those footsteps. The interface is nice and it boasts a lot of features. With the app you can read the latest tournament news, see live scores, view
the latest analyst and highlight videos and look at an aggregated Twitter stream of ESPN analysts.
You can also customize an entire tab for your favorite team that displays scores, schedules, news and all of the information you could want to know about your team. [Google Play link (opens in new tab)]
Yahoo! Tourney Pick'em (free)
Yahoo!'s app offering is good for all of you who use Yahoo! to manage your bracket pools. It has a nice, simplistic UI that displays the pools you are a part of and allows you to quickly see who
is ahead and who isn't doing so well. You can follow play-by-by coverage of the games too, but in my opinion, this app works best as only a bracket checker.
You know that saying to focus on one thing and do it well? This app focuses on giving you a quick look at how you're performing in your Yahoo! pools and it does it very well. [Google Play link (opens in new tab)]
College Basketball Scoreboard (free)
College Basketball Scoreboard is a good app that also does one thing very well: provide live scores for college basketball games. Scoreboard apps are all a matter of personal preference, so w
hile many of you may like one, some will prefer another.
College Basketball Scoreboard focuses on one sport and because of that boasts some of the fastest scoring updates out of all the other apps.You can track your favorite teams or shout out to your friends on Facebook and Twitter that their team just lost. [Google Play link (opens in new tab)]
Sporting News NCAA Basketball (free)
Sporting News has a variety of dedicated sports apps and this is the one focused on college basketball. With the app, you can get all of the latest news surrounding the world of college basketball and the tournament. It also offers scores, videos, push notifications, sharing via Facebook and Twitter as well as favorite team customization options. [Google Play link (opens in new tab)]
Bracket (free)
Bracket is a simple app that shows you only the bracket and what teams have moved on and what teams have not. It gives you live scoring updates as well and allows you to narrow the br
acket down to only the winners, which is helpful.
You drag your finger around the app to move around the bracket and click on the orange basketballs or team icons to see what the matchups are. Again, a simple app aimed at doing one thing, which is to show you the bracket in an easy way and it does an excellent job. [Google Play link (opens in new tab)]
Sadly its not compatible with the ATT GS2...yet.

Gotta love that android fragmentation.

GO Spartans of MSU. picking up one of these apps right now....not sure how work will feel with my watching bball games all day though.

March Madness Live won't download on Motorola Photon, says my device not compatible. Never buying a Moto phone again! Can't wait for the Galaxy Nexus.

No support for Galaxy Nexus but Moto Razr has support.

Won't download on the HTC Amaze, LG Thrill, or Samsung Infuse either. Not a Motorola issue. the HTC Amaze is a solid high-end phone.

No AT&T Galaxy S 2 support! Geez.

yeah their device support list is pretty shitty

Go DUKE! Downloaded the ncaa app on my Droid X and it worked just fine. Havent paid 4 dollars yet. Hope I can find a login floating around somewhere.

I was able to download March Madness Live on my Sprint SGS2 (E4gT). For all those not wanting to pay for it, text 0FAVORITETEAMNAME (ex. 0SYRACUSE , first spot is a zero, not o)to 2653 for a way to get it free from Coke Zero. You create a login and use that when you download the app. I used 0TEMPLE (from Philadelphia)and it worked.

It's Kentucky's year baby!!!!! GO BIG BLUE!!!!!!!!!!

WTF, it says it is compatible on my Captivate, but not on my GS2. I find that amusing and sad.

to all those pissed that it isnt "supported" on your phone go here http://forum.xda-developers.com/showthread.php?p=23535169 and you will find a link to the .apk to install it. I installed it and it seems to to work just fine on my galaxy nexus, i paid the extra money to see the games, but nothing to watch yet so im not sure if that feature works yet.
Android Central Newsletter
Get the best of Android Central in in your inbox, every day!
Thank you for signing up to Android Central. You will receive a verification email shortly.
There was a problem. Please refresh the page and try again.