You should probably start looking for an alternative to Hangouts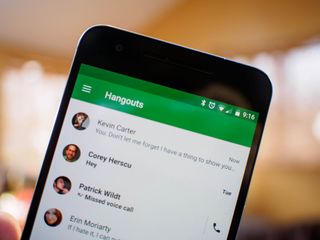 Hangouts is dropping SMS support on May 22, according to an email sent to G Suite administrators. Starting March 27, Hangouts users will get a message explaining the change so there's time to choose a new app. Weirdly, Google is trying to frame this feature removal as an improvement.
The email continues on to explain that Google Voice users will not be affected by this change, which in turn means Project Fi users are also clear to continue using Hangouts for now, but honestly why bother? It's not hard to see where this is going.
Google wants Hangouts Meet and Hangouts Chat to be the video and messaging services for G Suite (business) customers, and for Allo and Duo to be what consumers use. It has been made clear that Google is going to stop anyone from using Hangouts — at least for now — but it couldn't be more clear that Hangouts isn't going to be an included app in Android for much longer.
That means the people using Hangouts simply because it's there aren't going to go looking for it to install it, which means the number of people that aren't Android nerds available to you on Hangouts is going to drop rapidly. I give it a year tops after that change until it's easier to find people on Facebook Messenger than Hangouts, which isn't great for several reasons.
Perhaps most important, this change and its future consequences makes it clear Google isn't pursuing a world where it is the universal identifier anymore. Hangouts was convenient because every Android user has a Google account, which meant the Gmail address offered multiple ways to quickly communicate with people. As Google shifts to messaging services that are only linked by phone numbers and fewer services that identify by email, the ubiquity of a Google account has the potential to rapidly lose its significance to those all in on the ecosystem this company has created.
Get the Android Central Newsletter
Instant access to breaking news, the hottest reviews, great deals and helpful tips.
I still don't understand this direction. I'm a GV user, so I won't be affected FOR NOW, but I see that going away as well. It made so much more sense to have an integrated messaging service. I understand it wasn't perfect, but I love hangouts for the integration. Want to know how many messaging services I have on my home screen? One. Hangouts. Cause it does (did) everything I need. I guess I need to accept that I'll be forced to migrate to the GV app, which sucks because you can't make it the default messaging app. I really like Android Messages app, but it's carrier number only. And Allo is okay, but no one uses it. If it got true GV integration like Hangouts has, then it would be much better and would be a viable option. Duo sucks, because we have five kids, and sometimes we do group video chats, now we can only viceo chat with one person at a time. But taking away features somehow "improves" the user experience? I love Android, and iOS mostly frustrates me, but this is one are that Apple nailed it. SMS and messaging completely integrated and video calls integrated with the stock dialer. Google had nailed it but is now blowing it all up. If Google can integrate GV calling with the stock dialer, why can't they integrate GV texting with the stock Android Messages app?

Google could do all sorts of things, like integrate SMS, GV, Allo, Duo, and all their other messaging platforms, but they just choose not to. They don't really care about any of these things, because they don't generate ad revenue. It doesn't really matter to Google whether Android has a good unified messaging system. Apple, on the other hand, has a clear incentive to develop their messaging platform. Apple is, first and foremost, a mobile phone company, and their proprietary iMessage platform (Messages, Facetime) is one way they keep users locked into their ecosystem. iMessage sells iPhones. Google doesn't really need a good messaging platform to get people to use Android, because if you don't want to buy an iPhone, what choice do you have? They get lock-in for free by being the low-cost only alternative to iOS.

Thanks for this perspective. It seems a simple solution. They just choose not to pursue it. Give Apple credit. They give the people a product they use and make it intuitive.

What's really puzzling is why they bother with any of this stuff if they're intentionally not going to do a good job. I mean, when Google launched Allo and Duo, everyone with half a brain was screaming, "why are these two separate products, and why don't don't they integrate with SMS!!!" And Google was like, "we think it's better this way," even though they were and are still so obviously wrong. It's like Google can't get the horse-and-buggy team to work with the car guys, and the mass transit team is in a completely different building. Meanwhile Apple has nailed all the basics and now everyone is free to work on teleportation, as far as messaging is concerned.

Yes, Google has lost its way, it's gotten too big and sprawly, all these "genius" independent teams are killing the product and they don't even realize it. Google is organized like balkanized states and that will surely be their end. Is it too late to start a third competitive platform?!

So imessage is an Enterprise focused app......and a Voip service.......as well as consumer messaging & video, all in a single app, that serves all needs of various business & consumer groups alike?

They serve different purposes and different consumers, thats why their splitting the apps. GV is VoIP & voicemail service.
Hangouts is going enterprise.
Allo & Duo are messaging.
Messages is carrier sms.

It's too bad Windows phones never really made it. Not that a Windows phone interests me, but such competition is important!

Yes I very much agree with you Mr. Orange 645. I'm on Project Fi, and very much enjoy that SMS, Voicemail and hangouts chats are all in the same app. I also enjoy the cross device sync that seems to only come with GV integration and Project Fi. We switched from Sprint with full GV integration to a prepaid carrier for the cost savings and I missed these features more than anything so when I found out i could have it back on Project Fi and have the lower cost of prepaid carrier service I was sold. If they kill this on me I may switch back to another carrier so I can not be tied to only Nexus phones or the Pixel. Hangouts is honestly the biggest thing keeping me on Fi. I'm not an apple fan but iMessage is pretty close to the perfect messaging platform. Shame Google seems adamant to not offer the same experience since it doesn't generate any ad revenue.

For family group video messages, try using Marco Polo.

Cant you just forward your google voice # to your carrier number, and use it in messaging? I set the GV app to use my phone's dialer app as default, and get sms to Android Message since GV forwards to my cell number.

Agree. I will only feel better about this if Allo gets GV integration and a desktop/Chromebook extension. Guess we'll see..

My personal thoughts... With all the ups and downs Google has made with video and messaging, this is a shame. Duo just isn't stable enough versus Hangouts or Skype in the areas I use it. I've always been a fan of the simplicity of Hangouts also and the integration. Oh well... Happy Friday all!

I've found Duo to be very good though it can still do just one-to-one calls.

The things I like about Hangouts was the simplicity of having your messaging and video calling in one place, being able to use it on a desktop/laptop, and that it was cross-platform. I still don't understand why, instead of improving Hangouts, fragment it out to multiple apps? You can't possibly get much adoptability with this route.

Is there some alternative that lets me send and receive SMS messages and phone calls on my PC, as I do now with Project Fi?

No, that's why Hangouts is still there for Fi and GV users for now.

How do I take calls in PC if I have project fi?

Just add Hangouts to Chrome. Works great. I actually hear my PC ringing before my Nexus 6P does most of the time. :)

It's the "for now" part that scares me.

So, all I (and my friends​/family/co-workers) used Hangouts for was this: at work we had the Hangouts app open on our PCs, when not at work we run it on our phones (Android & iOS). We don't care about video or sms, although it is convenient to receive sms in the same app. Is there a cross platform phone/PC app to replace this functionality of Hangouts? (Anything BUT Facebook) Thanks!! 😁

Maybe try groupme. My sister and I use it on our phones and PC/tablets.

Telegram also has a desktop app. And a really good Android app.

I'm a Project Fi user as well and love the integration of these features. That said, if you integrate your phone number with Facebook messenger you can get a slightly clumsier but similar experience. I haven't tried the phone calls on PC part but I know you can make free voice calls, SMS, video calls, and standard FB messenger messages through their app and messenger.com site.

None of that functionality is going away for Project Fi users. (yet)

I used Mighty Text on the PC for a while and it worked ok. Costs money every month but you can text from the PC ok. It also has one feature shockingly absent from Hangouts - the ability to search your messages. Still dont understand how that is absent from a Google product

The only justification I see about Google doing this is that SMS can get cluttered and make it harder/more confusing to see if you're messaging someone though SMS or hangouts. That's a UI issue. Also, I don't know many people who use business accounts with their own personal gmail accounts. Since, I believe, you can switch accounts easily in hangouts, it's just a bit stupid to get rid of a feature. I guess this takes "Courage." I'm not going to say whether it's better/worse than taking the headphone jack from a phone, but it certainly feels like it's the same reason... No reason...

I never understand this cluttered and confusing argument. Each sms chat is very clearly tagged with a sms badge in the list of your chats...a gray badge for carrier sms and a blue badge for GV sms. Inside the chats, the text box clearly says "send sms to..." in each sms chat. There's nothing confusing about it, unless you're blind and can't see these things.

The only reason I've still been using hangouts is because I can easily use the hangouts desktop app to send messages from my computer. Now I don't know what to use. I've tried signal, but it doesn't send sms like hangouts from the desktop.

Mighty Text
https://www.androidcentral.com/e?link=https2F2F...

I think Pulse SMS does it too but someone correct me if I'm wrong.

Try Join: https://www.androidcentral.com/e?link=https2F2F...
https://joaoapps.com/join/ I love it. I broke my phone's ability to talk to GSM via Google, and it is killing me I can't use it. So useful. i forgot to mention you would use a standard SMS app with this, I use textra, but you can use Google's Messages or whatever if you wanted to.

Join is awesome. Tried it better than mysms. Paid! Thanks for suggesting.

I love the Android platform and Google services. I have a 1TB Google drive plan, I subscribe to Google Play Music, I buy all my movies the Play, blah blah blah....I am what you would call a Prouser or even a fanboi. That being said my phone's primary and at times singular purpose is communication and with this drunken sailer approach Apple is now completely kicking Google's ass in the communications department. The average consumer is confused as hell to what Google's messaging approach is, there are too many options, no standardization, no roadmap. Prosuers understand but are frustrated and just want one app to do it all: Cross platform, GV intergratii , video, and voice. Hangouts was this, it wasn't perfect but I was damn good. Now what? I have no path forward once they decide to cut Google voice from Hangouts. Honestly this is the type of thing that makes me consider moving to Apple.

Lol, Google's messaging strategy is idiotic and aimless, the sky is blue, water is wet. Make an iMessage competitor already, require it be bundled with every Android phone that has play services, and call it a damn day already.

My friends and I just recently quit Hangouts for Telegram. It seems like a good alternative to me.

I did the same with several friends and coworkers. It took some pushing to get them to switch, but nobody regretted it in the end. It's just SO much faster than Hangouts ever was. Really sad to see Google take what was once a really dominant messaging platform and abandon it like this.

Telegram is an excellent platform! I love having a desktop app as well as cross-platform messaging with iOS users.

This is really depressing. I am an iPhone user and i have a G Suite account for my domain. I use it for both business and personal but the one thing that keeps me on the iPhone is iMessage because i can send sms, data messages (iMessages), video and picture messages all in one app. I really want to move to the Pixel but this is stopping me. Google needs to consolidate instead of separate. I cant convince my family members to use WhatsApp they are not tech literate to know which message system to use for who, they just like using 1 app and that is iMessage.

This bites. I just got my wife to start using Hangouts instead of SMS for our chats with each other. It's so convenient to use the desktop app, the phone app, all if it integrated together. I am going to have a hard time convincing her to use Allo, espcially since I don't believe it will be around long term. Hangouts has been around for a long time (as Google Talk before), and I have endured the growing pains with it. It's finally a decent enough platform that I can recommend to friends and family. I guess we can switch to WhatsApp pretty easily, we both already use it; mostly for group messaging between friends because group SMS is such a disaster.

You can still use Hangouts with your wife. But for SMS, she'll have to keep using what she was using before. I had already gotten off Hangouts for SMS several months back because I knew this was coming. I still use Hangouts (phone and desktop) with my wife.

Thanks for that, but my concern is that Hangouts will be going away soon with no feasible replacement. Neither of us use Hangouts for SMS, there are better apps out there for that.

I'm in the same boat. My wife and I primarily use Hangouts for either PC to PC or Phone to PC communications, although we have used the video chat when I'm away on business. On one hand I don't want to see Hangouts go completely away for consumers, but on the other hand Google has so many chat options that it would be nice to consolidate down to one reliable consumer chat offering. The key for me would be having PC access either through an installed client or website (unlike Allo currently).

What google really need to do is release one more messing app. Don't stop until we have 15 - 20 of them.

Maybe it's time to just go to Signal. It's cross-platform, it can function as a SMS client, it allows voice and video calls, and it uses end-to-end encryption. It pretty much does everything we're asking a messaging client to do.

Except the web site says Android users can't send/receive SMS using Signal Desktop. :(
https://support.whispersystems.org/hc/en-us/articles/215077857-What-is-S...

Agree. I use Signal with my girlfriend. We love it. My problem is you can't use Signal with a Google Voice number. I ported my Verizon number of 20 years to Google a few years back. That's the number everyone has for me. Looks like it's time to port my number out of Google and over to T-Mobile so I can use Signal and be done using Google for any messaging.

Google gets off on introducing and discontinuing messaging apps.

I wonder what this means for us Fi subscribers. Currently hangouts is what we use to get calls and SMS to sync across our devices. I like it because I can answer calls and SMS from my phone on my computer while I'm gaming or working.

For the moment, nothing. Fi users aren't affected...yet.

Same here. I need to with the inconsistent battery life on my 6P. I normally put it on charger as soon as I get home from work. I'm either on PC or chromebook while texting/taking calls regardless of which room the is in. Also I use a data only SIM in my old MXPE when I go canoeing/mountain biking. So I still have access to SMS, google maps, drive, photos, etc, etc... without risking damage/loss of my 6P...... Project Fi and Hangouts has really worked well for me.... Google's disjointed plans/announcements/actions regarding messaging app(s) is beyond my comprehension ....

Google has lost touch with real users. Bad bad move. More failures then successes for the alphabet company. Out of touch!

I use signal. Sms support without google nose stuck in.

This is such a shame. Hangouts is a Multiplatform, multi-device solution. Allo is locked to a single phone and that is it.

Anyone have good experience with the new GV? As a fi user I can't even test it out. GV could be my only outlet using a data-only sim on fi..

For Fi nothing is changing. You can use it like before.

Maybe everyone has to switch back to BBM again, lol.

I use hangouts to text from my Google voice number. It's still there for now.

You should probably switch to Google Voice, which can do the same thing, and recently received a nice overhaul.

Except you can't delete messages in GV only archive them.

Can you call from that app and also receive calls in that app. Anyways i have Fi and hangout I can combine both services into one app. If I use Google voice app, then I'd still have to install hangouts for Fi.

Haven't used it for that, but digging around the settings, it looks like you can if you have a regular phone number connected, but I see no way to do it using your GV number by itself. You can choose which number to use for outgoing calls, so I imagine you could set it up with any phone number (it will text a confirmation code) and then just have it use your GV number from then on.

Honestly, I don't even know what google app I'm using when I get a message in from someone that uses those platforms. I tend to use Whatsapp for texting when I initiate it (which 99.99% of the time is to my wife,) but I'll respond with whatever app pops up when I get an incoming text/IP call/video call, etc.
Google really has fudged all of this amazingly well.

Anybody think this has to do with partnerships and relations? Maybe Samsung, another, or even all are still trying to push their own apps for whatever reason and asked that Google not compete. Just a thought

It's already easier to find people on Facebook Messenger than it is on Hangouts

What a shame, they're on crack.

To think Hangouts was once Allo, Duo, Messenger and Google Voice all rolled into one with access on Android, iOS, PC's and Macs and pre installed on all Android devices. But they were like screw it, seems like a bad idea. Let ditch our competitive advantage for a bunch incohesive apps that don't relate to our large user base of Gmail accounts.

I just think Google needs to consolidate their apps. I get that they want to provide a secure IM app for their business customers so they resorted to converting Hangouts, but they're leaving us consumers at the mercy of other third party apps. I REALLY don't want that much of my information out on FB like that. I don't use their messenger app really. I never liked What's App and I don't have anymore contacts on BBM. I was strictly hangouts. Google just need to make Allo+Duo and Google Messenger into 1 app. That will solve everyone's fears and gripes.

Man I miss my Palm Pre. They had unified messaging down pat almost a decade ago

Just deleted Hangouts. Yes, I do use it, but it's dying. Google is a mess, and they continue to make a mess out of their products. From now on every service that they cripple I am just going to delete. May as well start migrating any contacts that I have to other platforms. My future with Android is looking less and less a likely possibility.

Another dumb move by Google! I have a hunch Google is trying to get users off of Google Voice.

You mean off of Hangouts and on Google voice or Allo instead?

Except they've just started updating Google Voice again, and have made some nice improvements. If anything their plan was to get people off of Hangouts and onto Google Voice.

Google Voice is what hooked me in. I can't understand how a company so tech savvy can be so clueless. They get rid of Google Voice integration with Hangouts and I go back to writing letters since everyone still accepts them. I can only hope that the post office doesn't go out of business!

Does Allo still require the recipient to have the app installed as well?

What is the name of the new hangouts app?

Russell - I am sure you know few folks in Google, can you please let them know that they really f*ed up on this ?

Good luck with getting Russell to read your comment.

I never really cared for Hangouts but I know quite a few people who still use it. Seems odd to kill it off.

I am not panicking Gv and F1 users still have their messaging via hangouts which I use for my business... I am hoping that Google will have an alternative before they let the millions of gvoice users leave!

I just use it for a group chat. Not SMS, do I think I'm ok with it

Found already...Android Messages +Google Allo (both by Google)

I wish either would be a replacement but both tie to a phone number meaning you can only use them on your phone.. not a desktop or tablet. Google should have timed this with making allo available on other devices besides phones... now they will lose the hangout base they had to WhatsApp

OMG! I don't know why I keep coming to read this cry baby comments lol! Get over it already y'all! There's no such thing as a perfect solution! Yo people will complain about anything! People acting like iMessage is perfect... Yet it doesn't work with Android, lol! FaceTime is nice... But doesn't work with Android... oh and you can't group video chat on that either, lol! People want a competitor and can't accept that they'll be shortcomings... But I thought Allo was supposed to be a WhatsApp competitor not an iMessage cone? But even with that people will be like but Duo is separate right? Hahahahahahaha! I have an iPhone and Android phone... Duo and Allo is a great cross platform option that brings good functionality​ to both platforms, IMO. I keep hearing but no one uses Allo' or Duo... Maybe if they cared enough to talk to you that way they'd use it, ijs. As got GV I've been a user since they bought Grand Central... And it's changed since then even... Deal with it or use something else sheesh, lol! I ported my number to GV years ago maybe that's why I don't care about carrier SMS... And rarely do I ever use my PC to make calls or text... Woe is me to not be able to do that huh? How dare I be okay with making calls and texting from my phone, lol! Guess this is what kinda problems 2017 brings 🤷🏾‍♂️ *Okay rant over*

Biggest crybaby comment here 🏆🏆

Everyone suggesting third party apps are missing the point. The whole thing that frustrates me is the fact I have ONE stock all to handle everything, but Google is forcing us to split it all up. Having two or three third party apps don't help that situation at all. Besides, I use Google Voice, so third party apps don't work for me. And I really don't want a other messenger I have to invite everyone to.

Well, this is a bummer. I do like Duo, at least, but I want messaging and video calling combined into a single Google app, not installing several messengers to get certain features (except when necessary, of course).

Google you should have just bought what's app. This is stupid

Google needs to stop being so pig headed and just admit that they made a big mistake with Allo. Tying Allo to a phone number and not your Gmail account doomed it from the start. They insist on riding that mistake to the gates of hell though and are even willing to sacrifice the one messaging app they have that actually has a user base that requires more than all of your toes and fingers to count the established user base. It is time to sallow your pride Google and admit that Allo was a very bad decision and a waste of money, time and brain power that should have been tied to improving Hangouts. So when you are passing by the gates of hell, toss Allo over the fence and ride an improved Hangouts or an all inclusive Android Messages back up to the surface and finally give Android users the inclusive messaging client we have been dreaming about and begging for for many years now.

I have always preferred to use Google apps whenever possible. My family has been using Hangouts for years and has a long running chat there. I assume this will end now with these changes and the ability to post MMS (Pics) in the app will PUSH us to WhatsApp. Allo would have been my choice BUT since you can ONLY use it on a phone it is not a solution as my family has gotten used to being able to use it on their tablets and desktops. Google SHOULD have opened Allo up for use on devices besides phones FIRST but now they will lose whatever user base they HAD on Hangouts instead. Later they WILL probably open up allo for use on other devices but it will be very difficult to move my entire family AGAIN. Not too bright Google.....

It's the 23rd and my verizon pixel on AT&T still is able to send and receive sms/mms via Hangouts. Not sure if it's just delayed or coming out in phases? Anyone else's​ broken now?