You should probably start looking for an alternative to Hangouts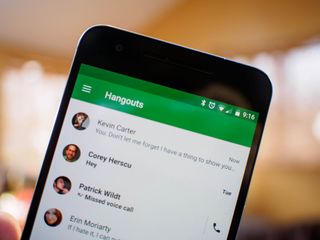 Hangouts is dropping SMS support on May 22, according to an email sent to G Suite administrators. Starting March 27, Hangouts users will get a message explaining the change so there's time to choose a new app. Weirdly, Google is trying to frame this feature removal as an improvement.
The email continues on to explain that Google Voice users will not be affected by this change, which in turn means Project Fi users are also clear to continue using Hangouts for now, but honestly why bother? It's not hard to see where this is going.
Google wants Hangouts Meet and Hangouts Chat to be the video and messaging services for G Suite (business) customers, and for Allo and Duo to be what consumers use. It has been made clear that Google is going to stop anyone from using Hangouts — at least for now — but it couldn't be more clear that Hangouts isn't going to be an included app in Android for much longer.
That means the people using Hangouts simply because it's there aren't going to go looking for it to install it, which means the number of people that aren't Android nerds available to you on Hangouts is going to drop rapidly. I give it a year tops after that change until it's easier to find people on Facebook Messenger than Hangouts, which isn't great for several reasons.
Perhaps most important, this change and its future consequences makes it clear Google isn't pursuing a world where it is the universal identifier anymore. Hangouts was convenient because every Android user has a Google account, which meant the Gmail address offered multiple ways to quickly communicate with people. As Google shifts to messaging services that are only linked by phone numbers and fewer services that identify by email, the ubiquity of a Google account has the potential to rapidly lose its significance to those all in on the ecosystem this company has created.
Sign up for Black Friday email alerts!
Get the hottest deals available in your inbox plus news, reviews, opinion, analysis and more from the Android Central team.