You can now purchase Google's updated Daydream View VR headset for $99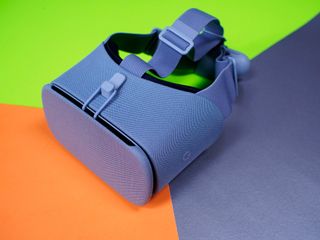 Google announced quite a few new toys at its October 4 event, one of which being an updated Daydream View headset. An exact release date wasn't announced at the time of the announcement, but that day is now upon us.
There are three colors of the Daydream View to choose from, including Fog, Charcoal, and Coral. Fog is expected to ship within two to three weeks, with Charcoal and the gorgeous Coral option expected to ship by October 22.
The updated headset costs $99 with free shipping, and while that is more than the $79 asking price for the first-generation model, there are a lot of improvements this time around that make the added cost worth it – especially if you held out last year.
We won't go through all of the improvements here, but the highlights for 2017's Daydream View include an added head strap for more comfortable VR experiences, improved fabric material and padding, a new heat sink system, and plenty more.
If you're interested and want to pick up a headset before Google runs out of stock, head to the link below!
Joe Maring was a Senior Editor for Android Central between 2017 and 2021. You can reach him on Twitter at @JoeMaring1.
Well I sure hope they ship out my order before the 22nd then since I ordered the charcoal on Oct. 11th and it has a ship date of Oct. 30th.

Not sure the demand was as high for these headsets than they were for the phones. I ordered my fog colored ones on the 6th with the same ship date of Oct. 30th.

Well I just got the notice that mine has shipped and should be here next week. Shipping got moved up by 10 days from what it originally stated.

I wish there was a way to trade up at a smaller fee. Not worth $99 when I already own the first one, but I'd really like that heatsink.

My coral one arrived yesterday and I ordered it the same day I ordered the Pixel 2 (which just shipped yesterday when the daydream headset arrived).
Was I lucky or something? :o

Ordered Oct 5 ; Shipped Oct 16; Delivered Oct 18
Just looked it up on the Google store page.

I'm pretty sure I want one, but I'll wait until I can get a deal.

Is the Note 8 compatible with this new Daydream vr?

What's better to those in the know, this or gearVR

Next to no VR content. VR is a novelty, at best, in 2017. I might have a look and take interest in ten years, 2027. Seriously, VR is where smartphones were ten years ago.

Even though your mostly right, there is already enough content to warrant a 100$ invest. At the very least you get a very decent and immersive way of watching (3d) movies. Even with my 1080p smarthphone and a subpar mobile vr set its pretty good. Oh, and porn.

So which is better, Gear vr or Daydream? I'm tih Daydream because if change phones, non Samsung, I can probably still use Daydream with my next phone.
Android Central Newsletter
Get the best of Android Central in in your inbox, every day!
Thank you for signing up to Android Central. You will receive a verification email shortly.
There was a problem. Please refresh the page and try again.