Yes, RED is actually making the Hydrogen One phone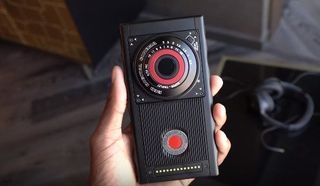 Remember when camera maker RED seemingly randomly announced it was making a $1200 phone, the Hydrogen One, back in July? Yeah, it's actually doing that for real. And to bring people up to speed, it handed a few prototypes to Marques Brownlee (A.K.A. MKBHD), one of the biggest RED fans out there, to show it's the real deal.
So surprisingly, RED went from only showing a super dim, stealthy promotion render back in July to giving Marques a prototype that has a near-final hardware design. As expected, it's big, bulky, and filled with a variety of robust materials across the back and sides. It's bigger than a OnePlus 5 and iPhone 7 Plus, despite having just a 5.5-inch display — but all it takes is one glance at this thing to tell it isn't even trying to be svelte.
Unfortunately, we don't get to see the phone actually working, which is the big thing everyone is skeptical about. Marques was able to see it but not show it — including the crazy holographic display that RED is touting as the feature that will separate it from the industry. We also just get a little tease of one of the camera-focused modular attachments, which is the other core selling point of the phone.
We're going to have to wait at least another month before RED can pull together the separate prototypes into something that's both near-final in hardware and also fully operational. Maybe Marques will be able to give us another look at the Hydrogen One then.
Android Central Newsletter
Get instant access to breaking news, the hottest reviews, great deals and helpful tips
Andrew was an Executive Editor, U.S. at Android Central between 2012 and 2020.
Just watched the video and as a videographer, I'd love to see what this can do. I buy my phone's based on what the cameras can do. I like to be able to get a good shot even if I don't have my big gear with me. This type of camera combined with things like YouTube live and Facebook live could really open of the market to new forms of creation. I'm excited but reserved about it. Can wait to see more.

You sound like a paid advertisement

Here's the big question Is it a phone with a RED camera or a RED camera that can take phone calls?

Based on the price they are going for i would say it looks like a RED Camera that can take phone calls.

Nah...then they'd price it at $12,000, with the camera, power and volume buttons as separate add-ons for $1000 each.

I am not a photo or video person. Unfortunately, I might say, after I watched this video. I do love the design! Seems like a phone for me. I don't like the glossy shiny devices, I prefer it big and sturdy 😉 IMHO best looking phone since the Blackberry Passport. mH

Currently using the passport right now, lol.

Yeah, had it before my Moto Z Play. Passport was best for working and reading. Unfortunately not so good when you are traveling a lot. I really needed apps and good navigation, then. Really looking forward to how RED will incorporate the mod concept. mH

So, is this phone being subcontracted to Lenovorola to build like TCL builds the blackberries?

The surprising thing is if they put a decent actual RED quality camera in this I could see picking it up and it being the 'entry' level RED device.

So the mods opens up the internals. I'm very interested, that mod looked amazing.

This is a fascinating phone. The price doesn't bother me if the specs are up to the standard of the Red camera. Looking forward to its release...

This looks nice and all, but the "gamer pc like" design isn't my cup of tea, would have prefered something more sober

I'm surprised Android Central doesn't call it simply "the RED phone", like they do for the Essential PH-1.

Very curious about this development looking forward to seeing more

Really interesting idea, and good to see it isn't just a concept.
Someone actually taking the physical handling seriously, which on phones meant to be big on photography isn't considered as much as it should be.

Marques is such a lucky man! lol
Android Central Newsletter
Get instant access to breaking news, the hottest reviews, great deals and helpful tips
Thank you for signing up to Android Central. You will receive a verification email shortly.
There was a problem. Please refresh the page and try again.