The Yeelight LED bulb is a great alternative to Philips Hue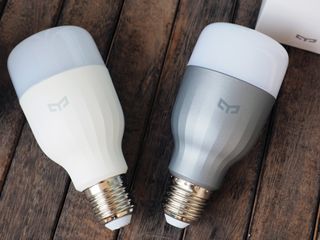 Yeelight carved out a niche for itself in the smart home segment, because of its $29 LED bulbs (opens in new tab), which offer an experience similar to that of Philips Hue bulbs at a lesser cost.
AC
Score
4.5
One of the main selling points about the Yeelight LED bulbs is that they don't require a hub to connect to your Wi-Fi network, unlike Hue. Just hook up the bulbs to an E27 (or E26) socket, and install the Yeelight app (opens in new tab) to connect the bulbs to your home Wi-Fi network.
The lack of a hub means that you'll have to shell out $90 to get started with three Yeelight bulbs, which is less than the $160 retail price of a Hue starter kit.
Once the initial setup is done, you'll be able to use your phone to control the lights, including setting a scheduler to automatically turn them on or off, adjusting the intensity and brightness of the lights, and much more.
There are preset scenes available from the Yeelight app, and you can also pick a color by uploading a photo from your phone's gallery. The app offers a ton of customization options, so it shouldn't be too hard to find a setting that works for you.
You can adjust the colors by sliding left or right in the app, and the intensity by sliding up and down anywhere on the screen. The app also offers options for a mode called Flow, which cycles through a set of colors. Color temperature of the Yeelight bulb ranges from 1700K to 6500K, and you can control multiple lights from the app simultaneously.
The lights get fairly bright as you increase the color temperature, but you'll be able to get that with the standard white variant of the bulbs. The RGB version is all about the colors, and it shines in that regard.
Image 1 of 3
Like Hue, you'll be able to control the Yeelight LED bulbs through Amazon Alexa or the Google Assistant. Yi Technology rolled out the integration last year, and you will be able to pair the bulbs with an Echo or Google Home with ease and control the lights by issuing voice commands.
The Yeelight LED bulb's affordability gives it a distinct edge in this space, and the amount of features combined with the fact that you can control it with Alexa or Google Assistant makes it an enticing option if you're looking to get started with smart home tech.
The Yeelight LED bulb is now available officially on Amazon in the U.S. (opens in new tab) for $29, meaning it will work over 110V. If you're looking to pick up the bulb internationally, then you'll have to head on over to GearBest, where it's available for $17 (opens in new tab).
See at Amazon (opens in new tab)
Updated May 2018 with Amazon U.S. links and details on Alexa and Google Assistant integration.
Get the Android Central Newsletter
Instant access to breaking news, the hottest reviews, great deals and helpful tips.
Harish Jonnalagadda is a Senior Editor overseeing Asia at Android Central. He leads the site's coverage of Chinese phone brands, contributing to reviews, features, and buying guides. He also writes about storage servers, audio products, and the semiconductor industry. Contact him on Twitter at @chunkynerd.
Thank goodness. Hue bulbs are obscenely overpriced.

Wonder if these could work with a Hue hub.

These don't run on ZigBee, so they won't work with Hue.

Must have missed that. Thanks for the reply!

Will these work with smartthing ?

The price of the Hue hub is a one-time event and I believe there are ways to control Hue bulbs directly without a hub (although I have not personally tried it). That with better connectivity and 110v support seems to make Hue the better options for now--especially in the US.

Smartthings integration and working on 110 without an adapter. If they decide those are important, I'll be buying a bunch.

So what you're saying is that these are more or less trying to be like super inexpensive LifX bulbs but without the bits that make LifX or even the Hue bulbs "want-able" (I couldn't think of the word).

Yeah. Hue is even costlier outside of the US, and in those markets, the Yeelight is a better alternative.

So they don't need a hub...but, you need to buy a power converter. Riiiight. I don't think so. I'll wait and see if and when they "officially" work in the US.

I bought a couple of bulbs on black friday for $25 each. They don't need a power converter. Just make sure it's a E26 110V bulb.

There is 0% chance I would put an IoT device from a little known manufacturer directly on my WiFi network.

Little known to you maybe. But they are the 3rd or 4th largest manufacturer of smart phones last time I looked. That may well not be the case now. But they are a big player.

Yep, 4th largest phone manufacturer and biggest IoT manufacturer globally.

The question is do they value their brand enough to make sure their security design is solid enough to prevent hacks and/or quickly fix the security holes when they are found.

That's a different thing from "little known"

Xiaomi is a great company that makes many great products. look forward to a 110V option or a simple way to convert these!

they're only 9W and 600 lumens! Philips Hue bulbs are 10w and 800 lumens, so definitely not as bright as the Philips Hue. Can't really compare.

I've tried a couple of these lights. They sometimes become tempermental. I don't know if it's from the heat generated from the LED's themselves (because LED's typically generate less heat than incandescents), or if it's the heat generated from the wifi hardware. But I've found that if they've been lit for moderate periods of time, the ability to control them degrades. If they've been off for a while, they work great. If they've been on for any length of time, control of them gets spotty.

I've got 4 of them. Yeelight app is a bit shonky but now they're hooked into Alexa I never use it and just control them by voice. Nice and bright (in the bedroom I have to set them to 30% brightness) and superb value for money!

What has happened to people? Are Americans so bored with their lives and have so much money that they don't know what to do with either? These light bulbs have got to the stupidest invention since the pet rock. Paying ridiculous amounts of money for light bulbs and do what with them? Dim them from your phone? Wow that's totally worth it.

To be fair, smartlights are nice to have. Wake up in the morning, and while crawling out of bed just say out loud "Hey Google, turn on main hallway and kitchen lights", and your path is lit up. That's pretty nice. It's not a stupid amount of money, and they're not solely adjustable from your phone. In fact you can also set them to be motion sensitive, so that they light up as you're moving throughout the house and shut off during times of non-use. Can you really argue against that ability?

Exactly. When I come home with my hands full (and I live alone) it is nice (if not 100% necessary) to have an extra "arm" via voice control. Not ALL of my lights are smart, just key ones. I typically buy my stuff on sale or with gift cards earned with Samsung Pay so my investment has been minimal. Further more, Americans are not the only ones buying smart lights. Oh and my electric bill is lower because now I can check remotely to see if I left lights on and turn them off instead of coming home and finding them on. IoT devices are not solving anything but 1st world problems but they are convenient and have a benefit for me, personally. I love how people get annoyed at choices other people make for themselves. If you think smart bulbs are stupid, don't buy them and stop worry about how other people spend their money.

Hahahaha! Totally agree! No wonder, people get fatter every year!

Or to have random scenes when you are not home. Maybe you are carrying groceries in and instead of putting them down to hit the switch you can have them turn on....

They can do a lot of things the Hue does, but the "white quality" is really awful. Especially on the warmer color temperatures.

These sure are ugly looking bulbs. I'll stick with Philips Hue.