The Yeelight LED bulb is a great alternative to Philips Hue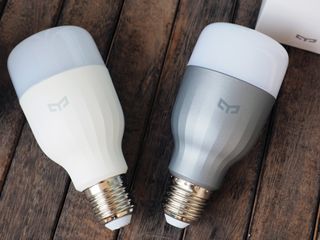 Yeelight carved out a niche for itself in the smart home segment, because of its $29 LED bulbs (opens in new tab), which offer an experience similar to that of Philips Hue bulbs at a lesser cost.
AC
Score
4.5
One of the main selling points about the Yeelight LED bulbs is that they don't require a hub to connect to your Wi-Fi network, unlike Hue. Just hook up the bulbs to an E27 (or E26) socket, and install the Yeelight app (opens in new tab) to connect the bulbs to your home Wi-Fi network.
The lack of a hub means that you'll have to shell out $90 to get started with three Yeelight bulbs, which is less than the $160 retail price of a Hue starter kit.
Once the initial setup is done, you'll be able to use your phone to control the lights, including setting a scheduler to automatically turn them on or off, adjusting the intensity and brightness of the lights, and much more.
There are preset scenes available from the Yeelight app, and you can also pick a color by uploading a photo from your phone's gallery. The app offers a ton of customization options, so it shouldn't be too hard to find a setting that works for you.
You can adjust the colors by sliding left or right in the app, and the intensity by sliding up and down anywhere on the screen. The app also offers options for a mode called Flow, which cycles through a set of colors. Color temperature of the Yeelight bulb ranges from 1700K to 6500K, and you can control multiple lights from the app simultaneously.
The lights get fairly bright as you increase the color temperature, but you'll be able to get that with the standard white variant of the bulbs. The RGB version is all about the colors, and it shines in that regard.
Image 1 of 3
Like Hue, you'll be able to control the Yeelight LED bulbs through Amazon Alexa or the Google Assistant. Yi Technology rolled out the integration last year, and you will be able to pair the bulbs with an Echo or Google Home with ease and control the lights by issuing voice commands.
The Yeelight LED bulb's affordability gives it a distinct edge in this space, and the amount of features combined with the fact that you can control it with Alexa or Google Assistant makes it an enticing option if you're looking to get started with smart home tech.
The Yeelight LED bulb is now available officially on Amazon in the U.S. (opens in new tab) for $29, meaning it will work over 110V. If you're looking to pick up the bulb internationally, then you'll have to head on over to GearBest, where it's available for $17 (opens in new tab).
See at Amazon (opens in new tab)
Updated May 2018 with Amazon U.S. links and details on Alexa and Google Assistant integration.