Yahoo Mail for Android adds custom swipes and more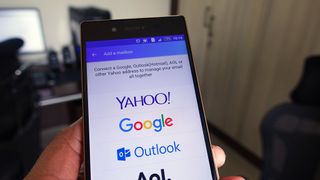 Yahoo Mail for Android got a big update a few months ago with mutliple mailbox support, and now the company is giving users even more options with its latest update. It includes a way to change and customize swipe touch actions.
Here's how custom swipes work on Yahoo Mail:
The new version also allows user to take the same swipe actions with incoming emails in the notification center, along with additional options to "star" and "mark as spam" options in the multi-select toolbar. You can find the Yahoo Mail update right now on the Google Play Store (opens in new tab).
Source: Yahoo
I use the e-mail app called TypeApp for my e-mail, formerly called Blue Mail and it's been doing this for a while. It's a really nice e-mail app and I encourage anyone on the hunt for a new one to check it out. I know I tried several and landed on this one at the end of my search. https://www.androidcentral.com/e?link=https2F2F... ~David

Yep, I've been using TypeApp for a long while now...great app! Highly recommended!

Question - If you set up an account as exchange, will it integrate that account's contacts and calendar into the stock contacts and calendar apps on the phone?

I've been trying a number of email apps. This Bluemail is absolutely the best one. Posted via the Android Central App

I want an email app similar to the Gmail app but where I can actually format emails..does this fulfill that?

I'm shocked there is any demand for Yahoo, outside of Japan. They're the Sprint of online search providers, their assets are worth more than their services and products. Posted via the Android Central App

I'm not seeing the update. Will it also allow marking messages as not spam? Posted via my Nexus 5X
Android Central Newsletter
Thank you for signing up to Android Central. You will receive a verification email shortly.
There was a problem. Please refresh the page and try again.