Yahoo LiveText hopes blending video and texting will make for more authentic conversations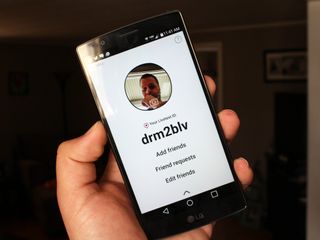 Yahoo has officially announced LiveText, its new messaging app that blends text messaging and live-streaming video to create more memorable experiences. The app was originally soft-launched in Hong Kong, Taiwan, and Ireland, and is now available in the US, UK, Canada, Germany, and France.
LiveText centers on real-time conversation, letting you actually see the reactions of your friends over live video to the messages you type. Video is silent, so you'll need to rely on typed messages in order to communicate.
From Yahoo:
Yahoo LiveText is now available to download from the Google Play Store (opens in new tab). You can check out a short video of the app in action below.
Source: Yahoo
No audio to see the reactions of people to texts... Just have a conversation and see the reaction to words! Ugggh...

No audio, video and text = great for people who are deaf.

The PC crowd not going to like that. But I'll admit it did make me chuckle a little bit Posted via the Android Central App

So people will find out when I text "lol" I'm not really laughing out loud. Posted via the Android Central App

+3 Posted via the Android Central App

Lol Posted via the Android Central App

Seems like a interesting way to make this service a little different from the hundreds of other texting offerings. Overall my experience with Yahoo's apps on Android is good, maybe I'll give this a shot. Posted via LG G4

Because nothing's more perfect for promotional content than seeing the narcissism of what I could describe as the whitest chicks I've seen ever (in a metaphorical sense) Also, no I'm not fond of the "texting and video with no audio" concept Yahoo's messaging service is throwing at me. If I want any of those, I have Skype or Hangouts which pretty much offer the same exact thing as described within the OP except for being able to take advantage of audio. Cynicism Evolved

There are none more white.

It will be good for those who are deaf, no audio needed.

I think it's a dumb idea that will do well, actually. I've seen a lot of dumb ideas do well (Snapchat, for instance), don't see why this wouldn't. Not something I'd use, but I think it will do well.

I really love this comment. :-) -Posted via the Android Central App on my G4-

I just think Yahoo after years of neglect of it's messenger, now wants to play catch up. What other texting apps do is what yahoo should of done with messenger and pushed it hard. Now it's trying to video text? I mean it could work but if I'm getting video, might as well audio too. I'm just not buying into the idea of video texting. The main reason for apps such as Skype and Hangouts (apples face-time) is so you don't have to type. This new yahoo chat thing is like going backwards IMHO. I don't know, maybe for video sexting where you need audio privacy? Other than that I don't see it. I mean, say you're at a concert, and you want show your friend you're having a good time, now you want to show them the band on stage with no audio? Nice way to think outside the box but I think the idea is already obsolete.

Yahoo is irrelevant. Posted via the Android Central App

When will people learn that no one wants to look at the people you are communicating with. I'm calling or texting you because I can't pay attention to you completely.
Android Central Newsletter
Get the best of Android Central in in your inbox, every day!
Thank you for signing up to Android Central. You will receive a verification email shortly.
There was a problem. Please refresh the page and try again.