Sony Xperia Z shown off again in leaked press image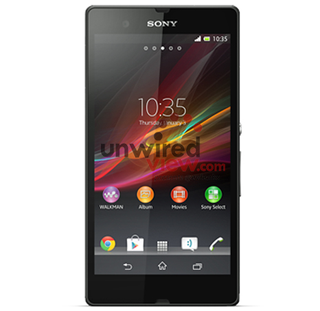 Ahead of its rumored CES release, we've got a new look at the Sony Xperia Z (aka "Yuga") in a proper press image, shown above. We saw a pretty grainy angled view of the device a few days back, but this one gives us a much better look at the front of the device. We're looking at proper on-screen navigation buttons and Sony's UI customizations here, as you would expect, as well as the power and volume button layout poking out of the right of the device.
The reported specs are the same as we saw in the initial leak as well. We're looking at a 5-inch 1080P display, massive 13MP camera and Android 4.1 Jelly Bean on the software front. It also looks like we'll see another variant in the form of the Xperia ZL, aka "Odin." (Earlier Sony naming schemes suggest that the ZL might be an LTE-capable version for certain markets, though we're speculating here.)
The devices are supposed to make their debut at CES 2013, which is just a week away, and hopefully Sony will bring more details on this device at that time as well.
Sources: XperiaBlog; UnwiredView
Android Central Newsletter
Get instant access to breaking news, the hottest reviews, great deals and helpful tips
Andrew was an Executive Editor, U.S. at Android Central between 2012 and 2020.
I really like Xperia phones! I don't care what other folks says about the quality, specs, etc.

Me too. I loved their design and build quality.

+9000 Sony Xperia Nexus FTW!!!

What the heck does the nexus have to do with this? Friggin weirdos

I would love to see a Nexus with Sony's build quality. I'm glad that you know me enough to call me a weirdo. You're profile says you're a Christian, and yet you feel the need to judge me. I'd hate to go to your church... Happy New Year btw

Christians aren't perfect...just like the rest of humanity.

Sorry for being weirdo... How about you? you're commenting on weirdos comments?

This is the first Sony Android device that I want! As long as updates can come quicker. Let's just hope developers can work better with this device as it looks promising.

Well considering they are extremely dev friendly. I may consider. They freely handed cm team sources and there making leap and bounds porting aosp/cm to Sony phones. Amazing. So maybe...

xperia phones are great but the developmental of cm/aokp/miui ..ect ..take along time longer than Samsung phones.. development of custom roms and aosp roms are allot higher on nexus devices and Samsung devices lg phones not counting the nexus 4 take so long to dev for cm aokp and aosp rom in such

Or they never come at all due to LG encrypting bootloaders on recent devices like the Optimus 4X HD and Optimus G. Why, LG, why? I really don't see much of advantage to them doing that.

Sony only seems to sell phones on ATT in the USA so they need to be on more carriers if they want to sell some phones

Or perhaps the USA could use standard phone tech to allow standardised phones?

Att is gsm network.... problem is thats how phone selling looks like in us

If the battery doesnt disappoint this phone could help Sony step up their game.It's not really beautiful but specs seem great,good button placement and sony seems to care about good custom rom support.

Never buy Sony after how they treat devs like geohot

Game console is complitly diffrent game, this market depends on drm and without it may kill platform. Main profit there is not hardware but ecosystem and software licencing, to make things worse ps3 was sold at lost. Also just look what happened with PSP, devs publicly said they fear to publish anything on it as it has holes like cheese. Thats why Sony reacted like that. And its not just Sony, MS remotely killed hundred thousends of 360s with hacked dvd drives.... and you know whats the best thing? Those hacks didnt allow to run 3rd party software or modify firmware. So no excuses here for "backup" lovers All hacks on that market is treated as huge danger, but i would not expect that they would danger android hackers

I'm more interested in the ZL because of it's compact size.

And not a single F*ck was given

I'm interested in Sony. After PSN got hacked, they started to be much more dev friendly. Samsung has been a pain for devs, with to many broken promises and really late releases of incomplete information. Their quality has stepped up too.

Can someone please help me find that wallpaper? I really like it!
Thanks,

Wait till the phone is released (or at least announced); then you may have your WP.

Also visit here to see more leaked photos.
Android Central Newsletter
Get instant access to breaking news, the hottest reviews, great deals and helpful tips
Thank you for signing up to Android Central. You will receive a verification email shortly.
There was a problem. Please refresh the page and try again.