Xiaomi's upcoming phone may offer a 4.3-inch display and Snapdragon 820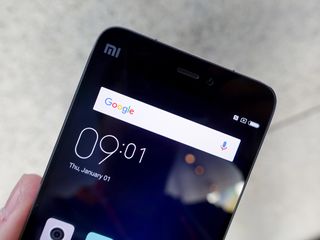 It looks like Xiaomi is considering a mini variant of the Mi 5 with a 4.3-inch display. A recent leak out of Weibo suggests that the phone will be unveiled in the month of June, featuring a 1.8GHz Snapdragon 820 SoC.
Xiaomi's offering is said to come with a 4.3-inch 720p display, 3GB of RAM, 32GB internal storage, 13MP camera, and a 2350mAh battery. with Quick Charge 3.0. A leaked photo of the phone reveals a home button similar to what we've seen on the Mi 5, suggesting that the mini variant will also house a fingerprint sensor.
The Weibo leak says that Xiaomi will position the device as a competitor to the iPhone SE, which offers high-end internals in a small 4-inch package.
Xiaomi's phone is estimated to retail for ¥1,799 ($275). As we saw recently, there are enough folks interested in a smaller phone provided it offers high-end specs. While Xiaomi's upcoming phone sounds alluring, it's just a rumor until we hear something official. Until then, what do you guys think of the phone in question?
Harish Jonnalagadda is a Senior Editor overseeing Asia at Android Central. He leads the site's coverage of Chinese phone brands, contributing to reviews, features, and buying guides. He also writes about storage servers, audio products, and the semiconductor industry. Contact him on Twitter at @chunkynerd.
720p + sd 820 sounds beastly Posted via the Android Central App

So the end of Redmi range? Posted via the Android Central App from Samsung Galaxy S7 Edge

Doesn't look like it. Redmi is still Xiaomi's entry-level range. This phone will be targeted at the ₹20,000 segment.

Well the Mi5 itself will be priced at around Rs:25000, so this should be priced somewhere around 15000.... Posted via the Android Central App

I was with it till the home button. I don't know why I just can't stand these Samsung buttons. I'd almost prefure a circle like iPhone or even to "shake things up" a square lol. Posted via the Android Central App

is iphone the gold standard for all the phone makers? why do they have to blindly follow apple even if they do something stupid?

The SE was made for those who want current-generation hardware but want a smaller phone. Quite a significant chunk of Apple's userbase are still on the 5-class phones mainly due to the size. It makes sense for Apple to release a somewhat rehashed version of the 5S with 6S hardware for those who don't want to settle for 2013 hardware just for a smaller size. Really, not everyone wants big phones. Some even feel that a 4.7-inch phone is too big. Personally, I don't know why it people would think that but my hands are ginormous anyway, so that could be why,

I HATE big phones and Android has almost driven me to iPhone with only their huge selections. I'm holding out for another year in the hopes that more smaller phones start to flood the market.

Something 4.5-4.7 inch with decent specs please. Really, 4.7" is optimal imho. Posted via my HTC One M7

There are several sub 5" Android phones. Sony has a couple of "compact" phones with high end internal hardware.

It's the best selling phone in the world, from the most valuable company in the world. Obviously it's the benchmark by which many will be measured. Posted via the Android Central App

"Something stupid"? Apple is projecting that the SE will account for 13% of their sales. That's a lot of phones and a lot of money. I wish I made stupid decisions like that every day.

Why do people complain when they're getting more options?

This is a shockingly ignorant comment. Do you have any idea how long it takes a phone to be designed and manufactured? This phone was in the works long before the SE was announced.

i doubt that a phone coming out in 3 months copied the idea from the iphone. they were already in the works before apple announced the iphone SE

Honestly, I hope more Android manufacturers follow up with proper compact versions of their flagships. And I don't mean the whole "Mini" crap with gimped hardware that we got in 2012 to 2014. I mean actual smaller versions of that flagship with largely identical hardware, a la Sony XPERIA Z Compact series. I know one guy who really wants Android OEMs to take notice of the iPhone SE in hopes that it will lead to proper smaller versions of a flagship.

I'll go with this... There are a couple of coworkers that really like the smaller phone just because it's easy to put in any pocket and they feel those smaller phones are somewhat more unbreakable. A 'go anywhere' type of phone. And then there are some coworkers that like the bigger phones that use their phones for more than making calls. They use it for reaserching the web, driving directions or a media device. Those people tend to take meticulous care of those phones. And then there is the 'older' group where screen size is king over font size... There literally isn't a one size that fits all... Until a flexible screen comes out with a totally different design. Then things will get interesting. That's going to be the next design hurdle... Thinking about this... Surely puts a smile on my face. Posted via the Android Central App

I agree. There is no "one size fits all" option. We all have different preferences and not all hands are the same size even for individuals who are of the same age. Personally, I like phones up to 6-inches in size. I do a lot of multitasking on my phones and I also have big hands, so using a large one with one hand isn't much of an issue for me and is also why I'm pretty fond of the Galaxy Note-line. However, I know many who don't really use their phones for much and just want a smaller phone but packs in high-end hardware. Having different sized phones to cater for different aspects of the market is a good thing since it gives consumers way more choice in relation to their preference and requirements.

Thank you. This this this! I really wanted a Z3 compact, but the price is still high even though the phone is old! lol. I would probably give Android a whirl if the small phone can work out. Tired of the smaller phones with bad specs. I'm looking at you Microsoft and Samsung!!

People should have choice. I want a Mi Note Pro 2 myself with a 6inch screen. But this will be great for those who want a smaller screen. Remember that it isn't that long ago that a phone with a 4.3inch screen would have been seen as stupidly big. Posted from my Nokia 3310

Will not come to the US Posted via the Android Central App

Agree, give consumers a choice. Android has been doing a lousy job of providing consumers with smaller offerings and I don't count that "mini" version garbage as a choice.

This too.
I wish it had the bands to work with LTE in America though...

Potentially import worthy.

for many people the ultimate phone would have a 4.7" display, snapdragon 650 soc with 3000+ mah battery, 720p screen. this would give iphone like smoothness and android like battery life (12-14 hours SoC) with a great rear camera at the fraction of the cost of an iPhone.
Android Central Newsletter
Get the best of Android Central in in your inbox, every day!
Thank you for signing up to Android Central. You will receive a verification email shortly.
There was a problem. Please refresh the page and try again.