Xiaomi's latest flagship is the Mi Note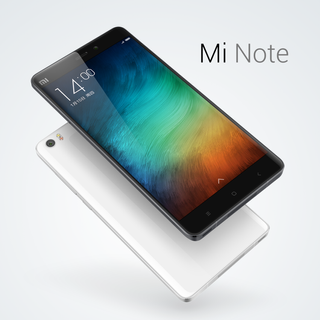 Xiaomi's latest device is called the Mi Note. Dubbed the "most epic flagship device of the year," the Mi Note comes with a slew of new features as the brand continues to maintain momentum in the smartphone segment. On offer is a 5.7-inch full-HD display, Snapdragon 801, 3 GB RAM, 13 MP camera with OIS and dual-SIM with dual LTE connectivity, all for just RMB 2,299 ($370).
The phone is protected by Corning's Gorilla Glass 3 on both sides, 2.5D curved glass on the front and 3D curved glass at the back, and has an overall thickness of 6.95mm. In terms of specs, the Mi Note has a 5.7-inch full-HD display with a thin 3.0mm bezel. Xiaomi notes that the panel offers adaptive dynamic contrast and blue light-reducing mode, which is aimed at reducing eye fatigue.
Powering the device is a quad-core Snapdragon 801 CPU clocked at 2.5 GHz and an Adreno 330 GPU. The 13 MP camera features Sony's IMX214 CMOS sensor and an OIS module and two-tone LED flash. The front shooter is a 4 MP variant with large 2-micron pixels. Other specs include 3 GB RAM, 16/64 GB internal storage, dual-SIM functionality (microSIM and nano-SIM), dual 4G connectivity (FDD-LTE and TD-LTE) and a 3,000 mAh battery. There's also 24-bit/192KHz lossless playback support.
On the software front, the Mi Note comes with Xiaomi's custom ROM, MIUI 6 (based on Android 4.4.4 KitKat). While Play Store access isn't available on the Chinese variant, all international models of the Mi Note will feature Google's services.
During the event, Xiaomi showcased how the camera sensor of the Mi Note fits into the body of the device, making a reference to the slightly protruding sensor seen on the iPhone 6 Plus. Other differences were also pointed out by the Chinese vendor, such as the screen, which is 0.2 inches larger, and the dimensions, with the Mi Mote 0.15 mm thinner than the iPhone 6 Plus.
The Mi Note will retail for RMB 2,299 ($370) for the 16 GB variant, with the 64 GB model set to launch for RMB 2,799 ($450), and will go on sale from January 27.
Harish Jonnalagadda is a Senior Editor overseeing Asia at Android Central. He leads the site's coverage of Chinese phone brands, contributing to reviews, features, and buying guides. He also writes about storage servers, audio products, and the semiconductor industry. Contact him on Twitter at @chunkynerd.
Elegant and thin, but capacitive buttons are a no go.

I used to feel that way but not any more. Since Google leaves it up to 3rd party devs for some reason to enable immersive mode and many of them are too lazy I really don't like the on screen buttons any more. I hate using an app and not having the navigation bar hide itself. That should be an OS setting, not a setting developers can ignore. Due to that I'd take capacitive buttons over on screen buttons. A little off topic here but It's sort of like Google allowing 3rd party developers to ignore the new Priority Sound mode in Android 5.0+. In my opinion an app should not be able to override a global sound setting but Google feels differently and leaves that up to developers. Well, lazy developers ignore it so Priority Mode doesn't work very well and you get notification sounds when you shouldn't sometimes..

Agree completely. I hate immersive mode in almost all cases, watching videos being the only exception. I didn't mind on-screen navigation until more and more apps default to using immersive mode with no ability to disable.

What apps are you using that need immersive mode and don't have it? The keys aren't supposed to go away in every app. They just get out of the way of when they otherwise would be an annoyance, for things like watching videos and playing games. If you wanted to argue that they could be implemented better by developers, I'd buy that. The keys offen end up covering menus in apps when they're brought up, and they always overlap the navigation bar in landscape, which is a visual eye-sore. I would say the benefits of on-screen buttons far outweighs the minor hiccups. I never want to go back to capacitive, or even worse, that weird physical button nonsense that Samsung is all about. Just my 2 cents

@ActualMichae - Seconded. (make that 4 cents)

I personally prefer them over onscreen buttons Posted via Android Central App on my Samsung Galaxy S5, please excuse the brevity.

Still has a capacitive menu button? Should've been on screen buttons and used the top and bottom bezels for front firing speakers instead. Almost there!

I like having the CHOICE of capacitive buttons rather than losing a huge swath of the bottom of my screen to a fat block of buttons. The Galaxy S3 and the Nexus 4 had comparable-sized screens, but because Samsung has physical buttons and the Nexus didn't, the N4 had effectively a half-inch smaller screen. First thing I did with my OPO was switch to hardware buttons. So nice to have the full 5.5". (That's what she said!) Posted via sheer force of will from my OnePlus One!

This argument makes no sense, and I'm tired of seeing it used to discount on-screen keys. The point is, you can make a smaller phone with more screen real estate with on-screen buttons. The bezels of the phone are smaller because they don't have to accommodate capacitive keys. This also leaves more room for companies add different hardware innovations, like the HTC boomsound speakers. Additionally, you get back any amount of screen "lost" to on screen buttons when watching videos and playing games because of Android's built in immersive mode. Instead of viewing it as losing screen space to buttons, you should realize that you're actually gaining the space that capacitive keys would take up through immersive mode.

How's this for making sense: You buy devices that you like with on screen buttons, and those who like physical or capacitive buttons buy those? And no one has to worry if someone else's reasons for liking what they like 'makes sense' to them or not.

The issue most people have is not with the buttons themselves, it's that the space where the buttons used to reside remains there and you're left with an ugly black bar. The fact is most companies don't reduce the bezel with onscreen buttons they leave them the same, the effect is that the buttons themselves appear to take up room on the screen...even if the screen is taller it just looks bad

Sup with the "Note" moniker and the Samsungesque background?

And the iPhone similarities. Posted via the Android Central App

It's China. No copyright laws. Posted via the Android Central App

$450.00 for a 64GB version? No wonder they are biting at Samsung's heels. But on the flip side, it's not so bad for Samsung that they are losing a little bit of market share to this company seeing the differences in the devices at the same price point. Posted from the Nexus 5 or Xperia Z3

Have you seen xiaomi market share in China? Posted via Android Central App

The back looks like an iPhone from the pictures.
Looks alright but I'll still say the Note 4 is still the phablet to buy.

The design is similar to the iPhone, but in the presentation they emphasized that it is better than the design of the iPhone because the device has a bigger screen and roughly the same dimensions as the iPhone 6. The specs are also good and I think this phone is not only a rival for the iPhone, but also for the Note 4:
http://versus.com/en/xiaomi-mi-note-vs-samsung-galaxy-note-4
I am looking forward to hearing more details about the Pro version of the Xaomi Note.

Are these phones available to buy for US customers? Posted via the Android Central App

Only if you can snatch one and import yourself Posted via the Android Central App

I imagine if they are selling an International version (which will have Google Play access), you can order it at any vendors outside of China.

Cant watch video, says to sign in while in app, and in browser it's private. Anyone else? Posted via the Android Central App

Weird. The links worked when I put them in. Anyway, added new links, so the videos should load now.

Meh. Posted via the Android Central App

I want that wallpaper please!!! Posted via the Android Central App

You can download from here. ;-) http://en.miui.com/thread-77505-1-1.html

Good mid range device for a solid price. I'd say all around it looks promising for those who don't need "the best" out there. I'd like to see one in person. Posted via the Android Central App

"flagship device of the year" what, with an 801 !!
possibly, if you/they mean 810,otherwise they are joking, still never, ever bumped into anyone in the uk who actualy uses any ziaomi model..
all they seem interested in is making something a bit better than the latest flopple device, how sad, if they tried using a better target to aim for, they may sell more kit outside asia..
why target a device/company that a large number of folk think is irrelevant in the real world outside lah lah land usa, do flopple dominate in any markey anywhere in the world ? do half tne worlds idiots still want to own a flopple device?
are folk willing to pay out vastly inflated price for hardware and design that is at least two years old ?
xiami could probably find a more relevant "rival" to use as target..
or they could bite the bullet, and a tualy go their own route and come up with something new instead of just another itterisation of the same handful of well known bits and bobs, in a thin oblong block, with a screen on one side, at least try something different, how about, because htc and lenovo have both turned down requests to do one, why not, now that we have devices down to stupid thinness that is now hard to hold safely, it should be piss simple to stick a huge great 6 inch qwerty on other side of device from screen, and still get a device that is not too chunky, i realy do not understand this rush towards thinner and thinner devices, big screens took off as i said they would for good physical reasons of how humans work, race towards thin goes against a lot of good physical reasons for chunkier, not thinner devices.
the first big firm to do a decent top end device with decent full qwerty on something like a sammy note 4, i reckon will be beating folk off with a big stick, i know i have much higher number of techie geeks in circle than most, so not "normal" public, but about 50% of us would seriously look at a 5.7/5.9 inch device with full qwerty, if its still less than 15mm thick and firm makes use of extra space for goodies as well as kb, extra battery would be nice and very useful, ppssibly extra connectors..
somebody build one and lets see if it sells enough, i suspect it would.
htc in the good old days used to listen to what folk saying on xda. forum, then they stopped listening or taking much notice and where are they now?
sammy have built and tfied so many thousands of different dull plastic phones lately, you would have thought they migjt have given a qwerty device a go, but if they have, everyone seems to have missed it in the plethora of bleh devices...
if sammy realy did use mud thrown at wall method, they would have come up with some weird but interesting devices by now, what they actualy do is parts bin bodgeing, whats bits are there, how many variations of a candy bar phone can we make with those parts, bad car makers do the same thing, it usualy leads downhill for customer...
someone try a decent qwerty.. you may be pleasantly suprised at sales, i know sammy where be first sales of first early note series, folk want/need big uber devices that can do more than play video or games on..

I doubt a user would notice any speed differences between an 801 and an 810. My N5 has an 800, and feels instant, hard to get a device to feel faster than that.

Feel better now? Sheesh. Posted via Android Central App

TL;DR Posted via OnePlus One

the most epic device of year, i guess he was talking about the pro mod.
which is not THE device of the year, not by a country mile, we can already order devices with more grunt etc etc.
firms still not got their heads round 6 month refresh rate, this will be high mid end in a years time..

So which are the phones with more "grunt" then? Because there's only a couple of phones currently announced with similar hardware...

App is acting weird. Looks nice. I'm not a fan of 5in+. The Nexus 5 is the perfect size for me. AC App via Nexus 5

Waiting for the mini version at 5 inch.=0 Posted via Android Central App

Looks nice. Still too big for my taste. Even though I own the Nexus 6 I still think the Nexus 5 or slightly smaller like the 2013 Moto X is the best size for a phone.

"the front shooter is a 4 MP variant with large 2-micron pixels" << Ultra pixel ???

Nice and dandy, but, where can I buy one?

I keep seeing these guys pop up online, but I've never seen a device in person. In my ignorance, I'm wondering...would a phone like this function with AT&T in the US?

I like the wallpaper on this phone! Anyone know where to get it from??

Wallpapers can be found here! http://en.miui.com/thread-77475-1-1.html

Thank you! Posted via the Android Central App

Dedicated function keys? No thanks. :-/
(Too bad, too... because the rest is pretty sexy.)

Why is it called MI Note? There is no pen, right?

For that price? No wonder why Samsung has been on the decline, Xiaomi offers flagship specs at a very nice price.

I wonder how well products named Xiaomi, Huawei, Tizen would perform in terms of sales in the US even if they were compatible on US carriers. Either way there's no denying that Asian markets are the next big game in town for OEMs, however there's much more emphasis on price than marketing in non-western markets. Note that this is for non-power users, if you're reading this post you don't count -- I'm thinking more of the 80% of people who just "use" a smartphone rather than are vested in the technology. Posted via the Android Central App

I live in the uk and I am a mi4 owner I love it I got mine for £254 and then had to pay £3 on top so that dhl would allow in the country. Very nice hardware great battery and good camera and just the right size. There is an app in Xiaomi app market that allows you to download all the Google apps and you can put the play store on it through that. So everything works fine I love the theme market and being able to listen to music for nothing is great it works swiftly and I don't have lag issues. I am loving the security features and it is really tight on monitoring your data use. Posted via the Android Central App
Android Central Newsletter
Get the best of Android Central in in your inbox, every day!
Thank you for signing up to Android Central. You will receive a verification email shortly.
There was a problem. Please refresh the page and try again.